Adrenaline junkies rejoice! If there's one thing Singapore isn't short of, it's a world-class thrill ride or six, from the frankly terrifying rollercoasters at Universal Studios to the towering Singapore Flyer observation wheel that overlooks Marina Bay. So saddle up and get ready for the time of your life as we reveal the best rides in Singapore, including:
Battlestar Galactica at Universal Studios Singapore

The Sentosa SkyHelix

The Singapore Flyer

The Sentosa cable car

AJ Hackett's giant swing and bungee rope

The Skyline Luge

Riptide Rocket at Adventure Cove water park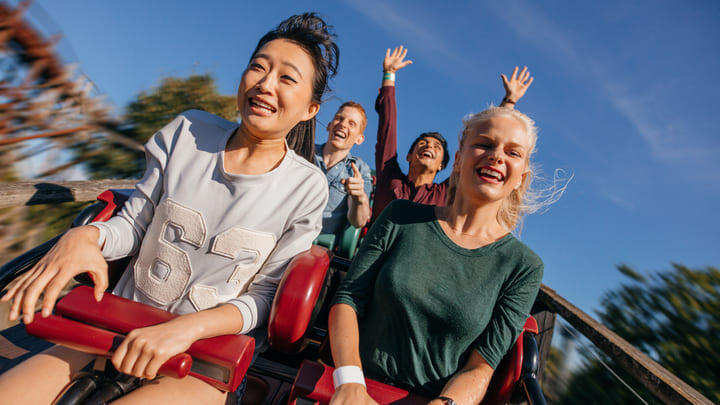 Universal Studios Singapore
Let's not beat about the bush: around 90% of the best rides in Singapore are to be found at Universal Studios (USS) on Sentosa Island. There are nearly 30, so to list all of them here would take waaay too long, but here are three of our faves to give you a little taster…
Battlestar Galactica
Hold on to your hats: this one's a beast. Based on the much-loved sci-fi TV series, it sees an evil Cylon robot coaster do battle with its human nemesis as the dueling rides twist, turn, intertwine and come within inches of colliding several times over. Cylon is the faster and more frightening of the two, an inverted rollercoaster that includes a corkscrew, a cobra roll and a (literally) hair-raising zero-gravity drop. The Human ride is – and we use this term advisedly – slightly more sedate; a traditional rollercoaster with no inversions but reaching higher speeds of up to 56mph. At 139 feet, these are the highest dueling rollercoasters on the planet, so it's fair to say that neither is recommended for the faint of heart.
Puss In Boots' Giant Journey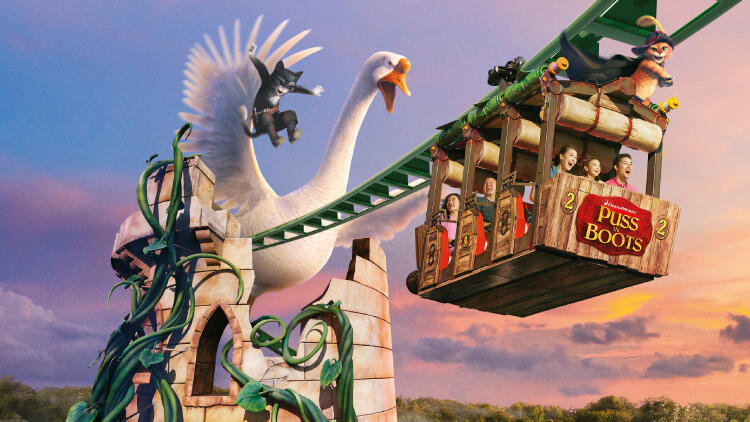 Emerge from the ivy-clad turret and go in search of Mother Goose's golden eggs with our heroes Puss and Kitty on this exciting family-friendly rollercoaster that will leave the kids screaming for more. You'll find it inside the Shrek-themed Far Far Away Land, where King Harold's Castle and the Enchanted Airways coaster are also popular attractions. Be aware that this kid-friendly zone is among the busiest in the park, so be prepared to queue or, better still, get there early!
Jurassic Park Rapids Adventure
There are hungry dinos galore on the loose at this Jurassic World-inspired facility where a drenching is all but guaranteed. Board your circular raft and ride the rapids past cute animatronic mum-and-baby stegosauruses and into the restricted zone, where hissing velociraptors and radio reports of an escaped T-rex will have you quaking in your boats. Will you escape uneaten and unsoaked? Spoiler alert: yes, you will and no, you won't.
Sentosa's Other Hot Tickets
Sentosa Cable Car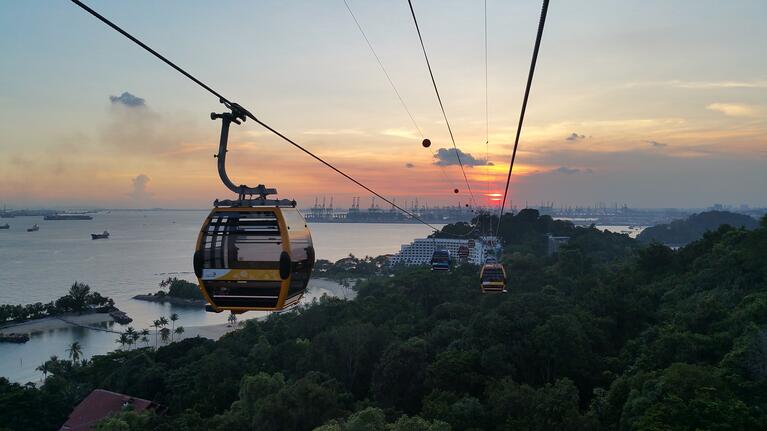 The very act of getting to Universal Studios requires you first to get to Sentosa. And what better way to do so than aboard the iconic Singapore cable car, one of the island's more gentle rides, to be sure, but also one of its most essential. Awestruck passengers soar 200 feet above sea level on an epic 15-minute journey over the bay, taking in sweeping views of lush tropical foliage and Sentosa's fine beaches along the way. You can even book a private sunset ride with dinner and drinks!
Sentosa SkyHelix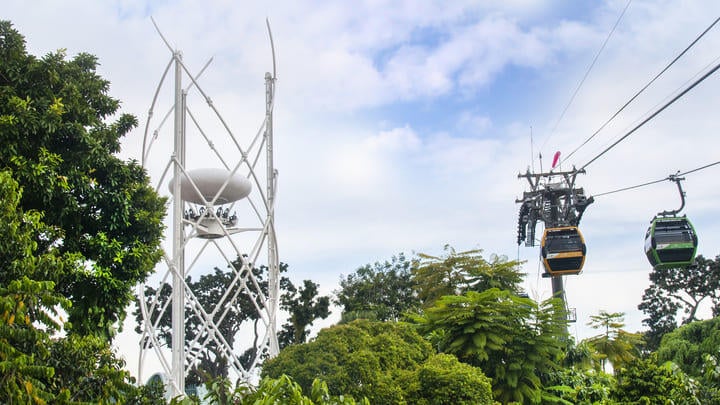 In case it isn't already apparent, the majority of Singapore's best rides are to be found on the island playground of Sentosa, and the SkyHelix is no exception, with its sky-high vantage point on Imbiah Lookout affording stunning views across the bay to the Southern Islands. This one's a favorite with Instagrammers seeking the ultimate sunset snap as the rotating gondola spins skywards, reaching heights of around 260 feet above sea level. 
Riptide Rocket
Also on Sentosa, the Adventure Cove water park comes with a fish-filled reef and stacks of rides, the most thrilling of which is the Riptide Rocket, a ride every bit as electrifying as its name suggests. This one is best done in pairs, with floats designed to maximize the speed with two people on board as you whip around gravity-defying loops and over stomach-churning drops before being ejected at very high speed (and no doubt still screaming) into a giant splash pool at the bottom. 
AJ Hackett Sentosa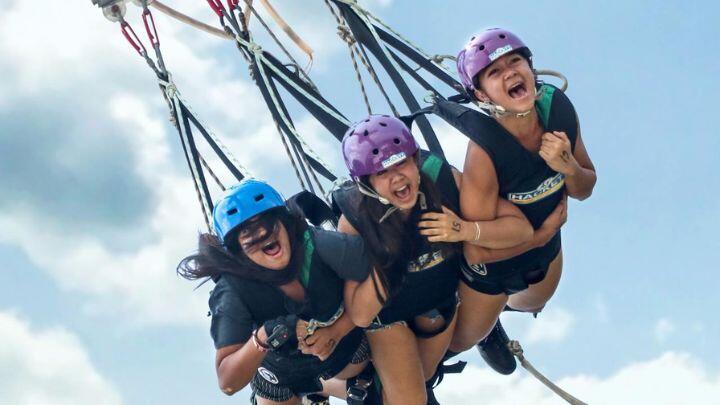 Ever fancied bungee jumping above the palm-fringed golden sands of a tropical beach paradise? Well, now's your chance! AJ Hackett's Sentosa attraction on sunny Siloso Beach is strictly for those with a head for heights. Get your bearings on the SkyBridge, a knee-trembling 150 feet above terra firma, before braving the bungee or having a go at the main event: a giant swing for up to three people that soars over the Siloso sands at potentially lunch-losing speeds of up to 120kph. 
Skyline Luge
Your Sentosa luge experience starts with a gentle ride to the top of the hill aboard the Skyline cable car, a sedately relaxing experience that does little to prepare you for the hair-raising hairpins you're about to enjoy/endure on the way back down. Three-wheeled luge karts whiz you down your pick of four exciting tracks – each over 600 meters in length – and kids can ride tandem with parents or go it alone if they meet the minimum height and age requirements. Choose the Expedition Trail's tunnels and twists as you speed through tropical rainforest or dodge fire-breathing beasts along the terrifyingly tight turns of the Dragon Trail. Better still: do both!
Last But Not Least...
Singapore Flyer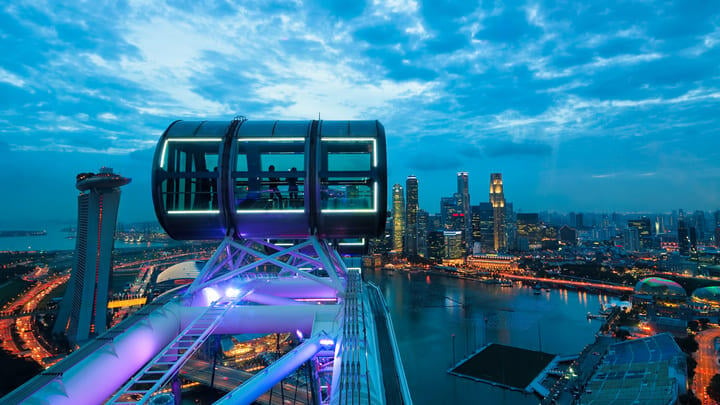 One of the tallest observation wheels in the world, the Singapore Flyer is – gasp! – not on Sentosa but in Marina Bay. Its vantage point (and height) affords 360-degree views right across Singapore and (ahem) Sentosa, and even as far as Indonesia and Malaysia on clear days. The wheel soars to a nerve-jangling 541 feet;, which is not far off half the height of the Empire State Building or Eiffel Tower so, yeah, pretty high. Book a ticket that includes a glass of champagne or Singapore Sling if you think you might require a little something to steady your nerves.
Save on attractions

and activities in Singapore
Save on admission to Singapore attractions with Go City. Check out @GoCity on Instagram for the latest top tips and attraction info.