Looking for high-octane thrills in Singapore? Well, you've come to the right place. We've got rollercoasters! We've got bungee jumps! We've got hair-raising rainforest luge rides! Heck, we've even got a great big swing that soars 40 meters above the beach! Add to that water parks and plenty more kid-friendly fun and you've got everything you need for a fun-packed Singapore vacation. Here's our adrenaline-fueled guide to the very best theme parks in Singapore…
Universal Studios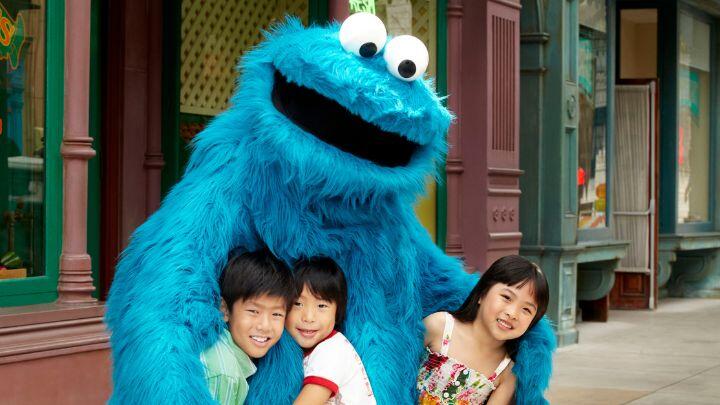 There's hours of fun to be had at Universal Studios Singapore (USS), the first and indeed only Universal Studios in all of Southeast Asia, with a whopping six themed zones to explore. We're talking everything from kid-friendly meet and greets with the Minions, SpongeBob and Sesame Street pals to white-knuckle rollercoasters like Revenge of the Mummy and the Accelerator for teens and grown-ups. Adrenaline heads should make straight for Sci-Fi City, an imagined metropolis of the future where the dueling Human and Cylon Battlestar Galactica rollercoasters are among the tallest of their kind in the world and are all but guaranteed to trigger your fight or flight response. 
For something a teeny tiny bit more sedate, hop aboard the Jurassic Park Rapids Adventure in The Lost World zone for a white-knuckle white-water adventure pursued by hungry dinosaurs. Or join the kids in Far Far Away, a vast Shrek-inspired zone with family friendly fun featuring all your favorite characters, including a Puss in Boots rollercoaster and a live show starring Donkey himself.
Though hands-down the best theme park in all of Singapore, USS is just one of many amusements designed to attract thrill seekers across the bay to Sentosa. Read on to discover what else you can do on this diminutive island…
Adventure Cove Water Park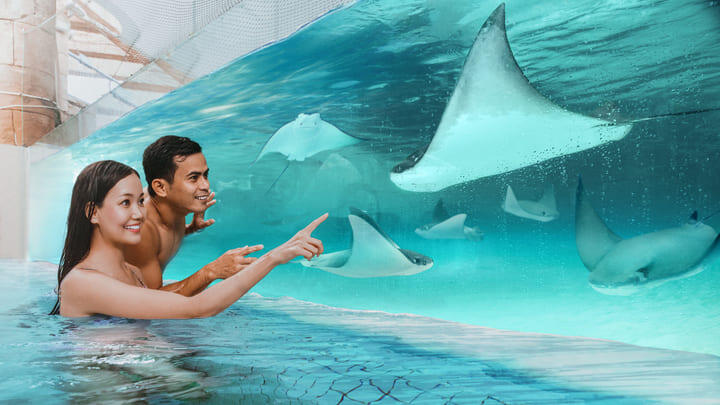 A hop and a skip from USS, Adventure Cove offers yet more heart-pounding rides for adrenaline junkies. Spiral Washout is every bit as exhilarating as its name sounds: brave souls are fired down a giant flume with only a rubber dinghy to cling to for dear life, before being unceremoniously ejected into a pool, at very high speed. Then there's the terrifying-sounding Riptide Rocket with its gravity defying loops and twists and stomach-churning drops.
Once again, there are also plenty of rather more tranquil entertainments for the faint of heart to enjoy. Drift along the Adventure River in a huge donut, meandering gently through 14 different zones, including a flourishing jungle garden and peaceful grotto. There's even an underwater tunnel full of colorful tropical marine life, like something from a particularly psychedelic dream. You can ogle many more such eye-popping critters while snorkeling the Rainbow Reef, home to over 20,000 fish. Or kick back with the kids in the wave pool at Bluwater Bay or at Big Bucket Treehouse, where avoiding a drenching is the (near-impossible) name of the game.
AJ Hackett Sentosa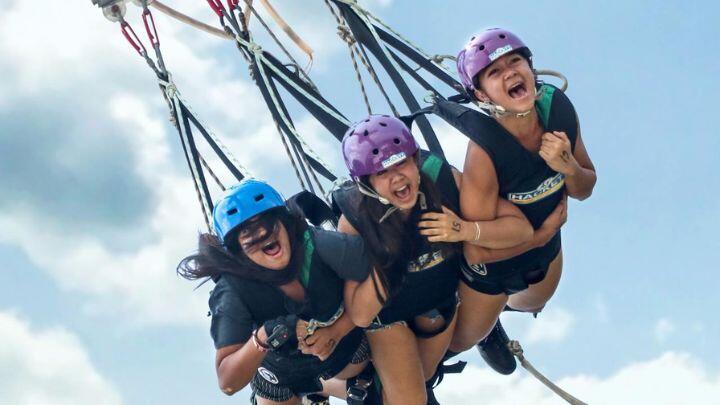 Set on the golden sands of Sentosa's palm-strewn Siloso beach, AJ Hackett provides ideal entertainment for those with a head for heights, or indeed anyone who just fancies scaring themselves silly. Experience crazy highs on the SkyBridge, 47 meters above terra firma before testing your mettle on the bungee rope or giant swing. Big enough to hold two people, the swing soars over Siloso's treetops at nerve-jangling speeds of up to 120kph, so maybe not one to attempt too soon after lunch.
Skyline Luge
This one's a corker for anyone who feels the need… for speed. First though, the Skyline cable car carries you gently up, up and away over the jungle treetops to the top of the hill, where four different luge tracks – each over 600 meters in length – allow you to choose your thrill-a-second downhill adventure. Don your helmet, strap in and get ready to burn some rubber on your track of choice, be it the Expedition Trail through the twists, turns and tunnels of Sentosa's rainforest, the Dragon Trail where mythical fire-breathing beasts lie in wait for you, or the Jungle Trail's terrifyingly tight hairpins.
Jewel Changi Airport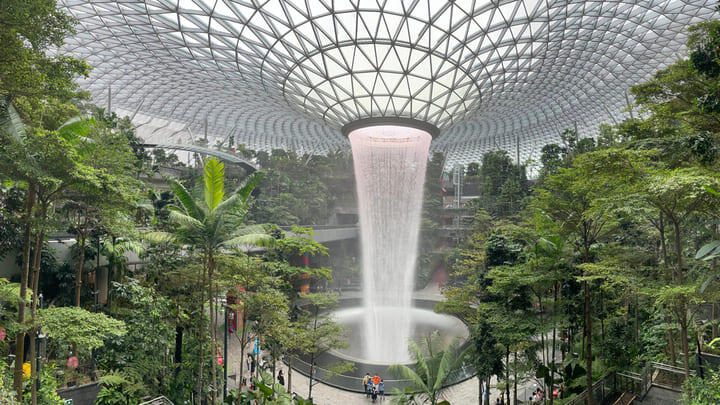 Is it an airport? Is it a theme park? You decide! In any case, it's easily among the best entertainment destinations in Singapore. Alongside the great many shops and restaurants housed inside this architectural masterpiece, you'll find epic indoor waterfalls, unique art installations, and a lush garden that spans five floors. And that's just for starters!
Go on a Jewel-rassic dinosaur hunt in the Shiseido Forest Valley and Canopy Park, where your augmented-reality TimeLens reveals Jurassic behemoths lurking in the undergrowth. Bounce yourself silly on the huge Bouncing Net, lose yourself in the kaleidoscopic Mirror Maze and interact with art in the giant sculpture playground that is Discovery Slides. Or, if you just want to let loose, The Slide@T3 may be for you. This four-story slide whizzes willing victims participants from level one all the way down to basement level three in just a few thrilling seconds.
Pororo Park
Themed around the animated series Pororo the Little Penguin, this indoor amusement park is strictly for the kids. It's a technicolor explosion of fun, where infants and toddlers can meet Pororo and other pals including Crong the baby dino, Rody the robot and Popo and Pipi the… well, we're not quite sure what Popo and Pipi are. Gentle activities here include a sensory Hinoki Pit filled with tiny wooden cubes, Poby's Jungle Gym, Pororo's House and, perhaps best of all, the Pororo Express Train, ably piloted around the park by Pororo and Eddy the fox.
Haw Par Villa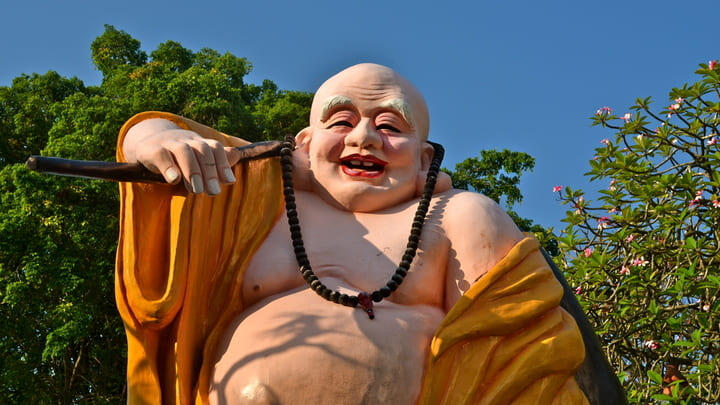 No rides here, but what Haw Par Villa lacks in adrenaline rushes it more than makes up for in hallucinatory historical dioramas. Make no mistake: this is one of the weirdest theme parks you'll ever visit, containing hundreds of statues depicting Chinese folk tales and lessons in Buddhist morality. If you think that's given you some idea of what to expect, think again. Some of the dioramas look like the kind of thing you might expect to encounter in a fever dream. Rat taking a phonecall? Sure, why not! Tortoise serving tea to a deer? Completely normal! Giant crab with a grinning human head? Oh, go on then!
As fascinating and memorable as a trip to Haw Par Villa undoubtedly is, do note that the hellish and macabre nature of many of the exhibits mean parental discretion is advised if you're planning on taking the kids along. Don't say we didn't warn you!
Save on attractions

and activities in Singapore
Save on admission to Singapore attractions with Go City. Check out @GoCity on Instagram for the latest top tips and attraction info.