Changi is a cute village right at the eastern tip of Singapore, best known for its sandy beaches, lush palm groves and, not to put too fine a point on it, its status as the country's primary transport hub, thanks to Changi Airport's prime position slap bang in the middle of the district. But if low-flying aircraft don't bother you a jot, you'll find that Changi has bags of charm, from its laid back beach resorts to the many attractions located inside the airport itself. Don't believe us? Read on to discover why Changi is worthy of a day trip or weekend mini-break on any Singapore vacation, and check out our bite-size guide to the best things to do in Changi, Singapore!
Changi and How to Get There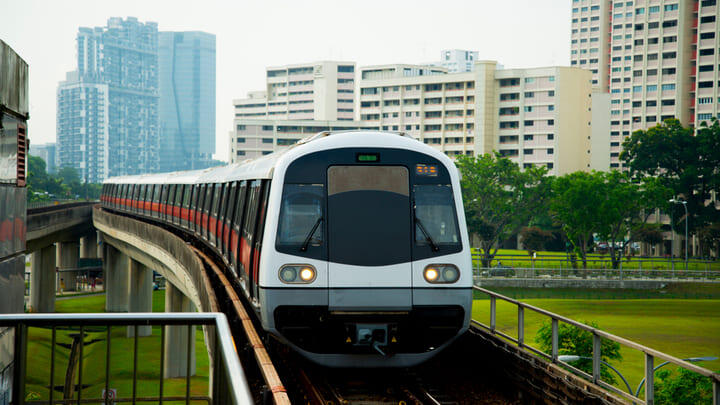 Its designation as one of the biggest and busiest transport hubs in all of Asia makes getting to Changi an absolute breeze. The airport is right at the end of the East–West Line on Singapore's super-efficient Mass Rapid Transit (MRT) metro system, meaning you can get there in around 30 minutes from just about any centrally located hotel. There's also a slew of bus and taxi services available and, heck, you can even walk, jog or cycle there via the Changi Airport Connector if you fancy it (more on this later).
The airport encircles the enormous nature-themed entertainment and shopping complex known as Jewel Changi Airport (or just 'Jewel' to in-the-know locals) and its this magnificent, magical, massive playground that has earned the airport the title of 'best in the world' dozens of times.
Things to do in Changi Airport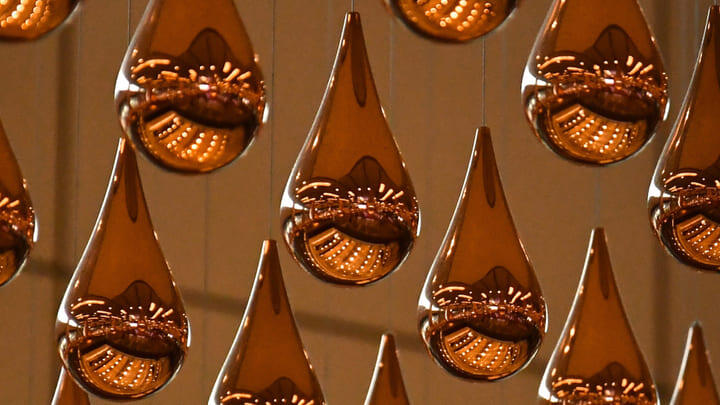 Make no mistake, Jewel Changi Airport is an entertainment destination in its own right, absolutely worthy of a visit even if it does feel a little weird heading to the airport for a fun day out. But this is no ordinary airport. Far from it, in fact. Housed inside this architectural marvel, you'll find epic waterfalls, huge slides, pretty gardens and world-class shops and restaurants. And that's just for starters. Let's unpack just a teeny tiny selection of the highlights, many of which are free!
The Rain Vortex
Staking its claim as the world's tallest indoor waterfall, the Rain Vortex is the jewel in the Jewel's crown. Rainwater enters through an oculus in the roof of the dome, cascading seven stories through the heart of the building to a pool in the basement level. A truly mesmerizing spectacle at the best of times, it's even better during the hourly light and music shows every evening.
Kinetic Rain
Over in Terminal 1, this hypnotic moving sculpture is comprised of 1,216 gleaming copper-plated raindrops, each able to move independently. Together they form elaborate shapes including planes and hot-air balloons, with the patterns repeating on a 15-minute loop. But you really could watch this thing for hours on end without tiring of it.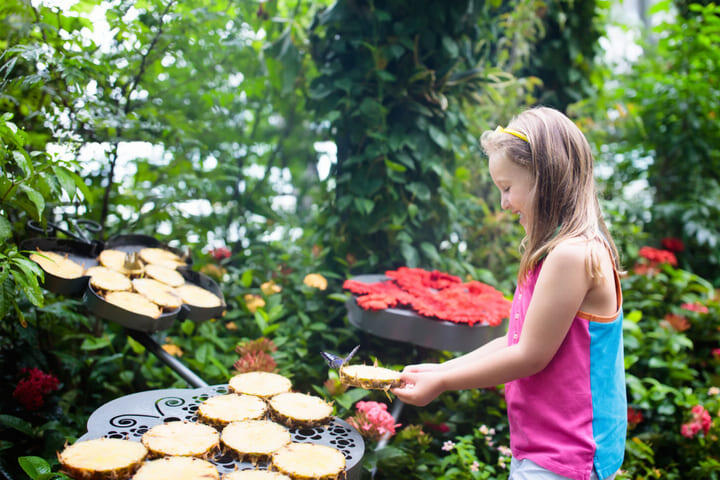 The Slide@T3
Ever imagined the unbridled joy of whizzing down the world's tallest airport slide? Of course you have! And now's your chance, thanks to this four-story beast that gets you from level one to basement level three in a matter of seconds. Fab fun for kids young and old.
Butterfly Garden
There's no shortage of flowers and foliage to explore in this vast nature-themed complex, but chief among the many verdant attractions on offer has to be the Butterfly Garden. Inside, around 1,000 tropical butterflies dance and flutter around the flowering plants and tranquil waterfall.
Pokémon Center Singapore
The kids will love this real-life replica of the gaming world's Pokémon Center, even if your wallet does not. Expect larger-than-life characters as well as (naturally) a vast array of toys, games, trading cards, clothes, bags and, well, just about anything else you can think of. Got to buy 'em all!
Changi: Best of the Rest
Changi Beach Park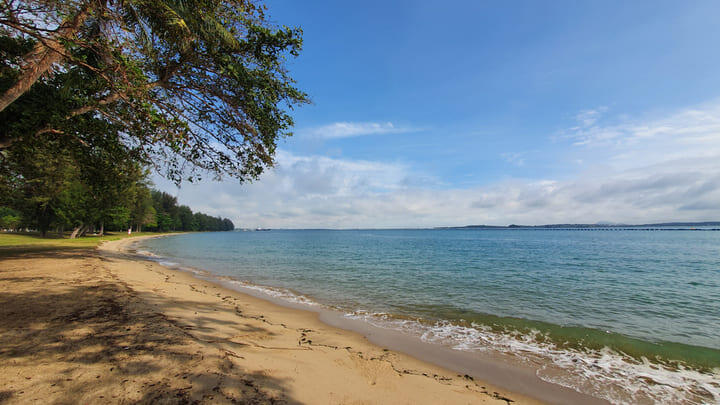 There are plenty of things to do at Changi Beach Park: wiggle your toes in the warm white sand, picnic in the palm groves, take a dip in the blue, blue sea or simply sit and watch the world go by. Way less busy but no less beautiful than its near neighbor at East Coast Park, Changi Beach is a great choice for kampong-style vibes and beach cookouts, though note you'll need to book a designated BBQ pit to do this. The beach park also has bikes to rent and easy access to the ace Park Connector Network that criss-crosses the island with cycle paths linking parks, wetlands and nature reserves via great green corridors.
Changi Airport Connector
One such corridor is the Changi Airport Connector, 3.5 kilometers of car-free pathways that link the airport to the East Coast Park. Kids will go wild for the roar-some Jurassic Mile section of the route, where life-sized dinosaurs nibble the leaves and forage in the undergrowth. Dodge nightmarish velociraptors, pause to say hey to gentle giants including the brontosaurus, and get ready to run for it when you spot the terrifying T-rex tearing through the fence!
Changi Village Hawker Centre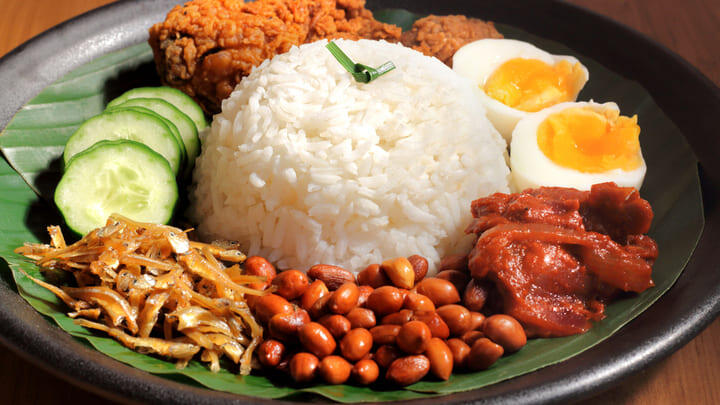 Aromatic nasi lemak, that utterly sensual blend of rice, coconut milk, chilli sauce, crispy anchovies, peanuts and egg, is the one to try at this mostly-Malay hawker center in Changi Village, but you'll find other fragrant local favorites like chili crab here, too. Heck, why not try both? You only live once, after all.
Changi Point Coastal Walk
Start at the boardwalk at Changi Bay Point, where the waterfront views are at their absolute finest, then wander waterside, taking in views of village life and watching bumboats ferry daytripping tourists out to Pulau Ubin. If you're feeling energetic, you can continue as far as Changi Beach Park, for those stunning white sands, relaxing beach vibes, and (go on, you've earned it!) a cooling ice cream.
Changi Chapel and Museum
The collection at this thought-provoking museum includes paintings, murals, sculptures and other artifacts, each contributing to the story of the soldiers and civilians interned at the Changi prison camp during Japanese occupation during the Second World War. Hear tales told by the very people who were imprisoned here, and visit the powerful Changi Chapel, a faithful reproduction of St George's, one of the churches built here by PoWs. 
Save on attractions

and activities in Singapore
Save on admission to Singapore attractions with Go City. Check out @GoCity on Instagram for the latest top tips and attraction info.