The night. The mysterious time of the day when the light fades away, and things tend to go bump on a regular basis. To some, the absence of life brings the horror of our mortality to life. They go inside, turn on the lights, and pray for daybreak. Some of them sleep too. That's pretty useful. But to the rest of us, the night is just the beginning. It's our time to shine. To those of you out there who call the darkness home, we salute you. And we're here for you.
Even on vacation, our penchant for the shadows cannot be sated. We flourish when others flounder. We head out into the night to find fun, where many dare not. We sleep during the day...because we have to sleep sometime. So, what can you do if you're a night owl in Singapore? Well, read on and discover our picks of the best things to do in Singapore at night! Cue thunder, lightning, and cackling. 
Including:
Gardens by the Bay
CÉ LA VI SkyBar at Marina Bay Sands
Raffles Courtyard and Long Bar
Wings of Time
Marina Bay Night Bicycle Tour
and more!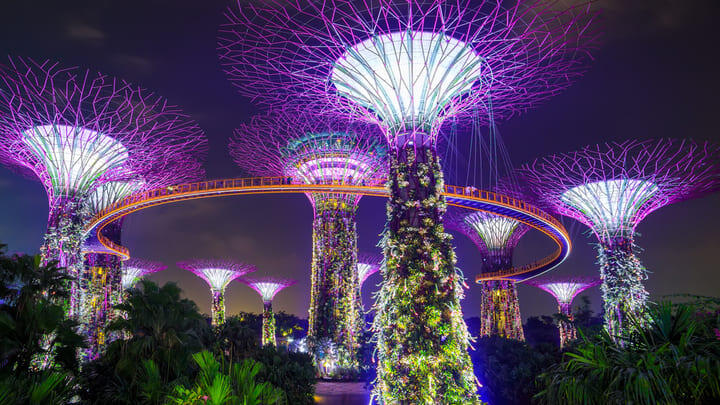 Let's kick things off with some greenery. Gardens of the Bay is not only Singapore's most famous green space; it's also one of the most recognizable on the planet. Featuring millions of plants across multiple climates, it's the perfect place to reconnect with nature. 
But when the sun goes down, you'll discover something even more amazing there - the Garden Rhapsody. And what is that? Well, it's the best light and music show you'll ever see in a park! Thanks to the park's Supertrees, you'll be treated to a light show that seems to move the trees along to the music. It's all smoke and mirrors, of course, merely a trick of the light. But it's one of the most impressive tricks of light you're ever likely to witness. 
So if you're looking for things to do in Singapore at night, the Garden Rhapsody is arguably the most awe-inspiring. And, with two shows every night, you'll always find time to check it out.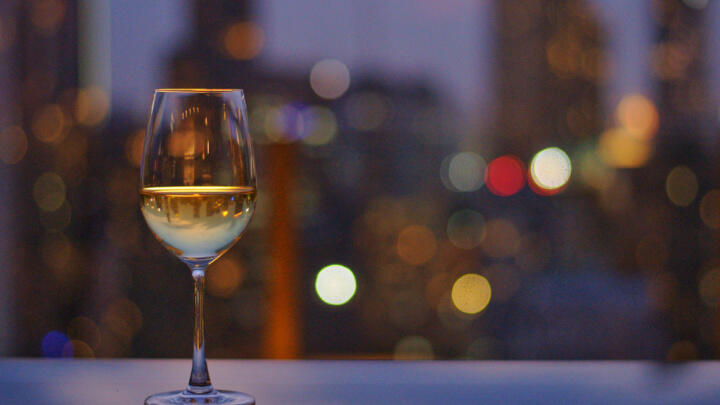 On Singapore's warm evenings, one of the best things to do in the city is have a refreshing drink. Want to appreciate some of the best views in the city while you sip? Do it all at a rooftop bar!
Enter CÉ LA VI, Singapore's premier rooftop bar at Marina Bay Sands. Step off the elevator on the 57th floor, and you'll get VIP views along with VIP treatment. And yes, that means you'll be skipping the queue straight into the VIP bar! But we're not done yet, because you'll also get a free drink on us! Sublime.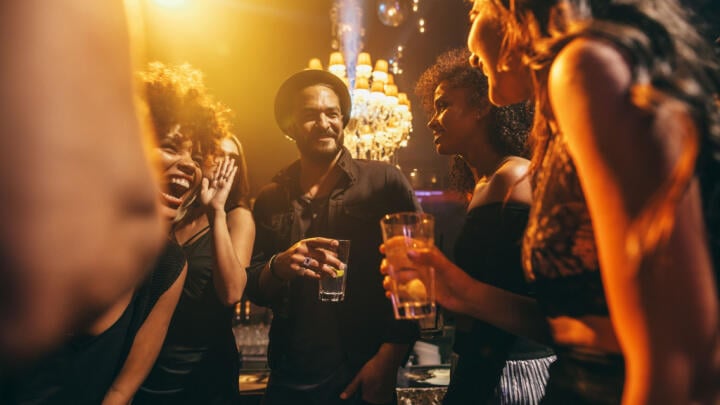 However, if heights leave you squirming, or the heavens have opened up, why not try the drier, terra firma delights at Long Bar at Raffles? 
You'll still be treated to stunning surroundings, thanks to the swaying palms and majestic white arches that adorn the hotel's courtyard. You'll still get excellent service from Raffles' award-winning staff. And you'll still get a complimentary drink - of course, none other than the country's favorite 'Singapore Sling'. 
And hey, if you want to stay for longer, you'll get to pick from dozens of refreshing offerings on their eye-opening menu.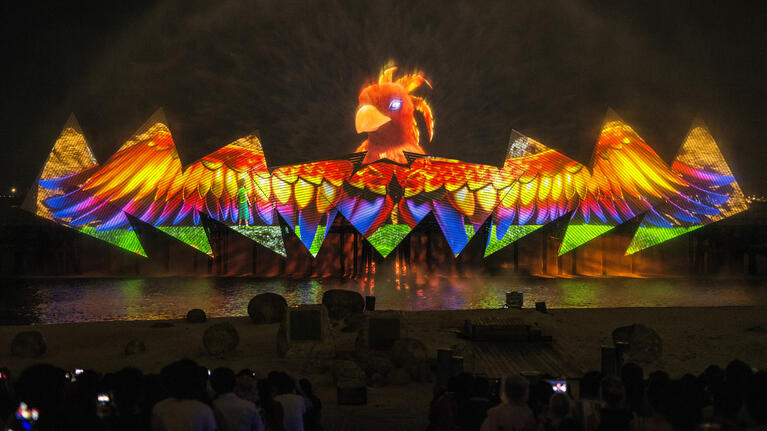 For more song and light shenanigans, head to Singapore's premier hotspot, Sentusa's, for pyrotechnics with a plot! 
At the Wings of Time, through light, sound, song, and fireworks, you'll follow the story of Shahbaz, a bird from long ago, as he tries to find his way home. He and his friends explore human progress through the millennia, from the Pyramids to the Industrial Revolution. And all of this translates to one of the most dazzling spectacles you'll find in Singapore, one that lights up the night sky with a rainbow of colors.
An unmissable experience, Wings of Time is one of the best things to do in Singapore when the sun goes down.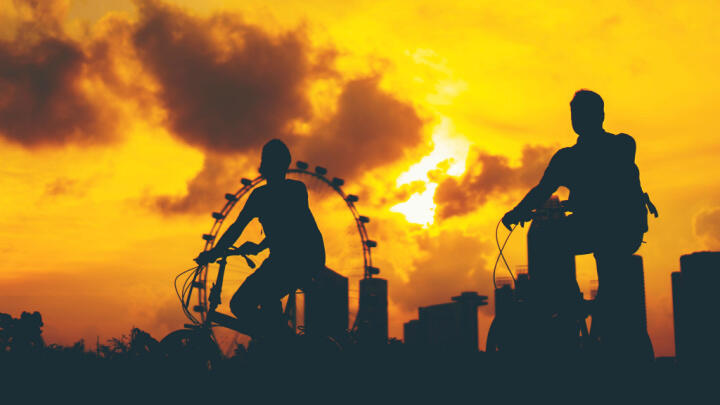 If you want to see some of Singapore's most prominent landmarks, then you needn't do it during the day. Thanks to this nighttime bike tour of Marina Bay, you can still tick plenty off your itinerary. 
With an experienced tour guide in tow, you'll pass plenty of Singapore's blissful landmarks, from the Gardens of the Bay to the SuperTrees, and along the Kallang River. And if you want to know more about each place, your guide will be more than happy to drop some knowledge bombs on your trip. 
Traveling around Singapore at night almost feels like another world, so if you're a night owl, get on your bike and get peddling!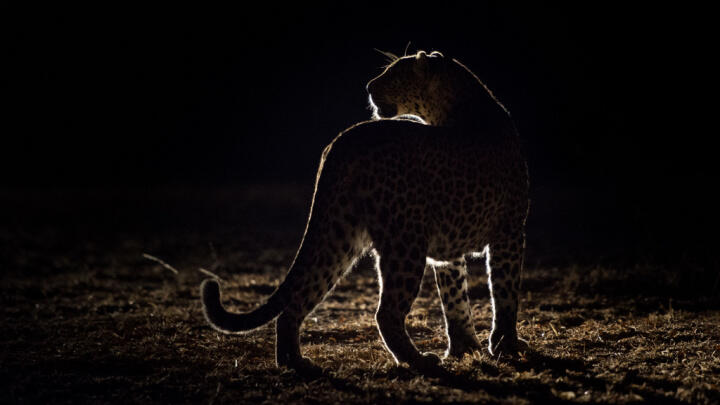 If you wonder what other creatures share your night owl status, then where better to meet them than on an evening safari? With a rare chance to see what happens in the animal kingdom when the sun goes down, this night safari is one of the best things to do in Singapore at night!
The park features four zones; Leopard Trail, Wallaby Trail, Fishing Cat Trail, and East Lodge Trail. And each zone houses a myriad of different species that can happily co-exist. So don't worry, it's nothing like Jurassic Park. 
And within each zone, you'll find plenty of animal favorites like lions, leopards, Malaysian tapirs, hippos, tigers, hyenas, otters, and bears. Even the adorable - and sadly incredibly endangered - pangolins are lurking about somewhere, waiting for their moment in the camera. See if you can find them. 
And those are our picks of the best things to do in Singapore at night! Looking for some more fun activities and attractions to grace your vacation's sunny days? Go City's got you covered. With our Explorer Pass and All-Inclusive Pass, you can pick and choose the best of Singapore for one low price.