Singapore is one of our favorite cities for couples. It's got everything from romantic adventures to sublime scenery, fine dining to tasty teas, and incredible shopping opportunities. Whether you crave the sun, want some thrills, or just want to party, there's always something to do for happy couples in Singapore. If you're searching for things to do in Singapore for couples, check out our list of the top attractions and activities.
Best time for couples to visit Singapore
There's never a bad time to visit Singapore. It's a year-round city. However, depending on what you want from the experience, there are better times than others. If the sun's your priority, February to April is your time to shine. Those are the months with the least rain, with temperatures in the mid-80s°F (high-20s°C).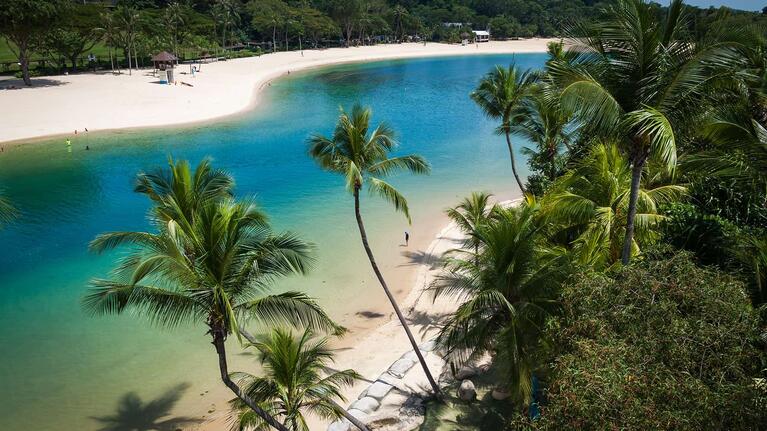 If you're looking for a little peace and quiet with the beaches to yourself, July to November is a good window. The streets, shops, and beaches are all a little quieter, although the rain picks up towards the end of the year. Keep that in mind if you're hoping for romantic picnics or laying out under the stars.
Chinese New Year falls either in January or February depending on the cycle of the moon, and can be a spectacular experience for traveling couples. Expect parades, floats, dragon dances, and a feast of fine food to excite the senses.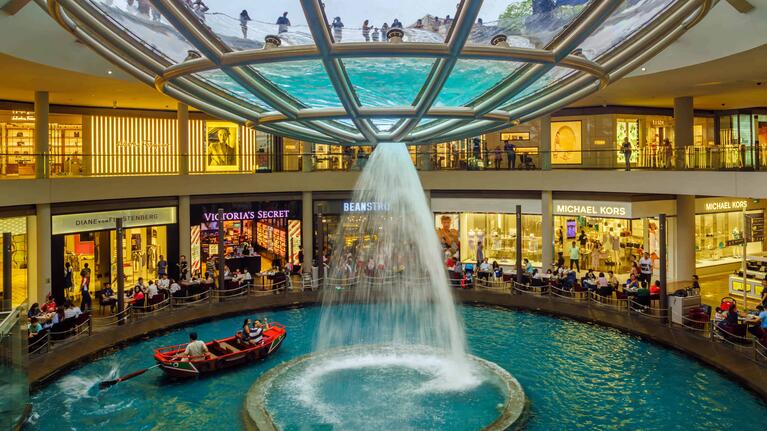 If you've got any special items you want to buy your significant other, Singapore is the dream destination. With some of the best shopping malls in the world, you'll find whatever you need. But, if you want more bang for your buck, time your trip so you arrive during The Great Singapore Sale (also known as the Big Singapore Sale). It usually lasts a month and features island-wide discounts of up to 70%! Check online before booking your trip as the sale period can vary from year to year.
Nightlife in Singapore
Singapore's nightlife is pretty impressive. There are amazing venues, a wide variety of cuisines, and countless entertainment options. Although Singapore is small, its nightlife is diverse and won't leave you wanting. If you want to go out partying in Singapore, here are some great options.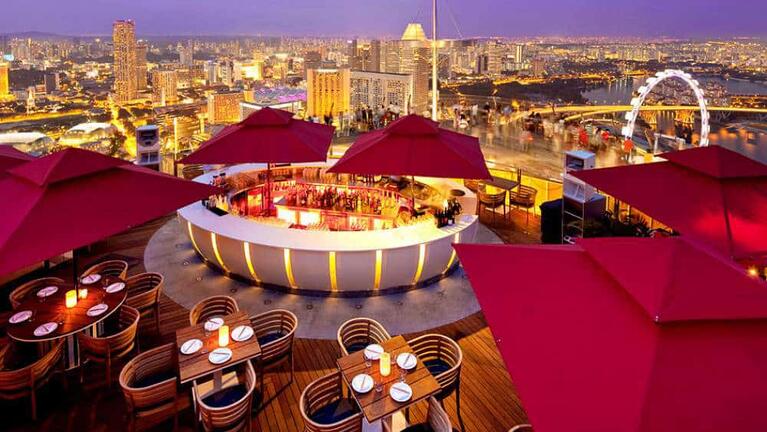 Feel like royalty, drinking in one of the most glamorous rooftop bars in the city, CÉ LA VI SkyBar. Panoramic views of the Singapore skyline, delicious cocktails, and celebrity DJs providing the perfect soundtrack to the evening - that's a recipe for a romantic evening.
If you're feeling adventurous, head to a dance class to learn one of the many traditional dances of the region, including Zapin, Joget, Peranakan, and Kathak, to name a few. If you just want to shake your hips, you can find clubs playing Salsa, Tango, Cha Cha, and everything in between.
Tanjong Beach is one of the liveliest spots in Singapore, with bars and clubs offering a great beach vibe with stunning views of Sentosa, international DJs, and live music playing all year round.
Cultural events in Singapore
Sightseeing is always fun, but if you can time your trip to coincide with a festival or cultural event, you'll enhance your experience tenfold. 
Singapore Night Festival - Spanning a full week, the Singapore Night Festival celebrates the arts and heritage in Singapore. With a different theme each year, it features public art installations, light shows, projection mapping, and nightly performances.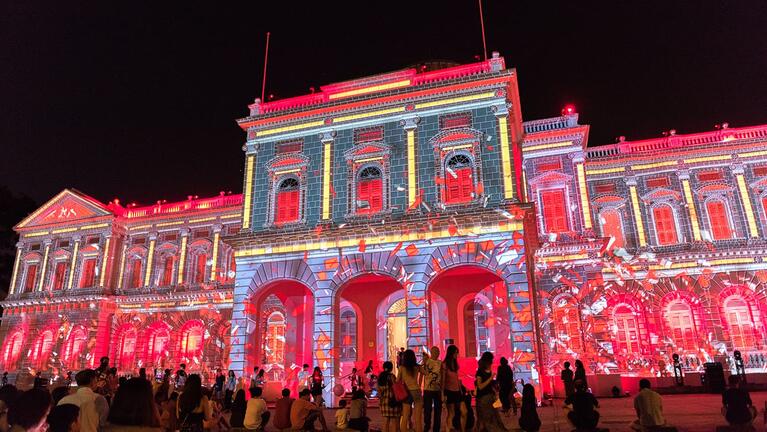 Moon Festival runs in early September. How does a romantic evening of Cantonese Opera sound? Or get dressed up in your finest to attend an evening performance by the Chinese Chamber Ensemble. There are plenty of other, lighthearted events during Moon Festival too, from a Lantern Tour to puppet shows. Definitely not one to be missed.
Singapore International Festival of Arts (SIFA) - Over 70 performances across the city featuring hundreds of local and international artists, SIFA incorporates theater, dance, music, film, and visual arts. The outcome is a fortnight of stellar, educational, thought-provoking performances that will stay with you for a lifetime.
Most romantic locations for a selfie in Singapore
If you don't leave Singapore with a memory card full of photos, you're doing something wrong. Whether it's the iconic architecture, breathtaking natural beauty, or iconic landmarks, Singapore is a beautiful city to photograph, which obviously includes a selfie or three.
Here are some romantic locations in Singapore for a perfect selfie.
The Marina Bay Sands SkyPark
You cannot leave Singapore without a SkyPark selfie. The stunning view from Marina Bay Sands SkyPark observation deck will leave you in awe. 200 meters in the air, with a 150-meter infinity pool offering an unparalleled view of the city below.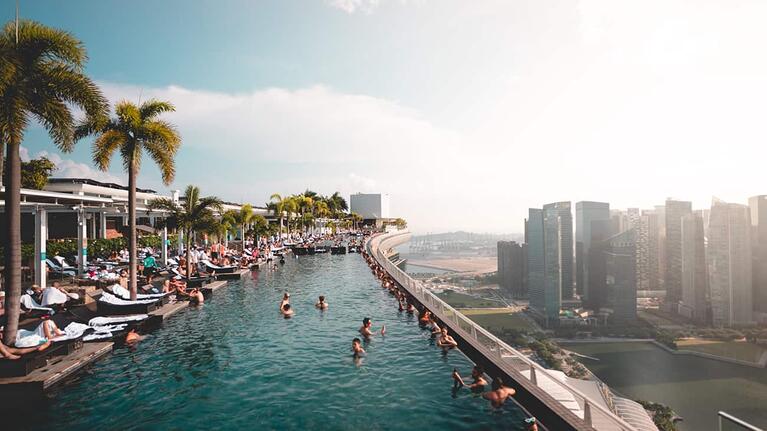 Gardens by the Bay
The Flower Dome offers a perfect romantic getaway for a photo, especially if you and your partner visit on a weekday when it's a little quieter. The Cloud Forest features a light-and-water show on selected evenings, so you'll be able to capture that perfect moment with the one you love.
For yet more photo opportunities, experience nature from up high at The Supertree Grove, with treetop skywalks and the Supertrees providing the perfect backdrop.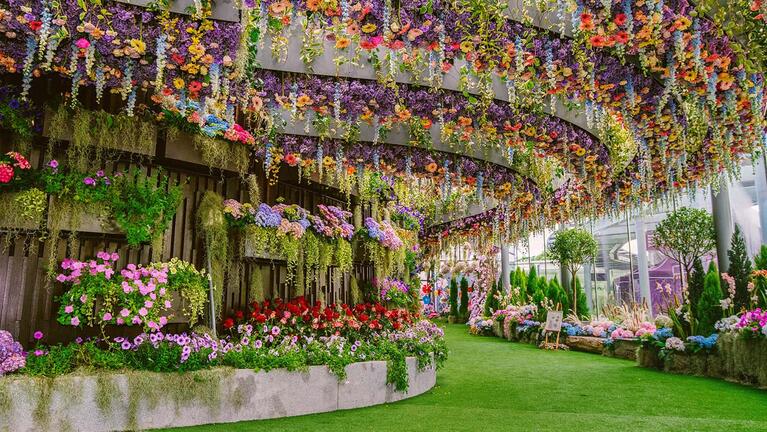 Chinatown
The Buddha Tooth Relic Temple is a jaw-droppingly beautiful building, but that's not the only photo opportunity in Chinatown. Pagoda Street is a vibrant street filled with history, culture, and beautiful architecture. 
Save on Admission to Top Singapore Attractions
Explore the best things to do with a pass for Singapore by Go City®. Select from top attractions with our All-Inclusive and Explorer passes, where you'll enjoy access to galleries, museums, tours much more.
Share Your Adventure with Us
Tag @GoCity in your vacation photos and we'll feature you on our page. Follow the Go City Instagram and Facebook channels for exclusive competitions, special offers, and events to help you make the most of your travels.