Looking for a holiday destination that's fun for the whole family? Singapore is basically a giant playground - safe, sunny, and full of fun, all year round. From adventure parks to beautiful beaches, exotic wildlife to mesmerizing light shows, there are plenty of family-friendly sights for you and your children to enjoy. If you're looking for things to do in Singapore with kids, check out this list of our favorite kid-friendly activities.
Cycle with dinosaurs at the Jurassic Mile
The fun begins as soon as you touch down at Singapore's Changi Airport. It's a magnificent building, housing waterfalls, wildlife exhibits, a swimming pool, movie theater, and much more. It certainly breaks the mold of what an airport can be.
But that's not the really cool part. Connecting Changi Airport to East Coast Park, via a 3km path, is the Jurassic Mile. The largest outdoor display of life-sized dinosaurs! If your kids are dino-lovers, they'll have a blast here.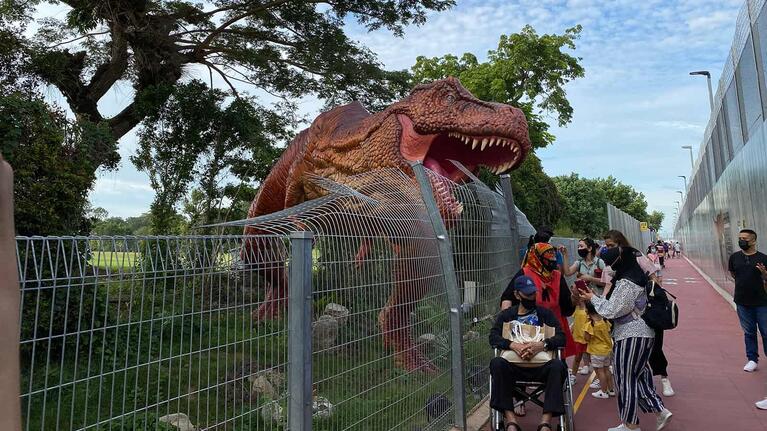 Take your pick of walking, scooting, or cycling as you pass pterodactyls, velociraptors, an angry T-Rex, and many more. The whole route takes around 30 minutes one-way, depending on how many times you stop for photos.
Take a walk on the wild side at Singapore Zoo
Welcoming over two million visitors per year, Singapore Zoo aims to showcase how animals behave in their natural habitats. The park is so big there's a tram to help you get around - always handy if the little ones are getting a little restless.
Check the Zoo map and feeding schedule before visiting, so you can see all your favorite animals, and even feed a few too. There are also special events and animal shows, so be sure to factor these in when planning your itinerary.
You'll see a vast array of animals, including kangaroos, pygmy hippos, frogs, sloths, wolverines, and rhinos, to name just a few of the 300 species. There are also plenty of feeding holes for humans, so you can keep your energy levels up as you explore the wilderness.
Head below the surface at SEA Aquarium
Explore Singapore's underwater world at SEA Aquarium, the largest aquarium in Southeast Asia. With over 100,000 aquatic animals of more than 1,000 species in over 45 habitats, SEA Aquarium has one of the largest collections of aquatic life in the region.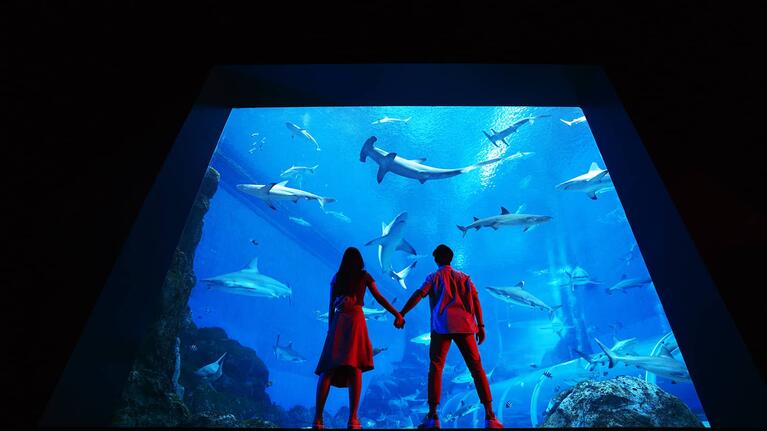 Standing face to face with a Giant Pacific Octopus is an experience your little ones won't soon forget. If that sounds a little too scary, how about Bottlenose Dolphins or adorable little seahorses? 
With a huge central aquarium and immersive shark tunnel, you'll be loving life under the sea. 
Slip and slide at Adventure Cove Waterpark
If your kids have more energy and like things a little more hands-on, head to Adventure Cove Waterpark. They'll can snorkel through the rainbow reef and see 20,000 colorful fish up close, or really let loose in the giant wave pool.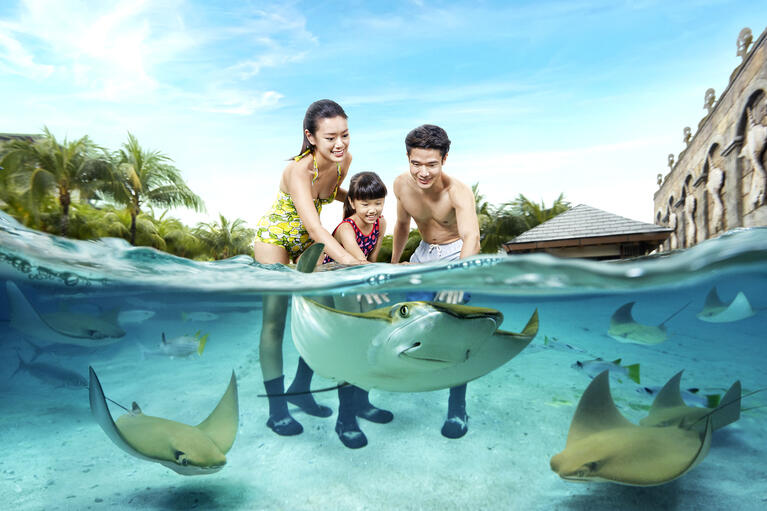 With rides for all ages, including the Big Bucket Treehouse, Riptide Rocket, and Seahorse Hideaway, the hardest part of the day will be dragging them away when it's time to leave.
For the adults who need a brief moment of peace and quiet, hop in a tube and float down Adventure River where you'll drift through 14 different environments, including an immersive underwater tunnel filled with marine life.  
Take it to the next level at Universal Studios Singapore
Scream if you want to go faster! Universal Studios Singapore features seriously exciting rides, attractions, and shows.
Are you brave enough to ride Battlestar Galactica: HUMAN vs. CYLON? Or take on The Ultimate 3D Battle featuring The Transformers? Don't worry, if you need to slow things down a little then Puss In Boots' Giant Journey or Sesame Street Spaghetti Space Chase are a little easier on the nerves.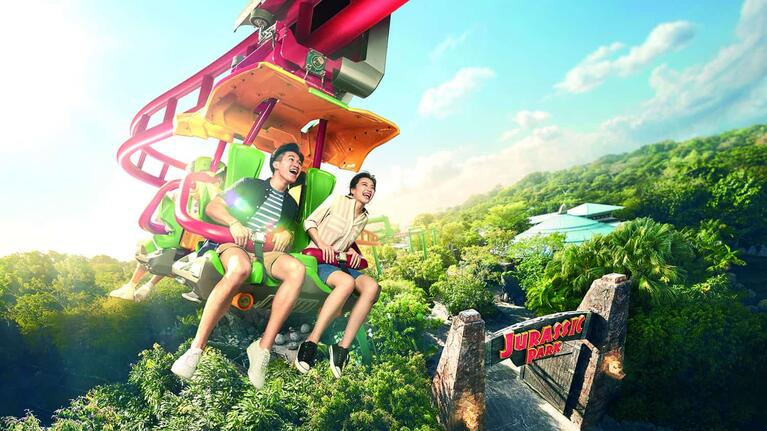 With seven themed areas to explore: Hollywood, New York, Sci-Fi City, Ancient Egypt, The Lost World, Far Far Away, and Madagascar, plus plenty of dining options, from fast food to sit-down restaurants, it's an adventure-packed day for young and old alike.
Head to the beach
A day at the beach is a must if you're heading to Singapore, and whether you have teens or tweens, there's a beach for them.
If building sandcastles while you sip on a frosty drink sounds like a dream day out, add Silosa to your itinerary. The restaurants have tables on the sand, meaning you can always keep an eye on the little ones as they splash in the shallows. Silosa also offers watersports for the older ones, with kayak and paddleboard rentals available year-round.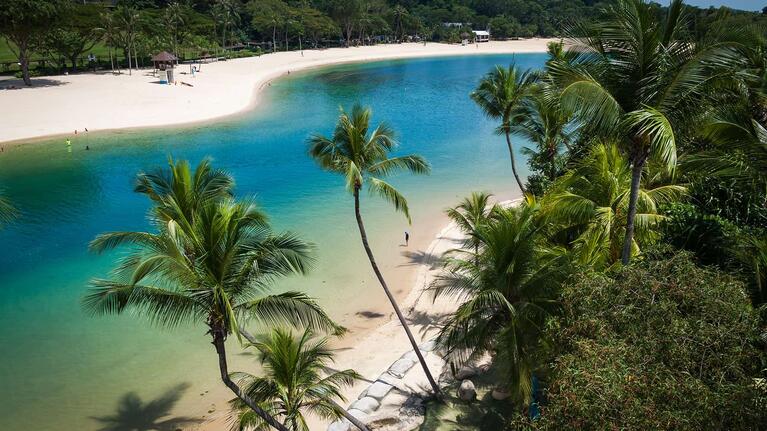 If you get bored easily and want a little more action, East Coast Park is the dream destination. Soak in the sun as you explore the abundance of cycle and rollerblading paths. (rental shops are aplenty), or really test your nerves in the Xtreme SkatePark. 
For the ultimate watersport adventure, Singapore Wake Park offers a safe environment for both beginners and experienced wakeboard riders looking for an adrenaline fix. It's set in the safety of a lagoon, with rides available for children as young as six years old.
Finish the day with a light show
The light shows in Singapore are magical, and the perfect end to a long day of exploring. Some are paid, others are free, but all are amazing.
With a variety of fireworks, water jets, and lasers choreographed to music, Wings of Time is a stunning, state-of-the-art performance that's guaranteed to get a "Wow!" from even the most temperamental of teens.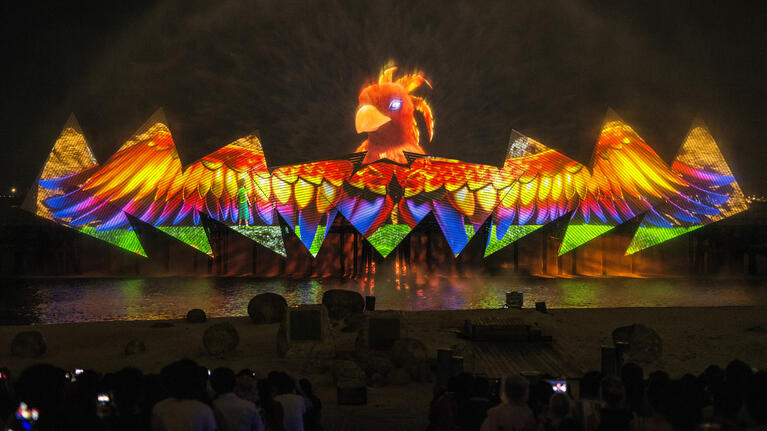 Other light shows worth attending include Spectra, which takes place at Marina Bay Sands just before sunset, and Garden Rhapsody at Gardens by the Bay. Both are unmissable, jaw-dropping experiences.
Save on Admission to Top Singapore Attractions
Explore the best things to do with a pass for Singapore by Go City®. Select from top attractions with our All-Inclusive and Explorer passes, where you'll enjoy access to galleries, museums, tours much more.
Share Your Adventure with Us
Tag @GoCity in your vacation photos and we'll feature you on our page. Follow the Go City Instagram and Facebook channels for exclusive competitions, special offers, and events to help you make the most of your travels.