By Mia Russell 
Beat the heat of Singapore's perpetual summer and hit the water! Garden City is renowned for having some of the best museums, restaurants, and shopping in the world, but the city also has some fantastic water sports to enjoy.  
Encircled by water, the island state has some beautiful beaches like Palawan and Changi. Spending the day relaxing on one of these spectacular beaches is a must. But if you prefer getting active, there is a range of fun water sports to enjoy. Whether it's exploring Singapore's islands on a kayaking adventure or scuba-diving on the brightly colored reefs, here are some exciting water sports to enjoy in Singapore.  
1. Kayaking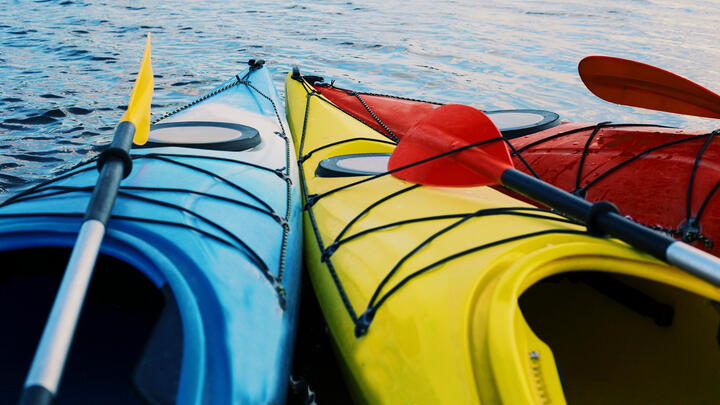 Kayaking in the calm waters around Singapore's many islands is a fantastic way to spend a few hours. This fun, family-friendly activity is ideal for all fitness levels and ages, and you don't need any sailing experience. Experienced guides will teach you the basics and show you some of Singapore's secret spots along the coast.  
Venture to Pulau Ubin and explore the magnificent mangrove forest. Keep an eye out for wildlife like otters, mangrove lizards, and long-tailed macaques. Visit one of the island's floating fish farms (kelongs) and enjoy a delicious seafood lunch of locally-farmed sea bass and mussels. You can even try your hand at kayak fishing and catch your own lunch!  
Use your pass to enjoy a Nature Kayaking Adventure at Pulau Ubin. Explore the beautiful coastline of Pulau Ubin and Pulau Ketam on this fantastic tour and soak up the spectacular natural scenery.  
Where: Pulau Ubin 
2. Windsurfing
Sailing meets surfing in this adrenalin-rushing sport. If you haven't tried the sport before, take a basic windsurfing course or rent a board to show off your jumping, looping, and spinning skills. The Aloha Sea Sports Centre at East Coast Park offers courses for all skill levels and the Constant Wind Sea Sports Centre at Changi Beach has top-notch equipment to rent.   
Where: East Coast Park / Changi Beach  
3. Stand-up paddleboarding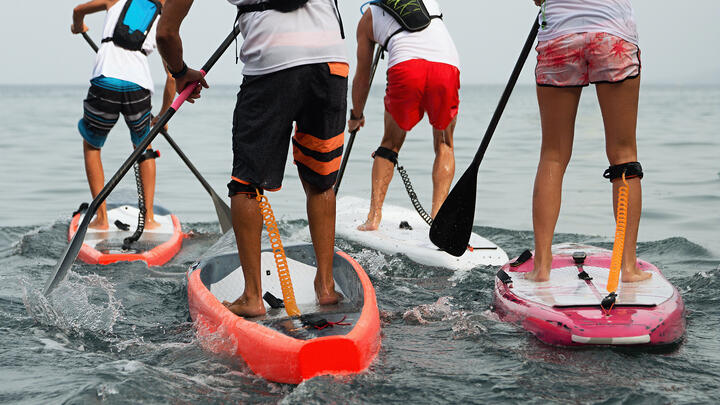 If you prefer a less intense water sport, try stand-up paddling (SUPPING). This easy, relaxing sport involves standing on a longboard and paddling with a double-bladed oar. The whole family can enjoy paddling on calm waters and it's a great upper-body workout.  
Try stand-up paddling at the Aloha Sea Sports Centre at East Coast Park, the Constant Wind Sea Sports Centre at Changi, and the Ola Beach Club in Sentosa.  
Where: East Coast Park / Changi Beach / Sentosa  
4. Sailing 
Soak up one-of-a-kind views of the city with the wind in your hair and salt on your lips from the bow of a sailboat. If you're an experienced sailor, head to Marina Bay, where you can rent a boat from the DBS Marina Bay Sailing Program. Sail around the Central Business District and take in the breathtaking city skyline.  
Don't despair if you don't know how to sail. You can jump on one of the many boat cruises offered at Marina Bay and enjoy the same experience without the hard work!  
Where: DBS Marina Bay Sailing Program, Marina Bay 
5. Wakeboarding 
Love high-energy, adrenaline-rushing fun? Try wakeboarding to get all of that and more. This invigorating water sport involves surfing on a specifically designed board while being towed by a high-speed craft.  
The best place to hit the water on a wakeboard is at Singapore Wake Park at East Coast Park. The park features a lagoon with three cable-ski systems for all skill levels from novices to experts. Glide along at gentle speeds and work your way up to mastering obstacles and jump ramps.  
You'll find some great package deals offered at the park and there are professional wakeboarders on hand to help you with the basics.  
Where: Singapore Wake Park 
6. Flyboarding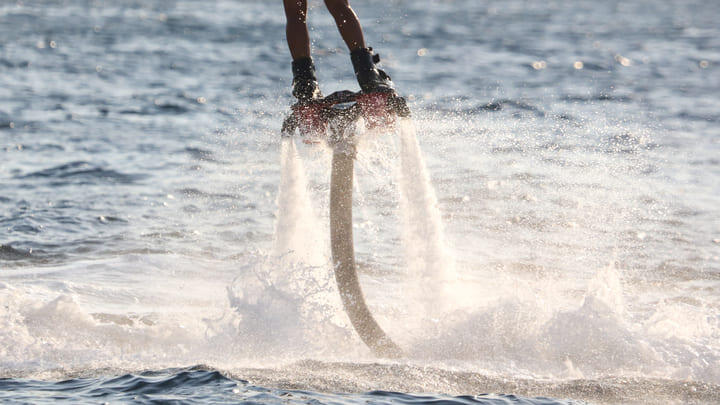 Want to experience the thrill of 'flying' above water? Head to Sentosa's Ola Beach Club for a thrilling, heart-pumping hydro-flying experience. Flyboarding involves standing on a board connected by a long hose to a watercraft. Pressurized water is forced through jet nozzles at the bottom of the board to shoot the rider high into the air.  
You don't need any experience to try this exhilarating water sport - certified instructors will show you the basics and you'll be soaring through the air in no time!  
Where: Ola Beach Club, Sentosa 
7. Jet-skiing  
Another fantastic water sport to enjoy in Singapore is jet skiing. You can rent a jet-ski or book a ride with an instructor at the Puteri Harbour and head out for some wet and wild fun around the city. If you haven't jet-skied before, a professional instructor will guide you through the basics. Remember to always wear a lifejacket and keep the engine shut-off clip attached to your waist.   
Where: Puteri Harbour 
8. Pedal boating  
If prefer a gentler pursuit on the water, try pedal boating. Enjoy a tranquil ride on the calm waters of Discovery Lake without even getting wet! Pedal boating is a lovely way to spend some time with family and friends on the water. You can rent pedal boats from the Sports Hub Water Sports Centre near Discovery Lake at the Singapore Discovery Centre.  
Help keep Discovery Lake clean and join the Waterways Watch Society in picking up litter on the water while paddling around the lake. 
Where: Sports Hub Water Sports Centre, Discovery Lake at the Singapore Discovery Centre 
9. Bodyboarding / Surfing  
Singapore isn't known for having big swells and curling barrels, but you can hit waves to bodyboard and surf at the Stingray half-pipe surfing facility at Splash-N-Surf in the Singapore Sports Hub. This specially designed wave house creates artificial waves for all skill levels. Start on the slower 32 km/h waves if you're a beginner or catch the faster 48 km/h waves and show off your skills.  
Where: Singapore Sports Hub 
10. Dragon boating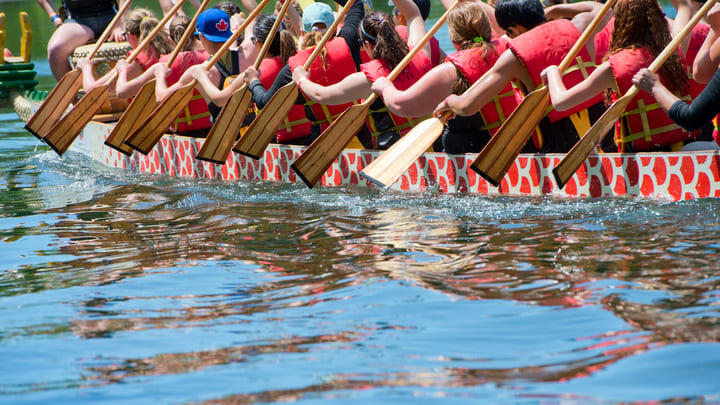 Try your hand at this incredible 2,000-year Chinese watercraft tradition. Head to the Kallang River with a group of friends and join the Singapore Dragon Boat Association for some paddling fun. Experienced trainers will guide you through an orientation program and some introductory classes before you hit the water with your team. Once you get the hang of it, you can rent dragon boats from the DBA or the Singapore Sports Hub's Water Sports Centre.  
Where: Singapore Sports Hub 
11. Scuba diving 
Dive beneath the surface on a scuba-diving adventure and explore the multi-hued corals and rich marine life off Pulau Hantu. A 30-minute boat ride away from the mainland, Pulau Hantu features two islands – Hantu Kecil and Hantu Besar. The islands are surrounded by gin-clear waters teeming with sea life. Keep an eye out for turtles, manta rays, butterflyfish, and parrotfish.  
If you aren't a qualified scuba diver yet, take a course with a certified PADI instructor and venture into the magical underwater world. You can also rent diving equipment and underwater cameras.  
Another way to explore the wonders of the ocean is a snorkeling adventure on Rainbow Reef at the Adventure Cove Waterpark. Use your pass to gain free access to the park and snorkel along the brightly colored Rainbow Reef and see thousands of vibrant fish up close.  
Where: Pulau Hantu