You've probably heard Singapore can be a little pricey for the unprepared vacationer. And sure, those luxury hotel stays, Michelin-star dinners, world-class attractions and casino blowouts really can add up quickly. But there are ways to do Singapore on a budget. You can save on visits to multiple attractions with a pass from Go City, for example. Or stick to cheap eats which are anyway (in our humble opinion) some of the very finest you'll find in Singapore. We've put together a whistle-stop guide to where to eat on a budget in Singapore, whether it's mouth-numbingly spicy local cuisine that floats your boat or, you know, you're just in the market for a burger or a decent bowl of pasta. Dive in to find out more, but be warned: the following blog is guaranteed to make you feel hungry…
***Note: prices quoted are in Singapore Dollars (SGD)***
Cheap Eats in Singapore: Hawker Centers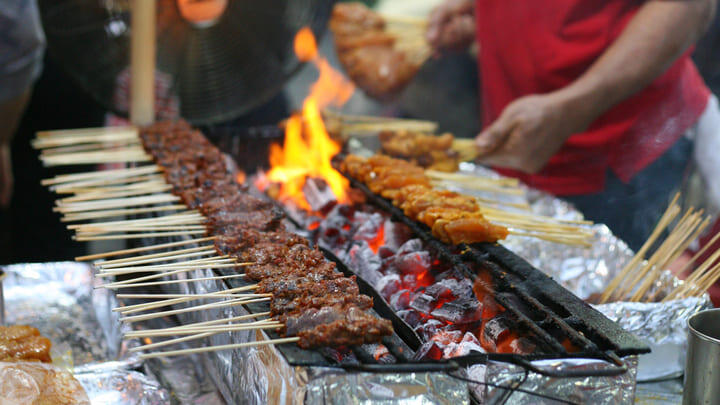 Singapore's hole-in-the-wall joints and hawker centers serve up some of the tastiest and most wallet-friendly dishes in town. There are over 100 centers spread across the city, meaning you're never far from your next $5 laksa or chili crab. Many of the thousands of street vendors within tend to specialize in just one or two dishes and have been doing this for generations. So you can be pretty sure these decades-old food stalls have refined their cuisine to an art form and that the food you're buying for, quite frankly, next to nothing, is going to blow your mind.
Expect a full-on assault on the senses, with the sights and scents of duck and suckling pig roasting on the spit, and plumes of aromatic steam and smoke rising from grills and pots around every corner. Your challenge is not to allow those intoxicating aromas pull you straight in to the first stall you pass. Indeed, the greatest tip we can give for mastering the art of hawker center dining is to actively seek out the longest queues of hungry locals: pretty much a cast-iron guarantee of a great meal, and well worth the wait.
Hawker Center Highlights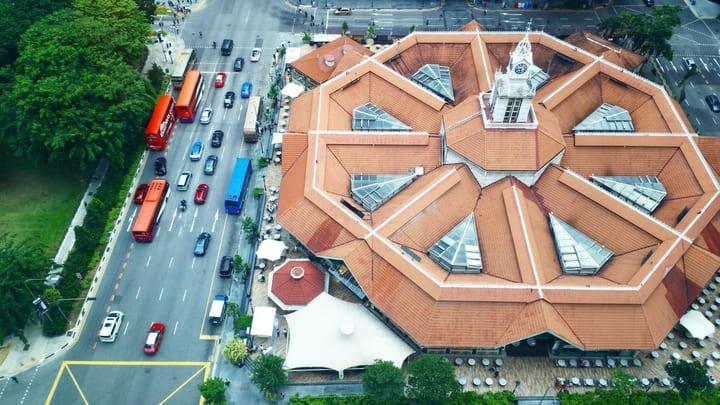 Some of our favorite hawker centers are also some of the most centrally located, ideal if you're shopping on Orchard Street, taking a sightseeing stroll around Marina Bay, or visiting the exquisite Botanic Gardens. A must-see attraction in itself, Lau Pa Sat is as well-known for its distinctive colonial-style architecture and peculiar octagonal shape as it is for its satay and chili crab. Step beneath its wrought-iron Victorian arches for a gourmet wonderland of international cuisines including Filipino, Korean, Vietnamese, Indonesian and more.
Close to the Buddha Tooth Relic Temple, Maxwell Food Center fairly heaves during lunch hour, when nearby offices empty inside, enticed by the heady scents of Hainanese chicken, crispy oyster cakes, zingy chili crab and the mother of all Singapore street-food snacks: pork that's been skewered, char-grilled and smothered in umami peanut satay sauce. Unmissable.
The nearby Amoy Street Food Center is another local favorite thanks to those low, low prices and some of the finest fish head soup, curry puffs and great steaming bowls of ramen known to humanity. Or check out Newton Food Centre, best known for its appearance in the movie Crazy Rich Asians, but more likely to live long in the casual diner's memory for its fine seafood dishes like spicy sambal stingray in banana leaf. 
Neighborhood Cheap Eats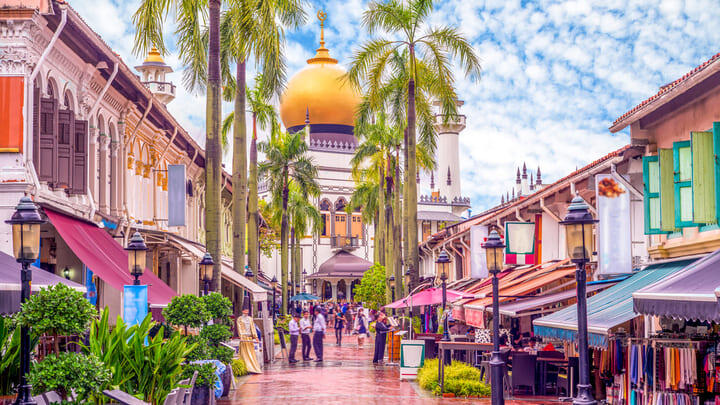 Another great way to hunt out Singapore's best bargain bites is in the neighborhoods where food is a way of life. We're talking Chinatown, Little India and Kampong Glam, Singapore's Muslim district, each of which bustles with restaurants and street food stalls where feasting until you're full for less than $20 is the norm. Kampong Glam is, not to put too fine a point on it, an absolute mecca for gourmands. 
Work up an appetite on a stroll that takes you past the soaring golden dome of the Sultan Mosque, picturesque Peranakan houses in chili reds, sea greens and mellow yellows and the authentic Turkish antique emporia along Arab Street, then take your pick from the deliciously decadent hotch-potch of cuisines that includes – deep breath – Turkish, Syrian, Lebanese, Indonesian, Malaysian, Singaporean and even Swedish. Try Kampong Glam Café for no-frills Malay favorites served at street-side tables right by the mosque, and Sari Ratu on Pahang Street for what some say is the best nasi padang in all Asia. At the Aliwal Arts Center, Tipo is a laidback joint serving freshly made pasta just like mama used to make. Choose from toppings that range from feta to salmon caviar. Yum.
Budget Singapore Eats: Best of the Rest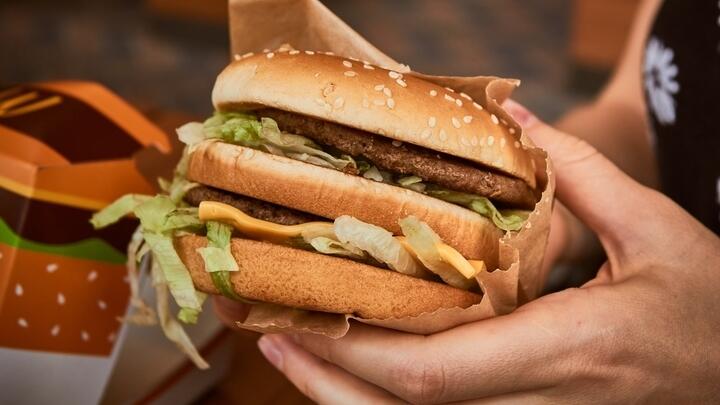 Ok, so we've established that meals that won't set you back more than $15–20 aren't actually all that difficult to come by in Singapore. But hawker centers and pocket-sized neighborhoods are easy pickings for foodies on a budget, so we've also tracked down a selection of popular restaurants that will fill your belly without breaking the bank.
Founded in 1987, Jumbo Seafood more than lives up to its name, with huge flavors and belly-busting portions that have seen it expand outside of Singapore, bringing its signature chili crab to the masses in China, Korea, Thailand and Vietnam. A little more convenient for Singapore vacationers are the outlets in Orchard Road, Jewel Changi Airport and trendy Dempsey Hill. Go for the chili crab, stay for the crispy fried baby squid. Delectable and affordable. What's not to like?
Laksa lovers should make for Sungei Road Laksa, where this creamy, spicy, fragrant noodle soup will have you slurping up seconds (and possibly thirds) without making much of a dent in your bank balance. Meanwhile it's all about the Peranakan classics at TingKat PeraMakan, where you can gorge on authentic nyonya faves like beef rendang and spicy squid sambal (at multiple locations around town) without overly upsetting your bank manager.
And, if you're hankering after something a little more Western, there are plenty of options for that, too, not all of which will break the bank. Tangled operates from a number of locations, serving bargain Italian pasta dishes with an Eastern twist. Think squid ink spaghetti with prawns and mango salsa, and beetroot pasta with salmon and kimchi, just like (ahem) umami used to make. Wolf Burgers also have several outlets and, with a fine range of quality burgers that start from under 10 bucks you really have no reason not to wolf one (or several) of these down on your Singapore sojourn.
Save on attractions

and activities in Singapore
Save on admission to Singapore attractions with Go City. Check out @GoCity on Instagram for the latest top tips and attraction info.