For such a small island, measuring just half the size of London, it's impressive how Singapore packs in so many iconic landmarks and attractions. Around every corner you'll find something new to explore, a new adventure to have, and a new selfie to take. We've put together a list of the top 10 tourist attractions in Singapore. Although they barely scratch the surface, it's a great start.
Marina Bay Sands

Gardens by the Bay

Sentosa Island

Universal Studios Singapore

Changi Experience Studio, Changi Airport

Bird Paradise

Orchard Road

Singapore Flyer

Chinatown

Singapore Botanic Gardens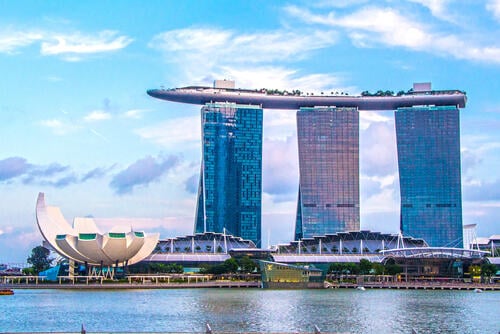 Marina Bay Sands
Singapore's Marina Bay Sands is an architectural masterpiece. It's home to many tourist attractions, housing two exhibition centers, two theaters, over 40 restaurants, a museum, a three-story large art gallery, the world's most expensive standalone casino, two shopping malls, and the world's longest elevated pool.
The Marina Bay Sands SkyPark is the world's largest public cantilevered platform with a height of 200 meters and a 150-meter-long infinity pool. It stands on top of the three towers and offers a breathtaking panoramic view of the city.
The two observation decks, The Sands SkyPark Observation Deck and the Sands SkyPark Infinity Pool offer unparalleled views, plus unmissable photo opportunities of the city skyline, the Singapore River, Gardens by the Bay, and the Singapore Strait.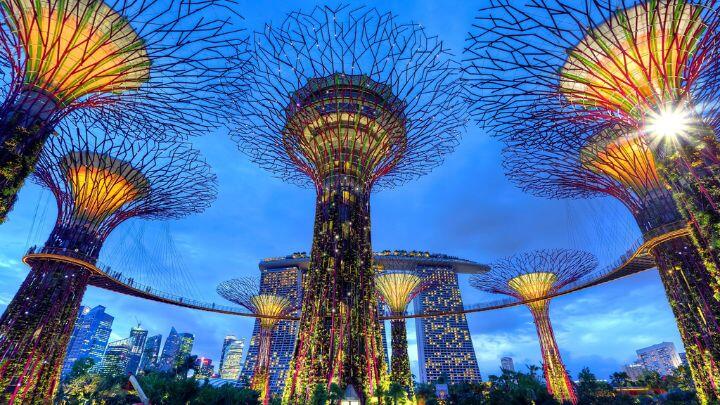 Gardens by the Bay
Gardens by the Bay is a 250-acre garden spanning three waterfront parks in Singapore's Marina Bay area. It features several attractions, including a 22-meter tall cloud forest dome, both indoor and outdoor waterfalls, a 150-meter long hillside garden with 35 terraces, and over 200,000 plants from 100+ species.
Gardens by the Bay is an iconic attraction in Singapore, visited by approximately 1.5 million local and international visitors each year.
Hosting diverse attractions, the Gardens offer unique experiences for people of all ages and interests. These include the Flower Dome for plant lovers, Cloud Forest for nature lovers, the Supertree Grove for adventurers, and the Heritage Gardens for history buffs.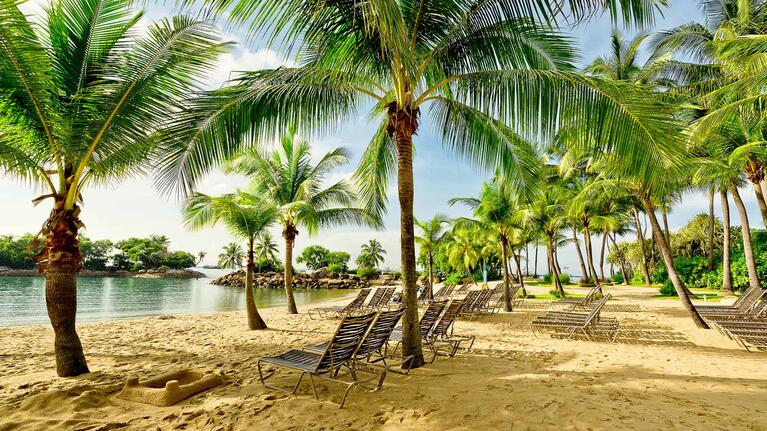 Sentosa Island - the ultimate playground
Sentosa Island is an island resort off mainland Singapore. The island's attractions include beaches, theme parks, and Singapore's first casino. Sentosa Island is part of the Southern Islands of Singapore.
The contrasts of Sentosa Island are striking, from its pristine beaches to its exhilarating activities. The island's filled with historical landmarks and cultural treasures, offering something for everyone.
On Sentosa Island you'll find:
Universal Studios

Adventure Cove Waterpark

Resorts World Sentosa

Palawan Beach

Tanjong Beach Club

Skypark Sentosa by AJ Hackett

Many, many more attractions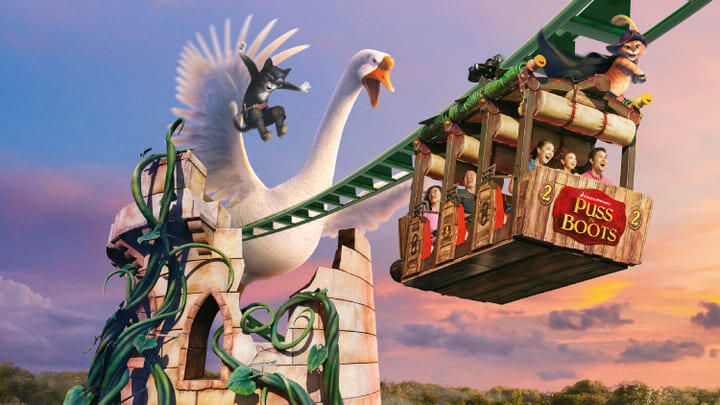 Universal Studios Singapore
Without a doubt, Universal Studios Singapore is a must-visit attraction for your itinerary, regardless of how long you're visiting.
There's something for everyone, with rides for kids and adults. There's the Transformers ride, Shrek 4D Adventure, and Madagascar: A Crate Adventure, to name a few. Some are nice and peaceful, while others are white-knuckle thrill rides.
You'll find plenty of shops, cafes, restaurants, and kiosks all offering refreshments. If you need to calm down from the rides or escape the endless sun, head inside one of these air-conditioned oases and catch your breath.
Aside from the rollercoaster and rides, you'll also find live shows and meet & greets, plus seven themed zones to explore: Hollywood, New York, Sci-Fi City, Ancient Egypt, The Lost World, Far Far Away, and Madagascar.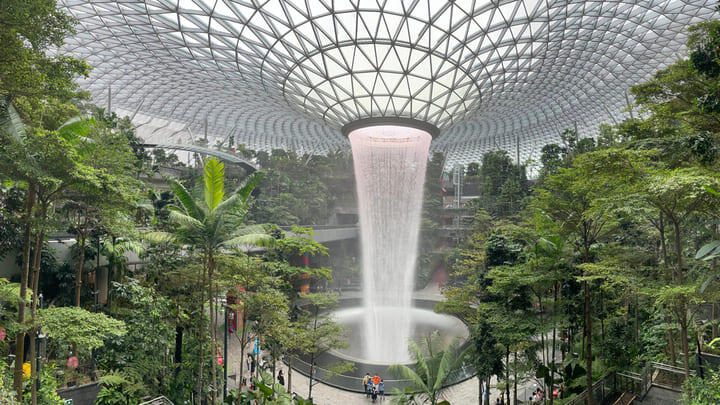 Changi Experience Studio, Changi Airport
The Changi Experience Studio (CES) is one of Singapore's largest attractions. It houses 18 unique attractions, including the Butterfly Garden and Rain Vortex. This indoor playground features state-of-the-art technology and combines physical and digital interactions to provide a unique, unforgettable experience.
The CES works like a living museum that showcases Singapore's heritage and culture, as well as the future of air travel. It aims to inspire the curiosity of visitors about the country's history, culture, and future through interactive exhibits and multimedia shows.
You may have never considered an airport to be a major attraction, but Changi Airport is unlike any other. Waterfalls, art exhibits, high canopy walks, a variety of mazes, and a giant slide. It's certainly not your standard airport.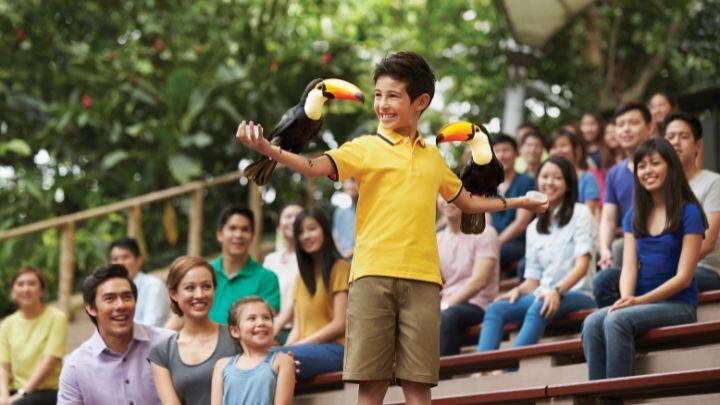 Bird Paradise
Bird Paradise at the Mandai Wildlife Reserve is your chance to peek into a mesmerizing world full of colorful birds. Home to over 3,500 birds, the park is a must-visit for all animal lovers. You'll find perfectly pink flamingos and striking scarlet macaws, as well as some more unique species, such as Shoebills, Southern Cassowaty's and Andean Cock-of-the-rock.
The park has ten different zones to discover, including several vast walk-through aviaries and an impressive penguin habitat. There's also the opportunity to attend presentations where you'll get to see some of the world's most successful winged predators in flight or have fun feeding the pelicans. 
For nature lovers, old and young, Bird Paradise is a fine addition to your itinerary.
Orchard Road
Orchard Road is Singapore's most famous shopping belt and a top tourist attraction. This mega-shopping destination has become a global symbol of Singapore's multiculturalism, with shoppers from India, China, and Southeast Asia contributing to the mix of people shopping here.
The shopping district is busiest in the evenings and weekends, when locals and tourists alike flock to the shops for shopping, dining, and entertainment. Treat yourself to luxury brands, high-street fashion, and cutting-edge electronics as you explore the futuristic malls and shopping complexes.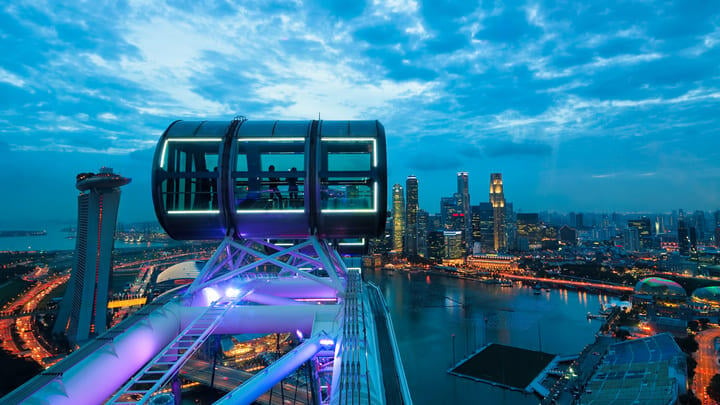 Singapore Flyer
One of the world's largest observation wheels, standing 165 meters tall with 28 fully air-conditioned capsules, the Singapore Flyer provides breathtaking views of Singapore's skyline.
The Flyer provides panoramic views from Singapore's central business districts, Marina Bay, and East Coast Park, providing ample photo opportunities during the ride.
It's an ideal attraction for couples, families, and groups of friends to enjoy together. It offers a unique experience, especially at night when the skyline is beautifully lit up with vibrant colors, plus there's a chance you'll catch a light show or two while you're making the rotation.
Chinatown
Just a short walk from Singapore's central business district, Chinatown is an iconic neighborhood that offers a glimpse into Singapore's rich Chinese heritage. From stunning cultural architecture to mouth-watering food, Chinatown is an essential part of the Singapore experience.
Whether you are looking for a gourmet family meal or a simple bowl of wonton noodles, Chinatown provides the ultimate dining experience. Whatever your budget, Chinatown has a variety of restaurants offering delicious, authentic dishes.
Chinatown's also a cultural hub, with the Chinatown Heritage Center showcasing Chinese culture and heritage through traditional arts and performances. You'll also find an incredible selection of art galleries, traditional street markets, and exquisite temples.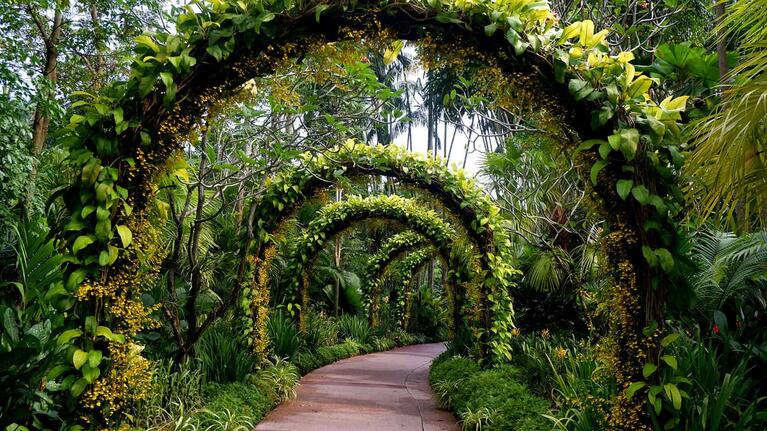 Singapore Botanic Gardens
Singapore Botanic Gardens is a nature reserve in the heart of the city, and a place everyone should visit at least once in their lifetime. Not only a beautiful place to relax, it's also an educational and scientific research center that houses over 5,000 plant species. 
Home to a variety of tropical plants, flowers, and trees, it's the perfect place to learn about plants, insects, animals, and even geology. With walking trails leading you through the gardens, you can spot squirrels, butterflies, and even exotic birds.
The gardens are also a perfect spot to switch off and reconnect with nature. Unwind and relax with a picnic, or stretch your legs on the walking trails or jogging paths. Whatever your energy levels, the Botanic Gardens have you covered.
Save on Admission to Top Singapore Attractions
Explore the best things to do with a pass for Singapore by Go City®. Select from top attractions with our All-Inclusive and Explorer passes, where you'll enjoy access to galleries, museums, tours much more.
Share Your Adventure with Us
Tag @GoCity in your vacation photos and we'll feature you on our page. Follow the Go City Instagram and Facebook channels for exclusive competitions, special offers, and events to help you make the most of your travels.