Chinese New Year, also known as Lunar New Year, is one of the biggest celebrations on the planet. Understandably celebrated by multiple countries throughout Asia, it has a strong focus on family, food, gift-giving! So, if you happen to be visiting Singapore over the Chinese new year, you might be wondering how to celebrate? Well, wonder no more. In this handy article, we'll tell all, including more info about the new year itself, what animal is represented in 2024, and what you can get up to on your vacation! The information ship is about to sail - all aboard!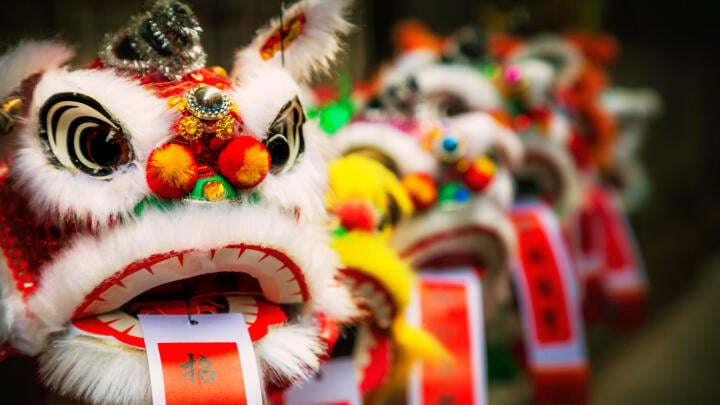 When is the Chinese - or Lunar - New Year?
Chinese - or Lunar - New Year falls on a different date each year. Why? Well, because it follows the lunar calendar. The moon is a fickle beast, after all, and you simply can't trust it to walk the same path. Spacewalk the same path? Nailed it. 
It usually occurs between January 21st and February 20th. In 2024 the Chinese New Year falls on February 10th, marking the beginning of the Year of the Wood Dragon in the Chinese zodiac. So, what's up with the Wood Dragon?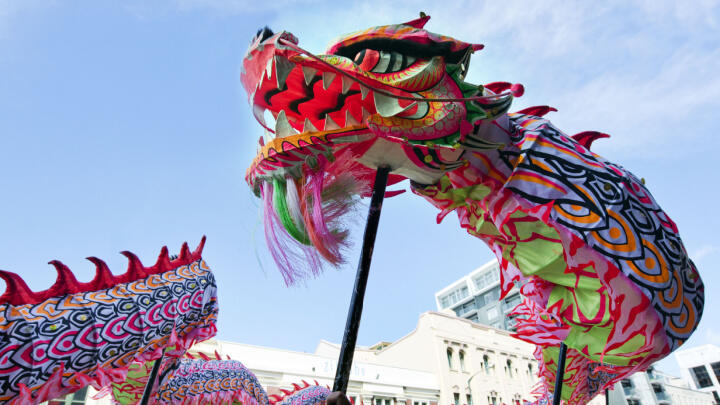 What does the Year of the Wood Dragon signify? 
In the Lunar Zodiac Calendar, the dragon is considered a symbol of power, strength, and good fortune. People born in the Year of the Dragon are said to be confident, ambitious, charismatic, and have a strong sense of responsibility. Not just that, but they're also rumored to be creative, intelligent, and energetic. That's a lot of plaudits!
But why wood? Well, wood as an element represents growth, flexibility, and abundance, as well as kindness, generosity, and strong morals. So, if it's your year - good for you. Keep up the good work. Even if you're not, it's said that the year of the dragon is a good time to start a new venture or take a risk. 
How to celebrate Chinese New Year in Singapore?
Enough flirting; let's talk about Chinese - or Lunar - New Year in Singapore, and how you can celebrate it!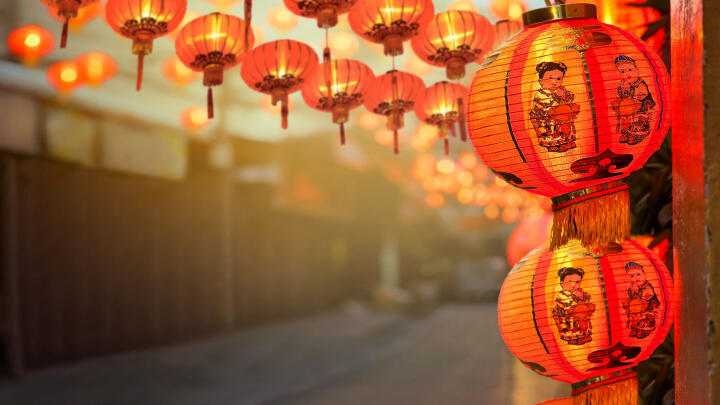 Check out Chinatown
Shockingly, one of the best places to revel in the new year celebrations is in Singapore's own Chinatown. Every year, vibrant red lanterns, banners, and other colorful ornaments adorn the neighborhood, symbolizing good luck and prosperity. 
More specifically, you'll also find the Chinese New Year Light-Up. This annual festival features over 80,000 LED lights that illuminate the district. An accompanying market is also ripe for exploration, where you'll find authentic street food, amazing souvenirs to take home, and even gifts for the locals if you want to get in on the festive fun. Oh, and did we mention the carnival full of rides? Ideal for the little ones.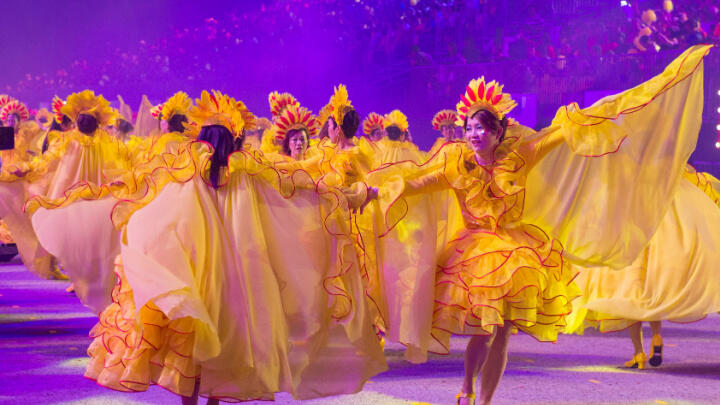 Image courtesy of Kobby Dagan/Shutterstock
Attend the Chingay Parade
Chinese - or Lunar - New Year is such a big deal in Singapore that you can even celebrate it outside Chinatown. How? Well, by attending the Chingay Parade, of course! And it's not just big; it's the biggest street performance and float parade in the whole of Asia!
The parade features a spectacular display of costumes, floats, and performances from different ethnic communities. You'll see a traditional lion dance, dragon dance, and other cultural performances that showcase the rich diversity of Singapore. The parade takes place on the first weekend of Chinese New Year and attracts thousands of visitors from all over the world.
If neither of these takes your fancy, don't worry; we're just getting started. There are tons more activities and events to enjoy, so if you're wondering how to celebrate Chinese New Year in Singapore and these don't take your fancy, read on.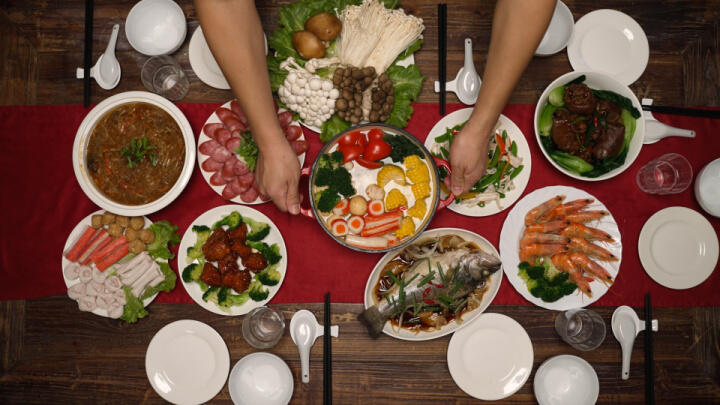 Reunion dinner
Reunion dinners are commonplace over the new year, with families who live apart coming together to feast on a tableful of delicious traditional food. This tends to happen on New Year's Eve, so think of it like every inevitably disappointing NYE you've had, but much, much better.
And don't worry - if you don't have family in the city, Singapore's got you covered. Tons of restaurants offer Reunion dinner deals and special menu items to celebrate. Just book ahead, as places get snapped up quick. 
Another reason to book ahead is that, given the familial nature of the holiday, many restaurants and even shops will be shut at points over the new year. Make sure you book ahead!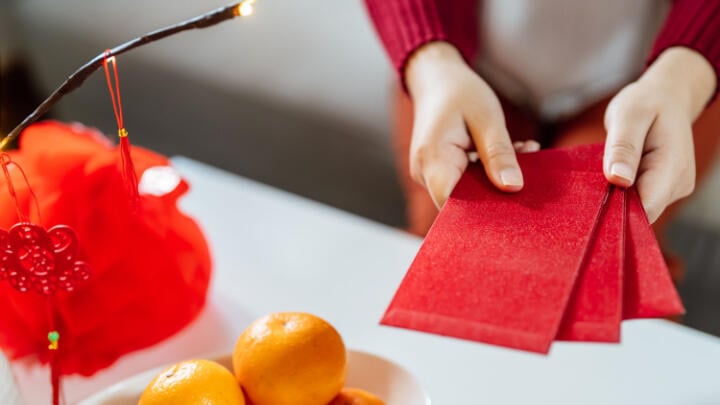 Gifts and greetings
If you want to get in on the gift-giving and are happy approaching complete strangers, then you're in luck! Grab yourself a red packet, stuff some money inside, and get to it. These tend to be given to kids, adults yet to be wedded, and elders as symbols of good luck. Whether handing one of these to married adults by accident is an insult, you'll need to discover for yourself. Also, maybe don't hand them to random children? Just a thought. 
You can also learn some auspicious greetings and trot them out to all and sundry. That might be the safer option.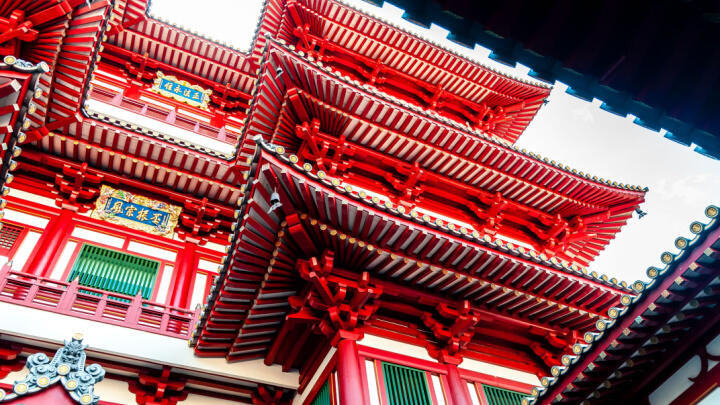 Temple time
The new year is also a time to get in touch with your spiritual side. Many say prayers to their ancestors, or relatives that have passed, so temples are a hotspot over the period. 
Thankfully, visitors are also welcome, so why not check out the likes of Thian Hock Keng Temple, the oldest Hokkien temple in Singapore, or the Buddha Tooth Relic Temple and Museum, which houses a sacred relic of the Buddha.
Spiritualized.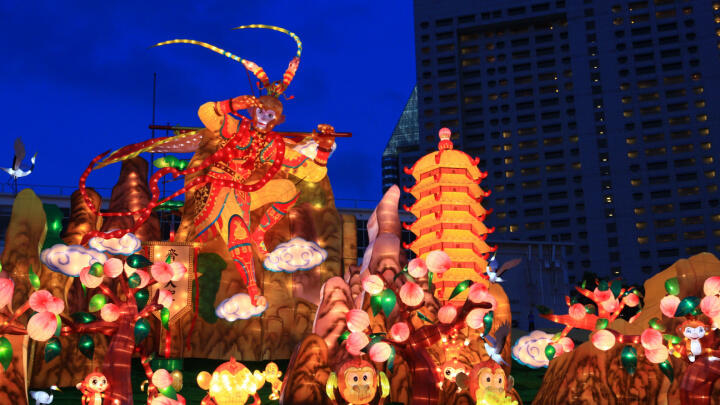 River Hongbao
And finally, you simply mustn't miss the River Hongbao, an annual event held at the Marina Bay Floating Platform. Featuring traditional lantern displays, fireworks, cultural performances, and food stalls, it's a great way to experience the festive spirit of the Chinese New Year!
That's how to celebrate Chinese New Year in Singapore! And, now that your brain overflows with sweet new year knowledge, you may wonder what else to do on your vacation? Never fear; Go City is here! Thanks to our All-Inclusive Pass or Explorer Pass, you can see all of the city's best bits and make huge savings while you're at it.