Stockholm has a reputation for being one of the most expensive cities on the planet. And, while it's true that the cost of meals and accommodation here can add up quickly (though certainly not as quickly as in the likes of Paris, London or Amsterdam), there are many reasonably priced activities out there to help you balance the books. But the best things in life are free, right? Gratis. Or, as the Swedes would say: kostnadsfri. And Stockholm has plenty of cracking activities that won't cost you a krona. Join us on our journey through the 10 best free things to do in Stockholm, including:
Touring the medieval old town

Changing of the guard

Picnicking on Djurgården island

The National Museum

Stockholm's sandy beaches

Eye-popping subway art
Old Town Tour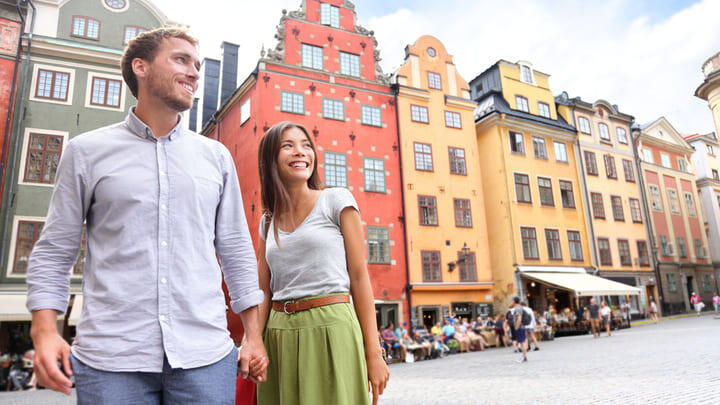 A self-guided tour of Gamla Stan, Stockholm's atmospheric medieval old town, should be considered an essential activity on any trip. Grab a still-warm cinnamon bun and snap the colorful gabled townhouses on the main square (Stortorget) before getting lost in the narrow cobbled lanes. And when we say narrow, we mean narrow. Mårten Trotzigs gränd alley has high, converging walls that taper to a mere 90 centimeters at one point – don't forget to breathe in! Other curiosities to look out for on your walk include an ancient Viking runestone embedded in the wall at the intersection of Kåkbrinken and Prästgatan and the remarkable carving above the doorway of Skeppsbron 44. Commissioned by a cuckolded husband it depicts his anguished face weeping over his wayward wife's, um, lady parts.
Changing of the Guard
The hilariously opulent baroque Royal Palace just north of Stortgorget is the venue for the Changing of the Guard ceremony, an impressive display of wealth and pomp complete with bright blue uniforms and polished silver pickelhaube helmets. There's a daily guard change that takes place around noon during summer. But arrive early to beat the crowds as this centuries-old regal spectacle is one of the most popular free events in Stockholm. Check the official calendar for timings throughout the year.
Djurgården Island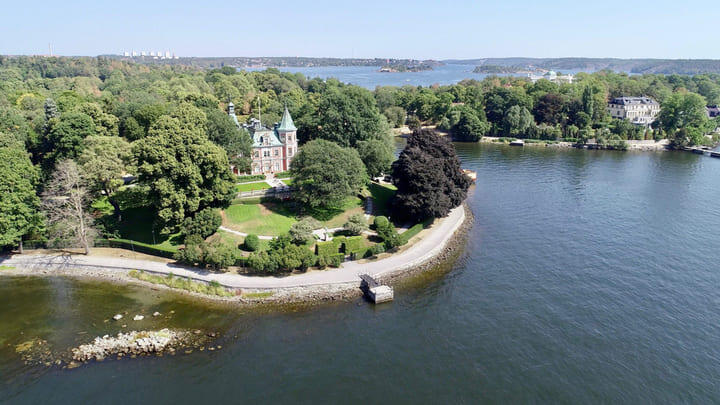 Many of Stockholm's most interesting museums – the Vasa, Skansen and ABBA Museum among them – can be found on pretty Djurgården. But its verdant vistas also make it a fine choice for long walks past shimmering lakes and through fairytale woods, and lazy picnics on its gentle slopes or on the picture-perfect waterfront behind the Vasa Museum. Don't miss Rosendals Garden, a working market garden with a vineyard and orchard, vegetable fields, a rose garden and dozens of bright, blooming flower beds.
Moderna Museet
The Moderna Museet on tiny Skeppsholmen island packs quite a punch for a museum with no entry fee. Regularly rotating exhibitions are drawn from its collection of more than 140,000 modern and contemporary works and include painting and sculpture from some the most prominent artists of the 20th Century: Duchamp, Matisse, Bourgeois Picasso, Dalí and more. As you'd expect, there's also a good showing from the Nordic regions, as well as an excellent sculpture garden where you can wander among highlights including Erik Dietman's humorous monument to his last cigarette and Norwegian artist Carl Nesjar's Déjeuner sur l'herbe, a granite rendering of Picasso's cardboard figures of naked bathers.
Monteliusvägen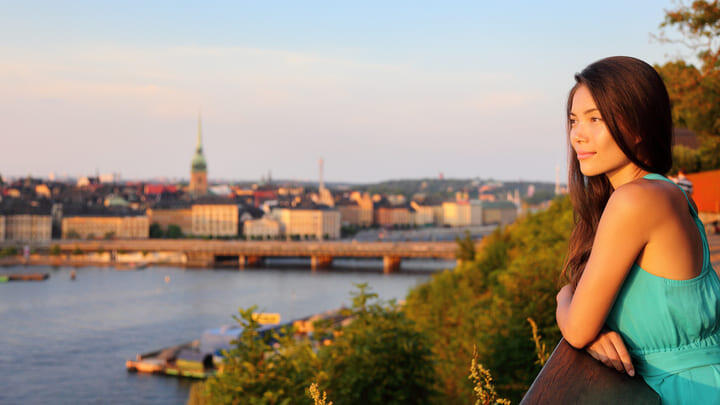 Take a stroll up the wooden walkway that ascends the Monteliusvägen cliff path for some of the best views of the old town's colorful waterfront and the soaring spires of City Hall and the German Church. It's just a hop and a skip over the bridge from Gamla Stan to Södermalm and also makes a fine vantage point for admiring Stockholm's spectacular winter sunsets.
Hit the Beach
Believe it or not, Stockholm has some fabulous family friendly beaches right in the city center, many of which are wheelchair accessible and include facilities like showers, cafes, wooden piers with diving platforms, and those all-important ice cream vendors. Sure, the Baltic water temperature can be a little, shall we say, challenging, but most of the waters are safe for swimming and there are some fine sandy stretches on the islands of Södermalm, Långholmen and Kungsholmen. Dodge the summer crowds and head slightly further afield to Flatenbadet beach in southern Stockholm and Ängbybadet in the north, just over the water from stunning Drottningholm Palace.
The National Museum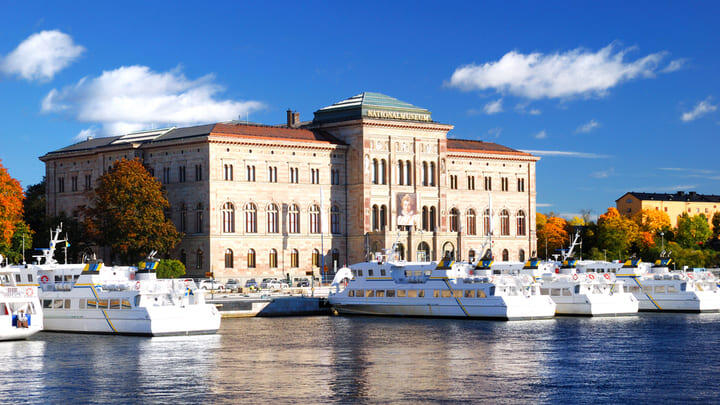 Love art? You're in for an absolute treat at Sweden's National Museum, where access to the stellar permanent collection is absolutely gratis. Stars of the show here are fine Dutch Golden Age and French Impressionist pieces by the likes of Rembrandt, Rubens, Renoir, Degas and Cézanne. There's also a fascinating collection of around half a million prints and drawings dating from medieval times to the early 20th Century, while connoisseurs of fine ceramics will be in clover among the striking Scandinavian designs that characterize thousands of pieces sourced from the now-defunct Gustavsberg Porcelain Factory.
Underground Art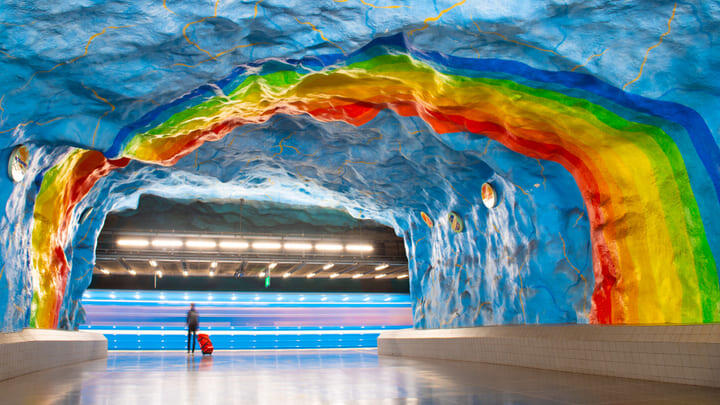 Disclaimer: this one isn't entirely free as it does require you to buy a metro ticket, but we figure you'll probably be doing that anyway so, hey, might as well make the most of it. Stockholm's system of 100 metro stations has been dubbed 'the longest art gallery in the world' thanks to the specially commissioned artworks – paintings, sculptures, mosaics, installations – that grace 90 or so of them. You'll find the most spectacular in and around the city center, such as at showstopping Rådhuset, where cavernous orange-red walls give the distinct impression of being in the belly of some massive beast, or the fiery bowels of hell. Lighten the mood with the sky-blue walls and vibrant rainbows on display at Stadion, and visit Tensta for an uplifting message of inclusivity delivered via traditional cave art and cute puffin sculptures.
Back to Nature
There are plenty of free things to do in Stockholm's Hellasgården, just outside the city center. Hike trails heady with the scent of towering pine trees and meadows carpeted in colorful wildflowers, pause to catch your breath (and take appropriately breathtaking snaps) from dizzying cliff-top viewpoints, and cool off in Lake Källtorp where hardier locals have even been known to swim during the depths of Sweden's bone-chilling winters. If you can spare the relatively modest fee, you may prefer to opt for the heat of the traditional wooden sauna here, though note that you're expected to go au naturel – towels and bathing suits are not permitted inside.
Ride the Bus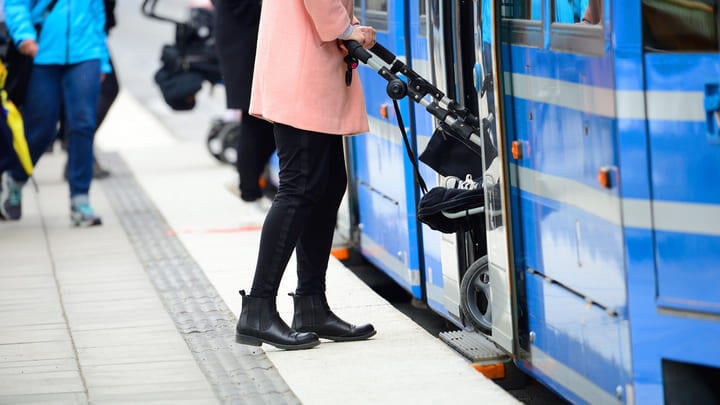 We all know having kids can be expensive. So let's enjoy the perks where we can find them, am I right? Great news: parents pushing infants and babies in strollers can ride Stockholm's public buses for free: an absolute boon for footsore mums and dads on a budget. Similarly, a shuttle bus operates hourly from central Stockholm to the planet's biggest IKEA store – absolutely gratis! Find the stop at Vasagatan 38. Just don't blame us for the hundreds of kronor you'll inevitably end up blowing on cushions, cutlery, tealights and meatballs once inside the vast yellow-and-blue furniture warehouse.
Save on things to do in Stockholm
Save on admission to Stockholm attractions with Go City. Check out @GoCity on Instagram and Facebook for the latest top tips and attraction info.