Stockholm is a fine family destination with oodles of attractions of kids, many of which are great fun for adults, too! Think viking museums, interactive science centers, cool city beaches and good old-fashioned amusement parks. You won't go short of family-friendly restaurants either where, if all else fails, succulent Swedish meatballs are a guaranteed hit from ages three to 103.
Getting around with kids is also a breeze, with a compact city center and an efficient public transport system that includes buses, trams, ferries and subway trains. Better yet: parents with strollers ride buses for free. Read on for our guide to the best things to do in Stockholm for families and kids.
Djurgården: Stockholm's Great Green Playground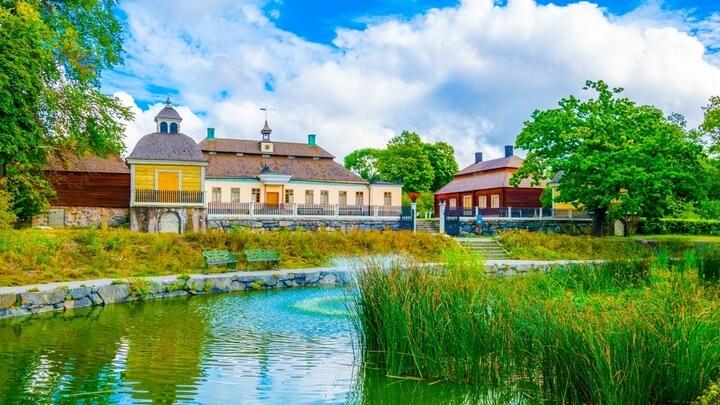 The city center island of Djurgården has more than enough going on to keep kids entertained for days at a time. Chief among the many attractions here is the extraordinary open-air museum that is Skansen, a sprawling living history park with a zoo and a full-scale replica of a 19th-century Swedish town. Arrive in style aboard the 19th-century funicular railway that climbs Skansen hill and drops you more or less at the entrance, and prepare to be transported back in time as you encounter traditional craftspeople in period costume. Kids will adore the cute critters in the zoo, which include Nordic otters, moose and brown bears, and there's also a small petting area with domestic farm animals.
Skansen's seasonal fairs are the stuff of legend. There's live jazz and traditional folk dancing in summer, a traditional 18th-century-style harvest festival in September, and a popular annual Christmas market, where stalls festooned with stripy candy canes and the delicious aromas of roast chestnuts are sure to get kids young and old into the festive spirit.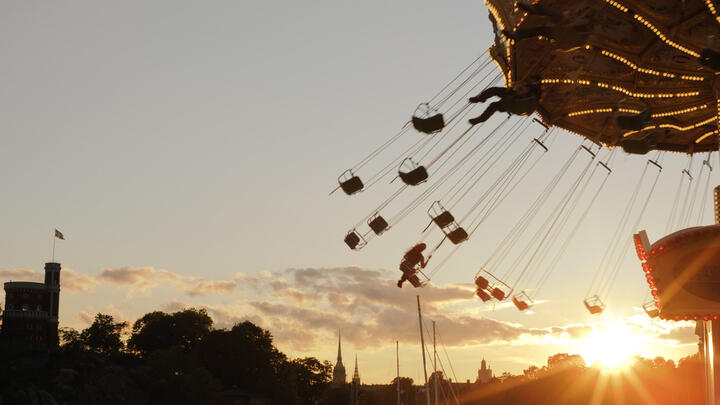 There's a superb duo of amusement parks nearby. Gröna Lund, Sweden's oldest, combines old-fashioned attractions like the haunted house and tunnel of love with terrifying 21st-century thrill rides, while Junibacken (mostly for younger kids, aged around 4–8) brings classic Swedish literary characters to life, particularly those of celebrated author Astrid Lindgren. Ride the fairytale Story Train, enter the wacky world of Pippi Longstocking and explore the Moominvalley. There are also fun singalong theater shows (in Swedish) and a treasure trove of children's books (including many in English) in the store.
And that's not all. Djurgården is also home to – deep breath – the fabulously immersive Viking Museum, the Vasa Museum, which features the world's best-preserved 17th-century warship as its centerpiece, and a museum dedicated to all things ABBA. Mamma mia!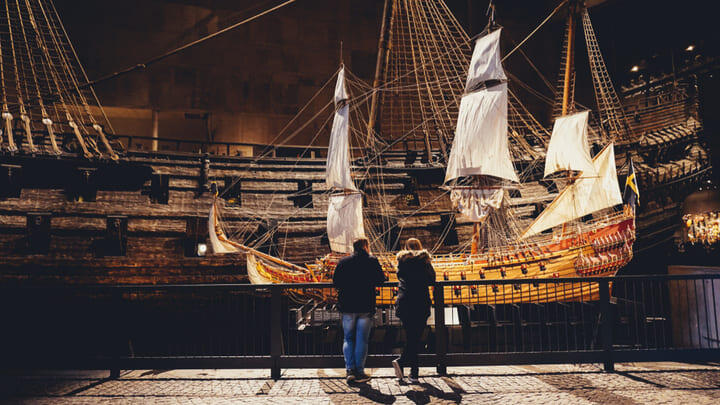 However, if there's one thing Djurgården does lack, it's affordable eating options. We recommend packing a picnic and all the kiddie snacks you'll need for a full day out, and enjoying your al fresco lunch on the picture-perfect waterfront behind the Vasa Museum, or on any number of grassy lawns along the island's walking trails.
Hit the Beach
When you think of Stockholm, it's likely your mind wanders to fairytale lands of cobbled lanes, medieval churches and colorful gabled townhouses. Maybe even twinkling fairy lights, warm ginger cookies and steaming mugs of hot glögg (mulled wine) at a traditional Christmas market. And yes, Stockholm has all of that in spades. But did you know it also has some fine beaches, including several in the city center? 
On the southern shores of Södermalm, Tanto strandbad is one of the city's most popular summer swimming spots. Get there early to beat the crowds to the limited sands, or stake your claim to a particularly comfortable rocky patch or lawn behind. It's great for families with kids and just a short walk from the lush Tantolunden park with its playground, mini golf course and steep slopes for winter tobogganing.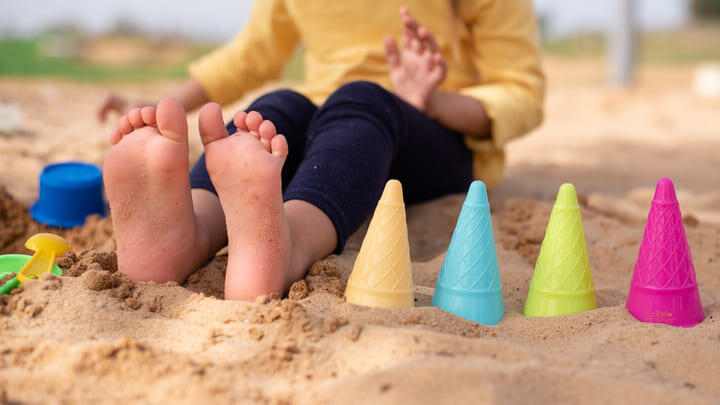 Golden sands, clean waters and a long jetty with diving platforms promise hours of fun at Flatenbadet beach in southern Stockholm, while sandy Ängbybadet in Bromma  – just across the water from majestic Drottningholm Palace – is a local favorite, with good wheelchair access and a small ice cream shop.
If rain stops play (or you simply refuse to countenance those chilly Baltic Sea waters), take the kids to Eriksdalsbadet instead. This huge swimming complex (Sweden's largest) boasts several pools (only one of them outdoors) with balmy water temperatures of around 80°F, plus an aqua park with water slides for the kids and hot tubs for the grown-ups. 
Best of the Rest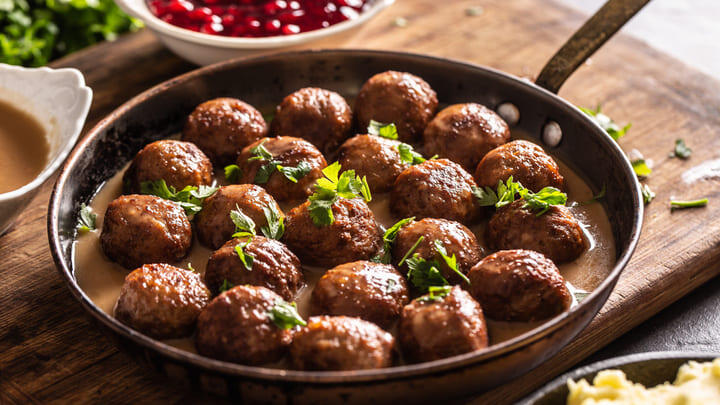 It would be remiss to visit Stockholm without introducing your little 'uns to some of the gourmet delicacies Sweden has to offer. Meatballs from Stockholm institution Meatballs for the People are a must: delicious little orbs of bear, boar or reindeer meat doused in rich meat gravy or tangy lingonberry sauce. Sticky cinnamon buns (kanelbullar) still warm from the oven are another guaranteed hit. Top tip: use these sugary treats as a pacifier when the kids start getting fidgety on your must-do exploration of the old town; you'll find them in any bakery worth its salt.
Djurgården isn't the only place in Stockholm to find fab family-friendly museums. Head to tiny Skeppsholmen to explore over 40,000 vintage toys and comics at the Stockholm Toy Museum, located underground in a former Navy bunker. Get your fix of nostalgia with stacks of familiar toy cars, cartoon characters and action figures from the 20th Century, as well as an extensive doll collection with exhibits dating back as far as the 1400s!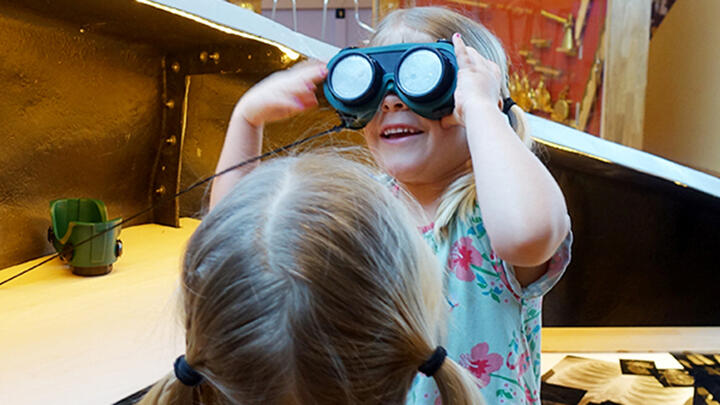 Tom Tits Experiment is a little off the beaten track in Södertälje, around 30 minutes by train from Stockholm, but boy is it worth the effort. The country's biggest science center, it contains hundreds of experiments over four floors, all of which you're encouraged to get involved in. Become a human yoyo, cycle along a tightrope, see your shadow change color, find out what an earthquake feels like and stare into infinity in this mind bending experience that has the power to fascinate and educate whatever your age.
Our final recommendation (though, believe us, there are LOADS more things for families to do in Stockholm than we can fit in here) is a bus ride with a difference. The Ocean Bus takes you on a whistle-stop tour of Stockholm landmarks including the Royal Palace and Royal Swedish Opera before whizzing along the prestigious Strandvägen waterfront then dive-bombing into the canal from the leafy Nobel Park. From here it bobs around the islands of Djurgården and Skeppsholmen before returning to dry land. You can be sure that this hour-long amphibious adventure is the one thing the kids will still be talking about weeks after your holiday.
Save on things to do in Stockholm for families and kids 
Save on admission to Stockholm attractions with Go City. Check out @GoCity on Instagram and Facebook for the latest top tips and attraction info.