Christmas markets - one of the many joys the holidays ring in. Heading to Vienna this Christmas, and wonder which markets are the best in the city? We've got you covered. We've pulled from thousands of eyewitness testimonies to curate this list of the best Christmas markets in Vienna. Well, maybe not thousands, but we did the research, so you don't have to! Enjoy, and Merry Christmas. 
Including:
Christmas World
Christmas Village Belvedere Palace
Christmas Village Maria-Theresien Platz
Christmas Market Stephansplatz
Art Advent Karlsplatz
and more!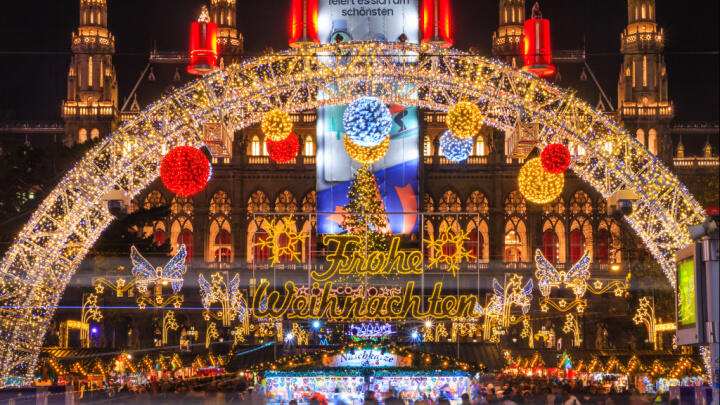 Image courtesy of rustamank/Shutterstock
November 19 - December 26
We might as well kick things off with Vienna's biggest and arguably best Christmas market. It's called Christmas World, after all, and it takes place in Vienna's City Hall. 
Venture forth, and you'll discover over 150 stalls filled with wonderful Christmas goodies, from vats of piping hot Glühwein, or mulled wine to most of us, to sweet seasonal treats, stocking fillers, and even some traditional Viennese meals. If you've got the skills to pay the chilly bills, head onto the massive ice rink and bust some moves. 
It's worth mentioning that, as it's the most popular Christmas market in town, it'll be pretty busy. If the thought of crowds leaves you cowering in the corner, then maybe try one of the others on this list. 
November 19 - December 26
Hosted in the looming shadow of Vienna's famous St Stephen's Cathedral, you'll find Christmas Market Stephansplatz, a smaller, more intimate affair compared to Christmas World. 
However, just because it's smaller doesn't mean it's not great. Wander its 40-odd stalls, and you're sure to find delicious food to try, piping-hot drinks to warm you up, and maybe something a little stronger to get the Christmas party started. 
Add in a giant, bedazzling Christmas tree, and you've got yourself one great Christmas market.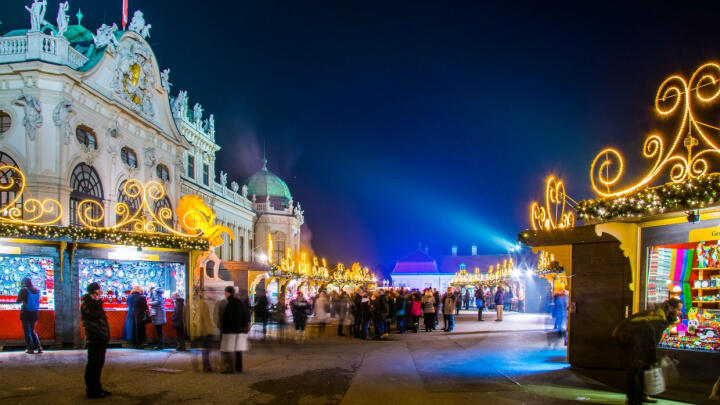 Image courtesy of trabantos/Shutterstock
November 20 - December 31 
Near the Historic Center, you'll find the Christmas Village Belvedere Palace. Given its name, it won't surprise you to find it sits at the foot of the impressive Belvedere Palace, which already demands a visit from all newcomers. 
Grab a hot drink to warm you up, and have a look at the artisanal, handcrafted offerings on sale. You're sure to find something unique for a loved one. And even if you don't, they have plenty of food on hand to make the trip worthwhile. 
November 20 - December 23 
Are you bringing the little ones along on your vacation to Vienna? Then do them a solid and whisk them away to Art Advent Karlsplatz. It's one of the best Christmas markets in Vienna for kids, with petting zoos, rides, and places where they can create their own Christmas cards.
While they're busy, you can sample some of the locally-sourced food that's on sale, or pick up some handicrafts to put in their stockings.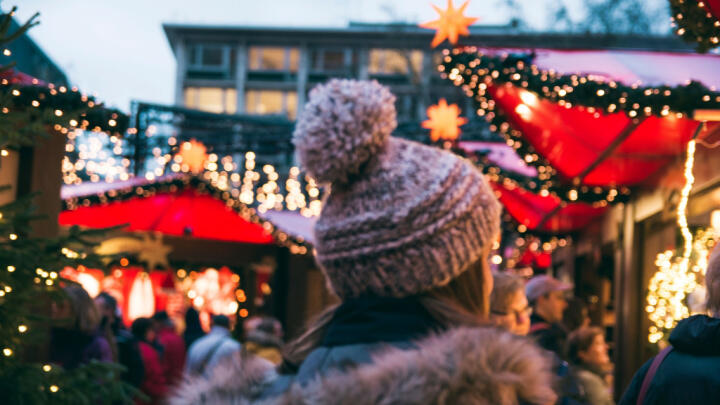 November 19 - January 6 
Head to the city's museum sector, and you may stumble upon Christmas Village Maria-Theresien Platz, a delightful Christmas market that evolves into a New Year's village after Boxing Day. 
Over 70 booths are ready to serve, with a mix of interesting gifts, silly stocking-fillers, and plenty of that good, good food you've come to expect from Vienna's Christmas market scene. 
Plus, as it sits between both the Museum of Natural History and the Museum of Art, you can make a day of it! 
November 19 - January 4 
If you're willing to travel a little further from the center of Vienna, you'll discover one of the best Christmas markets in the city. It's held at Schönbrunn Palace, one of Vienna's most popular tourist destinations, and it's a doozy. 
Food, Glühwein, and gift-buying opportunities overflow here, but its main selling point is the awe-inspiring lights that adorn the whole affair. Head there at night to make the most of it.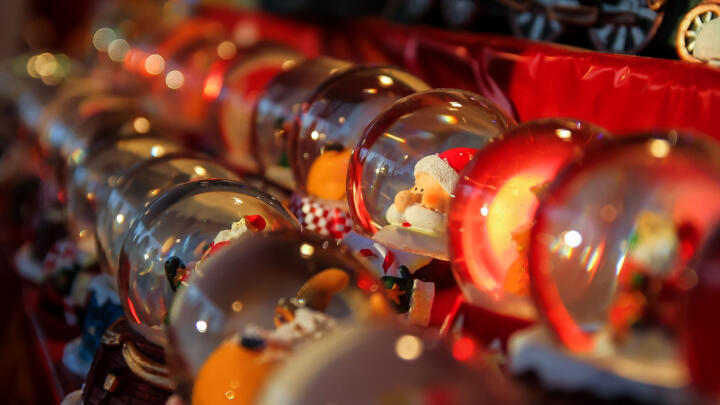 November 19 - December 23 
While many of the Christmas markets on this list favor the culinary experience over gift buying, the opposite is true for Am Hof Advent Market. But don't worry; you can still grab a bite to eat while you're there. 
But what you're really getting here is one of the most robust shopping experiences on the market scene. You'll find jewelry, ceramics, homeware, intricate trinkets, and tons more handmade goods that are quality enough that they'll make it under the tree. 
November 21 - December 23 
A couple-minutes walk from Am Hof Advent Market, you'll find the Old Viennese Christmas Market. As the name suggests, it's the most traditional market on this list, dating back centuries. So, while you won't find the entertainment or extravagance of other markets on this list, you'll find plenty of food, craft items, and religious-themed Christmas trinkets to pick up.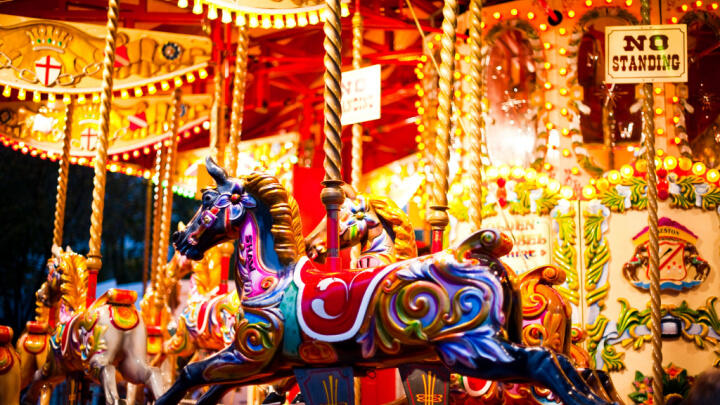 November 19 - December 23 
Another top choice for the little ones is the Christmas Village at Weihnachtsdorf Altes AKH. Thanks to a delightfully authentic carousel and even a tiny railway for them to ride, it's the perfect way to ensure they have a good time while you get on with the serious stuff.
And what serious stuff is that? Well, gift-buying, of course! You'll find plenty of locally-crafted trinkets and items, from candles to bags, jewelry, and much more. 
November 19 - December 23
And finally, head to the Christmas Market at Spittelberg, and you'll find a metric ton of stalls selling all sorts of Christmas goodies. One of the most popular Christmas markets on this list, it tends to avoid the tourist attention reserved for Christmas World. But that doesn't mean you can't pick up a bargain or two. 
And, thanks to the beautiful setting in Vienna's artistic Neubau district, it's the perfect opportunity to pump some romance into your loveless relationship. Just like Love, Actually! Probably. 
And that's our list of the best Christmas markets in Vienna! Need some inspiration for the rest of the vacation? Go City's got you covered. With our Explorer Pass, you can experience all of Vienna's best bits for one low price!