Let's play devil's advocate for a second. Rather than pick the best time to visit Vienna, let's argue the case for each season. That way, you can decide for yourself. Does that sound fun? Let's find out!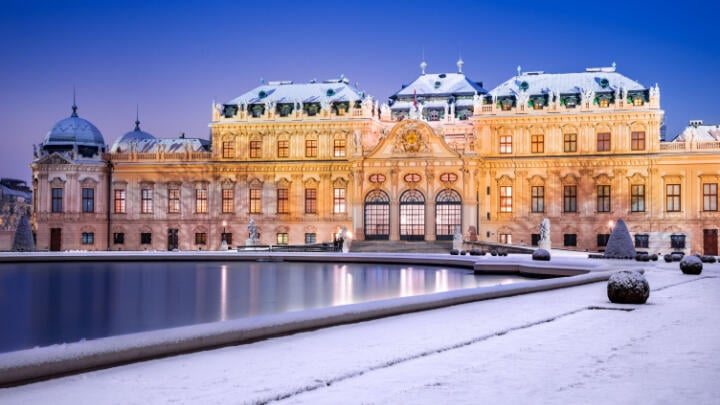 Why Winter is the Best Time to Visit Vienna
Weather and Temperature
During the colder months, Vienna becomes a bit of a winter wonderland. Temperatures hover around freezing, so you can expect Vienna's classical architecture to be covered in a sheet of white on many days.
As such, if you love your snow and don't mind the cold, pack appropriate attire - big coats, hats, mittens, and boots with grip, and make the most of it! 
Tourism numbers and popularity
As is the case with many destinations during winter, Vienna is a lot quieter over the cold period. Tourism drops significantly, meaning not only will you get better deals on hotels and flights, but you'll also experience smaller queues at some of the city's biggest attractions.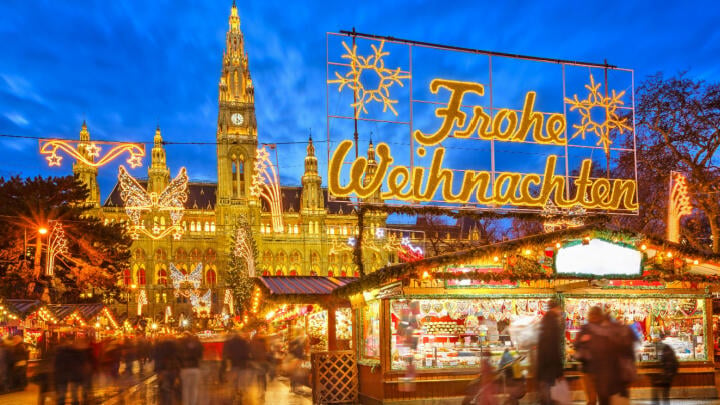 Best Things to Do in Vienna During the Winter
Visit the Christmas markets
If you're hitting the town in the run-up to Christmas, you simply have to go check out Vienna's Christmas Market scene. There are tons dotted about the place, offering everything from handcrafted gifts to delicious food and drinks. If you're in a festive mood, they're the perfect place to soak up the city's Christmas atmosphere!
Explore the city's museums
If the cold bites a little too hard for you, there are plenty of places to escape the chill and warm your bones. Vienna is a city steeped in history, so why not visit one of its amazing museums? The Kunsthistorisches Museum will be an art-lovers paradise, with its vast collection of art covering thousands of years and cultures from all over the world. 
Warm up with Viennese coffee and cake
And how could we forget Vienna's coffee scene? The Viennese dig their beans, so join in on the festivities at any one of the city's amazing coffee joints. A hot, aromatic cup of coffee and a slice of cake will set you up for a great day of wintery exploring!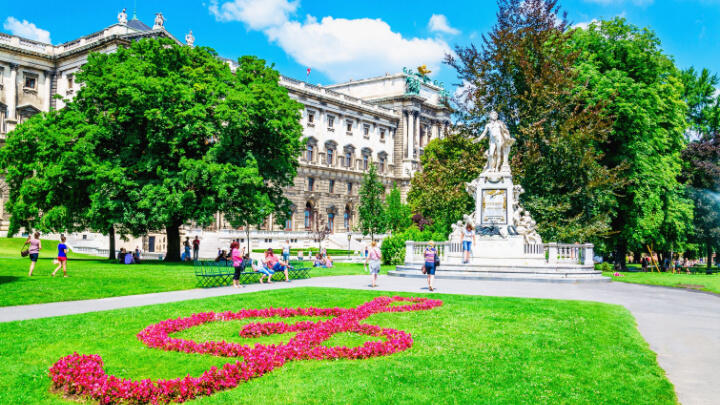 Why Spring is the Best Time to Visit Vienna
Weather and Temperature
Spring is still a chilly time of year in Vienna, but gone are the snow-covered rooves and arctic breezes. Instead, expect fresh but sunny weather with temperatures averaging around 50-60°F. Those mild temperatures make it the perfect time to explore the city on foot, which we highly recommend. 
Tourism numbers and popularity
Sadly, it seems everyone has the same idea, because spring is one of the most popular times to visit Vienna! While it doesn't reach the touristy heights of summer, you'll still see more tourists getting their Vienna on. So, if you want to save some money and don't mind wrapping up a little warmer, spring might be the best time to visit Vienna!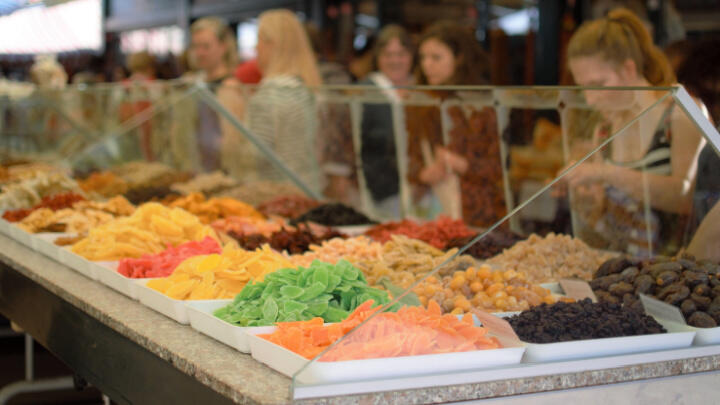 Best Things to Do in Vienna During the Spring
Visit the Schönbrunn Palace
Make the most of the spring bloom with a visit to Schönbrunn Palace. Not only is it a beautiful estate with tons of history, but the surrounding gardens are a true marvel come springtime. Vibrant flowers, blooming trees, and fragrant scents make it a perfect place to take a stroll or settle down for a picnic.
Experience the Vienna Festival
Lovers of the arts who visit in May will also enjoy the Vienna Festival. The three-week celebration of music, theatre, and dance brings crowds from all over the world to immerse themselves in Vienna's unique art scene. 
Explore the Naschmarkt
Spring is also a great time to explore Vienna's biggest and best market - the Naschmarkt! With over 120 stalls to peruse, you'll find everything from delicious street food to handcrafted jewelry. If you fancy a bite to eat and want to shop for some souvenirs, Naschmarkt's got you covered.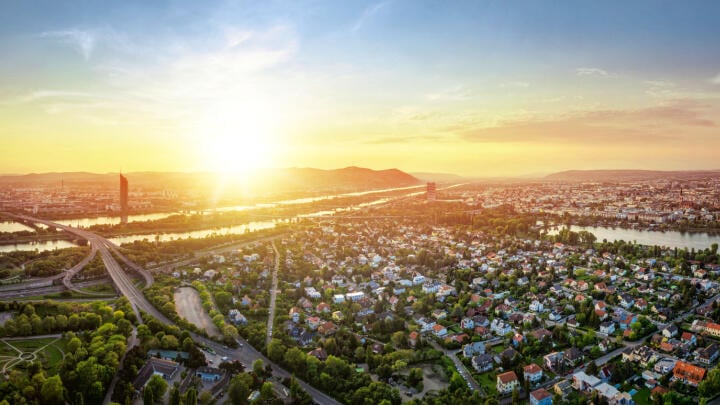 Why Summer is the Best Time to Visit Vienna
Weather and Temperature
Summer is, unsurprisingly, the warmest and brightest season in Vienna. With temperatures hitting the 80s at their peak, it's almost perfect vacation weather. Not too hot, not too cold. 
Tourism numbers and popularity
Hence why summer is Vienna's most popular season for tourism! Like a moth to flame, people come from far and wide to experience Vienna's culture in the sun. So, while you pay a bit more for accommodation and flights, arguably all of the city's best outdoor entertainment will be enjoyed in the summer months.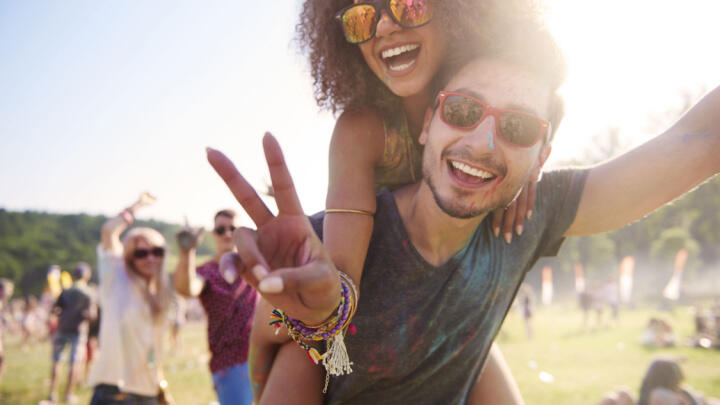 Best Things to Do in Vienna During the Summer
Take a bike tour
Vienna is an incredibly bike-friendly city, so why not get in on the action? There are a number of bike tours that will happily take you around Vienna's biggest landmarks on two wheels. See which one suits your needs and get peddling!
Attend the Donauinselfest
Music lovers will appreciate this one. Did you know that Europe's largest open-air music festival takes place on Danube Island in Vienna? If you didn't, you do now. It's called Donauinselfest, and it draws crowds of around 3 million people every year! And, with a variety of music genres being performed, you're sure to find something you'll love when you go. It's also free, so it's a no-brainer. 
Cool off at Wipeout
Fans of obstacle courses can also test their mettle at Wipeout. Based on the successful gameshow of the same name, it challenges you to overcome myriad obstacles or fail hilariously. Will you win or end up a laughing stock? Don't worry; it's all fun and games at Wipeout. If you're not laughing, you're not doing it right. 
Why Fall is the Best Time to Visit Vienna
Weather and Temperature
In the fall, things cool down a bit. Still, with average temperatures between the mid-40s to mid-50s, it's hardly a dealbreaker for those of you seeking some sun. Just pack for some chillier nights.  
Tourism numbers and popularity
Autumn does see a drop off in tourism, as many choose to hit the city in the spring and summer seasons. So, you'll likely find cheaper places to stay and cheaper flights, which is always a bonus! Plus, fewer tourists equals smaller queues for everything!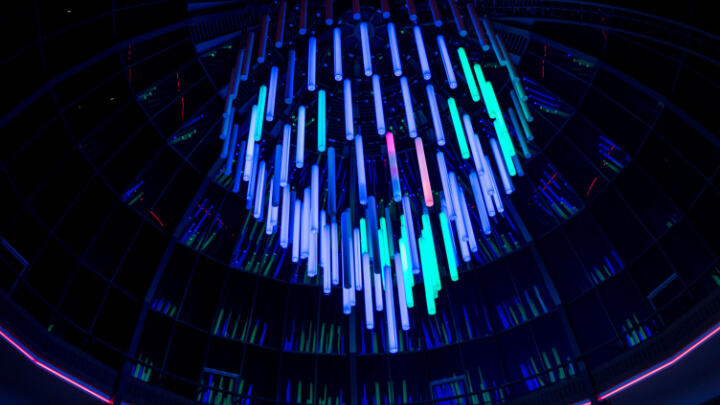 Best Things to Do in Vienna During the Autumn
Visit the Belvedere Palace
Belvedere Palace is a must-visit during the autumn months. The gardens come to life with vibrant oranges and brows you associate with the fall, making it a great place to take a stroll. 
Attend the Vienna Design Week
Design junkies should also make sure they're in town for Vienna Design Week. From September 22 to October 1, you'll find this festival of design taking up residency in the city. Featuring exhibitions, workshops, and talks, it's unmissable for anyone in the design world. 
Have you decided which is the best time for you to visit Vienna? We certainly hope so. Whichever season you choose to travel, you might be looking to fill out your itinerary with fun. Just as well that Go City's got you covered in that department! With our All-Inclusive Pass or Explorer Pass, you can see all of Vienna's best bits for one low price!