If your idea of a great birthday is cake, beautiful baroque architecture, world-class art galleries, cake, Ferris wheels and – yes – yet more cake, then you've come to the right place. Vienna has all of these in spades, and then some. In fact there are so many things to do in Vienna for a birthday treat that you'll feel spoiled for choice and, indeed, just plain spoiled. We've put together our top 10 ways to celebrate being 21 again here in the City of Dreams, including:
Sightseeing around the Ringstrasse 

Sensational Sachertorte

Al fresco swimming

Sch

ö

nbrunn Palace 

The world's oldest Ferris wheel

Gustave Klimt's

The Kiss

The Vienna State Opera
A Ramble Around the Ringstrasse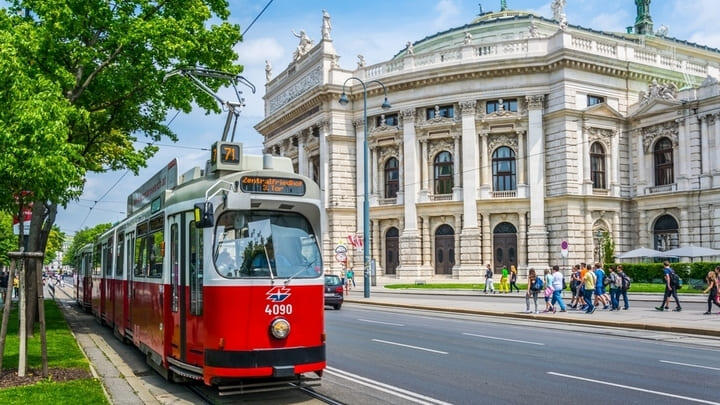 Vienna's historic center is handily encircled by one of the planet's most beautiful boulevards. The Ringstrasse (or just plain 'Ring' to the locals) is a 5km-long Instagrammers' paradise of grand cafés, picture-perfect palaces and monumental 19th-century buildings including the neo-Renaissance-style Vienna State Opera and gothic City Hall. In terms of sightseeing, this epic tree-lined route pretty much has it all. You can do it on foot (best early in the morning before the crowds arrive) or save yourself a fortune in shoe leather by hopping on and off the trams that cruise round the route. Don't miss the awesome Stadtpark with its opulent memorial to Johann Strauss and the baroque Spanish Riding School at magnificent Hofburg Palace.
Birthday Cake!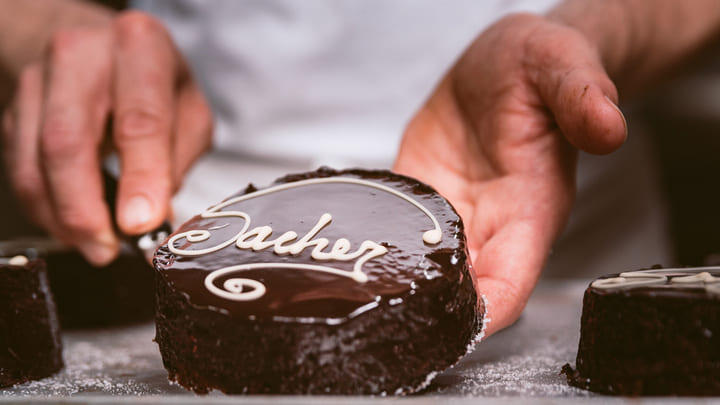 A birthday without cake is no birthday at all. Luckily for you, Vienna just happens to be one of the best places in the world for indulging in the sweet stuff, with oodles of strudels, pastries and tortes to die for. Chief among these is the city's legendary Sachertorte, a delectably dense chocolate confection that combines the sharpness of apricot jam with the indulgence of rich dark chocolate ganache. The Sachertorte's history is almost as heavy as its crumb, with a centuries-old 'cake war' between the self-proclaimed originators that continues to rumble on to this day. The legendary Café Sacher won the legal right to the title back in the 60s, but that hasn't stopped bitter rival The Demel continuing to make its presence felt. The only way to find out which is best is to try both. Well, it is your birthday after all.
Go for a Birthday Dip
Make like a fish and spend your birthday splashing merrily around in one of Vienna's wonderful waterways. Born in the summer? Do as the Viennese do and dive into the Danube. The lakeside Alte Donau is a firm favorite with locals and easily one of the most fun things to do in Vienna for free. You'll find its beautiful beaches, bathing spots and fine fish restaurants a mere seven stops from central Stephansplatz. If on the other hand your birthday falls in, say, January, you might prefer the relative warmth of one of the city's indoor pools, of which Amalienbad is the undisputed darling. Don't be put off by the unassuming concrete facade: inside is a veritable kaleidoscope of stunning Art Nouveau and Art Deco architecture with grand balconies, colorful mosaics and, yes, a lovely heated pool.
Visit Sch

ö

nbrunn Palace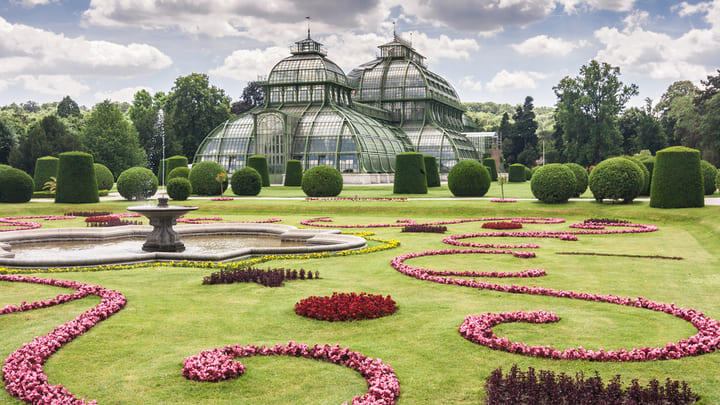 In a city that fairly bursts with beautiful baroque buildings, Schönbrunn Palace is the shining star. This sumptuous regency palace just oozes opulence and grandeur. Visit the gilded halls within and pop by the glorious Gloriette pavilion in the gardens, home to the grandest coffee spot in town.  Ready for more cake? The palace's famous 'Strudelshow' demonstrates how the traditional Viennese dessert is prepared, and you can sample it for yourself in the Palmenhaus, Schönbrunn's vast tropical hothouse with around 4,500 exotic plant species, as well as a café.
Ride the Wiener Riesenrad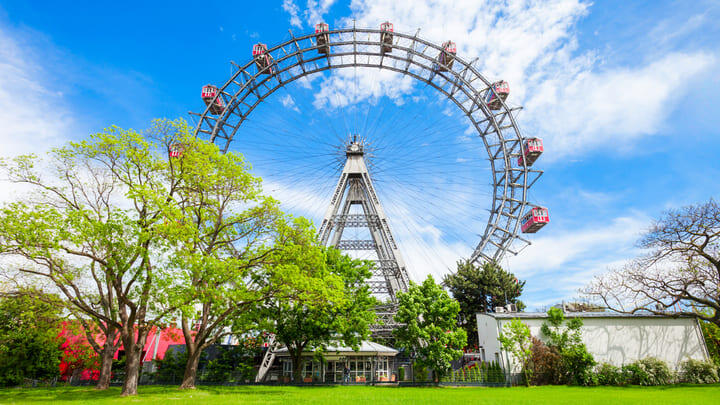 The Wiener Riesenrad is an icon of the Vienna skyline and has stood tall over the green expanse of the Prater Park for over a century – 212 feet tall, to be precise. Now the world's oldest surviving Ferris wheel, it was also the planet's tallest between 1920 and 1985, and remains one of the most fun things to do in Vienna today, with far-reaching views over the city rooftops to the gothic St. Stephen's Cathedral, the brilliant blue Danube and beyond.
More cake!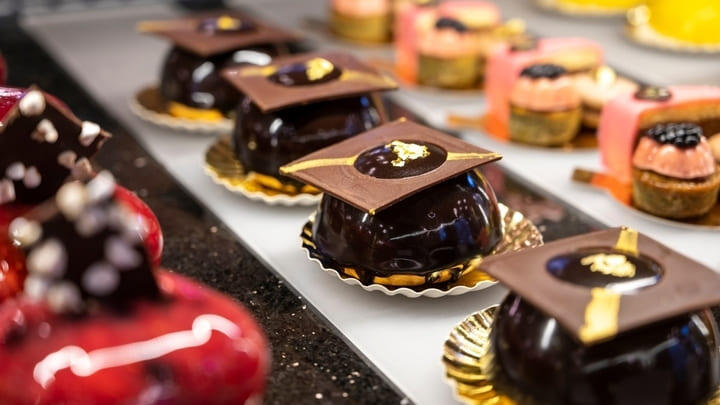 Can you really say you've visited Vienna if you haven't spent time inside a typical Viennese kaffeehaus, sipping strong espresso and sharing a(nother) slice of Sachertorte? Café Central is one of the oldest and best in town, with soaring vaulted ceilings and an eye-popping display of patisserie that may well have you settling in for the long haul. You'll be in esteemed company too: Sigmund Freud, Leon Trotsky and celebrated Austrian author Stephan Zweig are all known to have spent time here, though whether they did so as a birthday treat is now lost to history.
Get Romantic at the Belvedere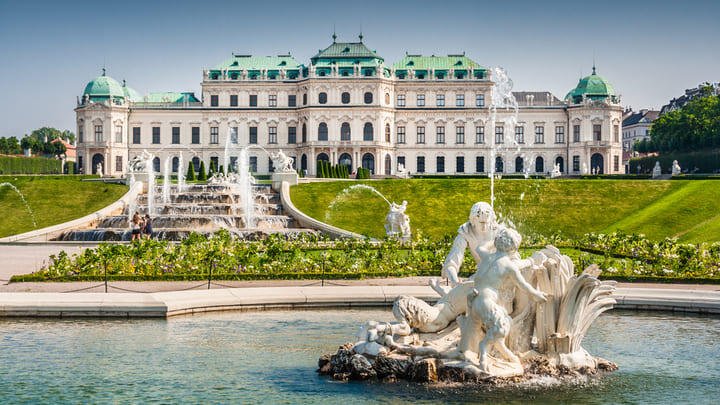 The Belvedere is a centuries-old baroque confection that's renowned for its extensive collection of Austrian art, including Schiele, Funke and more Klimt pieces than any other museum on the planet. That includes perhaps his best-loved work, The Kiss, from the maestro's so-called Golden period. If you can get close enough to this popular masterpiece, you'll have the perfect opportunity for a memorable birthday selfie.
Birthday Cocktails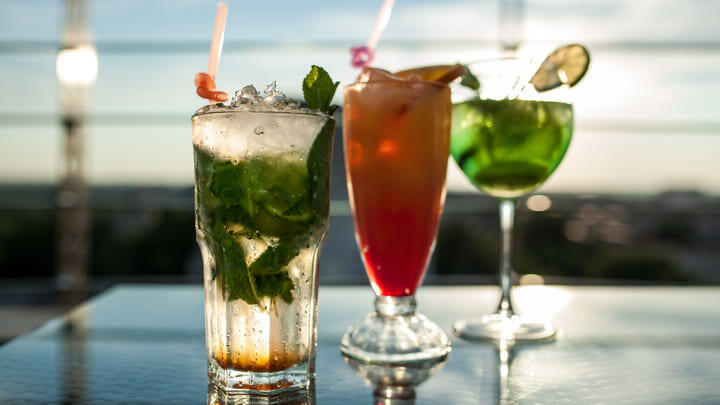 A birthday without cocktails is like Thanksgiving without a turkey, so make time to celebrate your special day by checking out a few of Vienna's quirkier cocktail joints. Krypt is a subterranean stalwart of the scene, its vaulted cellar reached down a tiny staircase that's best negotiated before any alcohol has passed your lips. Try a Carrot Daquiri or fruity Pineapple Express for the win. Alternatively, Der Dachboden is the rooftop option at the trendy Twenty Five Hours Hotel, where colorful, expertly mixed drinks are served with a side of superb skyline views.
Cruise the Danube 
So beloved of Vienna's inhabitants is the beautiful blue river that weaves through its center that Johann Strauss – the city's most famous son – composed a rousing anthem in its honor back in 1866. Find out what gives this broad waterway its enduring appeal (and hum the well-known tune to yourself) on a scenic cruise along its hallowed waters, taking in some of Vienna's finest riverside architecture along the way. There are many variations of the Vienna Danube cruise, but be sure to pick one that includes lunch, dinner or – at the very least – a slice of apple strudel; this is, after all, a day of indulgence.
A Night at the Opera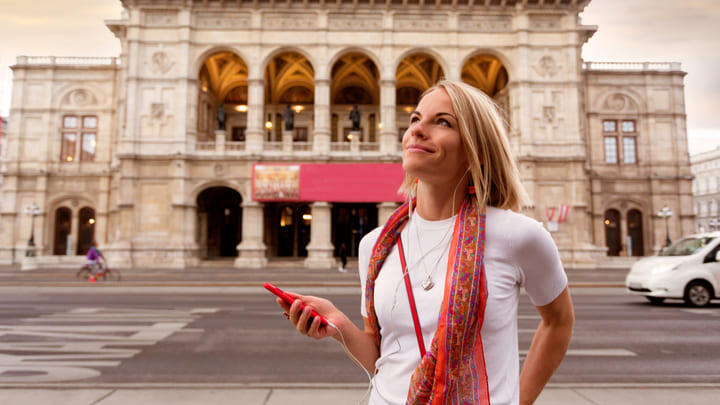 What better way to celebrate your birthday in Vienna than by spending an evening inside one of its most celebrated buildings? We're talking, of course, about the epic Vienna State Opera, a magnificent, monumental Renaissance Revival edifice with a distinctive patinated copper roof and grand foyer filled with busts of the great composers: Beethoven, Schubert, Haydn and more. Dress to impress and head inside the cavernous auditorium for stirring performances of the likes of Carmen, Tosca, Madama Butterfly, La Traviata and many other such timeless classics.
Save on things to do in Vienna for a birthday
Save on admission to Vienna attractions with Go City. Check out @GoCity on Instagram for the latest top tips and attraction info.