W'dup young people! Are you ready to do some of those tick-tocking dance moves? No cap, right? For real. We teens love to skateboard, make our hair look like vegetables, and use emojis for no reason! I guess you could say we're the bussin' generation. 
Cap or no cap, you may find yourself on vacation in, like, Vienna. Dope. Vienna is one of the most beautiful cities in the world. But is there anything for us teens to do when we're there? Don't worry; there's plenty. Here, we'll talk about all the best things to do in Vienna for teens, including Grammable locales to heart-pumping adventures. 
Including:
Bus tours
VR time travel
Street art
Treasure hunts
Obstacle courses
and more!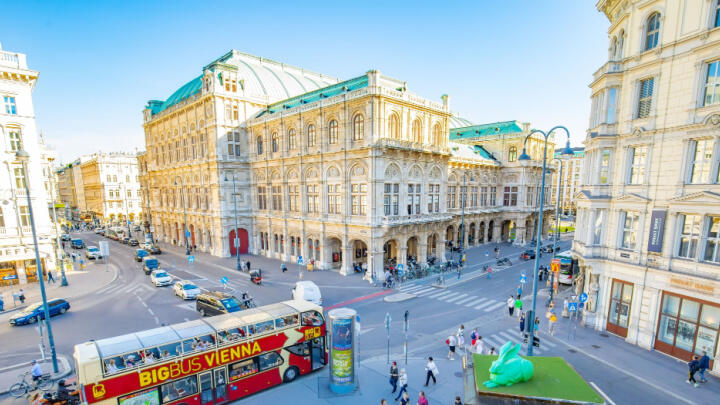 Image courtesy of Arcady/Shutterstock
With attention spans as short as ours, it's no wonder you might not be psyched about doing the cultural landmark circuit. What you really need is a way to see all of Vienna's most famous bits in a handful of hours. So why not take a hop-on, hop-off bus tour and get it all over in a day!
You're free to get off at any landmark to go explore. Then, just wait for the next bus to come along and continue on your journey. If you're not too fussed about seeing Hofburg Palace, for instance, stay on the bus and wait for another stop.
Even though school's in the rearview mirror, sometimes learning can be fun. That's where your audio guide comes in clutch. Headphone up and learn about each landmark as you pass.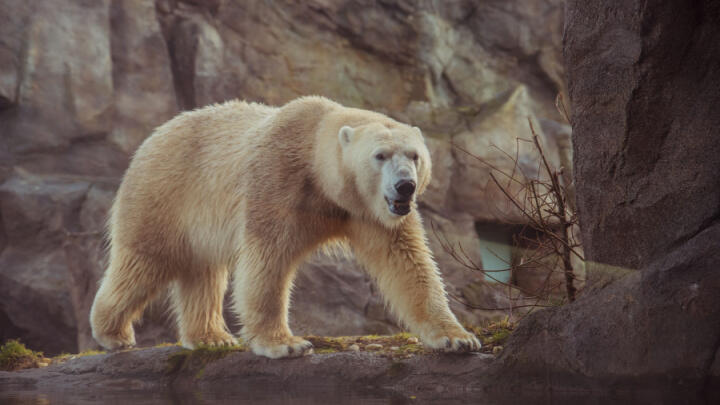 If you're a teen, you're likely environmentally conscious. As you should be! Our planet is ever-approaching a firey ball of death, with countless species of animals being wiped out every year. Best to go and see some while you can! And, at Schönbrunn Zoo, you'll meet plenty you've never seen before. 
From pandas to polar bears, there are tons of exotic and exciting animal species living there. They're big on conservation too, holding myriad talks and exhibits about being better. 
So, if you love animals and want to make some new friends, Schönbrunn Zoo is one of the best things to do in Vienna for us teens.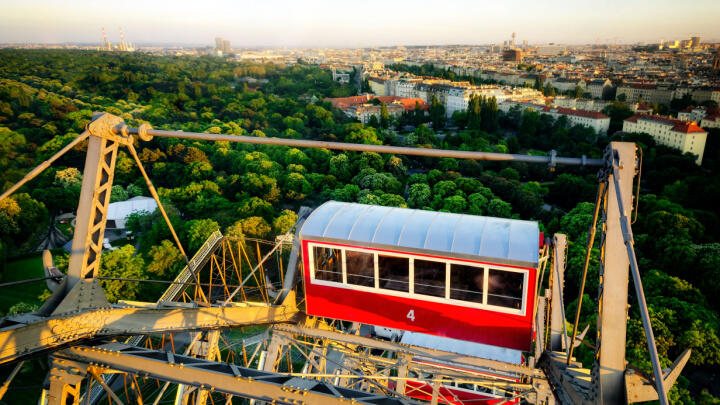 If you're not afraid of heights, head to Wurstelprater amusement park and step aboard the Giant Ferris Wheel. Not only will you prove your worth to those who doubt your true strength, but also to take some sick pics for your social media followers. 
Standing tall at over 200ft high, it's one big wheel. Being so high, you'll get some of the best views of the city to boot. Keep a keen eye out for the spire of the Gothic Stephansdom Cathedral, and the Danube river off in the distance.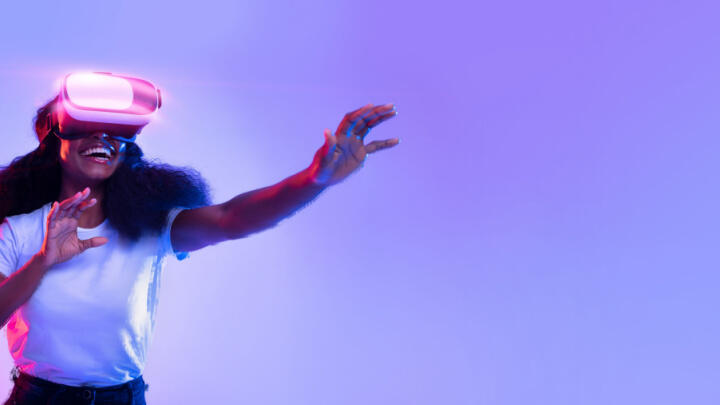 If you believe the hype, a life in the Metaverse is but a few years away. And really, who likes seeing things in real life? We'd certainly rather everything looked like a poorly-optimized cartoon. Anyway, to make your sightseeing more fun, why not don a VR headset at Schönbrunn Palace and peer back through time at the families that called it home? 
Follow kings and queens as they pass laws, sit down for dinner, and get into heated discussions about curtain colors. All without leaving your chair. Brilliant.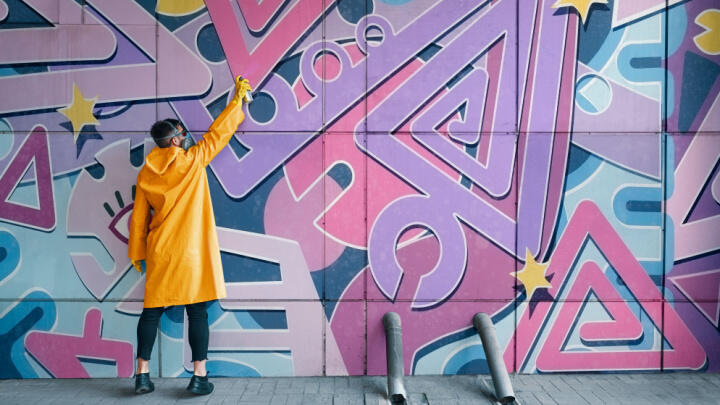 Street art is the on-trend form of social expression. Whether it's the social commentary stencil art of Banksy, or elaborate graffiti pieces that commemorate icons of opposition, you'll find street art in pretty much every city and town on the planet. Vienna is no different, with thought-provoking art adorning many walls all over the city. So, why not see all the best ones on a tour? 
You'll be shown over 20 pieces of Vienna's most interesting graffiti, from both local and international artists. You'll see works from famous painters such as ROA, Blu, Stink Fish, and Shepard Fairey, and learn all about the scene, as well as the meaning behind the works.
If you have even a passing interest in street art, this is easily one of the best things to do in Vienna for teens. 
You've seen Wipeout before, right? The globe-spanning obstacle course has made its way onto TV channels in nearly every country, pitting members of the public against colorful trampolines, slides, and fall traps. Vienna has one too, and you can tackle it. So, if you have the stones to take it on, why not go there and put yourself to the test?
And don't worry about falling; every surface is cushioned to high heaven, so the only thing that will bruise is your pride. However, you're not a quitter, are you? Get back up there and try again!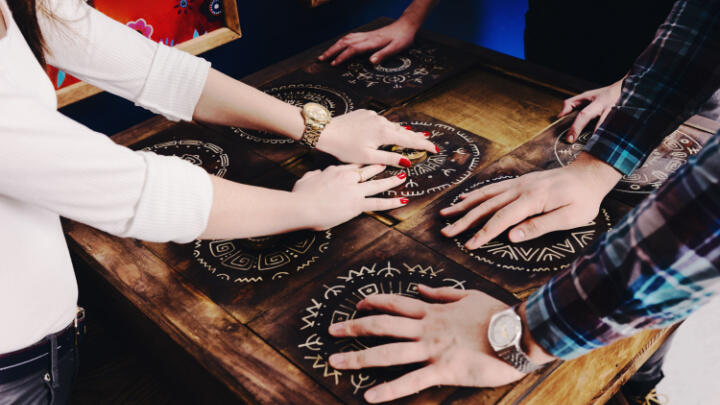 Escape rooms are all the rage these days, and Vienna's gotten in on the action too. At Escape Game, you'll choose from one of a few different themed rooms. Then, you're locked in, and the timer starts. Do you have the street smarts and logical thinking to make it out before the time's up? 
With room themes including prohibition America, ancient Egypt, and far-future dystopia, there's something for everyone. Easily one of the best things to do in Vienna for teens.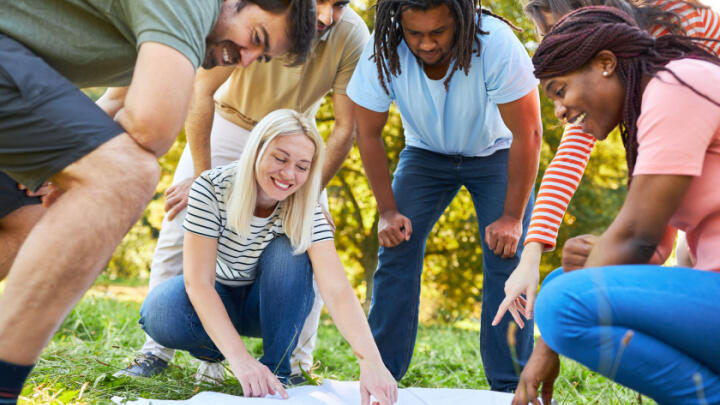 Remember those Easter egg hunts when you were kids? You'd explore the house and garden, looking for all the chocolatey treats your parents left around. Well, relive those glorious halcyon days and see more of Vienna while you're at it on a treasure hunt around the city! 
Solve puzzles, find the clues, and see if you can outwit the other teams and beat them to the ultimate prize. With a diary, a map, and some detective tools, you'll be sent off into the city to follow the trail. And that's it! The rest is up to you.
It's also a great opportunity to see more of Vienna and snap some up close and personal pics of its many landmarks.
And that's all the best things to do in Vienna for teens! Need some more vacation inspiration? Check out Go City! With our All-Inclusive Pass or Explorer Pass, you can see all of Vienna's best bits for one low price!