Washington, D.C. celebrates the onset of spring each year in a very unique way – with the lovely and energetic National Cherry Blossom Festival. It's a four week-long celebration of the season that is also designed to honor the generous, historic gift of cherry blossom trees from Japan to the United States. The District has one of the largest collection of cherry blossom trees in the country! This year, the Festival runs from March 20 – April 15, 2018, with opening and closing ceremonies being hosted at venues throughout the city. Peak cherry blossom bloom is expected to be March 17-20 (though subject to change) this year. During those four weeks, the festival features all kinds of creative programming, from children's craft workshops to parades to kite-flying events. Even better, most events are free and open to the public! Here's a few of the highlights of this year's festival to check out.
Special Events and Things to Do During DC Cherry Blossom Season
National Cherry Blossom Festival Opening Ceremony
March 24, 2018 5-6:30 pm
Warner Theatre, 513 13th Street, NW
This official kick-off event features an exciting lineup of top performers to showcase traditional and contemporary American and Japanese talent to celebrate the origins of the Cherry Blossom Festival. Learn all about the Cherry Blossom trees, national treasures that symbolize birth and renewal, like spring.
Blossom Kite Festival
March 31, 2018 10:00 am – 4:30 pm National Mall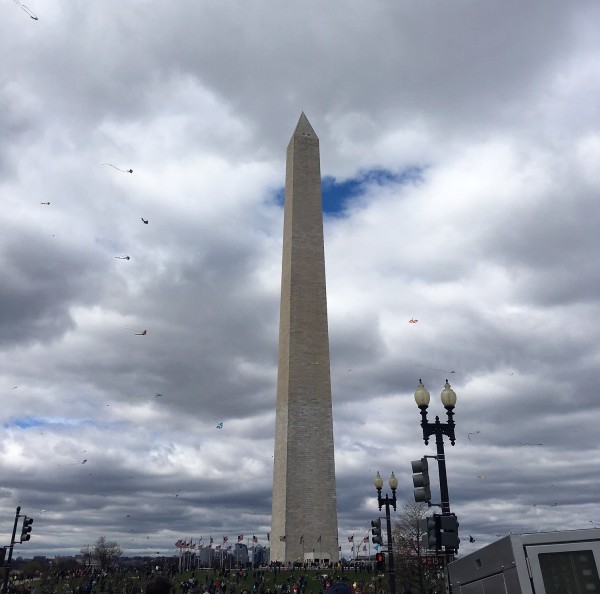 In honor of 50 amazing years of kite-flying on the National Mall (dating from the 1967 Smithsonian Kite Festival), the Blossom Kite Festival is all about creativity and ingenuity in its kite makers. Makers and flyers from around the country gather together to show off their creations and mad kite skills. Come to enjoy the scenery, fly your own kite, or let the kids create their own at a dedicated craft station.
National Cherry Blossom Festival Parade
April 14, 2018 10:00 am – 12:00 noon Constitution Avenue
This colorful parade is one of the most popular spectator events in all of DC – and in a city regularly filled with parades and motorcades, that's no small thing. The National Cherry Blossom Festival Parade runs for 10 blocks along the iconic Constitution Avenue and is filled with giant balloons, delightful floats, and music, dance, and other entertainment from all throughout the U.S. You can purchase grandstand tickets, but it's much easier (and free!) just to get a spot along the parade route. Be sure to arrive early, however, as this is a huge local event.
Petalpalooza
(Formerly known as the Southwest Waterfront Fireworks Festival)
April 7, 2018 1-9:30 pm with fireworks scheduled for 8:30 pm (weather permitting) The Wharf, 110 Maine Avenue, SW
With family-friendly activities beginning at 1 pm and going all the way until the fireworks show at 8:30, this waterfront event along the piers of the Southwest Waterfront is an entire day of family-friendly cherry blossom fun. Enjoy free music, tons of great food, craft stations, water-borne activities, cultural events, interactive art installations, games, a roller-rink, a beer garden (for the adults!) and even blossom-inspired hairstyles are just a few of the many wonderful things available at this event.
Credit Union Cherry Blossom Road Race
April 8, 2018 7:30 am
This ten mile run and 5K run-walk is particularly popular among locals to welcome the spring season and if the Cherry Blossoms are in bloom, it's one of the most scenic races. Entries are based on a lottery system, so if you're interested in participating, you'll have to enter the lottery when it opens and wait to see if you get in. Not running? Join the spectators and plant yourself a long the route to cheer on runners with a funny sign.
Insider Tips
Practice taking photos of blossoms or other small objects before you come – you'll want to get up-close shots of the cherry blossoms and you don't want a big blur.
Be sure to bring sunscreen, bug spray, and (if needed) allergy spray, as you will be spending a lot of time outdoors around a lot of plants.
If you do want to watch the parade, be sure to arrive at least an hour early to reserve a spot.
Cherry blossoms aren't just around the Tidal Basin! Other areas of the city with cherry blossom trees include the Virginia Avenue corridor, the Washington Monument grounds, and the George Washington University.
Because the timing of the festival is only an estimate each year, be prepared for differing levels of "in bloom" when you get to the trees themselves. Weather can and does affect the blossoming time of these delicate plants.
Although it's likely to be busy all weekend, you'll find thinner crowds during the week, early in the morning, and late afternoon/evening.
Want to take a self-guided tour of the trees? Pick up a pamphlet from Information Stations located on the north and south sides of the Tidal Basin.
How to Get to the Cherry Blossom Festival
It couldn't be easier to get down to the waterfront and the National Mall. Hop aboard a water taxi from Georgetown to get down to the Tidal Basin. Or, take the DC Circulator for just $1! If you're staying on a Metro line, just get off at the Smithsonian Stop (Blue/Orange/Silver). You can also easily walk down to the Tidal Basin from Penn Quarter or Foggy Bottom – it all depends on your shoes and your walking stamina. Regardless of where you're coming from, it's definitely advisable not to drive, as there is virtually no parking available in the area.
Things to Take Home
Looking for souvenirs? Head to Union Station and the National Cherry Blossom Festival Headquarters for official merchandise like t-shirts, tote bags, pens, hats, postcards, mugs, and even iconic pins, with new designs for each year of the festival. Official festival merchandise will also be available at select events, and stores throughout the city, although you may be a markup if you get the pins elsewhere, for example.
Nearby Attractions & Things to Do
Visit one or more of these great National Cherry Blossom Festival events and looking for other festive attractions to fit into your touring itinerary? There are plenty of nearby attractions on the National Mall itself (like many of the
Smithsonian Institution Museums
or renowned monuments, like the 
Washington Monument
), as well as in nearby Chinatown (like Madame Tussauds DC). Or, if you're looking to see the cherry blossoms from a whole new perspective, why not hop aboard a DC sightseeing cruise and view these gorgeous trees from the water? It's a unique viewpoint and you'll get absolutely beautiful pictures.
Getting In: 
Admission to Madame Tussauds
 and
DC sightseeing cruise tickets
are included as options with the Washington DC Explorer Pass®.
Save on Admission
While the special events surrounding the National Cherry Blossom Festival are predominantly free, if you're thinking about visiting any additional attractions like museums, cruises, or tours during your visit, a Washington DC Explorer Pass® is a smart call. It can help you save on admission to other activities, leaving more money left over to spend shopping in Georgetown or dining across D.C.'s fantastic culinary scene.