As one of the most cultured and cosmopolitan cities in the U.S., Washington, D.C. attracts visitors from across the country and around the globe. While American tourists likely have a specific agenda in mind – perhaps with an eye to studying their national history – international travelers may be looking for a little bit more guidance. Check out these suggestions for top attractions and things to do for international travelers. If you're traveling on a budget, you should know that you could save on admission to many of the best area attractions with the Washington DC Explorer Pass®. You don't even need to deal with the hassle of international shipping – just purchase online and go!
Hop On Hop Off Sightseeing Tour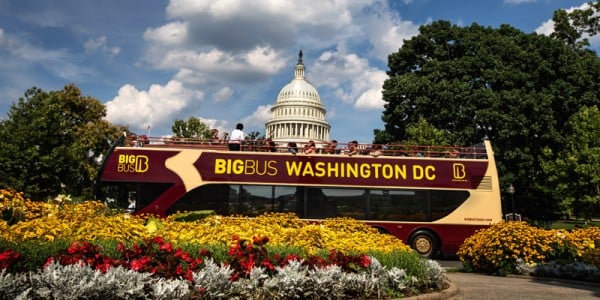 There's nothing more attractive in a foreign city than having the chance to tour all the top sights with none of the effort. So that's why one of our favorite activities for D.C. visitors is a comprehensive,
hop-on, hop-off DC bus tour
that offers convenience, informative narration, and plenty of fun.
Newseum
D.C. is full of museums, and the
Newseum
is one of the newest and most popular additions. It's enticing to local and international tourists alike because of its global focus on the role of mass media in modern history. While some exhibits do centralize American history, many of them focus on issues and objects of transnational interest, like 9/11 or the Berlin Wall.
The Air & Space Museum
Smithsonian's Air & Space Museum is a favorite with travelers from all walks of life. Here you'll find galleries of real aircraft, lovingly preserved and carefully restored. Expect to see more than just American aircraft, too – there are plenty of Russian and European models hanging from their iconic ceiling display. Plus, who doesn't love a good chance to learn about the history of one of mankind's most unifying urges – the desire to fly?
The National Geographic Museum
If ever there was a museum that could appeal to travelers from around the globe, the National Geographic Museum is it. Featuring photography and artifacts from
their massive collections
and a long, storied history of reporting on natural and cultural issues from around the world, this museum is truly a hall of wonders. You'll also find rotating special exhibits that feature everything from archaeology in pop culture to the secrets of exotic animals.
The National Gallery of Art
The Louvre. The Hermitage. The Tate. The National Gallery of Art stands alongside the greatest art museums in the world, and is definitely worth a visit if you're a real art lover like me. Their collections are split up into two galleries: the East Building (designed by I.M. Pei!) features contemporary and modern art, while the West Building is home to more classical and historical works of art. They also have one of the best gift shops in the entire city, if you're looking for that perfect souvenir. If you're looking for some of the best things to do in D.C. for international travelers, try a few of the attractions on this list. We're sure they'll be a great addition to any touring itinerary, and the range of interests and activities they represent make for a rich and rewarding vacation. And remember, a
Washington DC Explorer Pass®
can save you up to 40% on combined admission to top attractions, so pick one up for your next U.S. trip!