Looking for a convenient, informative, and fun way to tour Washington, D.C.? Look no further than a Hop-On Hop-Off Sightseeing Tour by Big Bus Washington DC! This double-decker bus circulates throughout the major thoroughfares of DC past all the big monuments, landmarks, and museums. You'll enjoy some of the most important sights in the entire city, with the freedom to hop off at various points of interest. It's a great way to get to popular tourism spots, and it comes with the added benefit of knowledgeable and engaging tour guides who can regale you with all the inside info about our nation's capital.
How to get Hop-On Hop-Off Bus discount tickets?
We've got you covered – Hop On Hop Off Big Bus DC Tour admission is available with the below money saving options, so you can choose the attraction pass that's right for you: 1. Explorer Pass – Choose as you go. Includes admission of up to 5 attractions. 2. Build Your Own Pass – Select the attractions you want to visit prior to visiting. See all available passes, attractions & prices – Learn more.
Tips for Taking the Bus Tour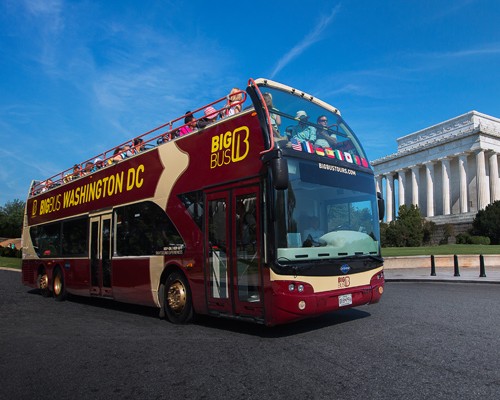 You may want to plan out which stops you'd like to disembark at before you board the bus – while spur of the moment decisions can be fun, you'll maximize your use of the pass if you're strategic about your stops.
Think about your approach when it comes to exploring DC monuments. If you're most interested in the National Mall, hop off at one of those stops and wander around. Prefer to see the lesser-traveled parts of DC? Then the National Cathedral stop might be a good option.
We cannot emphasize sunscreen enough – summers in DC are very hot and the sun can be scalding in areas like the National Mall that have minimal shade.
When is the best time to take the Hop-On Hop-Off bus in DC?
Your bus tour ticket is good for 24 hours once you redeem your pass for the ticket, so it's best to consider what your plans are for use of the bus. If you only want to enjoy one day of touring, then redeeming your pass early in the morning is a good bet. If you prefer to use the bus' hop on, hop off capabilities over the course of two days, aim for an afternoon pickup.
How long is the Hop-On Hop-Off bus tour in DC?
Once you use your DC Explorer pass to pick up your ticket, it will be valid for 24 hours. Buses run from 9AM-5PM and you can pick up your ticket between 9AM-4PM. The Red route lasts for 1 hour 45 minutes, and buses pick up every 20-30 minutes. The Blue route lasts for 1 hour 30 minutes, and buses pick up every 30 minutes. Get on and off the bus as you please, or feel free to stay on for the duration of the route to see as much of the city as possible.
What to bring on a Hop-On Hop-Off bus in DC?
A camera or other recording device
Water
Snacks
Comfortable shoes for when you hop off
The route map (provided by the attraction)
What is there to see on the Hop-On Hop-Off bus in DC?
Since this tour will take you all throughout the city, there are tons of options for hopping on or off. Here are a few of the most significant or interesting for visitors.
The White House
One of the most popular sightseeing destinations in the whole city, the White House is actually pretty easy to get a great picture in front of. Its iconic architecture and façade will make it instantly recognizable in any scrapbook or photo album, so don't miss your chance!
Washington Monument
Another incredibly recognizable landmark, this unique building in D.C. is also among the most striking sights on the National Mall. If you're interested in ascending to the top, be sure to stop off here early in the day to pick up a free ticket, distributed on a timed, first-come first-served basis.
Lincoln Memorial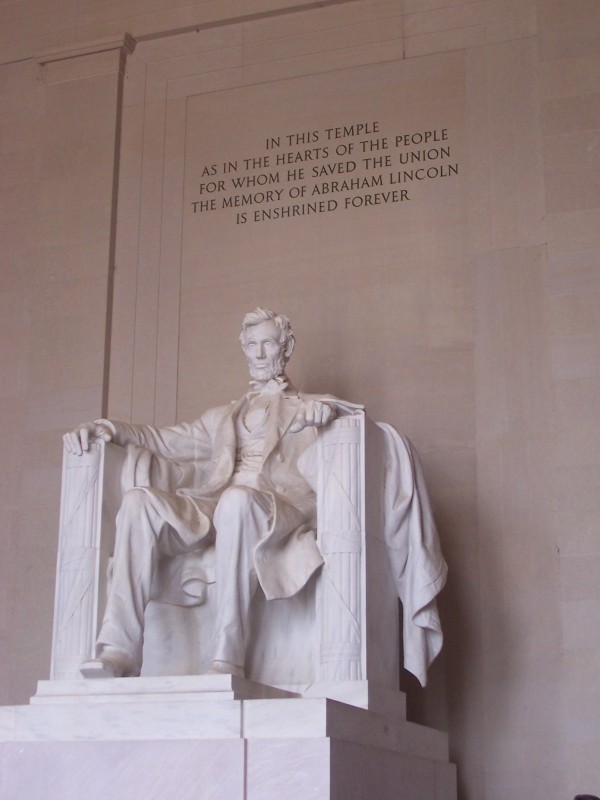 Built in honor of our sixteenth President and also known for its role in the famed "Night at the Museum" film franchise, the Lincoln Memorial is another heavy hitter on the D.C. monument scene. You'll marvel at just how ginormous the seated Lincoln actually is.
Smithsonian Institution
The Smithsonian family of buildings actually encompasses the majority of the structures on the National Mall, including the Museum of American History, the Air and Space Museum, the Museum of the American Indian, and more. If you're looking for a fun and free way to fill up a day after you hop off, then this is a great destination.
The National Cathedral
Located in the Northeast section of D.C., the National Cathedral is an awe-inspiring sight. This non-denominational church is a gorgeous building that often evokes images of long-lost cathedrals in Europe. It's another must see and a great photo opportunity.
U.S. Capitol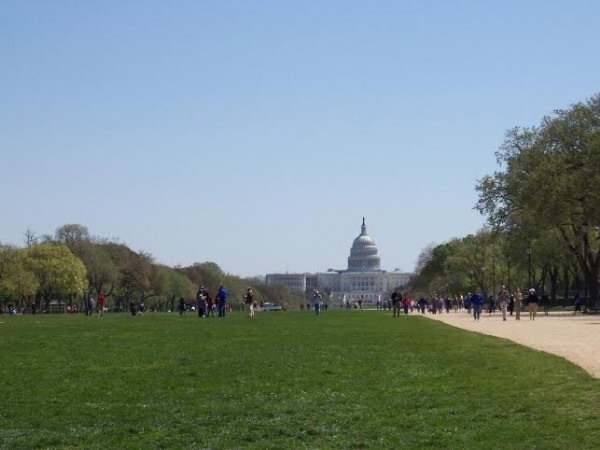 The Capitol Building (and its iconic domed roof) is a central feature of the east end of the Mall. Surrounded by grand pathways, beautiful fountains, and even a botanical garden, this building is truly remarkable. Free tours are available daily, but you need to make a reservation in advance.
Vietnam Veterans Memorial
Designed by famed architectural artist Maya Lin, the Vietnam Veterans Memorial is one of the most instantly recognizable landmarks in the entire city. Distinguished by its striking black stone, clean lines, and a very reflective surface, this memorial has won a number of design awards since its construction. A visit here is worth the stop.
Jefferson Memorial
Dedicated by FDR in honor of our third President, the Jefferson Memorial is often a favorite among Presidential Monuments. Visitors who have also been to Monticello will recognize Jefferson's iconic architectural style. Plus, with its location right on the Tidal Basin it provides a truly photogenic atmosphere.
Union Station
Since you'll have picked up your boarding pass in the lobby of Union Station, you'll already know that it's yet another architectural marvel. The grand marble floors, gilt bannisters, and magnificent ceilings are just the beginning of what has to be the most beautiful train station in the US (we mean it, Grand Central). Spend a little time exploring before you hop on!
What attractions will the Hop-On Hop-off bus visit in DC?
Since your tour will circulate you throughout the most frequented parts of the city, you've got a number of additional attractions that you can visit when you choose to hop off. Here are a few of our favorites.
The famed White House, home to the President and his family.
The Smithsonian American Art Museum, a favorite among creative types.
The world-famous wax museum, Madame Tussauds.
The United State Botanical Garden, a charming garden nestled near the Capitol Building.
The engaging Newseum, filled with journalistic history and artifacts.
The infamous Crime Museum, a fascinating collection of criminal intelligence and artifacts.
The popular National Zoo, home to the nation's first panda bears.
Where is there to eat in Washington DC?
There are too many options to list here, but we've chosen a few based on neighborhood that we think are good family options.
Einstein Bagels or Starbucks are great places to grab breakfast before you board in Union Station.
Old Ebbitt Grill is a perfect destination if you're looking for a little bit more class in your dining experience – it feels really grand and rich but doesn't have a high price tag.
Chef Geoff's is a favorite family restaurant with innovative fare.
Authentic Asian cuisine is readily available in the Chinatown neighborhood – we love
Looking for a great steak dinner and some good beer? District Chophouse is your best bet.
Stylish and tasty contemporary Mexican is epitomized by Rosa Mexicano.
Mitsitam Native Food Café (located in the Museum of the American Indian) is one of the best cafeterias in town.
If you're in the mood for variety and need to please a lot of people, the Eat at National Place food-court style destination is a safe choice.
Save on Admission
So if you're looking for the best introduction to Washington, D.C. monuments that money can buy, the Hop-On Hop-Off Bus Tour is a great choice. Remember, with the Washington DC Explorer Pass® you can save up to 40% on combined admission to the Hop On Hop Off DC Bus Tour, plus many more top DC attractions.