Although it doesn't tend to attract as many tourists in the wintertime, Washington, D.C. is still a great destination in the off-season. You'll be treated to shorter lines, cheaper hotel prices and airfare, and less crowding at the most popular attractions. Best of all? The cold weather doesn't even really last that long, so by the end of February you're looking at warming temps. If you're looking for things to do in Washington DC in Winter 2019-2020, check out our list of some of the best holiday activities and attractions.
Save on Winter Attraction Admission
Regular admission to a number of these attractions are available on the Washington DC pass. Choose as you go from dozens of top attractions and save up to 40% on combined admission vs paying at the gate. See all available Washington DC passes, attractions & prices. Please note, some of these special Winter events may be separately ticketed and not available on the Explorer Pass.
Christmas at Mount Vernon
Where:
George Washington's Mount Vernon
When: 
November 29 - December 31, 2019 Offering a wide variety of seasonal events and festivities, Mount Vernon is the ideal destination for those who love the historical dimensions of Christmas.
Depending on the day you go
, enjoy an enhanced visit to the estate with inspiring candlelight tours of the estate, holiday fireworks and special programming, and a unique tour of the Mansion, now decorated for Christmas with all the pomp and circumstance you'd expect from a Presidential abode. This is also a great destination for some holiday shopping – be sure to check out the official Mount Vernon Christmas Ornament while you're there.
Getting in: 
George Washington's Mount Vernon tickets
are an included attraction option on the Washington DC pass and holiday attractions are included with admission unless noted otherwise.
ZooLights
Where:
Smithsonian National Zoo
When: 
November
29, 2019 - January 1, 2020; 5:00 pm-9:00 pm (closed December 24, 25, & 31) See the National Zoo in all its holiday glory when the park is illuminated by hundreds of thousands of twinkling lights. Enjoy an astonishing lights show alongside live musical performances, snacking, shopping, and more. It's also a rare chance to see the zoo at night, and to view some of the nocturnal critters. There are even a number of fun rides and games for the kids to enjoy, like a ride aboard the National Zoo Choo-Choo, and a chance to tube down an artificial snow hill.
New this year:
enjoy dozens of large, glowing animal lanterns and stroll through thousands of reflecting lights as part of the interactive ⁠— and highly Instagrammable — art exhibit called "Entre Les Rangs."
Getting in: 
Smithsonian National Zoo admission is free, including all ZooLights events.
National Christmas Tree
Where: The Ellipse When: December 2019 The lighting of the National Christmas Tree is another important milestone in the D.C. holiday season, marking the official beginning of the holidays (and the start of holiday shopping). It's already been lit this year, but it's absolutely worth a trip the White House to see this amazingly beautiful tree. Ornaments on the tree come from all around the country, complimenting the Pathway of Peace, an adjacent walkway that's lined with 56 smaller trees representing all the states, territories, and the District itself. Be sure to catch the free musical performances, offered on most nights.
National Hanukkah Menorah
Where:
The Ellipse
When: 
December 22, 2019; 4:00 pm (gates open at 3:00 pm) Each year during Hanukkah, the White House lights the National Menorah on the Ellipse in a festive celebration. The first candle will be lit on December 12, after which an additional candle is lit for each night of Hanukkah. The Menorah will be on display for the duration of the holiday, and while tickets are required for the lighting ceremony, it's free and easy to see any day after that.
Getting in:
Admission to the National Menorah on The Ellipse is free, but
advance reservations are required
.
Downtown Holiday Market
Where:
Around 8th & F, NW
When: 
November 22-December 23, 2019; 12:00 pm-8:00 pm daily If you're looking for a unique place to buy some handmade presents this year, the 15
th
Annual Downtown Holiday Market is the place to go. Featuring well over a hundred regional artists and craftspeople and their amazing work, this event is sure to hold the key to that special present you've been searching for. It's a nice opportunity to find something unique that you can definitely say didn't come from a major online retailer! Bonus – it's open every day in the afternoon and evening, so it's easy to fit into a bigger schedule.
Getting in:
Admission to the Downtown Holiday Market is free, the shopping, however, is not.
Explore the Snow-Covered National Mall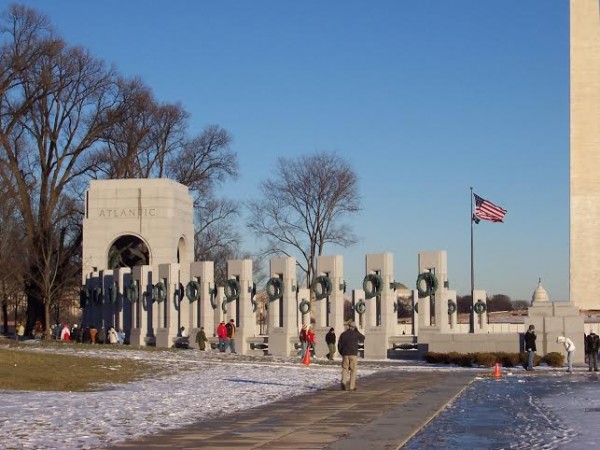 Forget the height of summer (when the grass is all dead anyway), now is the time for your best pictures of the monuments. You'll get some really stellar shots of these magnificent monuments and statues that are well worth that Instagram action. Although all of the monuments are impressive, a few look the coolest in the snow – the World War II Memorial, the Vietnam Veterans Memorial Wall, and the Washington Monument itself. Be sure to check these out! As a side note, be sure to look out for young locals and college students engaging in a snowball fight or two --  a few epic battles have been known to break out at night on the National Mall. Getting: The National Mall is free to explore.
Roam the Museums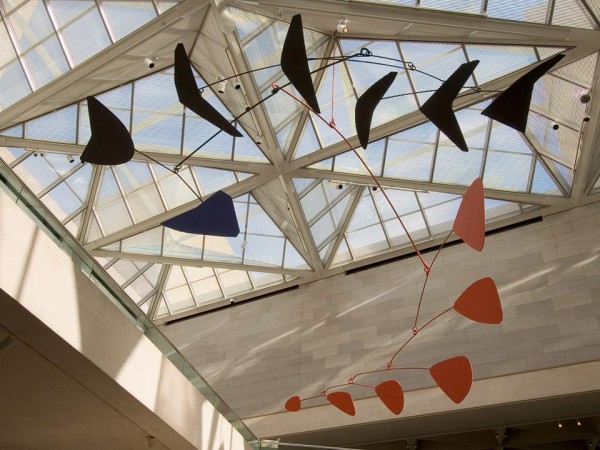 Since the town will be pretty quiet, you'll practically have your pick of museum exhibits to marvel at without those pesky crowds (although you should know that the school field trip season really starts up in March and will start to cause some traffic by that point). Whether you want to explore the vast and varied institutions of the mighty Smithsonian, or explore new and exciting offerings like the Newseum or Madame Tussauds, there's something to suit every taste and budget. Other popular institutions include the National Gallery of Art (a Calder sculpture from the NGA is pictured above), Dumbarton Oaks Library, the Woodrow Wilson House, and more. Getting in: Newseum tickets and Madame Tussauds tickets are included attraction options on the Washington DC pass and Smithsonian museum admission is free.
Ice-skating at the National Gallery of Art
Where: 
National Gallery of Art
When: 
November 15, 2019 through March 15, 2020 (weather permitting) What's better than some good old-fashioned outdoor ice-skating? Why, ice-skating in a sculpture garden, of course! Head to the National Gallery of Art during the winter months for some quality opportunities to glide around the ice. Sculptures include installations by Roxy Paine, Tony Smith, Sol LeWitt, Louise Bourgeois, and Roy Lichtenstein. Be sure to bring your camera!
You can rent skates or bring your own, and even have the option to sign up for some ice-skating lessons. 
It's great fun for the kids during the day, and is even a bit romantic in the evening.
Getting in:
Admission, ice skates, and locker rentals available at the rink for a minimal fee.
Take in a Show

D.C.'s theater scene is rich and diverse. There's an eclectic mixture of high-end and amateur performances, and tons of excellent shows to be had. Whether you're looking for something traditional (such as might be found at the Kennedy Center for the Performing Arts or the National Shakespeare Theatre), or something more playful and innovative (in which case you're looking for the Warner Theater or the National Theatre), you'll find something delightful this season in D.C. Getting in: Tickets required, check online in advance.
Cheer on Your Favorite (or Newly Favored ) Sports Teams
D.C. may surprise you with its passionate love of all things athletic. From the runners, climbers, and bikers who populate the city to the amazing professional athletes who perform at the Verizon Center, FedEx Field, and beyond, there's plenty of sporty goodness to go around. This winter, check out competitive Washington Capitals NHL Team and the Washington Wizards NBA Team, plus great college offerings from Georgetown, George Washington, and Maryland.
Getting in:
Tickets required, check online for availability
Get Your Shop On
[caption id="attachment_33072" align="aligncenter" width="600"]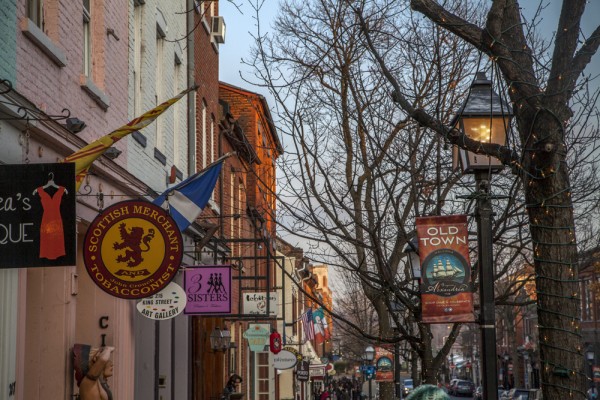 Downtown historic Alexandria.
Virginia Tourism Corporation, www.Virginia.org[/caption] Those of you who love to shop will love the stores available in Washington, D.C. The selection and variety of shops, brands, and institutions available for your shopping pleasure practically rivals NYC – and that's saying something! From the high end and brand name stores of Georgetown to the eclectic vibe of U Street and the classic feel of Old Town Alexandria, there are so many places to shop that you simply must devote hours to the task (perhaps over the course of a few days, to give your traveling companions a break?).
Remember to Save on Attraction Admission
So there you have it. Our list of a few things to do in Washington DC in the winter, including holiday events, other seasonal activities in December, January, and more. Remember, many of these options are available on the Washington DC pass, where you can save up to 40% on combined admission vs paying at the gate. Please note, the Winter events taking place at some of these attractions may be separately ticketed and not included with your pass. We hope you plan to add a few of these fun options to your winter vacation itinerary.