One of the great things about a relatively compact capital city is the ease of walking that it offers to visitors, even those unaccustomed to much foot traffic. Additionally, the successful urban planning of Washington, D.C. means that points of interest and many historical neighborhoods are all within easy walking distance of one another, or of the Metro (their mass transit system). In fact, it couldn't be easier to get where you need to go in D.C. on foot! Of course, deciding what you want to do is the first step to planning your pedestrian-friendly vacation! From museums and art galleries to tours and cruises, D.C. attractions have it all. If you're planning on doing and seeing a lot while you're in town, consider a flexible Washington DC Explorer Pass®, which can save you up to 40% on combined admission to top area attractions. So check out these tidbits of advice before setting out on your D.C. adventure and you'll be totally set to go – happy exploring!
Plan Ahead
Just because a city is walkable, that doesn't mean you should totally wander without guidance. Although D.C.'s quadrant system provides a handy guide for estimating where attractions are (and which neighborhoods are safest for tourists), it's easy to cross borders without knowing it. Consult a map (Google Maps is totally fine) and get a sense of where attractions are in relation to your hotel, restaurants, and Metro stops. You may wish to plan out a particular walking route, keeping in mind the major diagonal streets (named after states – easy to remember) for shortcut purposes.
Get Familiar with the System
Washington, D.C. is organized on an alphanumeric system, in which East-West streets are lettered and North-South streets are numbered. All numbers and letters begin in the middle of the city at the Capitol Building where the four quadrants meet, and proceed outwards from there. There are a few wildcards (previously mentioned state names), but they're usually helpful rather than confusing. Northwest (where you'll likely spend most of your time) is numbered from east to west, with lower numbered streets placing your closer to the Capitol and higher numbered streets putting you out by Georgetown. Fun fact: after they run out of letters, D.C. starts assigning names to streets in alphabetical order!
Dress Appropriately
First up, wear comfortable shoes. City streets are always tough on sandaled feet, and while you may not want to look too touristy in sneakers, you can find a happy medium with Toms or something similar. Second, D.C. climate in the summer is often brutally hot, with high humidity and glaring sun. Bring a hat, or at the very least, wear some good sunblock. In the winter or late fall, waterproof boots are a smart choice (plus the requisite hat and gloves, etc.).
Pick up a SmarTrip Card
Walking is easy…for a while. What happens when you get tired after a few hours of wandering the National Mall (especially after those hard marble floors in the museums)? Be sure to have a pass to the local Metro system to help you get back to your hotel or on to the next attraction with a minimum of stress. You can purchase single-fare passes, although it's more cost effective if you're in town for more than a weekend to invest (and I use that word loosely – it doesn't cost very much) in what they call a SmarTrip Card, a plastic reloadable pass that saves you big on fares.
Check Out a Hop On Hop Off Sightseeing Tour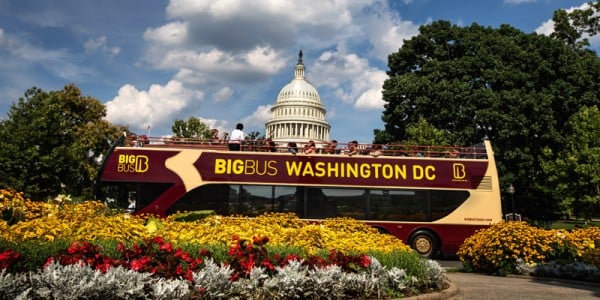 While many Washington, D.C. attractions are clustered together in distinct neighborhoods, those neighborhoods may be just far enough apart to pose a challenge to travelers, especially with kids. A smart option is a Hop On Hop Off Big Bus Washington DC Tour, which is available on the Washington DC Explorer Pass. You can still enjoy the freedom and flexibility of walking with just a little bit of assistance from a bus every now and again. Of course, if you're really feeling into the whole exercise thing, you can just ride a bike, too!
Save on Admission
Now that you're got the walking part down pat, spend a little time researching which parts of D.C. you want to explore and what you want to see. To save time and money on your excursions, pick up a Washington DC Explorer Pass® today!