Sometimes Washington, D.C. can have a bit of a dusty reputation. It's home to tons of monuments, museums, historical sites, and political buildings, but unless you're a politics junky or a grad student it's probably not that exciting for you. But that certainly doesn't mean you should avoid that weekend getaway or cancel that trip to the District! There are so many great things to do that appeal to those of you in the 20-something demographic; after all, D.C. is largely populated by people in their 20s! From sporting events to concerts and beyond, you're guaranteed to find something to enjoy in D.C. on your next trip. If you're planning on doing a bit of sightseeing while you're in town, then stick to your budget with a Washington DC Explorer Pass®. It can save you up to 40% on combined admission costs to top museums, tours, cruises, and more – that's plenty of money left over for drinks and snacks.
Sightseeing Tours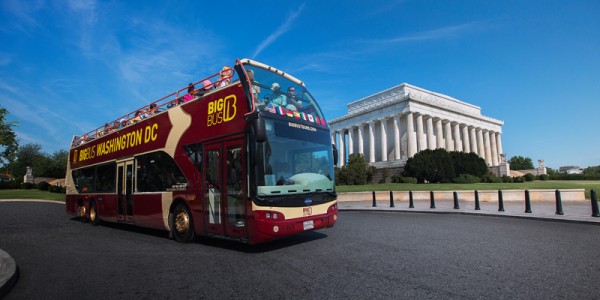 Sightseeing doesn't have to be boring. Forget about your old fogey tour guides with the umbrellas (you kind of hate those, right?) and think something exciting like a Big Bus Washington DC Tour. Stay on as long as you feel like soaking up some knowledge and hop off when you find something intriguing. Alternatively, you could sightsee by water and enjoy the pleasures of the monuments aboard a relaxing cruise. Did we mention that the cruise stops in Old Town Alexandria, one of the best places in the area to get a nice glass of wine?
Sporting Events
Washington, D.C. is no slouch when it comes to the sports department. While you probably won't have the budget or time to get out FedEx Field to see the NFL team, you have more than enough dough to pick up Wizards or Nationals tickets. The Washington Wizards NBA team plays in the heart of Chinatown at the beloved Verizon Center – conveniently nestled in the midst of some great bars and restaurants you can enjoy before and after the main event. (We love Matchbox for pizza, if you're in the mood.) Nationals Park, perched on the Southeast waterfront, is the place to go to find enjoyable sporting events and great food at really affordable prices. Plus, this area is up and coming, so new bars and restaurants are coming in every month or so. Don't forget to get a Ben's Chili Bowl hotdog or brat while you're at the game!
Shopping
When you have the money, shopping is one of life's great pleasures. So why not devote a little bit of your vacation to indulging yourself? Head to Georgetown's M Street for the best concentration of high end and chain stores in the city. If you've got cash to spare, check out Intermix for high-end designer fashion. If you prefer a bargain, H&M will do the trick. Looking for something a little more indie? The U Street neighborhood is rife with boutiques that offer everything from vintage clothing to artisan furniture and more. And if you're after the classic mall experience, you can't go wrong with Pentagon City Mall (conveniently located on the Metro).
Bar-Hopping
You know this needs to make it somewhere into your itinerary. There are few cities as suited to bar-hopping for the 20-something demographic as D.C. After all, the interns on the Hill need to drink somewhere! If you're looking for a great stroll-able neighborhood chock full of bars, you have a few options. Dupont Circle is great for quality bars that draw a huge crowd, so expect to push through layers of people to get to the bar. The Big Hunt had an awesome roof deck, and Buffalo Billiards offers pool and shuffleboard. As a bonus, Circa is a great brunch spot. Georgetown gets a bit preppy, but it also has its share of great bars and clubs. Old Glory offers a great rooftop bar and Bodega has both great tapas and great wine. Don't forget that collared shirt! Adams Morgan is another option, featuring themed bars and clubs like Heaven & Hell and Madam's Organ. If you hit it late enough (and we're honestly warning your stomach here), you can stop by Jumbo Slice for the biggest slice of pizza you've ever seen.
Concerts
D.C., perhaps surprisingly for those of you who aren't familiar with the city, has an excellent music scene. From underground, indie groups at the Red and the Black to sell-out big name concerts at the Verizon Center, you can find everyone on the musical spectrum in this city. Smaller concert venues that put on popular shows for reasonable prices include the Black Cat and the 9:30 Club. Both are a little off the beaten path in terms of the Metro, but you can easily get there via bus or a short walk. The Verizon Center usually showcases headliners like Taylor Swift or Imagine Dragons. If you really want a taste of the local independent music scene, head to H Street for a visit to the historic venue, the Red and the Black.
Museums
Not all museums are created equal! You can and you will find something fascinating and inspiring among the D.C. museum scene even if you aren't a history buff or an art lover. If you love journalism, the news, or even just social media, a visit to the
renowned Newseum
is a must. Immerse yourself in the world of news-making and come to understand the ways in which news develops in our modern culture. Prefer celebrities and pop culture to mass media? Head to
the iconic Madame Tussauds DC
for a chance to meet your favorite celebrities "in the flesh," so to speak. You can even get your photo taken with all 44 United States Presidents!
Save on Admission
So there you have it – a wide selection of activities that are perfect for anyone in the 20-something demographic. From Bloody Marys to baseball games, it's all here. Remember, if you want to hit up a few sights, you can save big with the Washington DC Explorer Pass®!