If you're looking for a great time to visit the Netherlands off-season while still having the chance to experience the best that the city has to offer, then a trip to Amsterdam in November could be ideal. Combining the best of both worlds of off-season quietness and the beginnings of the holiday season buzz, November has something to offer for just about all types of traveller.
Visiting Amsterdam in November
Average Temperature: 39 - 48°F • Average Rainfall: 7 days/month • Average Sunshine: 2 hours/day
With fall coming to a close, Amsterdam prepares to welcome a brief wave of holiday-season tourists. How busy the city may be will therefore largely depend on when in November you plan to visit the Dutch capital. A trip early in the month will allow you to still benefit from the low-season tourism rate of fall, and the more straightforward access to attractions and lower accommodation fees that come with it.
Toward the end of the month, while the city still isn't likely to be too busy, you're bound to come across more tourists than earlier in the month. With many Dutch festive celebrations starting as early as mid-November, many international visitors and Dutch residents alike flock to the city to enjoy the holiday season.
The tail end of fall brings with it fairly cool, wet and gloomy weather for Amsterdam. With temperatures falling between the high-30s and high-40s, you'll typically want to wrap up warm if you plan on spending a lot of time exploring the city's charming squares. Be sure to pack an umbrella or waterproof clothing, too, as you're likely to encounter at least one day of rain per week.
Things to Do in November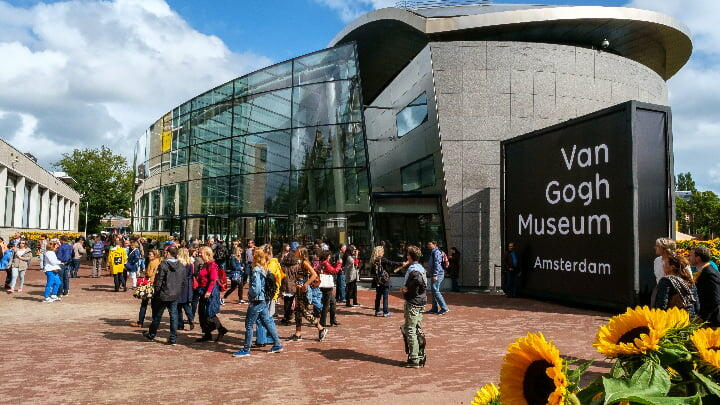 With the not-so-cheery weather in fall, you wouldn't be blamed for wanting to orient your trip to primarily around indoor activities. Fortunately, while Amsterdam may be famous for its iconic architecture, bridges and canals, it's also known for its rich bounty of culture and history.
With that, one of the best things to do in Amsterdam any time of the year is to explore its wealth of world-class museums and art galleries. For a variety of both, head to the Rijksmuseum, home to a vast collection of over 8,000 pieces chronicling the history of both the Netherlands and Dutch art.
To retrace the steps of history, you'll want to make your way to the likes of the Amsterdam Museum and the Maritime Museum, each offering key insights into the respective histories of Amsterdam as a whole and the nautical pursuits of the Netherlands. Also popular is the Anne Frank House, where a biographical museum now stands in memory of the Jewish wartime diarist.
If you have an eye for art, then topping your list should be the Van Gogh Museum, which houses an impressive collection of over 1,400 of the renowned Dutch painter's works. Right next door is the MOCO Museum, where you'll get your fix of modern and contemporary art, with exhibitions dedicated to artists such as Banksy, Damien Hirst and Jeff Koons.
If you're an avid cyclist or just feel like taking a more active approach to your trip, there are few better places for it than Amsterdam. With more bikes than people, there are few better ways to see the Dutch capital than on your own two wheels. There's a plethora of bike rental stores scattered throughout the city offering reasonable day rates of around €10/day.
If you happen to be visiting toward the latter half of the month and don't mind getting a little chilly, then you may find Ice*Amsterdam a wonderful way to spend some time. Taking over the Museumplein, this event centers around a huge ice-skating rink and offers everything from festive market stalls to winter bars where you can warm up with a hearty cup of hot chocolate milk.
Events in November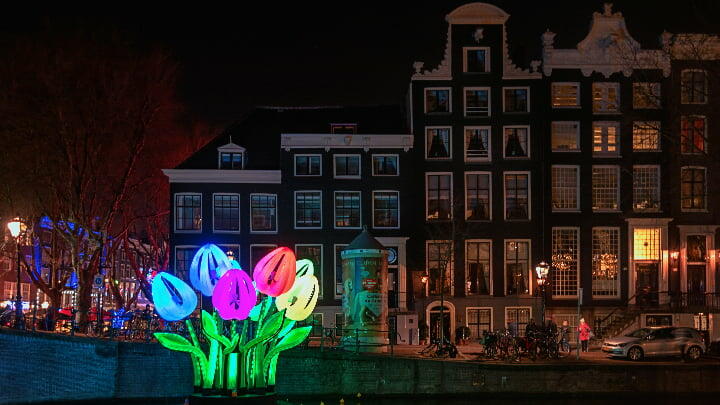 PAN Amsterdam
For a week in mid-November, the RAI Amsterdam convention center hosts PAN Amsterdam, the Netherlands' leading art, design and antiques fair. Bringing together over 40,000 visitors each year, the fair serves as a platform for designers and art lovers alike to share insights and inspirations in every discipline from photography and contemporary art to antique furniture and interior design.
IamExpat Fair
Somewhat of a more niche event, the IamExpat Fair takes place in The Hague, just a short train ride away from Amsterdam. This one-day event offers a forum for long-stay internationals to come together and learn about life in the Netherlands.
The event consists of presentations, workshops and information stalls offering insights into the likes of professional life, education, housing and banking for those who otherwise may find themselves lost amid all the new systems of their host country. Expats can make connections with one another and find the right organizations to help them get settled. Visitors with an interest in relocating to the Netherlands may find some value from the information and insight on offer.
International Documentary Film Festival Amsterdam (IDFA)
Each November, much of Amsterdam's city center transforms into a veritable paradise for film and documentary lovers. Since 1988, the IDFA has evolved to become the world's largest documentary festival, and offers a vast program of events including guest lectures and workshops.
At the core of the festival is its huge range of documentary films offering unique perspectives on every imaginable aspect of life around the world. Typically running for a little over a week, festival screenings take place throughout the city, including outdoor screenings beneath the night sky. Many of these movies are in English or offer English subtitles, making them accessible to as large an audience as possible.
Sinterklaas' Arrival
Should you be visiting Amsterdam any time from mid-November, you'd be hard pushed not to notice the festive celebrations beginning to unfold. On the first weekend after November 11, the Netherlands welcomes the arrival of Sinterklaas on his iconic steam boat.
In the lead-up to the day of Sinterklaas on December 5, most major cities throughout the Netherlands will host parades in which Sinterklaas and his helpers, known as Pieten (Peters) greet the onlooking families by throwing festive candies and treats out to the crowds.
Throughout this period, you'll also find festive treats lining the shelves of most stores and bakeries. Among the most common Sinterklaas treats are pepernoten and kruidnoten (tiny gingerbread cookies), large solid chocolate letters, schuimpjes (foam-like sugary candies), speculaas cookies and various marzipan-based cakes.
Amsterdam Light Festival
Running alongside the holiday season, the Amsterdam Light Festival illuminates the Dutch capital with an impressive light displays by designers, artists and architects from around the world. Taking place throughout December and January, the festival typically showcases around 30 unique art installations, bringing an even more magical touch to an already festive city.
One of the most popular activities of the Light Festival is to take a canal cruise in the evening. These boat tours offer a chance for visitors and locals alike to see the city from a different perspective, offering unique insights into the history of prominent neighborhoods while also exploring the artworks lining the banks of the canals.