Adults, rejoice! This is a child-free zone. Leave the little rascals at home and go check out all the amazing things adults get to do in Amsterdam! In fact, to help you on your way, we've curated this list of all the city's best bits. So, read on, and discover the best things to do in Amsterdam for adults!
Including:
Heineken Experience
The Rijksmuseum
Tour de BonTon
House of Bols
Moco Museum
and more!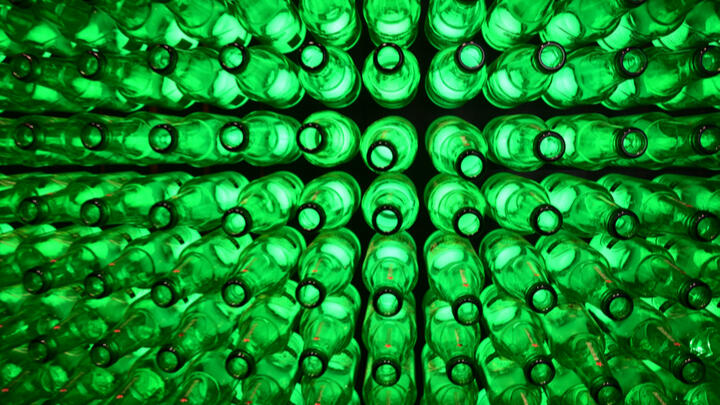 A beer tour to remember
Let's kick off our guide of things to do in Amsterdam for adults with a trip to a brewery. Nothing screams 'adult' like learning the origins of your beverage. If you've ever wondered where your amber nectar gets created, head to the Heineken Experience and fill your brain with knowledge. 
Tour the premises, see how the 'sausage' is made, so to speak, and learn about the history of The Netherlands' most famous export. Then, when all is said and done, sit down for a delightful taste of Heineken's uniquely-brewed magnificence. Two glasses of the goodness are included, so you'll end on a high. Nice.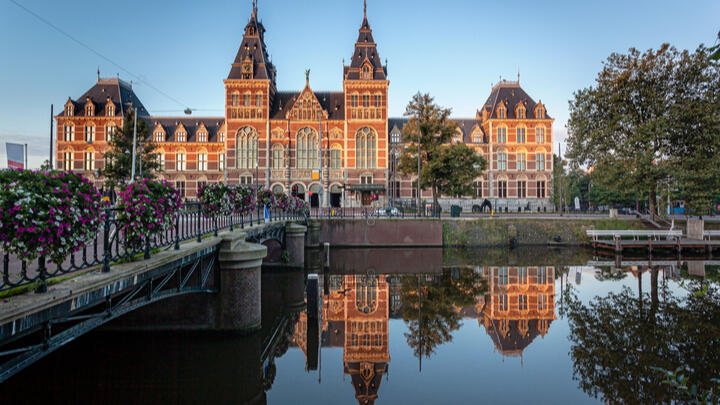 A feast for the senses
In the market for some high-brow entertainment on your vacation? Make sure to take a trip to the Rijksmuseum. The country's most famous art museum is massive, so ensure you dedicate a big chunk of your day to explore everything the 5-floor wonder has to offer. 
You'll learn about the history of the Netherlands thanks to artworks that span the Middle Ages to the present day. 8,000 artistic objects are housed within, including masterworks from Dutch master artists like Rembrandt. Vermeer, Steen, and many more from the Dutch Golden Age.
A calm retreat from many of the more lively options on this list, it is still a must-visit for anyone wanting to learn more about Dutch culture and history through the medium of art.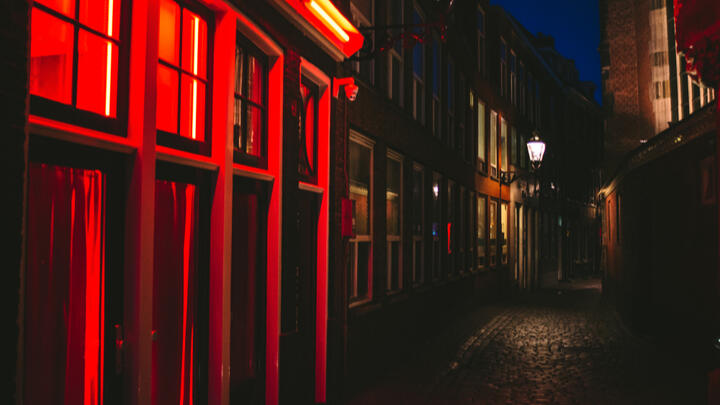 A red light wander
One of Amsterdam's biggest draws is arguably its Red Light District, which attracts countless curious observers and punters every year. And at the very heart of the district, you'll find the BonTon. 
Over the years, it's established itself as the most exclusive strip club and sex work house in the city. And now, they open their doors to anyone who'd like to tour the premises and learn about the history of sex work in Amsterdam, as well as the club.
Over 60 minutes, you'll tour the entire premises, see the stage area, backstage, and even get a glance at the private rooms upstairs. Not while the punters are around, of course. 
Easily one of the best things to do in Amsterdam for sex-positive adults who are curious about the goings on in the Red Light District.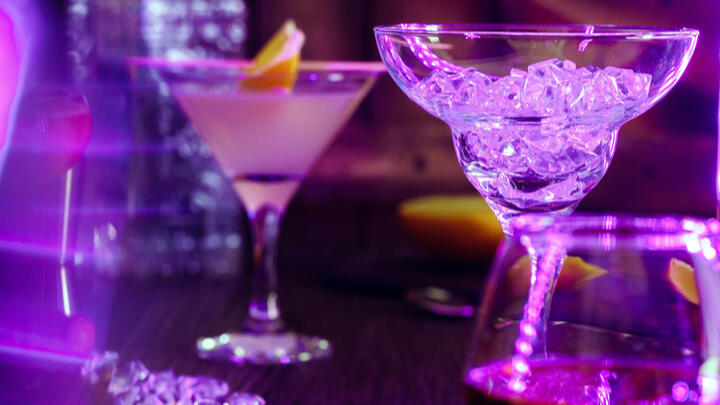 Boling for booze
It may shock you to know that gin isn't that old. In fact, it's only been around since the 17th century. What were folks in Europe drinking before that to warm their cockles? Well, that would be genever. You may never have heard of it, but gin's predecessor beat it to market by a cool 400 years. 
But why are we regaling you with tales of the gin before gin? Well, because at the House of Bols, you can try it for yourself! Within its walls, you'll find a museum that charts the history of the brand while doing a deeper dive on genever than we ever could. You can then visit the tasting room, where you can try some of this Dutch favorite for yourself. Afterward, if you feel the need to imbibe a little more, step into the chic onsite bar and order from their brilliant menu.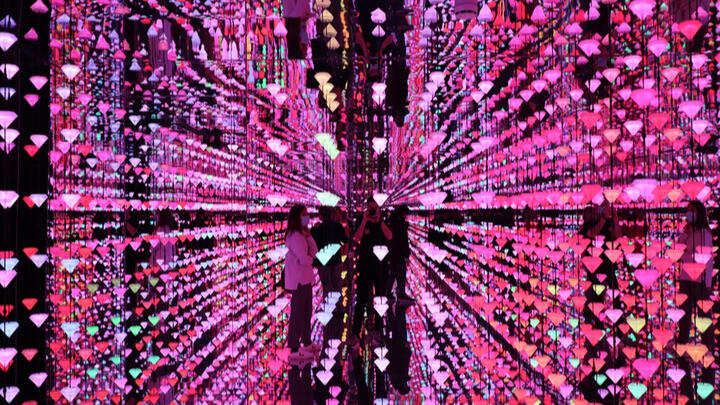 New age art in an old age building
If you prefer your art to be more on the modern side, Amsterdam's got you covered. Go see some current greats and expand your mind at the Moco Museum. 
Inside a large, unassuming townhouse in the center of Museumplein, and curated by the street giant Banksy, you'll find plenty of pieces that shine a critical light on politics, society, and the world as a whole. Through a series of mainstay pieces and rotating exhibits, you'll discover works from modern art giants like Hirst, Kusama, and KAWS. 
And some pieces even have AR capability, so you can get your phone out and see them from a different perspective. An unassuming picture of birds may come to life as you look through your phone screen. Breathtaking stuff, and you won't find anything else quite like it in the center of Amsterdam!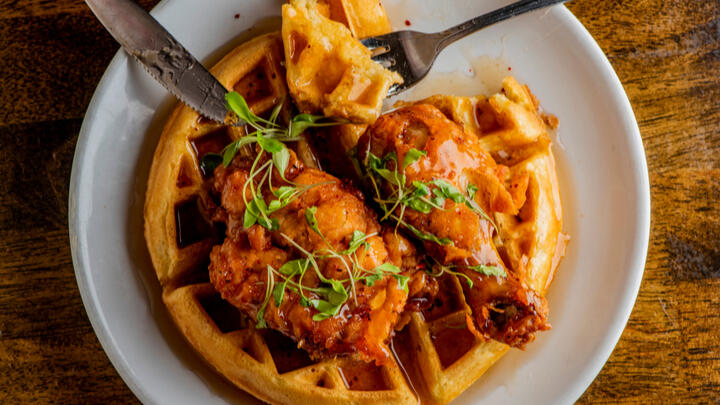 Boozy brunch cruise
Ever had a boozy brunch on a boat? If you have, it probably wasn't while you were gliding down the stunning canals that call Amsterdam home. And that's exactly what you'll get on G's Brunch Boat!
For 75 minutes, you'll ride the waterways, sipping on bottomless cocktails, beers, or wines, and chow down on some delicious breakfast treats. Eggs Benny, chicken and waffles, breakfast burritos, and even s'more-covered delights are all on offer. 
Definitely more fun with friends, G's Brunch Boat is one of the most unique things to do in Amsterdam for brunch-hungry adults. So, if you like your breakfasts closer to lunch, why not hop aboard and see what all the fuss is about?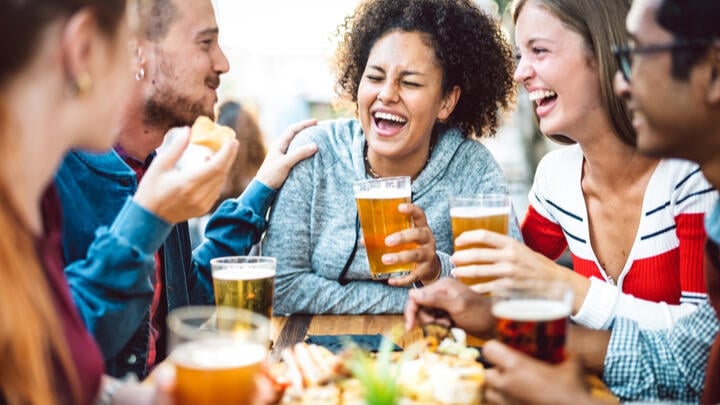 Dam the bars
And we'll end things on a similar note, with our recommendations for the best bars in Amsterdam you should check out before you head home. 
For cocktail aficionados, there's Bar TwentySeven, which has a fantastic menu, chilled atmosphere, and some of the best service in town. Or, if you like the trend of old-timey speakeasies, check out Door 74. Alongside its era-perfect atmosphere and Art Deco furnishings, you'll find a menu flush with cocktail classics. Plus, it's right next to the busy restaurant district in Reguliersdwarsstraat, a name you'll have no hope of pronouncing after you've had a few drinks. 
Or, if you're looking for a beer, you have a few options. If you fancy the trek and the weather's good, hop on the Centraal Station free ferry to Noord, and go visit the Oedipus Taproom. Craft beer is their game, and their one of the biggest in the city. Sit outside and soak up the sun, or head inside for board games and bbq. Or, if you don't fancy the trip, check out Cafe Gollem and their awe-inspiring beer menu that spans multiple pages. 
And that's our list of the best things to do in Amsterdam for adults!