Getting around: A guide to Amsterdam travel
Don't get lost when visiting Amsterdam use our handy guide to Amsterdam Travel to get you where you need to go.
Whether you plan to hop on public transportation, rent a bike, explore on foot or by boat, Amsterdam is a very easy city to navigate with a wide range of travel options. Read on to discover the best options for your travel needs and enjoy exploring the city!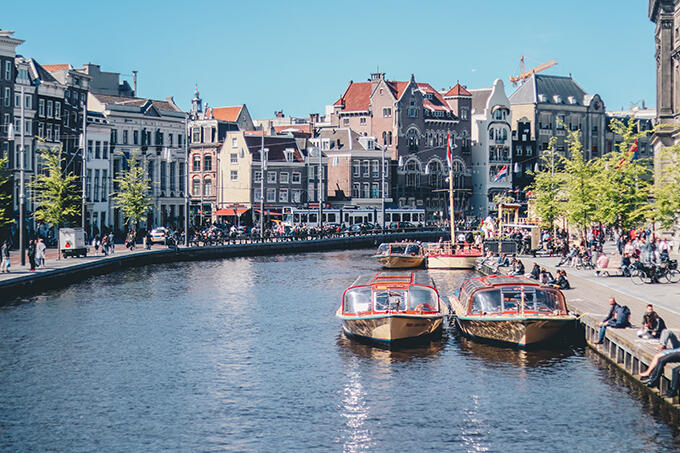 Amsterdam Travel
Like many European cities, Amsterdam is a hub for transport links both within the city and to other destinations. Boasting a whole range of transport opportunities, Amsterdam can take you where you need to go via a boat, bike, train, tram or bus. 
OV chip card: The Amsterdam Travel Card
The cheapest way to travel around Amsterdam is walking but if you need to get somewhere fast, the use of an OV chip card is the answer. Being used on trams, buses and metros, the OV chip card (OV-chipkaart) is the easiest way to pay for all your travel about town. 
The disposable card can be used to purchase tickets ranging from one-hour all the way up to seven day tickets. Buying any of this options is straightforward with you just needing to talk to the conductor if you're on a tram, driver on a bus or a machine at stops and stations. The vast majority of the Netherlands speak English so you should have no problem asking for what you want.
Once purchased you can use any form of public transport as many times as you like for the allotted time whether it be an hour, day or week.
It must be noted that Day cards cannot be sold by a bus driver and that since 26 March 2018, cash is no longer accepted on buses or trams. If you want to purchase a ticket you must use a debit or credit card.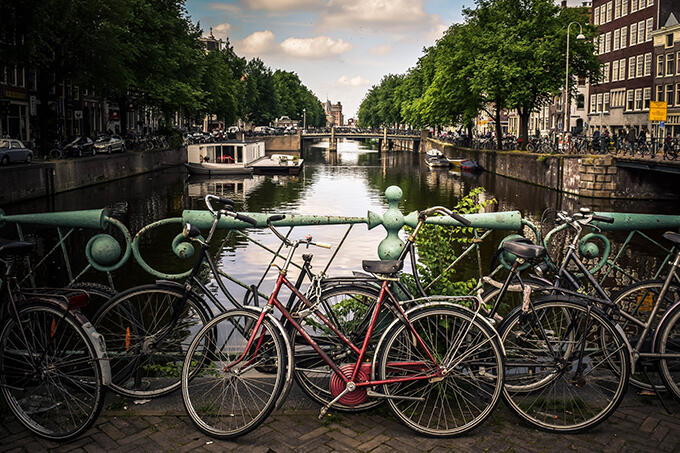 Amsterdam Bike Hire
A common byword for Amsterdam is cycling and with good reason. With hundreds and hundreds of kilometres of dedicated bike paths and lanes, the city is breeding ground for bicycles and thanks to its flat nature it's a great way to get around and see the sights.
One of the more common names you'll see in Amsterdam when it comes to bike hire is MacBike. With several depots around the city, MacBike is a recognisable name to hire your bike from if you fancy seeing the city by two wheels. Their bikes start from just €5 an hour for the basic foot brake model (you backpedal to brake) and go up to €25 for a whole day on a tandem bike (a two seater bike).
Open from 9am to 6pm, the bikes must be returned during the opening hours and require a deposit. Two options see you either give your credit card details over (for up to five bikes) or a your passport plus €50 which also covers up to five bikes. Use your Amsterdam Pass and enjoy 25% off your MacBike rental!
MacBikes also offer guided and audio tours to utilise if you want to see the city atop your saddle.
Canal Cruising: Amsterdam Travel by water
Recognised as the "Venice of the North" and protected as an UNESCO world heritage site, Amsterdam's waterways and canals are a vital part to the city's history and culture. Ferries and boats are used to navigate the 165 canals that give the city it's unique feel and iconic setting.
The best way to explore the city by the water is with a Hop on Hop off Boat tour. The tours will take you around the city's canal ring, explaining the history of the canals, their purporse and other interesting city facts as you float past some of the city's best Golden-Age buildings. Hop on and off designated stops along the canal route so you can explore the surrounding area by foot and visit top Amsterdam attractions. 
If you're looking for a comprehensive tour by water, the 100 Highlights tour lasts around an hour and takes passengers along the city's canals while highlighting top landmarks around the city. 
If you're feeling brave you can also opt to hire a pedal boat, gifting yourself the freedom of the waterways. Usually seating up to four people, they are a great way for families or friends to make their way around Amsterdam while avoiding bikes, buses and trams.
Boat hirers, whether they be pedal operated or engine based are urged to keep to the right hand side of the canals, stay below the 6km/h speed limit and not drink and drive your vehicles. Other warnings suggest to keep noise to a minimum and not use amplified music while riding around the canals.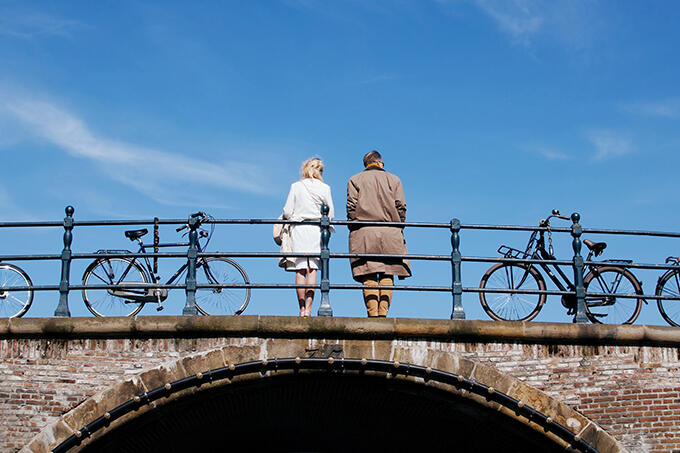 Walking
Unlike other urban sprawls in Europe, Amsterdam is a walkers delight thanks to its flat nature and relatively compact design. Due to the interchanging pathways of bike lanes, trams line and pedestrian walkways, Amsterdam is a city that is used to having navigate varying forms of transport making it one of the safest places for those who prefer to see the city by foot.
The Dutch capital has an abundance of walking tours too, giving you every chance to stretch your legs and take in everything that Amsterdam has to offer.  
UP NEXT:
AMSTERDAM PASS ATTRACTIONS