There's no shortage of activities and attractions to keep you entertained in Bangkok, and three days is just about enough time to scratch the surface of this great city and cram in a handful of its must-visit highlights. We're talking fairytale palaces, extraordinary temples, ancient art and Thai-Chinese street food so good it'll have you wanting to book an extra day or three in town. 
The sheer volume of things to see and do in Bangkok can be more than a little daunting for newbies. Which is where our suggested 3-day Bangkok itinerary comes in. Check it out below for inspo, and remember: trying to see the whole city in one go is guaranteed to leave you feeling dissatisfied and burned out, i.e. the exact opposite of what you want from a vacation. Our advice? Take your time, and spend a lot of time appreciating a little of Bangkok rather than rushing around trying to tick off attractions like your life depends on it (clue: it doesn't). Onwards!
Day 1: Palaces and Temples in Old Bangkok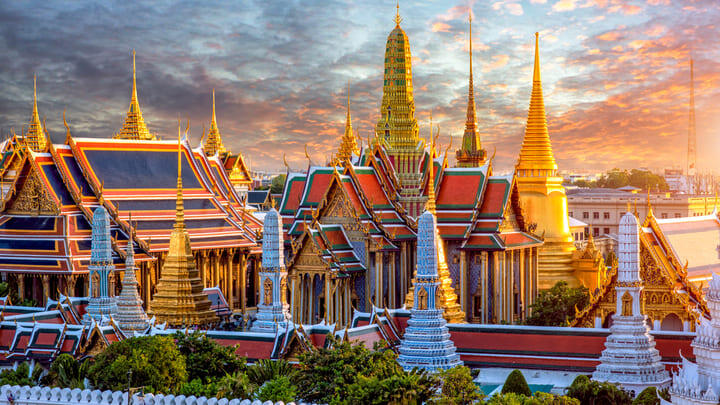 There's no better way to find your bearings in Bangkok than from the river. Charter a traditional longtail boat and make your first experience of the city a relaxing one, as your guide pilots you through the Venice of the East's various waterways, from the broad Chao Phraya river to the cute canals and waterways around the old town on Rattanakosin Island. Cameras at the ready for the Khmer-inspired spires of the majestic Wat Arun temple, the colorful canalside markets, and the storybook rooftops of Bangkok's crowning glory: the Grand Palace. A number of Bangkok's canal tours include stops at attractions like the blooming gorgeous flower market and the near-legendary Artist's House, where contemporary art exhibitions and traditional Thai puppet shows give a charming peek at the city's eclectic culture.
Disembark at Rattanakosin Island for a real flavor of old Bangkok, and a chance to tick off some of the city's most popular historic landmarks. For here's where you'll find the Grand Palace, that fairytale confection of golden spires and stately pavilions. Wander the grounds, where you'll encounter glorious gardens, fearsome statues and the splendid Wat Phra Kaew (Temple of the Emerald Buddha), inside which you can view (but not touch!) Thailand's most sacred artifact – a 15th-century Buddha that only the Thai King is permitted to handle.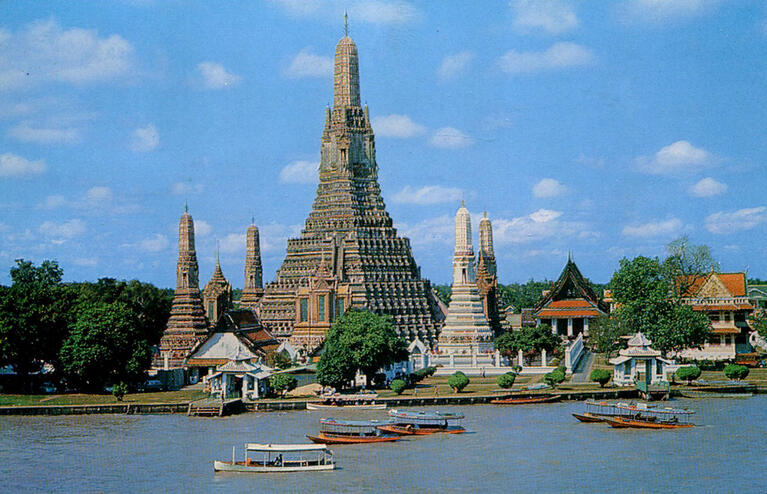 There's no shortage of temples in Bangkok (more than 30,000 according to some estimates, fact fans), but the ones you simply mustn't miss are, conveniently, within strolling distance of the Grand Palace. Hit up Wat Arun, unsurprisingly one of the city's most photographed landmarks thanks to its scene-stealing porcelain-encrusted spires, eye-popping demonic guards and pretty Chinese-style pavilions. You'll get the best sunset views from just across the river at Wat Pho, no shrinking violet itself in terms of Insta-appeal. Check out its record-smashing collection of over 1,000 Buddha images, including the largest reclining Buddha in town, a 46-meter-long whopper coated in gold leaf that commands its very own dedicated pavilion.
Day 2: Best of Bangkok Culture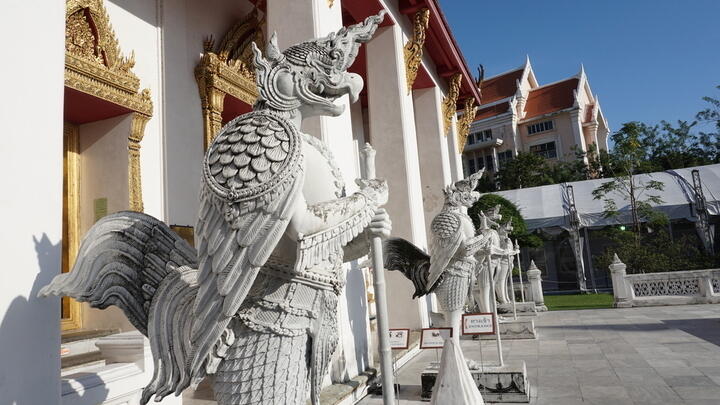 If the palaces and temples have whet your appetite for more Thai art and culture you're in luck! There are stacks of great galleries and museums around Bangkok, covering everything from ancient pottery and religious art to ultra-modern audio-visual installations and performance art. Fans of the former will find much to enjoy at The National Museum. Housed inside a former palace, no less, this cultural mecca is home to thousands of extraordinary Thai and Southeast Asian artifacts – ancient Ayutthayan religious art, bronze icons, antique weaponry, royal funeral pyres – some of which dates back as far as Neolithic times. The museum also boasts the largest collection of Thai art in the country so, y'know, you're probably going to want to spend a good few hours browsing here.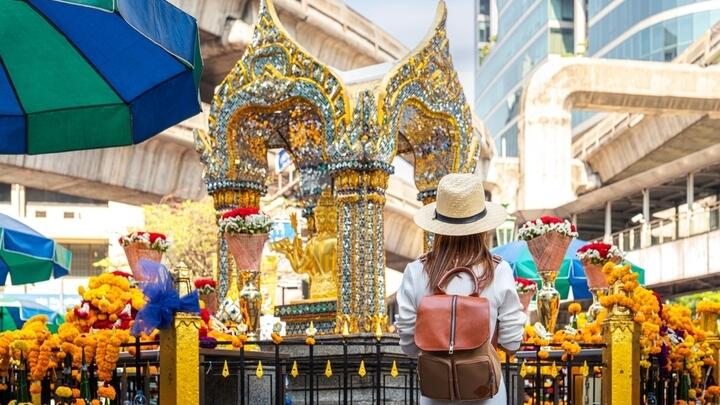 As an alternative (because you'd require some stamina to manage both in one day), make for the smaller Jim Thompson House, where the collection of art and artifacts sourced in the 1960s from all over Asia by silk magnate Thompson includes Chinese pottery, Thai paintings, Buddha statues and more. Next, bring yourself bang up to date with Bangkok's contemporary art scene at the Bangkok Art & Culture Centre, an ultra-hip riverside gallery space where the spectacular central atrium sets the scene for an ever-changing roster of avant-garde sculpture, abstract painting and mind-bending performance art and installations.
Complete your immersion in Thai culture with a visit to the Erawan Shrine, where thousands of pilgrims from near and far congregate daily in pursuit of good fortune. It is believed that by leaving small offerings – lotus flowers, votive candles, sweets – this benevolent four-faced god (represented here by a golden statue) will bestow luck upon believers. Don't forget to buy a lottery ticket afterwards! 
Day 3: Shopping, Eating, Relaxing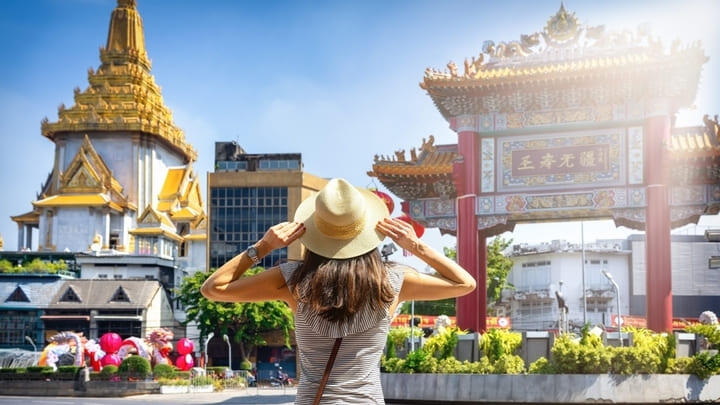 No 3-day Bangkok itinerary would be complete without a little R'nR, am I right? If you didn't already catch the famous Pak Khlong Talat flower market on your day one cruise, now's the time. Early morning is the best time to experience this forest of blooms, when roses, orchids, jasmine flowers and more are unloaded from trucks fresh from the provinces, the market is a kaleidoscope of Insta-perfect color, and the air is heavy with the intoxicating scents of fresh flowers in bloom.
Next stop is just next door in Chinatown. Do as the locals do and hit up Yaowarat Road for a savory breakfast of zingy chicken rice with garlic, ginger and chili sauce, traditional pork porridge, or Chinese donuts with pandan and condensed milk. Suitably fortified, spend some time strolling the neighborhood's atmospheric maze of alleys, where colorful contemporary street murals co-exist with tiny tumbledown shops plying their ancient trades of woodwork, embroidery and herbalism. Don't miss Chinatown Gate, the vibrant red arch decorated with ornate dragon, flower and animal motifs that marks the western entrance. And take time to visit Wat Traimit, home of the world's largest seated golden Buddha, a 14th-century goliath that weighs in at 5.5 tons and is worth somewhere north of $300m.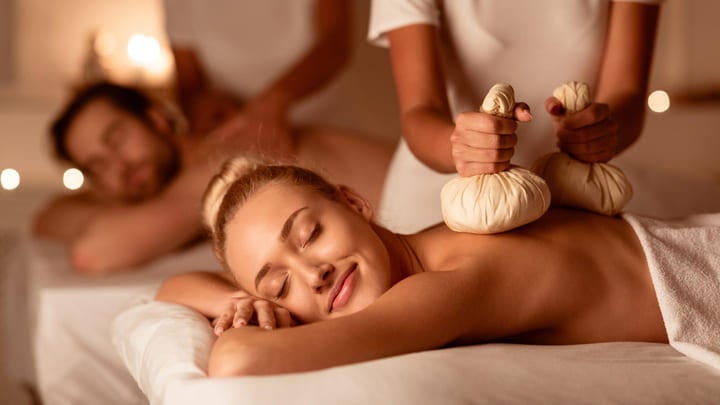 Grab a souvenir lucky cat or painted Chinese fan in Chinatown's chaotic Sampeng Lane Market or zip across the river by ferry to the sprawling ICONSIAM shopping and entertainment complex, where you can fill your boots with luxury (and often VAT-free!) goods at around 700 shops, take your pick of around 100 dining options, or stroll through the indoor floating market, munching on mango sticky rice and picking up local handicrafts from hawkers in traditional wooden longtail boats. Afterwards, admire the spoils of your spree beneath shady palms in Bangkok's most popular green space, Lumpini Park, where slurping coconut ice cream and watching the resident monitor lizards snoozing by the lake should be considered a mandatory activity on Bangkok vacations of any length.
The Thais practically invented massage, so what better way to round off your whirlwind 3-day Bangkok trip than with a traditional pummeling. Go high-end with luxury five-star treatments at the likes of the Mandarin Oriental and St Regis which, as you'd expect, boast uber-lavish facilities in which to relax afterwards. More pocket-friendly options are of course available. Ask your hotel concierge for tips on the best local options if you want to avoid wandering into – how shall we put this delicately – the wrong kind of massage parlor.
Save on

things to do in Bangkok
Save on admission to Bangkok attractions with Go City. Check out @GoCity on Instagram for the latest top tips and attraction info.