Some would say you can never have enough days in Bangkok, if you want to fully experience this ever-shifting tropical metropolis. But four days is as good a place to start as any; enough time to tick off a few bucket-list essentials, gorge yourself on some of the planet's best street food and – heck, why not? – treat yourself to a new (VAT-free!) Fendi handbag and a relaxing Thai massage. Read on for our suggested itinerary of the activities not to miss during your 4-day Bangkok adventure, including:
Chinatown

Wat Arun

The Grand Palace

Bangkok National Museum

Lumpini Park

Chatuchak Weekend Market

Khaosan Road

Wat Pho
Day 1: Bangkok Bucket List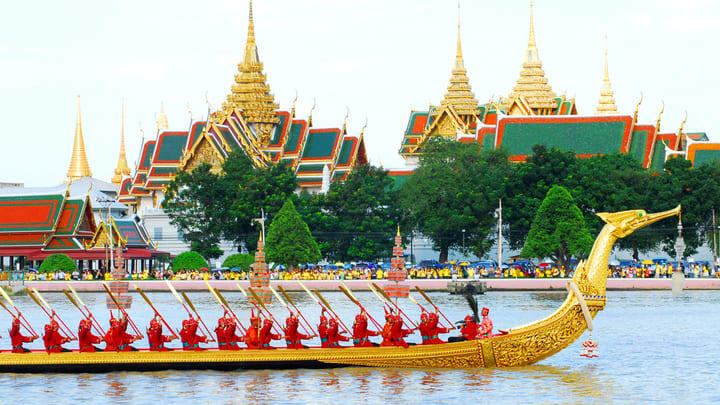 Get your camera at the ready for some of Bangkok's most photogenic landmarks. We're talking fairytale palaces and awe-inspiring temples that date back centuries. Take in the views from the water on a morning canal cruise by traditional wooden longtail boat, then disembark at Rattanakosin Island to take a closer look. Make a beeline for the complex of gilded pavilions, stately halls and immaculately manicured gardens that is the Grand Palace, where the regal rooftops and soaring golden spires are absolute manna for insatiable Instagrammers. Don't miss what is perhaps the most important of all of Bangkok's 30,000+ temples. Set in the palace grounds, Wat Phra Kaew (the Temple of the Emerald Buddha) is home to Thailand's most sacred artifact – a 15th-century Buddha that only the Thai King may lawfully touch.
Onwards to Wat Pho. The second of the 'big three' temples contains more than 1,000 images of the Buddha, including an eye-popping 46-meter-long whopper coated in gold leaf (pictured above). Wat Pho also affords some of the best views of Wat Arun just across the river. Gaze at its Khmer-style porcelain-encrusted central prang as the sky goes through its technicolor evening display of flaming oranges, chili reds and plum purples, then hop on the ferry for a closer look, and to say 'hey' to the statues – a fearsome duo of demon dudes – that guard the temple.
Day 2: A Feast for the Senses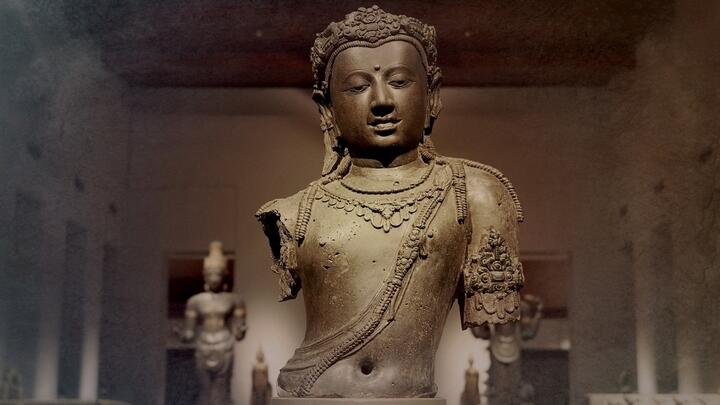 Take a wild ride through Bangkok's great kaleidoscope of sensory highlights on a day that takes in ancient art, world-beating street food and traditional Thai boxing! Kick off proceedings with a journey through Thailand's long and storied history at the National Museum. Negotiate the eye-popping statues of Hindu deity Garuda that guard the entrance and step inside for a smorgasbord of artistic marvels that span several centuries. We're talking ancient Buddha idols, a stone inscription attributed to 13th-century king Ram Khamhaeng, and royal paraphernalia that includes funeral chariots and thrones. The museum also contains the largest collection of Thai art in the country.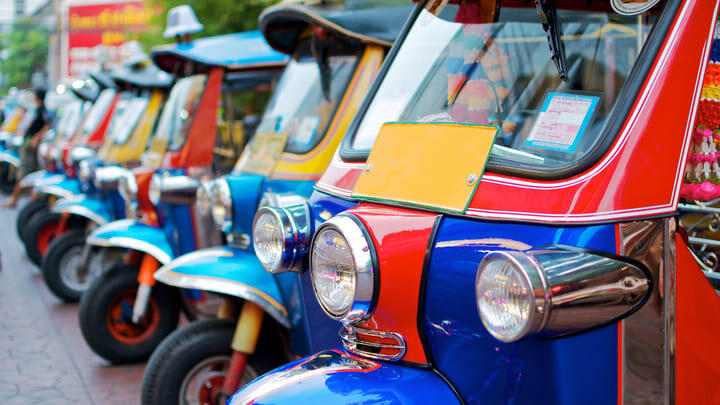 Feast your eyes then take a tuk tuk ride to Chinatown where feasting of an altogether different kind awaits in the lantern-strewn streets and alleyways. Snack on ever-popular dishes like chicken rice, steamed dumplings and char siu pork buns, or go bold with blood soup, crispy fish guts and soy sauce ice cream. Mmmm. While away an afternoon exploring Chinatown's many temples and markets before catching a traditional Muay Thai boxing match in the evening – an exciting performance that everyone should experience at least once. Feeling exhilarated, head over to Khaosan Road to soak up a little of its legendary hedonistic nightlife. Expect flashing neon lights, live music played loud, and rowdy bars where revelers spill out into the streets into the wee small hours.
Day 3: Shop for Classic Bangkok Souvenirs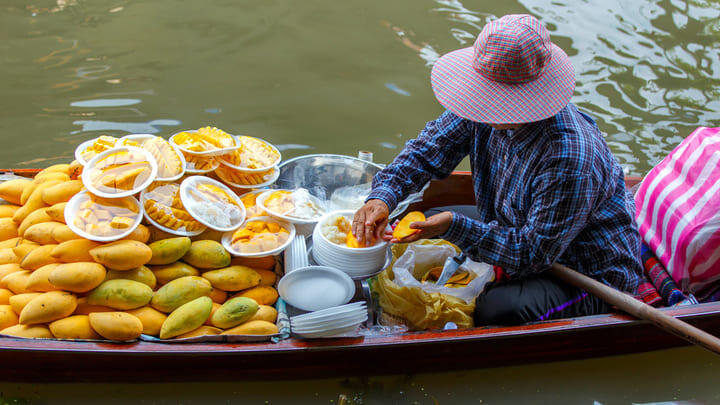 You'll want a lie-in to recover from all that partying. Emerge refreshed and head over to the sprawling ICONSIAM shopping and entertainment complex, where brunch venues run the gamut from luxury dining among waterfalls and vertical gardens to a 5th-floor terrace with expansive views across the Chao Phraya river. With over 100 restaurants across seven zones here, you're kind of spoiled for choice but, for our money, you can't do better than the SookSiam indoor floating market, where hawkers sell snacks including roti canai, mango sticky rice and pad Thai from Insta-perfect wooden longtail boats that bob in the man-made canal. We promise we won't judge if you opt for all three of these iconic treats in a single sitting. Hangover appetite satiated, turn your attention to stalls from which local pottery and handicrafts will make for fab, unique souvenirs and gifts, or head into the mega-mall proper where something in the region of 700 retailers mean you can scratch your shopaholic itch and splash out on VAT-free electronics, designers goods and more to your heart's content!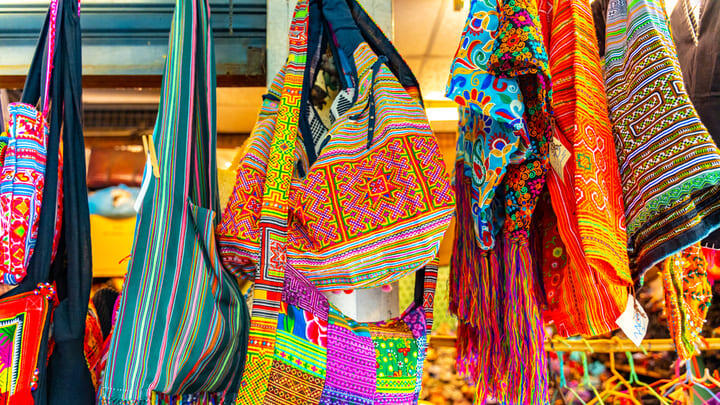 Here on the weekend? The aptly named Chatuchak Weekend Market has your souvenir-hunting requirements covered. There are thousands of stalls to explore over several zones here. Pick up a map to help navigate its disorienting lanes, but prepare to get hopelessly lost anyway as you stagger from stall to stall, haggling over everything from vintage fashions to Hello Kitty merchandise, antique cutlery, flip flops and, well, the kitchen sink. When it all gets too much, grab a coconut ice cream and find a quiet, shady spot in nearby Chatuchak Park where you can take stock of your quarry and wonder what the heck you were even thinking when you bought that life-size cardboard cut-out of Jean-Claude Van Damme.
Day 4: Rest and Relaxation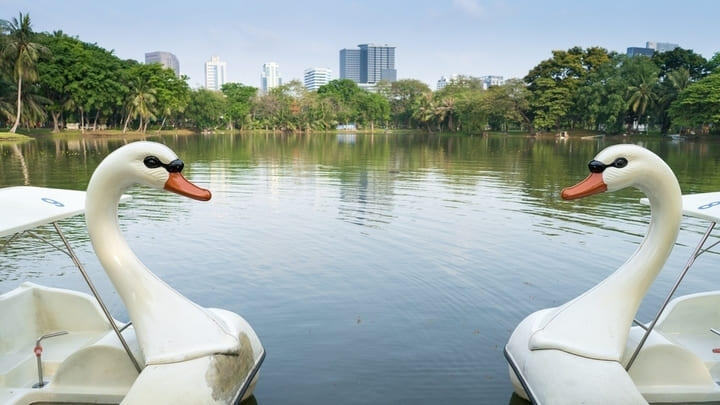 Whaddya mean you've been in Bangkok three whole days and haven't yet set foot in the glorious green space that is Lumpini Park? Now's the time to set this oversight right. Get there early (and we mean pre-8am early) to join the locals in sunrise Tai Chi, yoga and aerobics classes on the manicured lawns. Or join morning joggers along the long, looping pathways that meander through Lumpini and link up with the elevated walkways and picturesque mangrove swamps of neighboring Benjakitti Park.
Too energetic for ya? Commandeer a giant plastic swan pedalo to cruise Lumpini Park's lake, eyeballing the giant water monitor lizards that bask on its banks. Or just find a shady spot to while away a few hours reading, people-watching and guzzling ice cream after refreshing coconut ice cream in the shade of the giant swaying palms.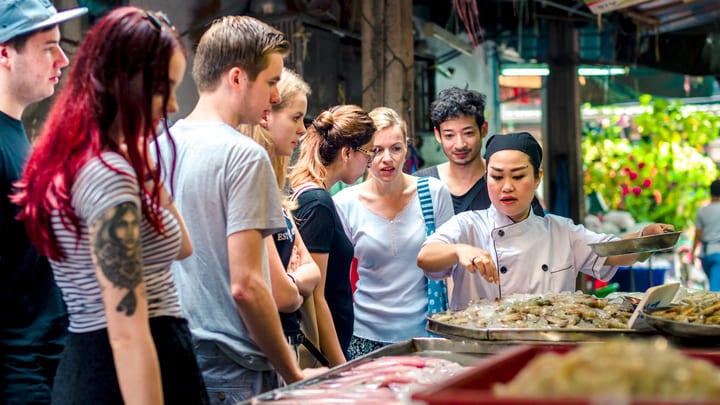 Suitably relaxed, spend an afternoon pimping up your kitchen skills in a Thai cookery class that's all but guaranteed to transform your soul-sapping mid-week dinners into culinary masterpieces. At the Go! Thai Cooking School, you'll perfect the art of knocking up zingy taste sensations like tom yum goong, green curry, pad Thai and sticky mango rice, meaning making (and eating) dinner need never be a chore again.
Flush with success, reward yourself with a traditional Thai pummeling in one of the thousands of massage joints around the city. High flyers can avail themselves of the lavish treatments and facilities available at 5-star hotels including the Okura Prestige, the Mandarin Oriental and the Siam Kempinski (and apologize to their bank manager later), while those of more modest means will find plenty of excellent alternatives in, well, just about any street in town. There's truly no better way to round off a 4-day Bangkok break.
Save on

things to do in Bangkok
Save on admission to Bangkok attractions with Go City. Check out @GoCity on Instagram for the latest top tips and attraction info.