Five days is an ideal amount of time to spend visiting Bangkok, enough to fully immerse yourself in this city's thrilling culture and maybe even take a day trip out to the provinces for a more traditional flavor of Thai life. Our guide to how to spend 5 days in Bangkok includes all the big hitters – Wat Arun, the Grand Palace, Chinatown, Lumpini Park – plus a few lesser known gems for your delectation. Read on for our 5-day Bangkok itinerary of must-do activities, including:
Bangkok National Museum

Khaosan Road

Wat Pho

Lumpini Park

Damnoen Saduak Floating Market

Chinatown

The Grand Palace

Bang Kachao

Wat Arun

Jodd Fairs Night Market
Day 1: Sensory Overload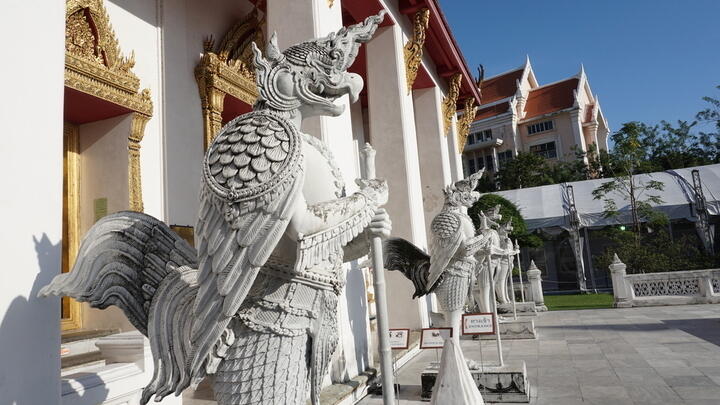 Just arrived? Dive in feet first with a multi-sensory adventure that will stimulate, surprise and thrill you in equal measure. Kick off with a visit to the majestic National Museum, where you can immerse yourself in Thailand's epic history by way of ancient artifacts, awesome Southeast Asian art and exhibits that include royal funeral chariots, eye-popping tribal masks, Buddha idols and so much more.
Suitably schooled, head south along the banks of the broad Chao Phraya river, admiring tantalizing glimpses of the glittering Grand Palace rooftops and Wat Arun's soaring central spire along the way (don't worry, you'll get to visit both tomorrow). Your next stop is the legendary Pak Khlong Talat flower market, a riotous (and vast) kaleidoscope of colors and scents that will set your senses reeling only marginally less than Chinatown just next door.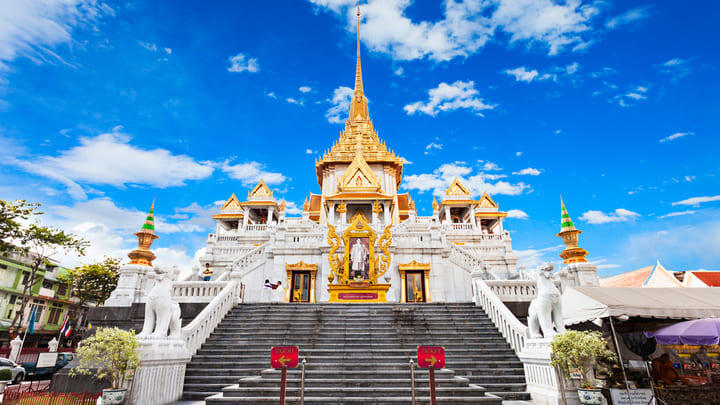 Stroll the labyrinthine lanes of this old-school enclave, admiring its traditional shop fronts, contemporary murals and stunning temples, chief among which is Wat Traimit, home of the world's largest seated golden Buddha. It won't be long before the olfactory lure of Chinatown's excellent restaurants and street food stalls has you pausing for spicy chicken fried rice with ginger, garlic and chili sauce or perfect pad Thai. Complete your day one tour of Bangkok's most intoxicating attractions with an evening beneath the neon lights of lively Khaosan Road, where revelers party in packed-out bars and clubs until sunrise.
Day 2: Bucket List Essentials
Can you even say you've been to Bangkok if you haven't traveled by tuk tuk? No, reader, you cannot. Hop aboard one of these ubiquitous tin-cans-on-wheels and tick off the first of several day-two Bangkok bucket list experiences. Your next stop is the Grand Palace, where an early start is your best bet for beating the crowds to sought-after selfies around the gilded pavilions, stately halls, fairytale spires and grand Temple of the Emerald Buddha (Wat Phra Kaew), home to an ancient, sacred Buddha that only the King is permitted to touch. Then it's onwards to the equally popular (and similarly photogenic) Wat Pho. Perhaps best known for its Buddha one-upmanship, the complex contains over 1,000 images of the Buddha, including a 46-meter-long gilded whopper that commands its very own dedicated pavilion.
At the risk of wat overload, at this point you're probably already zooming in for snaps of Wat Arun, the last of 'the big three' temples, as its extraordinary Khmer-style spires beckon you across the river. So you might as well hop on the ferry for a closer look – it's well worth it to clock the intricately mosaiced central prang, demonic statues, decorative pagodas, ornate Chinese pavilions and perfectly manicured gardens at close quarters.
Day 3: Highs and Lows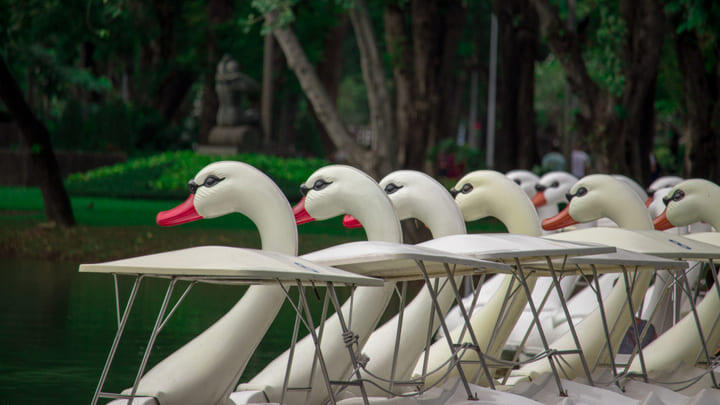 No Bangkok itinerary worth its salt would be complete without a morning spent exploring the soothing environs of leafy Lumpini Park. Set in the heart of the business district and flanked on all sides by soaring skyscrapers, this great green lung is nevertheless a tranquil retreat that feels far from the heart of the city. There's stacks to do here, too. Join sunrise Tai Chi and gentle aerobics classes on the lawns, take to the water aboard an enormous swan-shaped pedalo, snap lazy water monitor lizards as they snooze by the lake, or simply find a cool spot beneath shady palms from which to watch the world go by over a cooling coconut ice cream. Indeed, you could easily while away the whole day here – there are food carts galore to keep you fortified and, in the unlikely event that the scenery begins to bore you, it's just a short stroll to the elevated walkways and wildlife-friendly mangrove swamps of neighboring Benjakitti Park.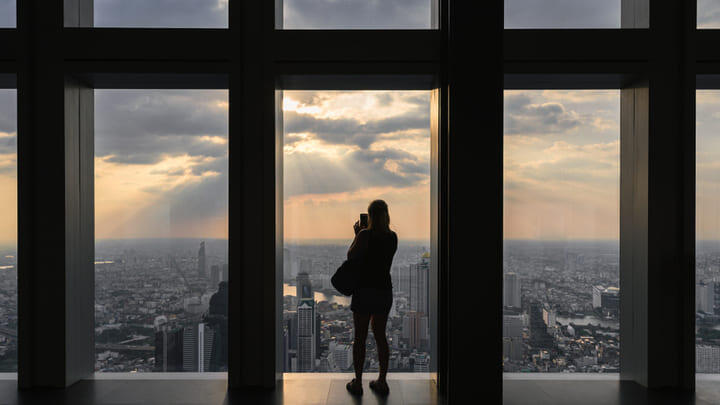 In the afternoon and evening, get a different perspective on Bangkok from the nerve-jangling Skywalk atop the King Power Mahanakhon tower, or in any one (or two) of the city's plentiful supply of rooftop bars – there's nothing quite like enjoying a sundowner hundreds of feet in the air as the sky flares with a kaleidoscope of colors and the city lights illuminate the skyline. Hit up Vertigo at the Banyan Tree or the dizzy heights of the CRU champagne bar at Centara Grand for the win.
Day 4: Get Outta Town!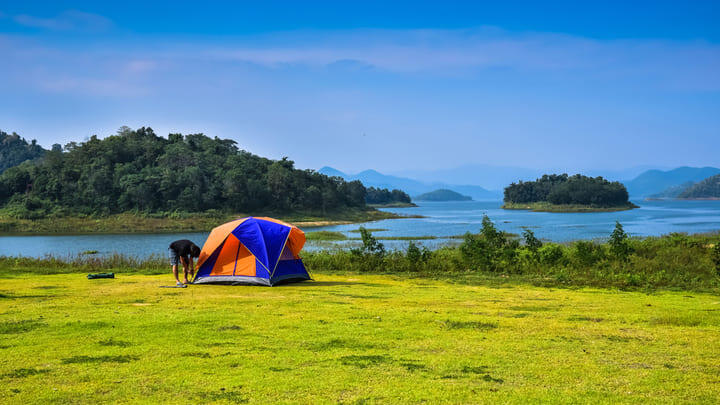 No 5-day Bangkok itinerary would be truly complete without at least one jaunt out to the 'burbs or provinces. And there are dozens of great daytrips to be had from central Bangkok. We're talking Kaeng Krachan, Thailand's largest national park, a riot of shimmering lakes, lofty mountains, verdant rainforests and wide open plains that spans a whopping 1,125 square miles, Take a 4x4 and a guide who can direct you to the best spots for ogling the native wildlife: lemurs, leopards, martens, monkeys and wild Asian elephants to name just a few. Then there's Khao Nor, a thrillseekers' paradise where daredevils must negotiate wonky ladders, rickety rope bridges, precipitous stone steps and, yep, more monkeys, in order to reach the summit of this mystical mountain.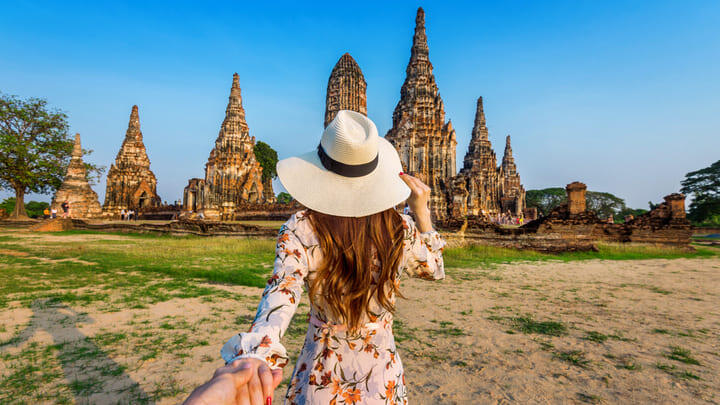 For a slightly more sedate activity, take a day tour to Thailand's former capital, the ancient city of Ayutthaya, where the archeological remains of some 400 temples, complete with prangs and reclining Buddhas, await. Or check out the  excellent Damnoen Saduak floating market, where locals hawk unique handcrafts, traditional clothing, tropical fruits (anyone for durian?), mango sticky rice and more from picture-perfect longtail boats. 
Day 5: Go Out with a Bang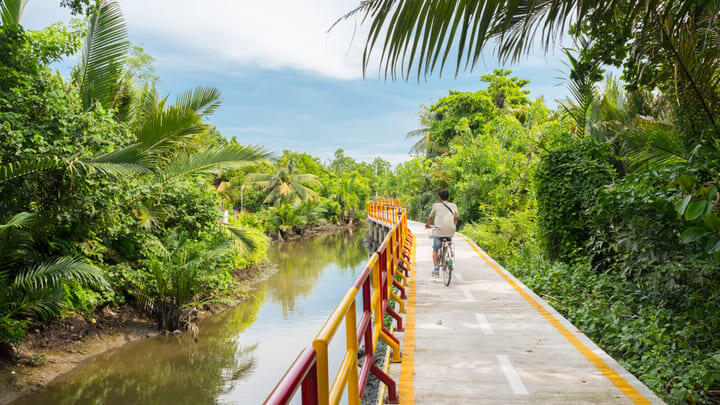 If you're seeking further nature fixes towards the end of your trip, look no further than the lush jungle landscapes of Bang Kachao, a verdant oasis set smack bang in the middle of town. No skyscrapers here though; the tallest things you'll see in this protected enclave are the soaring tamarind trees and lofty Indian oaks that flank the canals and wooden walkways. Hire a bike to cruise the bridges from islet to tranquil islet and make sure to visit the cute temples, tropical botanical garden and floating market while you're here. Want to keep it as authentic as possible? Arrive from the river's east bank by wooden longtail boat and hear the roar of the city replaced by melodic birdsong as you approach Bang Kachao's shores.
An altogether different experience awaits on your final evening in town. The Jodd Fairs Night Market runs every evening from 4PM until midnight and has, well, pretty much everything you need for a great night out. We're talking street food stalls that run the gamut from grilled lobster to spicy Thai curries and Korean classics, as well as a slew of great dine-in restaurants and bars serving up beers, cocktails and bubble teas until late. Stroll the market's bustling, lantern-lit avenues to pick up those essential last-minute gifts and souvenirs. You'll find all sorts here: jewelry, art, handmade clothes and, inevitably, all manner of imported plastic tat that's probably best avoided. It's unlikely great aunty Elsa would thank you for a pair of knock-off Ray-Bans anyway.
Save on

things to do in Bangkok
Save on admission to Bangkok attractions with Go City. Check out @GoCity on Instagram for the latest top tips and attraction info.