Fancy a bit of bargain hunting? You likely love delving into the weird, wonderful, and often profitable world of markets. And if you're heading to Bangkok this year, you'll be pleased to hear the city has a thriving market scene. But which is the best? Here, we'll explore the best markets in Bangkok, each offering a unique experience or a specific type of shopping. So dive in, and see which floats your boat. 
Including:
Damnoen Saduak Market
Maeklong Railway Market
Chatuchak Weekend Market
Asiatique The Riverfront
Pratunam Market
and more!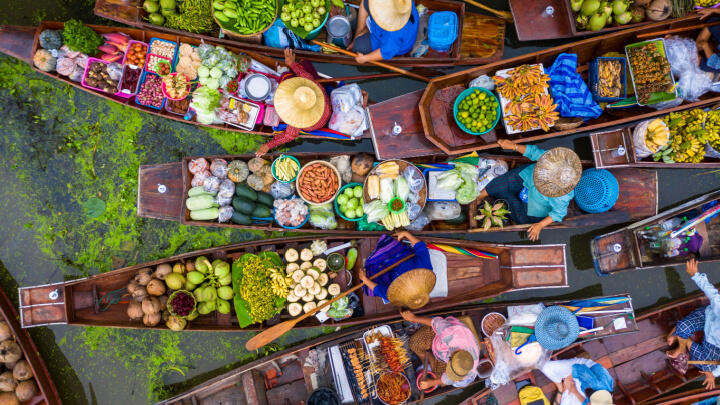 Nestled in the heart of Bangkok, Damnoen Saduak Market beckons adventurers with its vibrant chaos. With an enchanting blend of exotic sights and sounds, this market can charm even the most skeptical souls.
Imagine wandering through a maze of narrow canals, where boats laden with tropical fruits and curious trinkets glide by. In this surreal floating bazaar, haggling is the name of the game. Just be sure to bring your sense of humor, because some of these vendors will try to sell you anything. 
Does that mean you won't prise a bargain from their warm, coin-brushed hands? No, of course not. Wily marketeers are sure to do some good business if they keep their cool and hunt down the greatest goods. 
If you're new to Bangkok, it's also one of the best markets in terms of culture. With so many industries smashed together, you're likely to hear absurd conversations about ridiculous things. More fun than it sounds!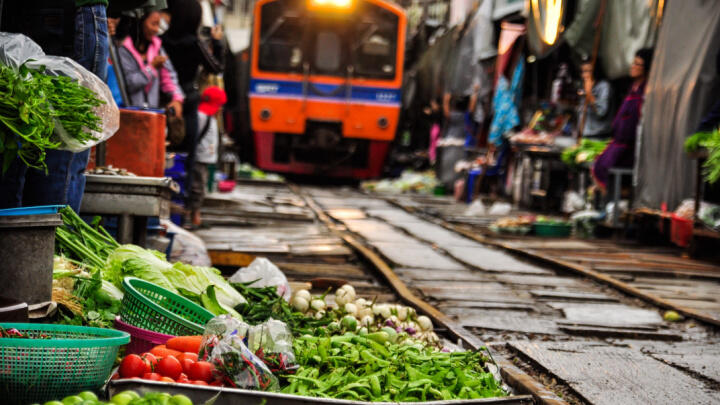 Many markets have unique selling points. Some might be run by local artists exclusively selling their works. Others might be food-only fare, where you can stuff your face with gorgeous street food delights. But have you ever been to a market on a live - and active - train track? Probably not. 
The vendors here possess a rare skill: the ability to pack up their stalls in record time when the train approaches, only to nonchalantly set them up again moments later. Visitors are in for a hilarious spectacle as they witness the adrenaline-fueled dance between commerce and locomotion. Imagine a vendor casually handing over a bag of fresh produce to a customer, both unfazed by the thunderous arrival of a train just inches away.
It earns a spot on this list simply for being one of the most unique market-going experiences on the planet. But who knows; you might find some bargains about too. Just make sure you're ready to dodge the trains. What a bizarre footnote.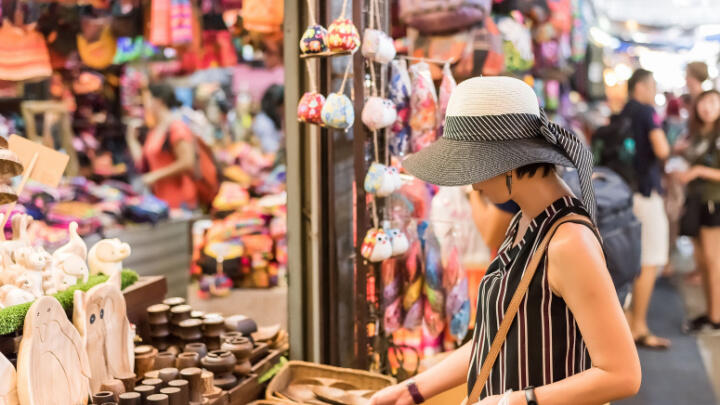 If you've ever wondered what it feels like to shop in a parallel universe, Chatuchak is your answer. Picture the scene: you turn a corner, only to find yourself surrounded by talking parrots hawking bargains, and sassy street food vendors whose humor is only surpassed by their street food offerings. Sound good? Read on. 
Chatuchak can be a bit of a nightmare to navigate, due to the maze of stalls that call it home. But don't worry; there's always a cheerful vendor ready to offer directions and convince you that you absolutely need one of their many oddball items.
All that said, there's plenty of great stuff to pick up if you browse around, including things you never knew you needed. So, bring a chunk of change and prepare to leave fully loaded.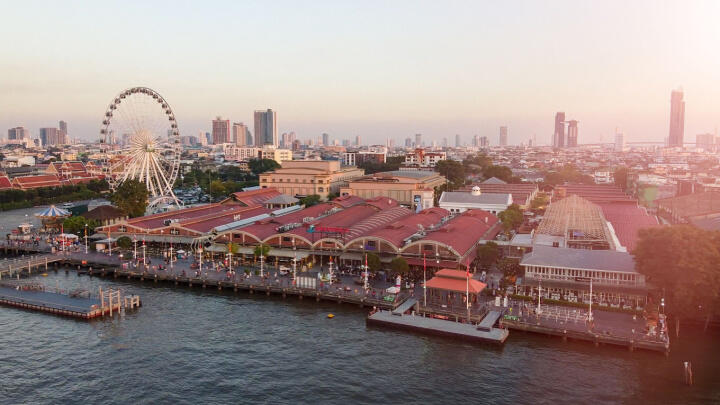 Do you want to browse traditional Thai handicrafts while a Ferris wheel spins in the background? Look no further than Asiatique The Riverfront - a retail experience with a touch of added theme park. 
Stalls aplenty offer potential customers myriad clothing items, from scarves to handbags, and plenty more to boot. If you need to refuel, stop off at one of the many street food stalls and eat your fill. 
However, Asiatique's unique spin on the market formula comes in the aforementioned rides. From coasters to Ferris wheels, carousels, and more, it adds another dimension to your market-going experience. Just make sure you eat after you've tried out the rides - you wouldn't want any unfortunate... evacuations. 
If you're looking to spend an afternoon experiencing it all, Asiatique The Riverfront is easily one of the best markets in Bangkok!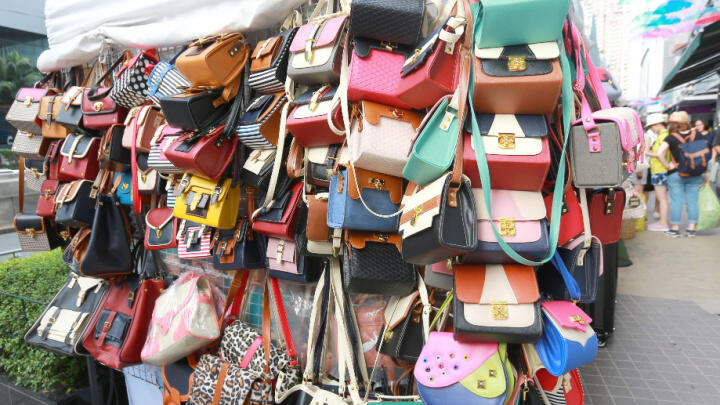 Purveyors of patterns. Masters of materials. Clothes addicts, one and all, this one's for you. Whether you buy or build garments,. Pratunam Market is arguably the best market in Bangkok that caters to you. 
Visitors will be treated to a retail battlefield where swarms of determined shoppers engage in fierce combat over the last discount designer handbag. You'll need to be quick on the draw if you hope to snag bargains here, as hundreds of shopaholics descend on Pratunam Market every day, fiending for a deal. If you're not prepared for sharp elbows, oversized shopping bags, and haggling in a pinch, maybe give this one a miss. 
For everyone else, welcome to your own personal heaven. Embrace the madness, channel your inner fashion warrior, and remember to stretch your shopping muscles before you arrive. Just be warned - your closet, and your credit card, may never be the same again.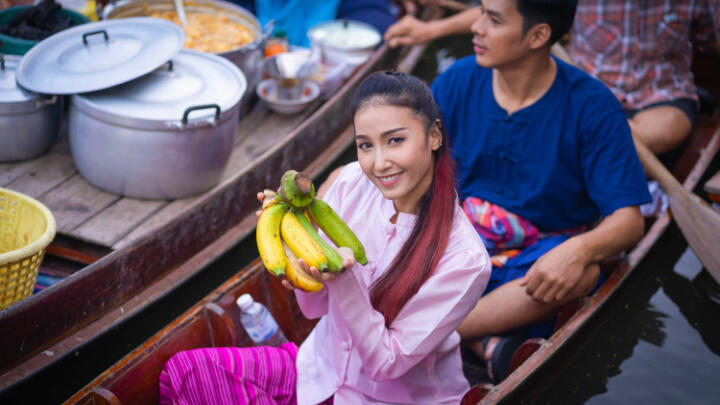 Another entry and yet another floating market for you and yours to enjoy. Amphawa Floating Market is its name, and boat-side bidding is its game. 
Imagine, if you will, that you're seated on a tiny wooden boat, your legs dangling over the side, as you engage in a high-stakes bidding war for a bag of mango sticky rice. The aroma wafts through the air, tempting you to splurge on multiple servings. And just when you think it can't get any more absurd, a boat laden with cat-shaped souvenirs glides by, inviting you into the realm of feline retail therapy.
Amphawa Floating Market is a feast for the senses and a circus for the taste buds. Prepare to be serenaded by street musicians strumming guitars while you devour a boatload of grilled seafood. It's a market that floats your boat, literally.
So, embrace the watery wonderland of Amphawa, and let the current guide your shopping adventure!
Those were our picks of the best markets in Bangkok! However, if you're looking for more wonderful experiences in the city, check out Go City. With our All-Inclusive Pass and Explorer Pass, you can see all of Bangkok's best bits for one low price!