Bangkok's Chinatown is one of the biggest on the planet, covering a whopping two square kilometers east of the Chao Phraya River. Established by Teochew merchants way back in the 1780s, its storied streets and atmospheric alleyways have retained much of their old-world authenticity as well as garnering a reputation as one of the world's top foodie destinations. There's more than enough to see and do within this historic enclave to fill an entire day – think colorful Chinese temples, bustling markets and more irresistible street food than you can shake a chopstick at. So grab your camera, don your comfiest shoes and come join us on our journey through the essential things to do in Bangkok's Chinatown. 
Enter The Dragon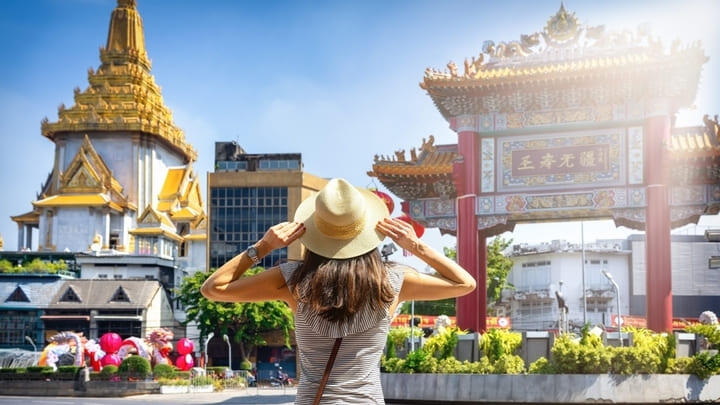 The splendid Chinatown Gate at the neighborhood's western entrance is as good a place to start as any. Here, camera-toting tourists grab souvenir selfies, the vibrant red arch with its ornate flower, dragon and animal motifs providing the ultimate Chinatown backdrop. But the gate, built in 1999 to celebrate King Bhumibol's diamond jubilee, is far from being the only colorful thing you'll spot in Chinatown. Red-and-gold lanterns that bob and sway overhead will immediately transport you to another world as you arrive on the famous Yaowarat Road, one of the district's two main arteries (the other being Charoen Krung Road in the east).
Yaowarat Road is of course one of Chinatown's primary attractions but hey, let's get off the beaten track a little before we dive in. Duck into a side alley and you'll discover a world where traditional crafts rub shoulders with some of the most vibrant street art in town. Crumbling gray buildings are brought thrillingly back to life with colorful murals by Thai and international street artists while, in tiny tumbledown shops underneath, local craftspeople continue ancient woodwork and embroidery traditions, and herbalists peddle traditional remedies in lanes heady with the smell of burning incense.
Top Temples in Chinatown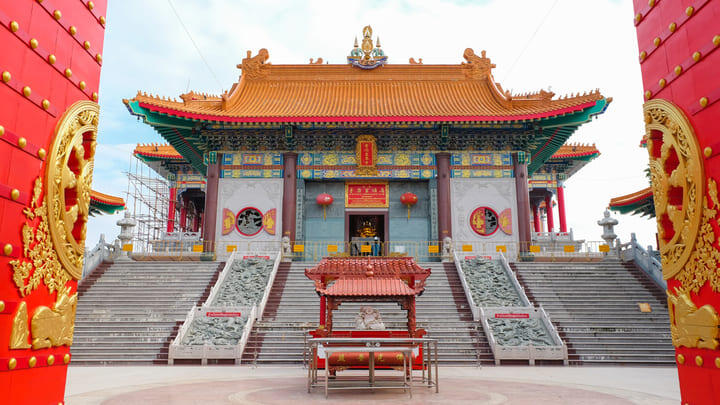 Like anywhere in Bangkok, Chinatown is no shrinking violet when it comes to religious buildings. Among the dozens of temples and shrines you'll find here, Wat Traimit is the most popular, and with good reason. For it's here that you'll find the planet's largest seated solid gold Buddha, a 5.5-ton whopper worth somewhere north of $300m that dates back to the 13th or 14th Century. A pleasant breeze blows through the open doors of the temple, a gleaming white beauty with golden spires, meaning you can enjoy a little respite from the midday heat while enjoying views back down to the Chinatown Gate.
Nearby Wat Mangkon Kamalawat is manna for Instagram addicts, a traditional Chinese-Buddhist temple decorated in vivid red, greens and golds, with fearsome warriors standing sentinel at the entrance. It's particularly spectacular during religious festivals and Chinese New Year, when lanterns, lotus flowers and pilgrims fill the pretty courtyards.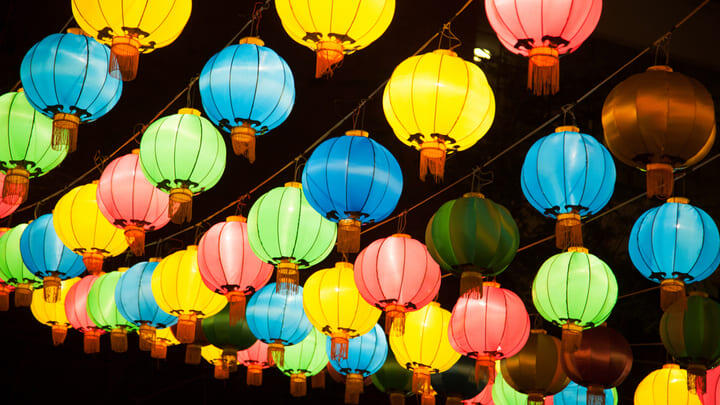 Last but by no means least, Wat Chakrawat is a stunning piece of Chinese-Buddhist architecture with a striking central prang. Attractions inside include a relic of the Buddha's footprint, a jolly-looking statue named The Fat Monk, and a grotto containing the Buddha's shadow, to which pilgrims attach gold leaf. The temple is best known, however, for its unusual residents: a family of crocs who live in a cave and pond in the grounds and are said to be descended from the legendary Ai-bod, a one-eyed, man-eating monster who sought refuge at the temple after being tracked by irate locals back in the Ayutthaya period.
Chinatown Souvenirs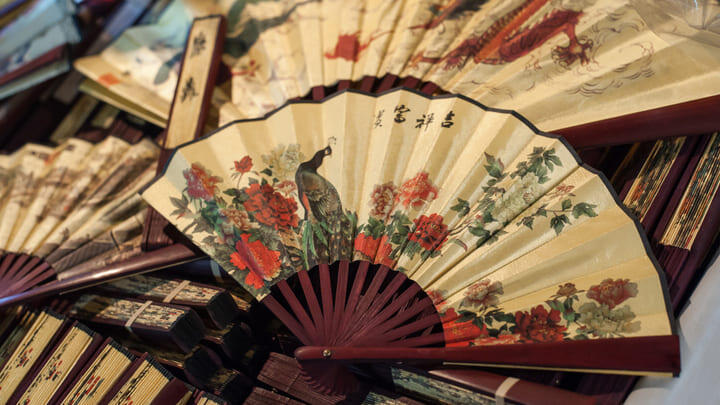 There are few things to do in Bangkok's Chinatown that are more fun than shopping the markets for souvenirs. You'll need a superb sense of direction and your best haggling game to hunt down and bag the best bargains in the chaotic Sampeng Lane Market. But, whether it's a painted Chinese fan, bamboo back scratcher, waving lucky cat or flip-flops you seek, you're sure to find them here – at wholesale prices, or better!
For more authentic old-school vibes, hit up aptly named Talad Noi and Talad Kao (Little Market and Old Market, respectively), where centuries of tradition meet in a delightfully nostalgic jumble of craft, souvenir and fresh food stalls. Even the rather more misleadingly named Talad Mai (New Market) has operated in Chinatown, selling spices, sauces and dried goods, for well over over a century now. Dodge the motorbikes, tuk tuks and abandoned car parts and follow heady, exotic scents to stock up on coveted star anise and Sichuan peppercorns.
Food, Glorious Food!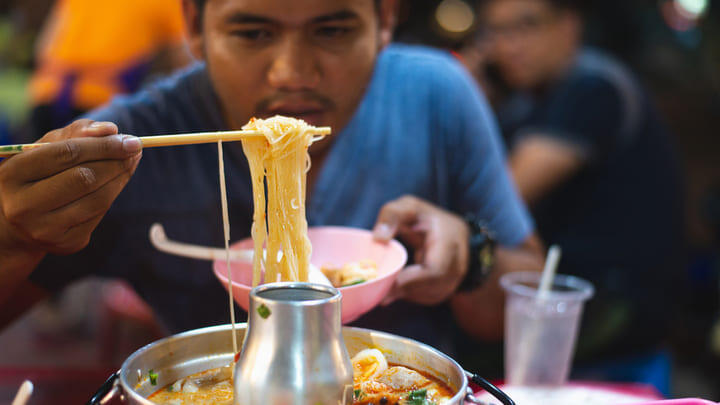 Of course you simply cannot visit Chinatown without – not to put too fine a point on it – making a biblical glutton of yourself in the world-class restaurants and at best-you've-ever-tasted street stalls. To visit the epic Yaowarat Road at night is to step into a sensory kaleidoscope that's like nothing you've ever experienced before. Flames shoot into the air as chili prawns char-grill on great smoking griddles; aromatic clouds of steam drift through the avenues and alleyways, tempting hungry tourists and locals alike to, well, where to begin?
Oyster omelet is a particular speciality here; umami, crispy platefuls of loveliness served with a sticky hot sauce. Tuck in bathed in the technicolor glow of neon street lights, then pick up some dessert – coconut and durian ice cream or sweet Chinese donuts with condensed milk and pandan – for the win. Still hungry? Once the sense of disorientation has dissipated, follow your nose on an exploration of the finest foods this neighborhood has to offer: fishball egg noodles, melt-in-the-mouth roast duck, zingy crab-fried rice, pork-stuffed bao buns, steamed shrimp dumplings and all manner of other Thai-Chinese goodness. Adventurous gourmands are in for a treat, too. Here's where to try crunchy fried grasshoppers, beetles, crickets and spiders served with a splash of soy and a grind of pepper. Along with deep-fried silkworms and yes, even bitter-tasting scorpions, they're the protein-packed snack everybody should try. Well, at least once.
Save on

things to do in Bangkok
Save on admission to Bangkok attractions with Go City. Check out @GoCity on Instagram for the latest top tips and attraction info.