If you're heading to Bangkok this year and want to know how to get around, check out our guide to public transport in the city and how to use it!
How to use Public Transport in Bangkok: Road-free fun
Roads are a big no-no in Bangkok. Frequently jammed with enough traffic to cause a Falling Down reaction, they're the least convenient way to get around the city. 
So, let's discuss the best and most accessible forms of public transport in Bangkok, and how to use them!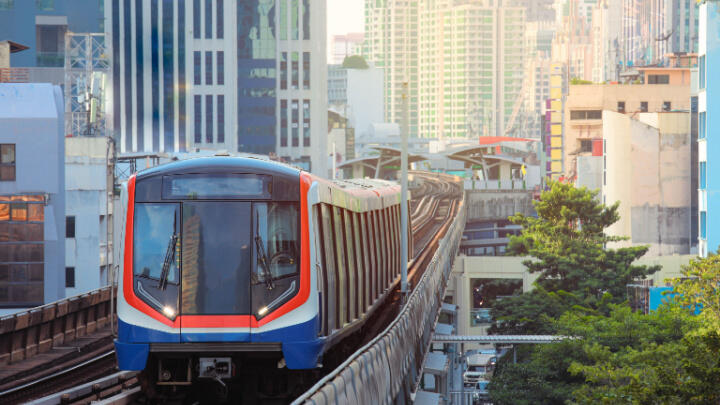 The easiest and most modern way to get around Bangkok is via the BTS Skytrain. As we mentioned, Bangkok at street level is a traffic-riddled nightmare, which is why the government built this series of elevated tracks that run through some of the city's busiest areas. 
The BTS Skytrain network will take you to all the city's hotspots, and since trains run every 5-10 minutes, you'll never have to wait long to get going. Thankfully it's cheap, too, with tickets averaging around the equivalent of $1.20. You can even pick up a day pass for less than $5. Bargain. Said tickets can be picked up from machines or booths; just be sure to carry some change with you as they don't tend to accept notes.
And, perhaps most importantly for weary travelers such as you, the BTS Skytrain connects to the Airport Link train that'll take you directly to Suvarnabhumi Airport - the city's busiest airport and where you'll likely land.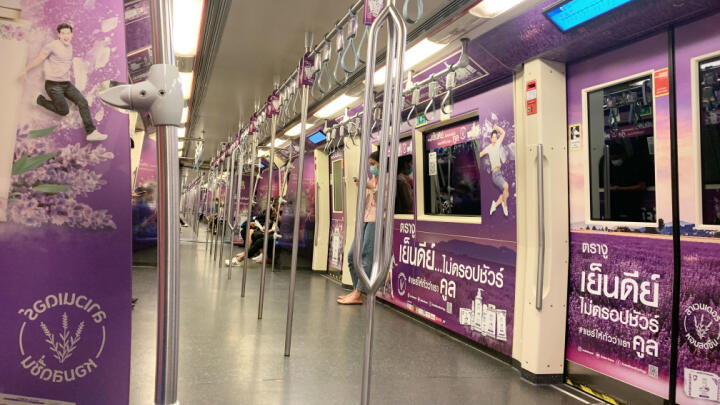 Image courtesy of Sreadya.k/Shutterstock
Bangkok's subway system is vast, ferrying nearly half a million passengers beneath the city streets every day. Slower than the BTS Skytrain, it's still a worthwhile alternative if you need to get somewhere unavailable on the above-ground network. It's comprised of two lines - the Blue Line and Purple Line.
Like the BTS Skytrain, trains arrive every 5-10 minutes. It's also cheaper, with MRT Subway tickets costing, on average, around 90 cents. If you can say anything about public transport in Bangkok, it's that it's cheap! To use the system, you purchase tokens that let you into and out of stations. You give the tokens back when you leave, so just bear that in mind!
There are also numerous places on the network where you can transfer to the Skytrain if need be. Oh, and you can also get the Airport Link via the MRT Subway, so it's handy if you need to catch a flight.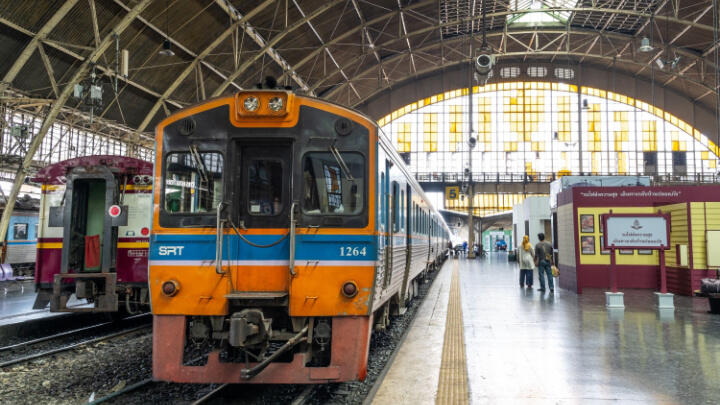 Image courtesy of Champhei/Shutterstock
Bangkok's train hub - its Grand Central Station, if you will - is called Hua Lamphong Station, near the city's Chinatown. 
Trains run relatively frequently throughout the day, and it's one of the easiest ways to get out of Bangkok if you're planning a day trip beyond the city. 
And, like most places these days, you can't smoke and drink on the platforms or on the trains. It is also worth mentioning, however, that eating, photography, and filming are also not allowed on trains, so don't whip your phone out to Gram the vistas as you travel!
Tickets can be bought at most stations, but if you'd rather plan your trip ahead, book online and plan your route.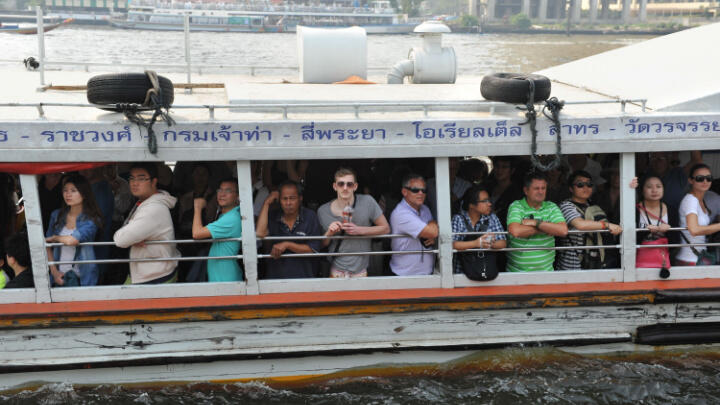 Image courtesy of 1000 Words/Shutterstock
While riverboat taxis might be one of the most unique modes of public transport in Bangkok, learning how to use them can be a bit daunting. You'll only really need them if you're staying at a hotel on the Chao Phraya River, and even then, they're not compulsory. 
Boarding one can be chaotic, to say the least, with whistles, flags, and frantic loading and unloading likely to bring on a panic attack in first-time travelers. 
But, if you can handle the intensity, you can cross large distances for as little as 30 cents. And the views are unbeatable.
How to use Public Transport in Bangkok: Asphalt sadness
If you have no other choice but to wander Bangkok's roads, here's what you need to know.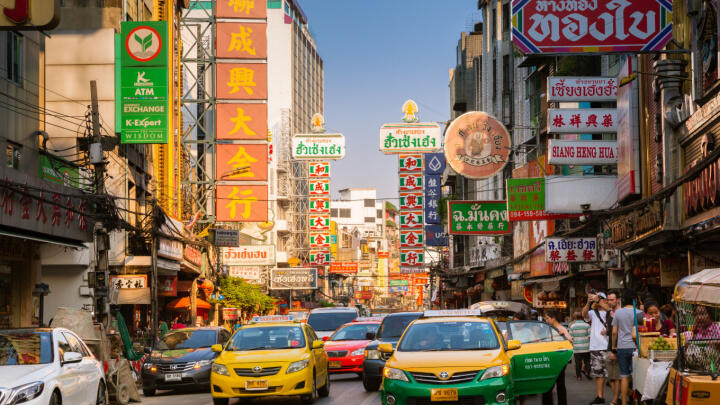 Image courtesy of Elena Ermakova/Shutterstock
Taxis 
Taxis are a mixed bag. On the one hand, at least you won't have to navigate Bangkok's confusing and busy roads yourself. On the other hand, many will happily overcharge unsuspecting newbies such as yourself. Thankfully, we have some tips to help make your experience a bit lighter on the wallet. 
Firstly, insist on the driver using the meter. Every taxi has one, but many drivers will try and get out of using it so they can overcharge and pocket the excess. Avoid getting in one unless they put the meter on first. Unless, of course, you pre-agree on a price. 
Secondly, don't rely on taxis camped out near tourist hotspots. They are the predator, and you are the prey. Instead, flag taxis down that are already moving. They're less likely to be a taxi vampire. 
Thirdly, turn on your maps and tag your destination to see if the driver is taking you on the scenic route. If they see you're savvy, they might not bother. 
And finally, you are responsible for paying tolls on Bangkok's roads or bridges. So if the driver asks, it's legit.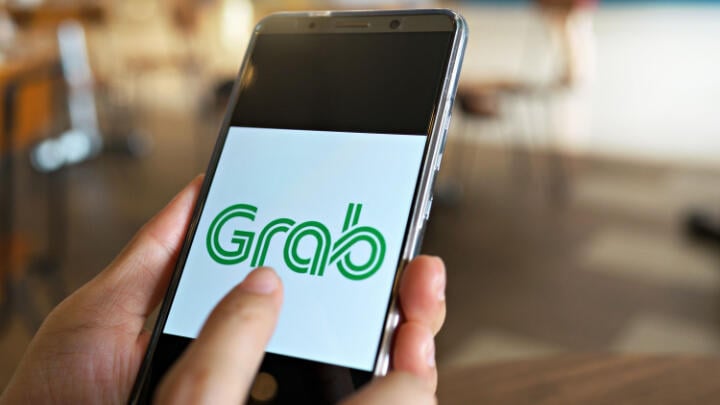 Image courtesy of AngieYeoh/Shutterstock
The less-headachy alternative to a taxi is a rideshare service. Bangkok's version of Uber is called Grab and works similarly, though you can pay with cash. Just download the app and book your trip.
However, the profit share that ridesharing drivers take from the taxi companies does make them targets. Drivers may not have any branding or signs on their cars, and will likely not pick you up by a taxi rank.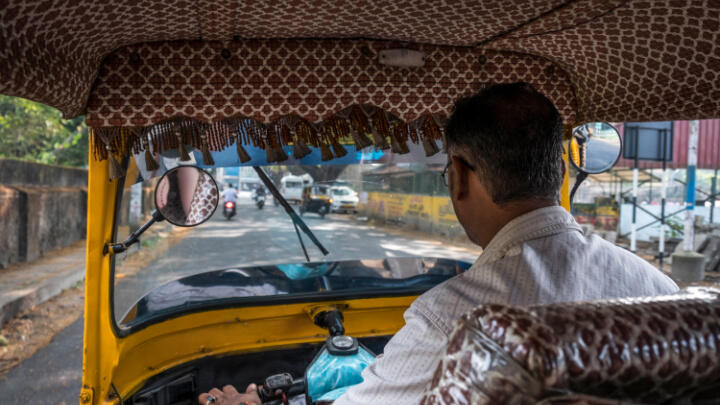 Tuk-tuks are certainly a fun and unique way to traverse Bangkok's roads, but they are equally prone to scams and overcharging as taxis. They also don't have seat belts, and an average car traveling at an average pace will utterly annihilate one. 
Instead, we recommend taking tuk-tuk tours that will avoid the busiest and most dangerous roads.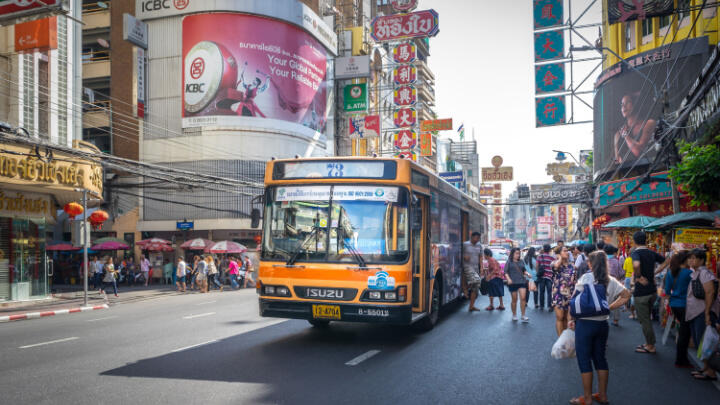 Image courtesy of UKRID/Shutterstock
Buses
The only reason to mention buses on this list is to ward you off them. Yes, they might be the cheapest option, but they're far and away the least tourist-friendly option. Dirty and prone to long, sweaty waits in Bangkok's sea of traffic, using them might completely ruin your vacation. And, since there are so many better alternatives, you're hardly missing out. 
We're not even going to link them - we're doing you a favor!
Hire a car
Don't hire a car. 
Final hints and tips
And finally, here are some extra tips to help you on your way!
Firstly, keep small denominations of coins on you for trips. Ticket machines only take coins, saving you from queueing up for a booth. 
Secondly, if you're staying for a few days and plan to use public transport a lot, get a Rabbit Card or another chargeable card you can top up. 
And finally, be prepared to give up your seat to pregnant women and even monks. You're in another country - make sure you play by their rules!
And that's everything you need to know about the public transport system in Bangkok and how to use it! If you need some destination inspiration, check out Go City! With our All-Inclusive Pass and Explorer Pass, you can see all of Bangkok's best bits for one low price!