Bangkok is a city that never sleeps. A vibrant metropolis that offers something for everyone; visitors can shop till they drop, eat like royalty, and immerse themselves in the culture and nightlife. And, depending on when you book your Bangkok vacation, you might be in town for one of the many awesome festivals held in and around the city.
But what are they, and when are they? Here, we'll explore all the best festivals in Bangkok, so no matter if you're looking for traditional fare, music, or even a water fight, you'll be more than covered!
Including:
Songkran
Loy Krathong
Chinese New Year
Wonderfruit
and more!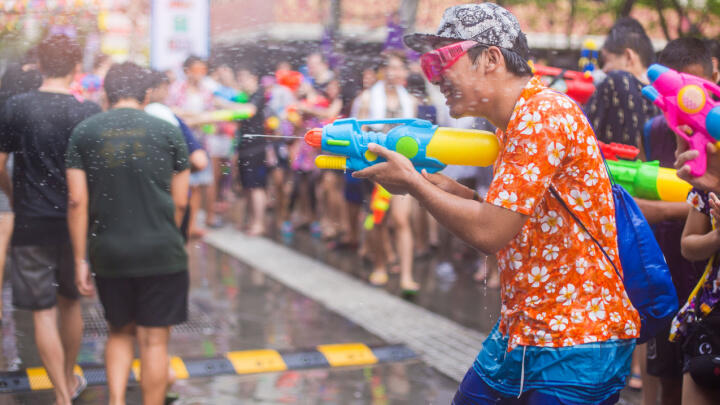 Songkran
When: April 13-15
Songkran is the Thai New Year festival that takes place every year. But this isn't your typical new year's bash. 
Instead of parties and fireworks, Songkran is a three-day water fight! People of all ages take to the streets to throw water at each other, and there are also traditional ceremonies and religious events.
So if you're looking for a wet and wild way to celebrate the New Year, Songkran is the festival for you. Just be sure to pack a waterproof bag for your valuables and a change of clothes.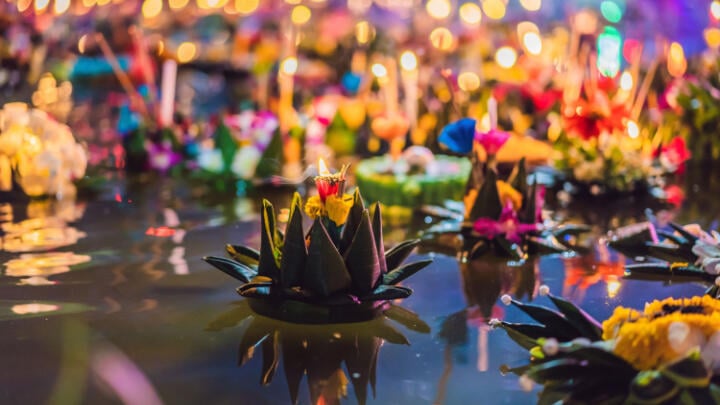 Loy Krathong
When: Typically November (the full moon on the 12th lunar month)
Loy Krathong is not only one of the most beautiful and romantic festivals in Bangkok, but it's also a great opportunity to let go of your troubles.
So how does it work? Well, you make or buy a small basket made of banana leaves and flowers and put candles and incense inside. Then you release it on a river, canal, or pond.
As the basket floats away, you can think about all the things you want to let go of. Maybe it's a bad habit, a grudge, or even the one that got away.
Once the basket is gone, you can relax and enjoy the rest of the festival. There will be fireworks, lanterns, and cultural performances.
Does it work? Well, you'll have to try it for yourself to see.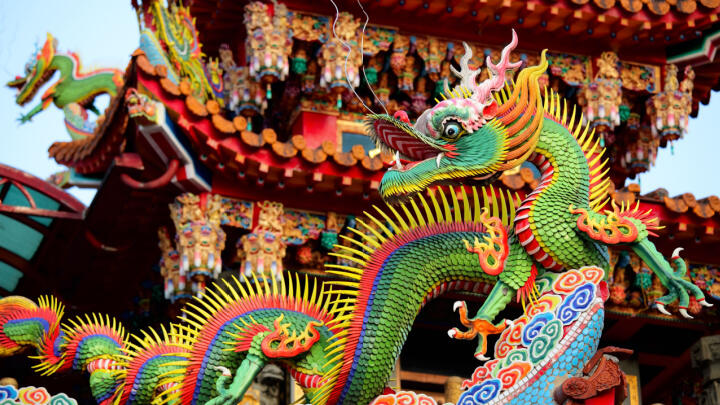 Chinese New Year
When: Depending on the lunisolar calendar, any day from Jan 21 - Feb 20
Bangkok's Chinese New Year is one of the biggest festivals in Bangkok, which is hardly surprising given how popular Chinese - or Lunar New Year is all around the world. 
In Bangkok, you can expect to see colorful parades, lion dances, dragon dances, and firecrackers. Exciting stuff.
But it's not all just about excitement. Chinese New Year is also a time for family and friends to come together and enjoy delicious food. There are stalls selling everything from traditional Chinese fare like dumplings and spring rolls to more modern dishes like Peking duck and dim sum.
So if you're looking for a fun and festive way to celebrate the new year, be sure to check out Bangkok's Chinese New Year.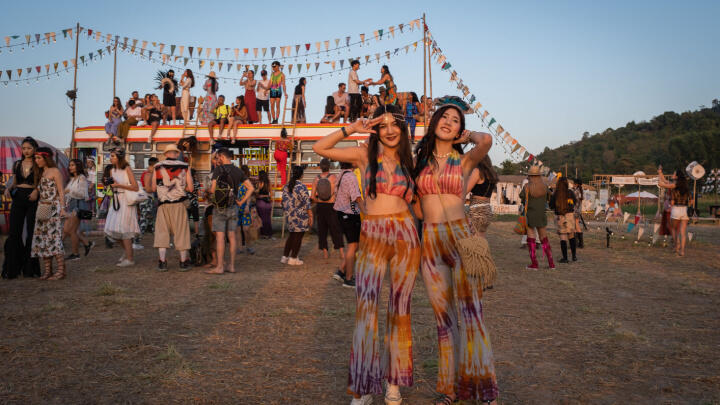 Image courtesy of Fred Marie/Shutterstock
Wonderfruit
When: December 14-18
Wonderfruit is a music and arts festival that's unlike any other. It's a place where you can dance to the beat of your own drum, express yourself freely, and connect with like-minded people from all over the world.
But Wonderfruit is more than just a music festival. It's also a platform for social change, environmental sustainability, and creative expression. You can enjoy live music from local and international artists, art installations, workshops, wellness activities, organic food, and more.
So if you're looking for a festival that will change your life, Wonderfruit is the place for you. Just be prepared to have your mind blown!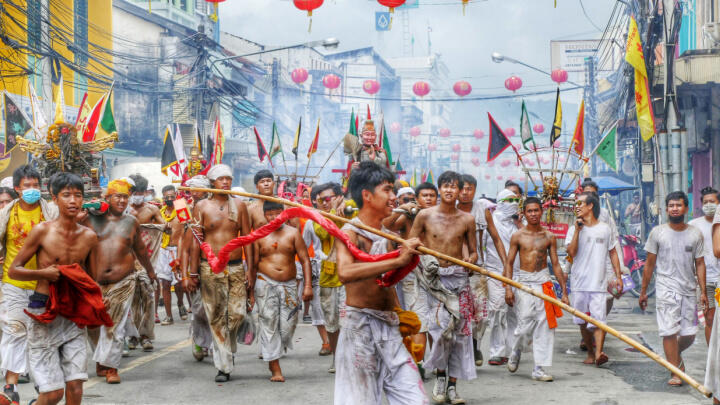 Image courtesy of ommlett/Shutterstock
Vegetarian Festival
When: Late September or Mid October
The Vegetarian Festival is a nine-day event that takes place every year in late September or early October. It's a time when many Thais abstain from eating meat and animal products for purification and merit-making.
But the Vegetarian Festival is not your typical vegetarian festival. 
In addition to avoiding meat, many participants also engage in extreme body piercing and... other, more gruesome things. This is done in the belief that it will cleanse the body and mind, and bring good luck. So, if you're bringing your kids to Bangkok, you might want to give this one a miss!
For everyone else, if you're looking for a festival that's both bizarre and exciting, the Vegetarian Festival is definitely worth checking out. Just be prepared to see some things that might make you cringe.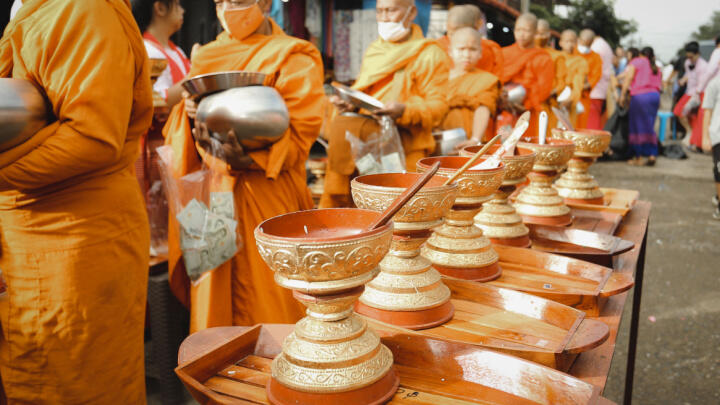 Image courtesy of Film photo/Shutterstock
Khao Phansa
When: Usually July or August
Khao Phansa is a Buddhist festival that marks the beginning of the annual three-month rains retreat for Buddhist monks. It is celebrated on the day after the full moon of the eighth month of the traditional Thai lunar calendar, which usually falls in July or August.
The monks themselves celebrate this by abstaining from certain things like alcohol, sexual activity, and...killing? Who knew a monk's desire for murder was so strong?!
For us common folk, things are much more straightforward. Locals who celebrate Khao Phansa donate food, money, and items to the temple, as well as those less fortunate. They also practice self-discipline in other ways, which may be foregoing something they enjoy, or adding something uncommon to their daily routine.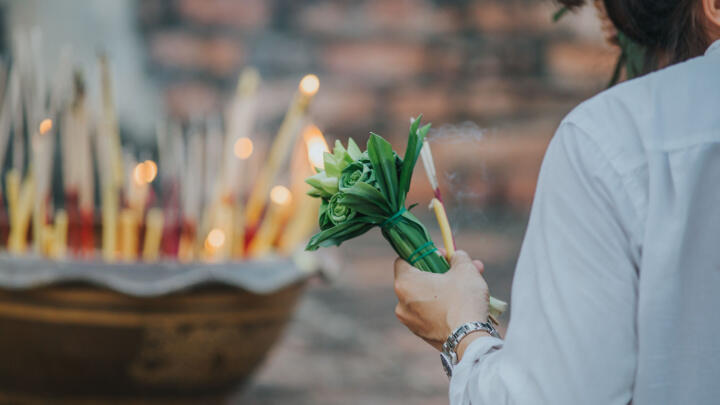 Asahna Bucha Day 
When: On the full moon of the eighth lunar month
Asahna Bucha Day is a Buddhist holiday that commemorates the Buddha's first sermon, the "Sermon in the Deer Park" at Sarnath, in which the big guy himself set out to his five former associates the doctrine that had come to him following his enlightenment. It is celebrated on the full moon of the eighth lunar month, usually in July or August.
On Asahna Bucha Day, Buddhists attend religious ceremonies, such as sermons, chanting, and meditation. They may also make merit by donating food, money, or other goods to the temple. It is a time for Buddhists to renew their commitment to their faith and to practice self-discipline.
And that's everything you need to know about festivals in Bangkok! Looking for more fun for your Bangkok vacation? Check out Go City! With our All-Inclusive Pass and Explorer Pass, you can see all of Bangkok's best bits for one low price!