Chinese New Year is celebrated all across the globe. Called Lunar New Year in many parts of the Eastern world, it's time time to get together and be thankful for what you have while looking forward to the future. So, if you're visiting Bangkok over the Chinese New Year and want to know how to celebrate in the city, check out our guide below. 
We'll talk about the Zodiac animal for 2024, what Chinese New Year means to those who celebrate it, and how to get involved with the festivities yourself!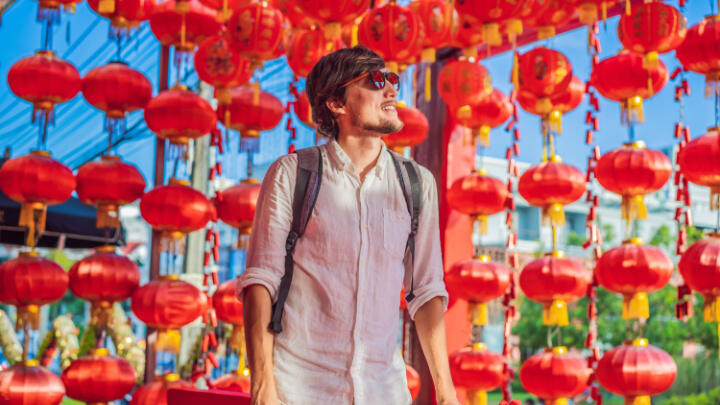 When is the Chinese New Year?
In 2024, the Chinese New Year is on February 10, making it the Year of the Dragon. 
If that date sounds different from last year's and the year before that, it's because it is! Chinese New Year's date is decided by the Chinese Lunar Calendar, which relies on the moon's cycles. Typically, that means it's 20-50 days behind the Gregorian calendar - the one most of the world uses.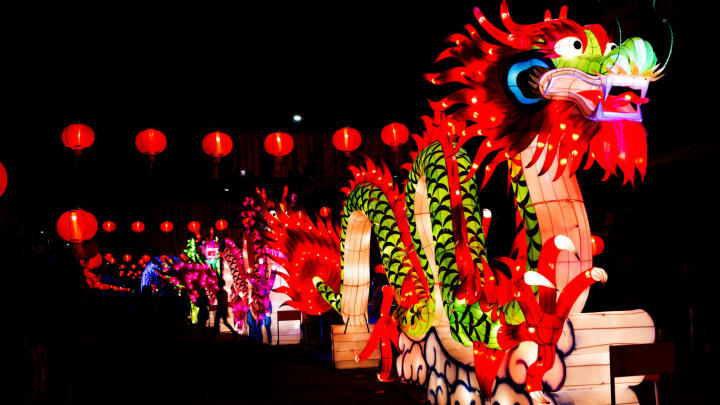 What does the Year of the Dragon signify? 
The Chinese zodiac sign of the Dragon represents power, success, honor, and luck among the Chinese. Specifically, 2024 is the year of the Wood Dragon, which comes with additional traits. Specifically, those are creativity and curiosity.
People born under the Wood Dragon enjoy diving head-first into life, developing unique ideas, and becoming laser-focused on them. This is backed up by unrelenting drive and motivation to bring these ideas to life. As such, it's said people born under this zodiac sign do well in the business world. They're also diplomatic and hilarious, so really, they cover all bases. Sounds almost too good to be true?
Whether you believe the Wood Dragon hype or not is up to you. However, for true believers, you can see why they'd want to have kids born in dragon years! 
Anyway, now you know the why, let's explore the what, and do a deep dive into how Thailand celebrates Chinese New Year.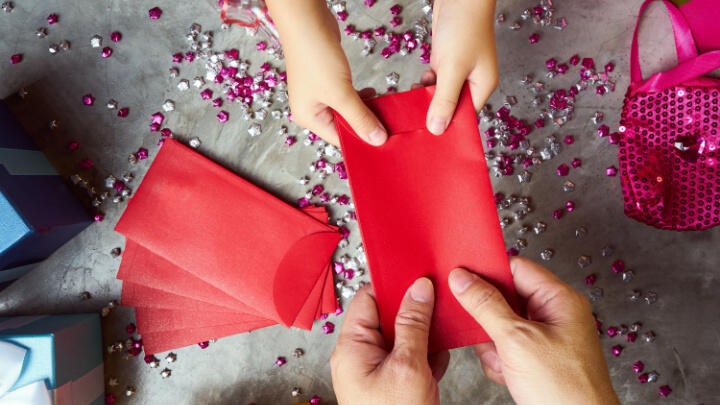 Chinese New Year in Thailand
Chinese New Year isn't a one-day affair. In fact, celebrations take place across three days. Interestingly, while it's widely celebrated in Bangkok and Thailand as a whole, Chinese New Year is not a national holiday in the country. Despite a Chinese population of more than 7 million, Thailand doesn't align with the Lunar New Year calendar.  
So, for those choosing to celebrate Chinese New Year, what's it all about? Well, just like Dom Toretto always says, it's about family. Similar to Christmas in the West, people will travel to and from Bangkok to celebrate with their parents, children, and siblings. It's also a time to pay respects to your ancestors. Family. 
The Color Red
Red is one of the primary motifs of the Chinese New Year. It's common to wear red clothes, decorate your house or yard with red lanterns and other ornaments, and adorn space with red banners. This even trickles down to the family element, as red envelopes are shared with loved ones, often filled with money, items, or both.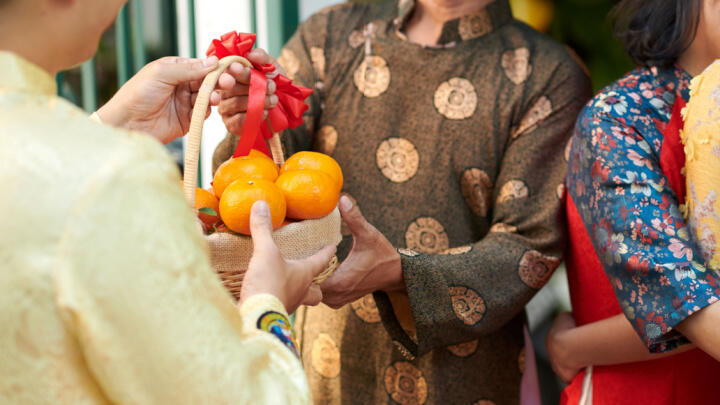 People just do Nothing
Step into a household celebrating the Chinese New Year, and you won't find much going on. That's because it's believed that activities like cleaning and even arguing bring bad fortune. This doesn't extend to eating, however, as a big feast is prepared. It not only satisfies the ancestors but also hungry bellies! Tons of traditional Chinese dishes are prepared and shared with the whole family. 
Lanterns, lanterns everywhere!
On the last day of the Chinese New Year, the Lantern Festival takes place. We already mentioned the red lanterns, and this is the time they're hung all over the place. In places like Bangkok's Chinatown, you'll see entire streets and even neighborhoods lit up in red. It's rather beautiful if we do say so ourselves. 
A Royally Grand Time
Even though Bangkok - and Thailand as a whole - don't celebrate the Chinese New Year, that doesn't stop the biggest name in the land from getting in on the action. We're talking Thai royalty, ladies and gentlemen. Princesses Ubolratana Rajakanya, Maha Chakri Sirindhorn, and Chulaborn Walailak often spend time visiting shrines across the country to pay respects and ring in a bountiful year for all. Isn't that nice? 
Now you know about the day, the date, and the traditions, it's time to explore how to celebrate Chinese New Year in Bangkok!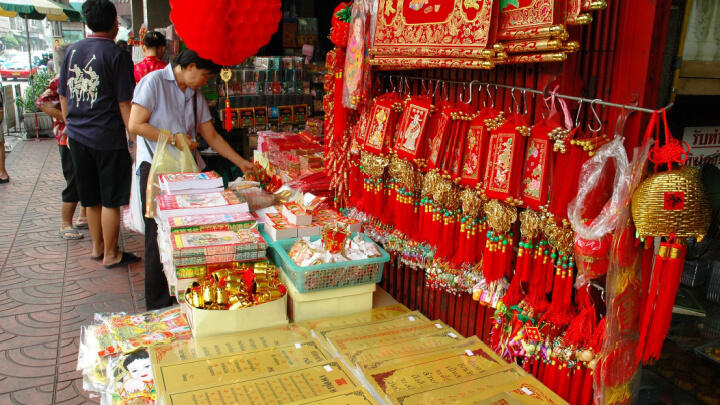 How to celebrate Chinese New Year in Bangkok
Chinatown
It's hardly surprising that some of Bangkok's best Chinese New Year action takes place in Chinatown. With an almost exclusively Chinese population, the entire district comes to life over the holiday. 
Things may seem deceptively quiet at first, but as soon the clock strikes 12, you'll start to see the neighborhood take shape. Roads are closed, ensuring no traffic disrupts proceedings. 
Then, people will pour into the streets, wishing merriment on one another and exchanging red envelopes, and wishing one another a happy new year. It gets busy, but it also welcomes outsiders such as yourself who just want to join the celebration. Feel free to pick up some red envelopes for yourself to give out to revelers. Just make sure to use the common phrasing of "xin nian hao" (pronounced sin-nyen-how), or you'll confuse people!
You'll also find tons of food stalls, dancing, processions, and acrobats who will embody the dragon's spirit with pride and joy. Feel free to watch all that, of course.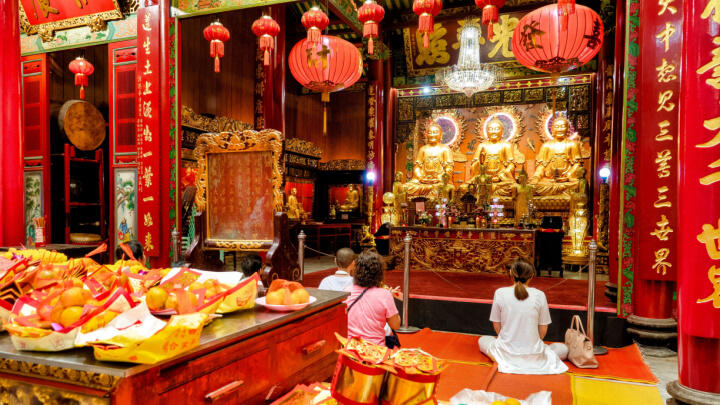 Image courtesy of Only Fabrizio/Shutterstock
Charoen Krung Street
If you want something more lowkey, check out Charoen Krung Street for a more restrained version of Chinatown's celebrations. 
Plus, with beautiful sights like the Wat Mangkon Kamalawat temple and the Mang Nguan Ha Shrine nearby, it's a good excuse to get some pics in. 
Talad Noi
You can find another lo-fi version of Chinatown's antics in the Talad Noi neighborhood. You'll still find some lanterns adorning houses, and a smattering of festivities throughout the district's streets, but if you're not a fan of crowds, it's a pleasant substitute. You'll find the Chow Sue Kong shrine there too.
And that's everything you need to know about Chinese New Year in Bangkok, what it means to the locals, and how to celebrate it yourself. If you're in town for a few days over the festivities and need some vacation inspiration, Go City's got you covered! With our All-Inclusive Pass and Explorer Pass, you can see all of Bangkok's best bits for one low price!