Spring is one of Bangkok's prettiest seasons, when dry weather and rising temperatures see parks and gardens in glorious bloom, and locals seek noon shade under brightly colored parasols and blossoming golden shower trees. Read on for our guide to things to do in Bangkok in spring, from outdoor attractions and air-conditioned mega malls to major national events including the epic three-day water fight that is Songkran!
Visiting Bangkok in Spring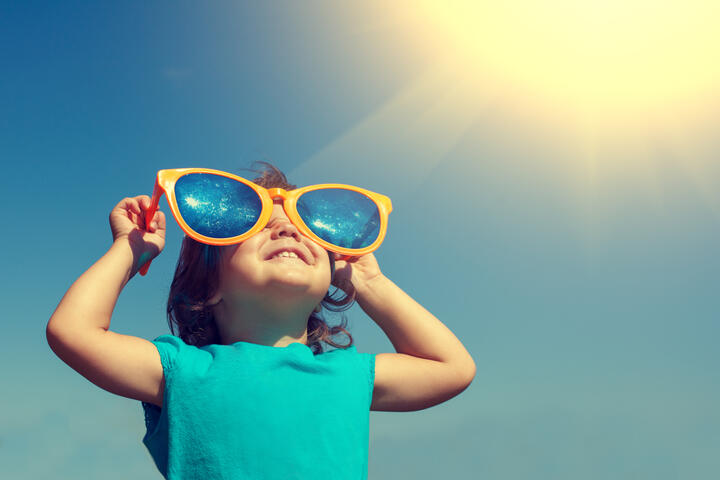 The climate in Bangkok is tropical, so weather tends to operate along the spectrum of very hot and dry to very hot with a lengthy monsoon season thrown in for good measure. Spring is high season in Thailand and falls primarily into the 'very hot' ballpark, with a dry, hot March giving way to the scorching heat of April and the similarly sweaty but somewhat moister month of May.
March and April's dry and balmy conditions are manna for Bangkok's plantlife. This is when you can catch Bangkok's 'cherry blossom' season; not in fact cherry blossom but the trumpet-shaped blooms of the tabebuia rosa tree, which can be enjoyed in all their pink-tinged glory around Bangkok, but are especially spectacular in Chatuchak Park and Wachirabenchathat Park. Keep your eyes peeled too for Thailand's national tree: its bright yellow flowers are at their most radiant at this time of year.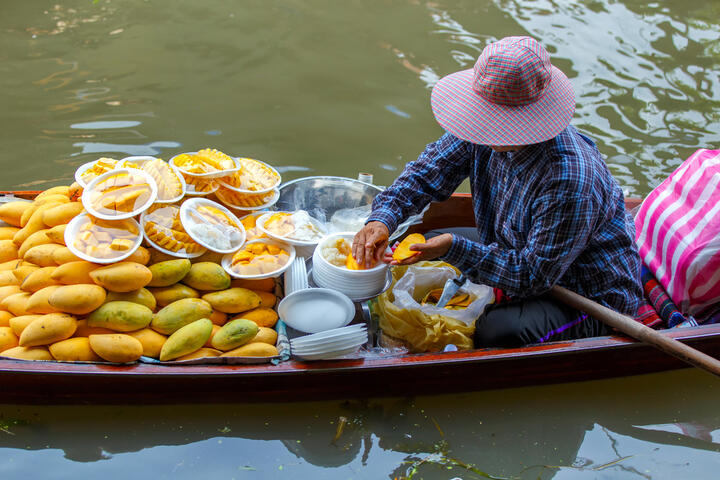 Whether you're visiting in March, May or somewhere in between, it pays to plan when it comes to what to wear. Sunscreen and UV-resistant sunglasses are Bangkok essentials whatever the time of year. You'll want light cottons and linens in pastel colors for daytime exploring, but carry an extra layer or two for the evenings and in case you plan to spend serious time shopping in the fridge-like interiors of the city's mega malls. They're an absolute boon if you just want to pop in and cool off for a few minutes, but you'll thank us for suggesting a hoodie if you end up being lured into a three-hour bout of retail therapy.
Some of the undisputed highlights of Thailand's vast fruit bounty are in season at this time of year. Perhaps not a reason to visit in itself but, boy, do ripe, fresh mangoes, deliciously sour marian plums and large juicy pomelos taste good in the spring sunshine.
Finally, book your trip well in advance to bag the best rates. You'll find May to be the cheapest option (thanks to its average 14 days of rain to March's mere two), making it a good option for spring trips – just don't forget to pack your pocket rain poncho!
Things to do in Bangkok in Spring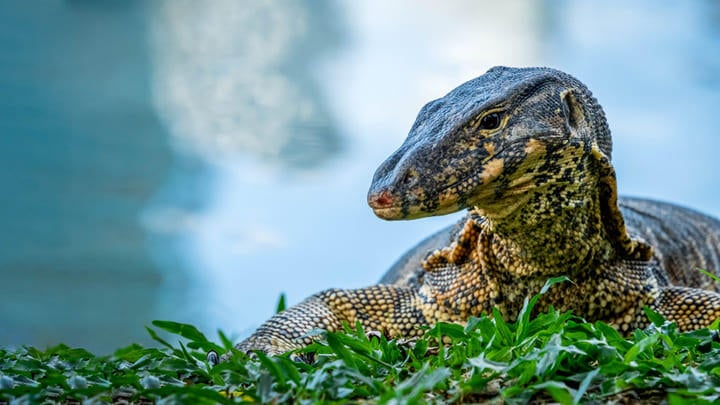 If you can stand the heat, spring in Bangkok is a season best spent outdoors. Take an early morning stroll through Lumpini Park and say hey to the giant water monitor lizards (some are up to nine feet long!) basking in the hazy dawn sunshine. If you're feeling spritely, join joggers on the 2.5-kilometer path that snakes around this green city-center space. You can even get involved in traditional Tai Chi classes on the manicured lawn. Or take to the lake in a kayak, on a paddle board or in an enormous swan pedalo. There are plenty of food carts dotted around the park should you crave a snack of mango sticky rice or a cooling coconut ice cream.
The vast Grand Palace complex on the banks of the Chao Phraya river is a treat at any time of year, thanks to its fairytale spires, colorful pavilions and Wat Phra Kaew temple, home of the country's sacred Emerald Buddha. But it's perhaps especially glorious in spring, when the gardens are in full technicolor bloom.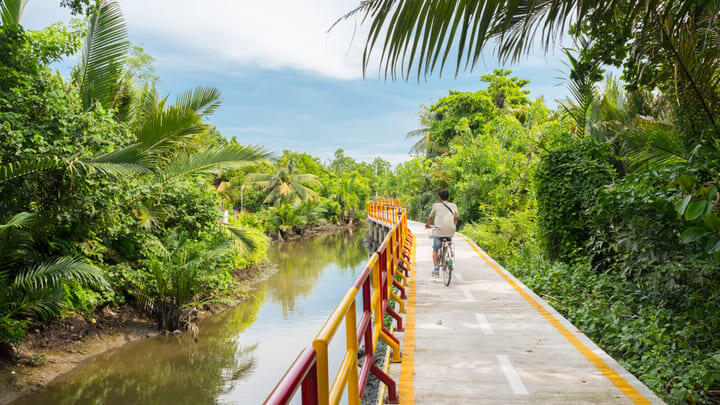 Spring is also a great time to visit Bang Kachao, the huge green lung that sits in a wide loop of the river and – almost uniquely within the city limits – is untroubled by the onward march of progress. Here, mangrove forests, peaceful canals, cute temples and abundant tropical birdlife replace Bangkok's ubiquitous skyscrapers and traffic noise. Experience it all on a gentle bike ride around the district's elevated walkways and take advantage of the cooling shade provided by the dense jungle vegetation.
And, if the heat does get too much (or, indeed, the May monsoons get too wet), there are plenty of deliciously air-conditioned malls in which to find respite. Though, thanks to the thousands of big-brand and luxury stores in the likes of the ICONSIAM complex, centralwOrld, Pantip Plaza and the MBK Center, your credit card may go into meltdown faster than an ice lolly in the Bangkok sun. You could even choose to spend your entire day in a Bangkok mega mall; most come with IMAX cinemas, food markets and arcades, while The Mall Bangkae even boasts a rooftop water park!
What's on: Bangkok Spring Events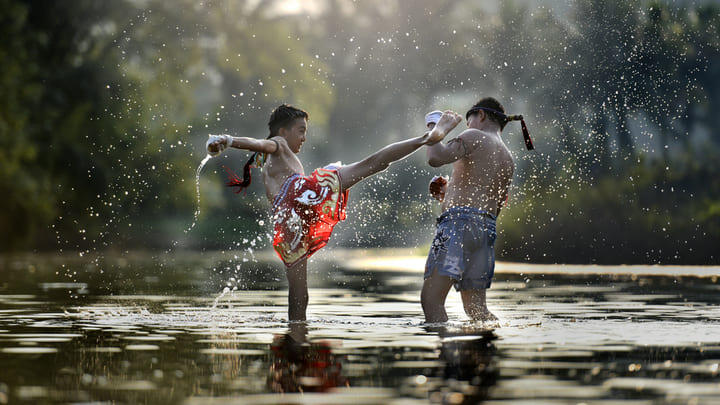 Love martial arts? There are plenty of opportunities to watch – and even participate in – traditional Tai Chi and Muay Thai (Thai Boxing). March is when the World Wai Kru Ceremony takes place in the ancient city of Ayutthaya, around 80 kilometers north of Bangkok. The annual festival sees thousands of Muay Thai practitioners gather to celebrate this noble art and honor the sport's legendary father, Nai Khanom Tom. Head out to Ayutthaya to experience the festival in all its glory, or catch spectacular satellite shows and performances at various locations around Bangkok.
One of Thailand's driest months April may well be, but not if you visit during Songkran, the country's chaotic New Year festival which sees fireworks and rockets eschewed in favor of… wait for it… water pistols. That's right, Songkran is, to all intents and purposes, a no-holds-barred three-day water fight among locals. Arm yourself with water guns, water-filled balloons and whatever other water-firing devices you have at your disposal, then take to the streets for the drenching of your life! You'll find shops awash (no pun intended) with watery weapons of all shapes and sizes at this time of year. Choose wisely – just don't expect to stay dry!
Save on

things to do in Bangkok
Save on admission to Bangkok attractions with Go City. Check out @GoCity on Instagram for the latest top tips and attraction info.