The bustling cityscape of Barcelona changes quite significantly in character depending on the time you choose to visit. At her peak, she's lively and thriving, her streets brimming with life and soaked in sunshine. Other times, she cools off into a more modest and tranquil metropolis, which some might say is when she shows her true colors.
Such a mercurial nature naturally brings into question when the best time to visit Barcelona may be. As with most things, there is no single clear-cut answer to this, as the factors that constitute the ideal time to visit will differ from person to person. Instead, we'll run you through each major period of time to help you decide that for yourself.
January & February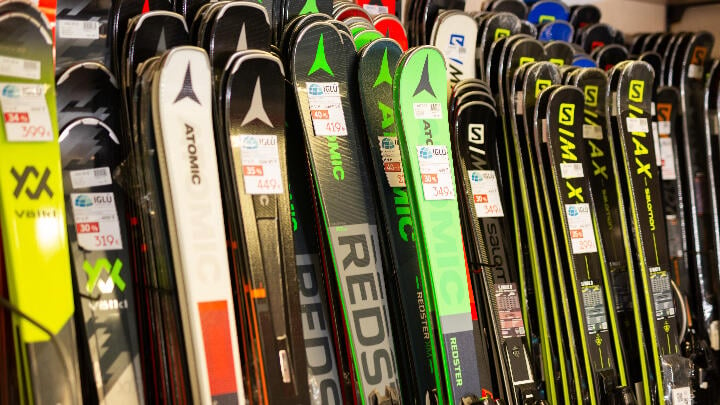 Temperatures: 41 - 73°F • Average Rainfall: 3 - 5 days/mth • Sea Temperature: 55 - 57°F
Barcelona ushers in the new year rather modestly. Having seen off both the final waves of holiday season tourists, many visitors and locals alike now turn their attention toward ski season. With average temperatures at their coolest, this is the ideal time to visit one of the many great alpine resorts just a few hours out of the city.
Those who aren't visiting for the ski season may also enjoy some of the local events, such as the Cavalcada de Reis and Tres Tombs parade, Chinese New Year, the Santa Eulàlia festival and the Llum BCN festival.
March & April
The referenced media source is missing and needs to be re-embedded.
Temperatures: 46 - 65°F • Average Rainfall: 4 - 5 days/mth • Sea Temperature: 57 - 59°F
Spring in Barcelona is much the same as in most destinations. The days begin to warm up somewhat, while still offering mostly mild temperatures of around 40 – 60°F. Given the still cool weather and fairly regular rainfall, this may not yet be the best time for a dip in the Mediterranean, but some consider it a fantastic time to visit.
Throughout the spring months, you can expect to be able to participate in a number of events such as Sant Medir, the International Vintage Car Rally, the Barcelona Marathon, the Barcelona Beer Festival, La Diada de Sant Jordi, La Feria de Abril and, of course, Easter.
May & June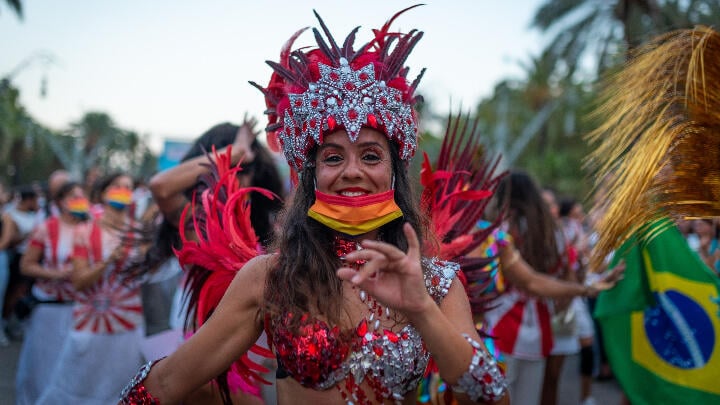 Temperatures: 57 - 79°F • Average Rainfall: 3 - 5 days/mth • Sea Temperature: 64 - 70°F
These two months mark the bridge between spring and summer, and mark the first real 'shoulder season' for Barcelona. Temperatures begin to climb just slightly, with averages resting around the low- to mid-60s. Rainfall is typically at its highest in May, but begins to drop significantly come June.
Visiting during this time will mean you'll get to experience Barcelona ahead of the high-season crowds, while also getting some pretty decent weather. The city will be more lively than during the winter months, without being overcrowded. Given the often pleasant weather and lower numbers of tourists, many consider this to be the best time to visit Barcelona.
Events during this period include the Night of the Museums, Primavera Sound Festival, the nearby Girona Flower Festival, Sónar Festival, the Feast of Sant Joan and Barcelona's Pride Festival.
July & August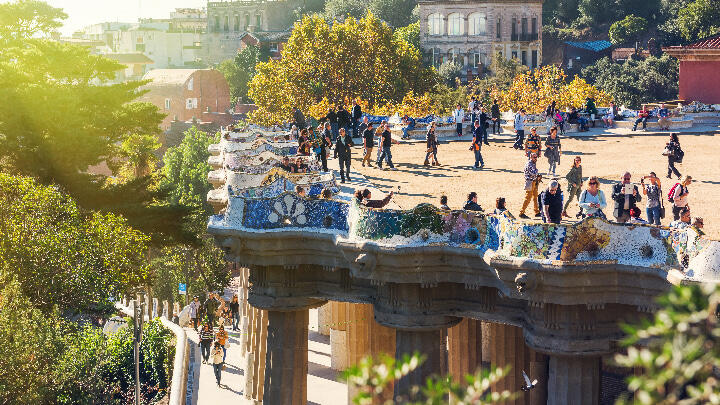 Temperatures: 70 - 84°F • Average Rainfall: 2 - 5 days/mth • Sea Temperature: 75 - 79°F
The height of summer is when Barcelona truly thrives – some might say a little too much. This is when the city experiences its hottest and most humid days, with averages between 70 and 85°F both day and night. Barcelona is at its liveliest during this period, with just about every street, bar, café, restaurant and attraction bustling with visitors.
For many, summer is truly the perfect time to visit Barcelona thanks to its buzzing ambience and fantastic weather. For others, the crowds and heat make for a less than ideal experience, and in fact many locals take this opportunity to relocate to more moderate climates for some time. Should you choose to visit in summer, be sure to make your plans and book your attractions well ahead of time.
Throughout the summer months, you can expect such events as Festival Cruïlla, Barcelona Beach Festival, Rock Fest Barcelona, Festa Major del Raval, Gràcia Festival, El Grec and the Sants Festival. For music lovers and those who just enjoy a good social atmosphere, this is the time to come!
September & October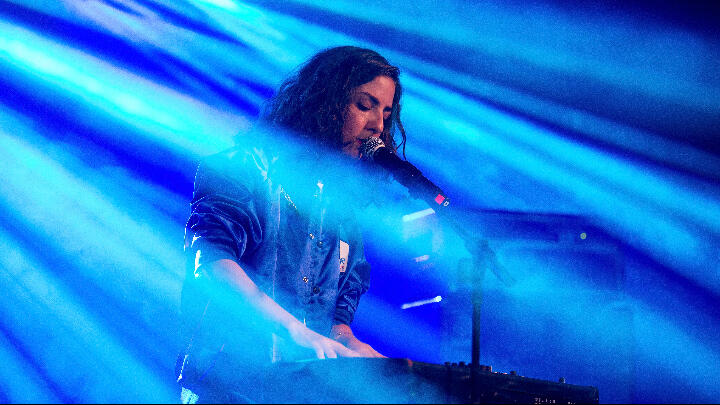 Temperatures: 58 - 79°F • Average Rainfall: 5 - 6 days/mth • Sea Temperature: 72 - 75°F
As summer draws to a close, the largest droves of tourists begin to vacate Barcelona, while many locals make their return for the increasingly more forgiving temperatures. Thus the city enters into its second shoulder season, which sees it continue to thrive with the remaining waves of visitors while returning to a somewhat more tranquil state.
Barcelona isn't done with the festivities just yet, though. In fact, in many ways it's just getting started. Notable events in September and October include BAM Festival, Festa Major de Sant Miquel/Poblenou/La Ribera/La Rambla, La Diada, Sitges Film Festival, Mercat de Mercats and the Fiesta Nacional de España.
November & December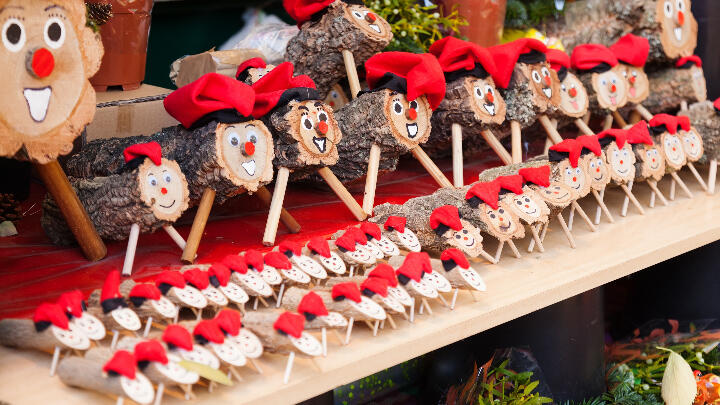 Temperatures: 41 - 64°F • Average Rainfall: 4 - 5 days/mth • Sea Temperature: 61 - 64°F
As the days begin to cool further and Barcelona ushers in the winter season, the Catalan capital truly takes on a new form. In the absence of the bustling and humid summer months, the city embraces the final fruits of fall and the coming of winter. This is when the locals truly come together to bring some much needed warmth to the cooler months.
November sees Barcelona celebrate All Saints' Day and La Castanyada, in remembrance of passed loved ones, in tribute to the saints of the Catholic religion, and in celebration of the autumnal produce of fall. This is also the prime period for many music and cinema fans, with an impressive array of film and music festivals running throughout the month.
December, of course, is truly a transformation for Barcelona. Early in the month, the city blooms in celebration of Constitution Day, before the festivities make way for the holiday season. And make way they must, for the Christmas period in Barcelona is truly a sight to behold.
For many, this is truly the best time to visit Barcelona, with its streets lit up with merry lights and decorations and lined with countless market stalls selling all manner of festive fare.
Wrapping Up
Clearly, the beating heart of Catalonia has plenty to offer year-round for all different types of travelers. Some may prefer to visit during peak season to experience the city at its liveliest, while others may prefer the quieter months to see the city in its more authentic state, while others still may prefer to visit for specific events.
Whatever your travel preferences may be, it's up to you to decide when may be the best time to visit Barcelona. However, so as not to end on a vague conclusion, many regular tourists to the region agree that spring and fall are ideal for seeing the city at its most genuine, in the absence of the summertime rush.