Known among many other top European cities for its wealth of culture, history, world-class cuisine and top-notch nightlife, Barcelona is a city brimming with romantic appeal. Couples looking for an intimate city escape with Spanish and Catalan flavors would be hard pressed not to find the Catalan capital an ideal destination.
Beyond the natural charm of its architecture, traditions and people, there is also a whole host of things to do in Barcelona for couples. From stylish dining spots to cultural explorations to unique and exciting experiences, we've put together this brief guide to help make your city break a trip to remember.
Best Time for Couples to Visit Barcelona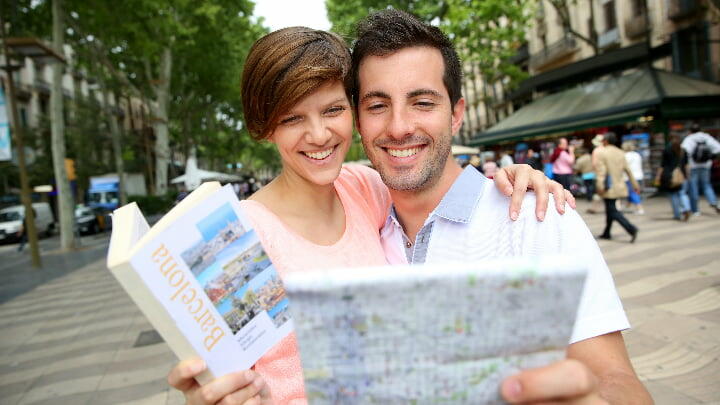 It may come as no surprise that there is no real definitive time that we would recommend couples to visit Barcelona. The city transforms and takes on a new character with each passing season, and different couples are bound to prefer different times of year. These periods are primarily dependent on both average weather conditions and tourism trends.
Summertime (July and August) sees the city at its busiest, hottest and most humid, making for ideal beach weather and bustling nightlife. Many popular attractions and venues are likely to be busy if not full at most times. The peak season is also host to a plethora of music festivals and intimate outdoor events, making for quite the electric atmosphere.
April to June and September to November serve as Barcelona's 'shoulder seasons'. In essence, these periods typically see the city significantly quieter than in summer, but with enough of a presence to still maintain a thriving ambiance. Average temperatures are generally pleasant, ranging from mild to warm, with regular sunshine but also a moderate chance of rain.
The winter period between December and March serves as the city's low season. Temperatures are naturally lower, and so are hotel and airline prices. Winter is also host to a wide selection of local traditions and cultural festivals, not least of all the various celebrations taking place throughout the holiday season.
Best Events for Couples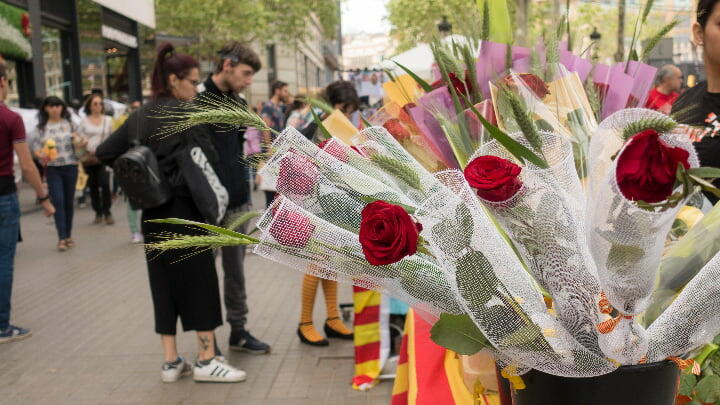 While there may not be a specific time in the year that makes for the ideal couple's retreat across the board, there are a couple of notable events that cater largely or even explicitly to couples. If you're looking for a specific date to work into your trip, these events could be just the ticket.
The first of these is, of course, Valentine's Day. Like many places outside of America, the celebration isn't typically embraced by locals, but that doesn't stop Barcelona being a fantastic destination for a Valentine's getaway. The city's many stylish bars and charming restaurants make an ideal backdrop for a romantic day together, and a number of local businesses also embrace the influx of loved-up tourists by offering limited-time gifts and bookings.
Catalonia's real answer to Valentine's Day is Día de Sant Jordi on April 23. This day serves as an opportunity for locals and visitors alike to express their love for one another, often with the exchange of gifts. The most commonly exchanged gifts are roses or other such flowers and books, often bought from the many stalls set up throughout the city's streets for the day.
Although not explicitly reserved for couples, the European Balloon Festival held each July offers a truly hallmark experience for you and your partner. Hosted across four days in nearby Igualada, the festival brings together around 25,000 participants from around the world as they take to the skies. Rides can be booked in advance if you want your own piece of this magical celebration.
Wining & Dining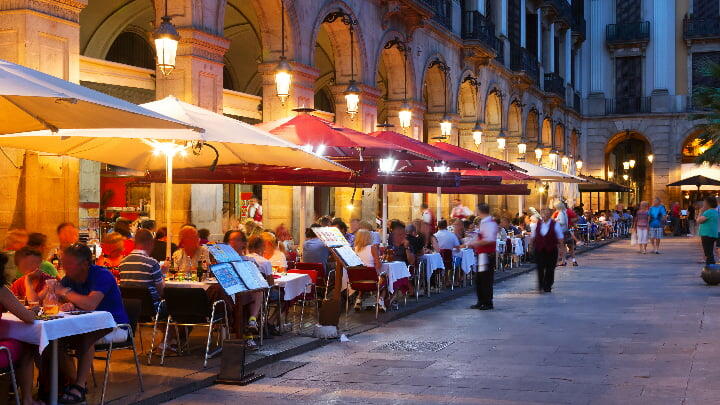 As a destination known in particular for its stunning seaside location, it will come as little surprise that the beachfront is replete with trendy bars and restaurants overlooking the Mediterranean. While you can expect prices to be higher here than businesses based further inland, there are few views in Barcelona more splendid than the Catalan coastline.
You'll find more of an authentic dining experience throughout the many historical squares and plazas dotted throughout the city, the most popular of which being Plaça Reial. These social hubs are home to a number of independent restaurants, bars and cafés where you can enjoy some of Catalonia's most celebrated dishes.
If hip and chic are what you're looking for, then Barcelona has you covered there, too. Many hotels and restaurants throughout the city have rooftop terraces and cocktail bars where you can enjoy panoramic views over the skyline with your favorite beverage in hand. Throughout summer, these venues often expand to include iconic locations such as Casa Batlló and La Pedrera, as they begin to host a number of rooftop concerts and events.
For something just a little more special, many vineyards around Barcelona offer tasting tours and workshops, such as Oller del Mas at the foot of beautiful Montserrat. With over 70,000 hectares of land throughout the region dedicated to wineries and vineyards, Catalonia has truly carved a name for itself among the world of specialty wines, which serve as the perfect accompaniment to a romantic Catalan getaway.
Culture, History & Special Interests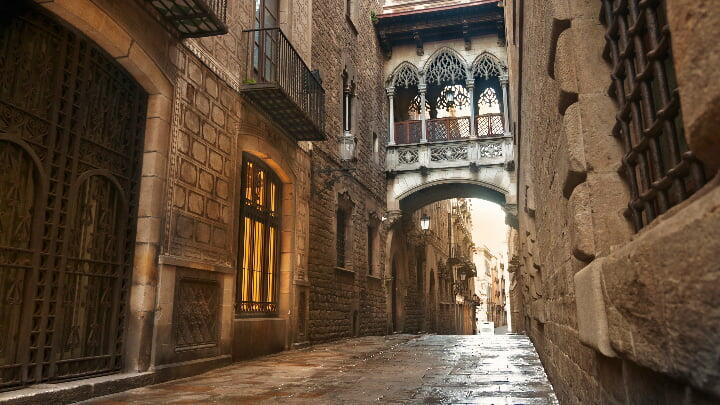 Couples looking for a more in-depth experience of Barcelona may enjoy a tour of the Gothic Quarter, complete with insights into its turbulent past dating back over 2,000 years to the original Roman settlement. Once finished, you'll already be close to all of the Gothic Quarter's charming squares, where you can sit for a romantic meal and a glass of famous Catalan Cava.
For those with an eye for the arts, some of the best things to do in Barcelona for couples include exploring its generous selection of celebrated art galleries. The Museu Nacional d'Art de Catalunya (MNAC), the Museu Picasso, the Fundació Joan Miró and the Museu d'Art Contemporani (MACBA) are considered to be the city's best artistic offerings, with a heavy emphasis on contemporary art and Catalan artists.
In the same branch are Barcelona's many famous museums covering all manner of interests. History buffs should turn their attention toward the Museu d'Història de Catalunya, the Museo de Historia de Barcelona (MUHBA) and the Museu Marítim. Sports fans, on the other hand, may prefer the likes of the FC Barcelona Museum and the Olympic and Sports Museum.
for something just a little different, the Museu de la Xocolata (Chocolate Museum) and Museo Erótico de Barcelona (Erotic Museum) could be the perfect combination for those of a more hedonistic preference.