The Christmas season is often a magical time to travel, no matter where you go. So long as your destination celebrates the religious holiday, you can be sure to expect some fantastic cultural festivities to complement your trip. And Christmas in Barcelona is no exception.
A country with deep Catholic roots, much of Spain typically goes out of its way to celebrate its religious festivals in style. As you might expect, that means that Christmas is a particularly big event – especially in Barcelona. Expect a month of high spirits, bizarre traditions, mouth-watering seasonal foods and holiday festivities.
Visiting Barcelona Around Christmas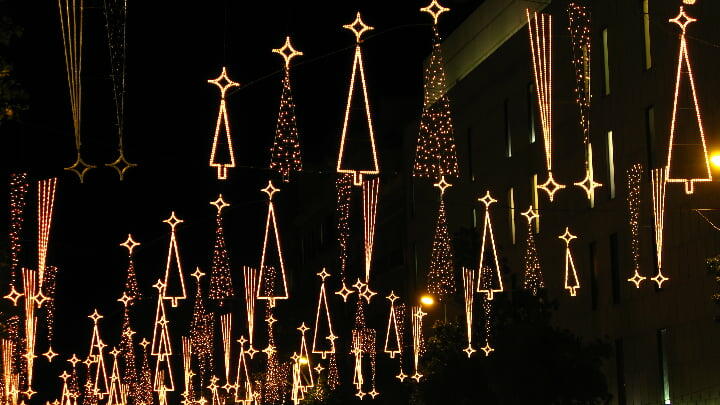 Should you choose to visit Barcelona throughout December, you're in for a real treat. Typically renowned the rest of the year as a rich hub of art, culture, cuisine and nightlife, the Christmas season sees the Catalan capital transform into somewhat of a winter wonderland.
While white sheets of snow aren't a common sight in Barcelona – with snowfall typically a once-in-a-decade occurrence for the city – you can bet your bottom dollar on all the other troupes of a Christmas city. Holiday displays in just about every store window, seasonal treats at every bakery and festive lights adorning iconic streets as far as the eye can see.
Taking a trip to Barcelona in winter means that, while you may not get the best weather the city has to offer, you'll be able to explore much more freely without battling huge crowds. The Christmas season does naturally bring in more tourists than other winter months, but you should usually be able to book any attraction you want on the same day, not to mention you'll also have your pick of the litter of hotels at off-season rates.
If you're planning to be in Barcelona over Christmas itself, just be aware that Christmas Day and Boxing Day are public holidays, meaning most stores, restaurants and services will be closed for the day. Many of these will still operate on December 24, though some opt for half days, so be sure to do your last-minute shopping in the morning.
Christmas Markets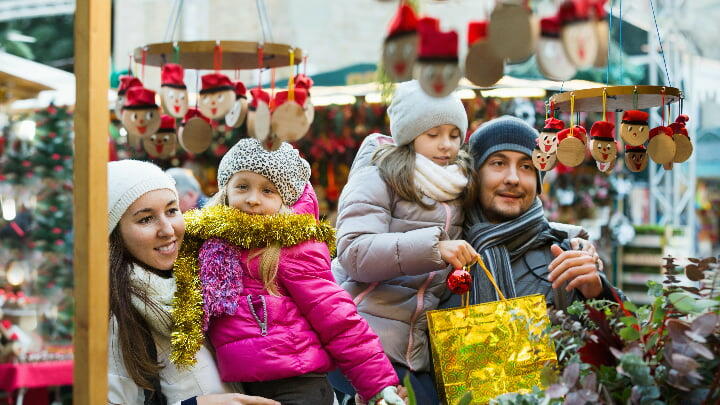 Europe is world famous for its holiday markets. While Germany, Austria and the Czech Republic are some of the most renowned destinations, Barcelona can more than hold a candle to their spirited selection of merry merchants.
Throughout the city, you can explore a multitude of markets selling all manner of festive fare, from mulled wine to roasted chestnuts. Local artists also take the holiday season as an opportunity to sell their crafts, baked goods, artisan wines and spreads, homemade candies and Christmas ornaments, among a multitude of other things.
You'll find plenty of different markets dotted around the city, but the largest and most famous market is Fira de Santa Llúcia. Found on Avinguda de la Catedral, this market dates back over 200 years to 1786. Given its history and popularity, it's wise to give yourself plenty of time to visit should you want to pick up some souvenirs from your trip, as crowds are almost inevitable.
Christmas Traditions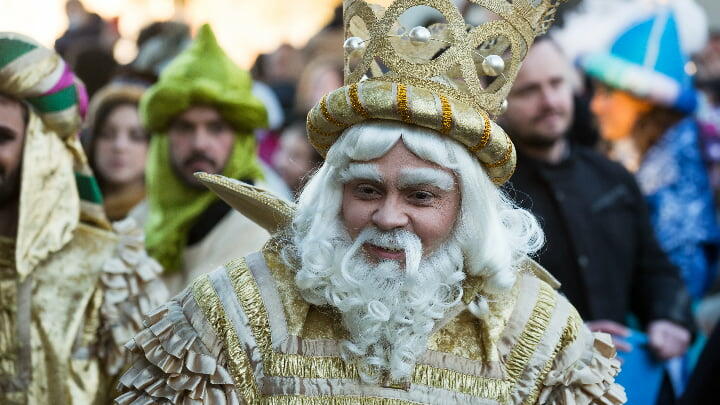 Christmas Cuisine – Perhaps one of the most anticipated aspects of Christmas celebrations around the world is the seasonal food that comes with it. In Catalonia, Christmas is a time when most families splash out for some of the most luxurious foods to share with their families.
Popular inclusions of a traditional Catalan Christmas meal are Carn d'Olla (a sort of meat broth) served with Galets pasta and tapas dishes with various meats and fish (most notably ham and eels). After the main meal, many will then turn to festive sweet treats, such as turrón nougat and polvorón shortbread, all washed down with a hearty glass of local Cava.
Even if you aren't actually celebrating Christmas in Barcelona, you can still find various seasonal treats on sale throughout many retailers and Christmas market stalls throughout the city. Whether you're keen on trying some almond-based sweet treats, grabbing yourself some local meats and cheeses or taking home a bottle of authentic Catalan Cava, you're sure to be spoiled for choice.
Caga Tió – Early in December, the Caga Tió makes an appearance in many Catalan homes and Christmas market stalls. The Caga Tió is a relatively small wooden log with two front legs and a jolly face, often adorned with a traditional Christmas hat.
Children are given the responsibility of taking care of the Caga Tió throughout the season, typically putting a blanket around it and feeding it fruit, nuts, bread and candy, much like kids elsewhere might leave out milk and cookies for Santa Claus.
Should you ever be fortunate enough to spend Christmas with a Catalonian family, you'll then get to see the true colors of the Caga Tió. Translated literally as 'pooping log', children will beat the Caga Tió in hopes of having it 'poop out' gifts which, if they looked after it well, they should find beneath the blanket.
El Caganer – Often depicting various celebrities, public figures and fictional characters going number two, El Caganer is a staple of Catalan Christmas. Originally depicted between the 17th and 18th Centuries as a young peasant caught short between the three wise men in the nativity scene, many families now adorn their own scenes with their favorite Caganer.
Contrary to the apparent profane nature of the display, El Caganer is viewed as a sign of good luck to the people of Catalonia. Harking back to ancient pagan beliefs, the Caganer's 'deposit' is supposed to represent the fertilization of the soil and high productivity in the fields for the year ahead.
El Caganer figurines make for a humorous and festive gift to bring home to your loved ones. Be sure to look for your favorite celebrity, public figure or fictional character while exploring the city's many Christmas market stalls!
Kings' Day – In tribute to the day that the Three Kings were said to have visited the baby Jesus in Bethlehem, Barcelona welcomes their ceremonial arrival on the evening of 5 January.
The Three Kings arrive by boat before beginning their annual procession through the streets of Barcelona. Traditionally, children in Spain write letters to the kings in place of Santa Claus, and they typically receive their main gifts on Kings' Day rather than Christmas Day.
If you happen to be visiting around Kings' Day, be sure to catch the parade and take part in some of the many local festivities. Locals are likely to be throwing parties, and stores and bakeries will be full of festive sweet treats to try out, most notably Tortells de Reis, or Kings' Cakes.
All Fools' Day – While not explicitly a Christmas celebration, All Fools' Day takes place on December 28 and serves as Spain's equivalent of April Fools' Day. Participation often varies, but you can expect news outlets publishing bizarre and false stories playing on current events and friends playing practical jokes on one another throughout the day.
A common prank you may see during your visit is people sticking a paper silhouette of a man onto their victim's back to see how long it takes them to notice – resulting in greater hilarity the longer the joke goes on.