Barcelona in December sees the coming together of two different cities; the famous Catalan metropolis and a festive holiday wonderland. Experience all that Barcelona has to offer year-round matched with all the spectacle and warmth of the holiday season.
Winter in Barcelona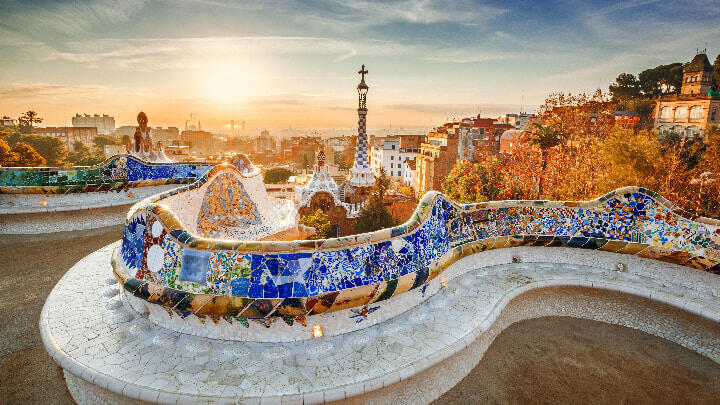 With winter well and truly in swing, Barcelona has long since waved off the torrents of high-season tourists. While you can always expect plenty of visitors throughout the year, tourism rates are typically halved come December. What this means for you, should you choose to visit in this period, is a totally different side to Barcelona than you might see in summer.
Aside from the much more bearable weather averaging around a mild 60°F, you'll find the city far less crowded than during its peak. Where you might have had to book long in advance to visit top sites like the Sagrada Familia and La Pedrera, quick and easy admission to just about any attraction should now be no difficult feat.
Due to the later sunrise in winter, typically taking place around 6:30 in December, a popular start to the day is to visit Park Güell to watch the sun come up. Naturally, this means that not getting there early enough will likely make it hard to find a good spot, so be sure to plan accordingly.
Barcelona Ski Season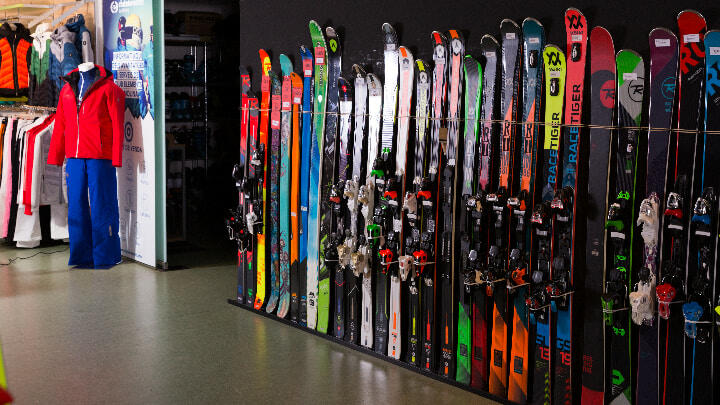 December also marks the early days of the Barcelona ski season, with avid skiers often passing through the city on their way to the Pyrenees. Should skiing be your thing, there are 14 fantastic alpine ski resorts within range of the city.
With most of these resorts reachable within four hours by car, they're perfect for visiting for a day or two before returning to the city once again. Note that a number of these resorts cross over into Andorra and France, with Andorra only accessible by car.
Día de la Constitución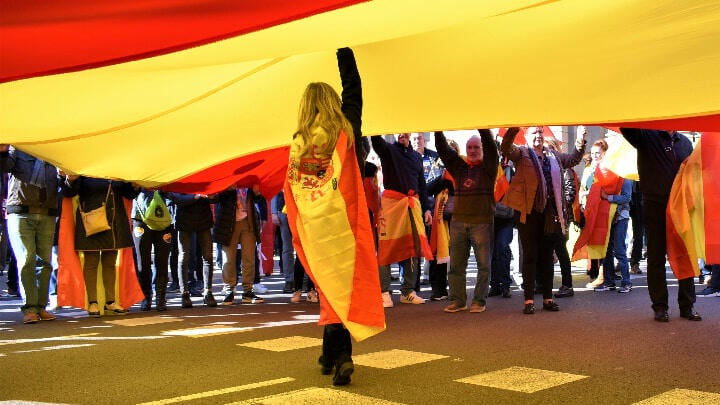 Visiting Barcelona in December does come with one slight caveat, though. On December 6, Spain celebrates Día de la Constitución (Constitution Day), in commemoration of the approval of the Spanish Constitution in 1978 and the subsequent return of Spanish democracy. As a public holiday, most schools and workplaces will take the day off, and many will flock to Barcelona to celebrate.
Locals refer to this as a 'mini high-season', and for good reason. You can expect restaurants, bars and attractions to be crammed with visitors once again, perhaps even more so than during summer. Should Constitution Day fall either side of a weekend, the festivities are likely to last the full three days.
Christmas Markets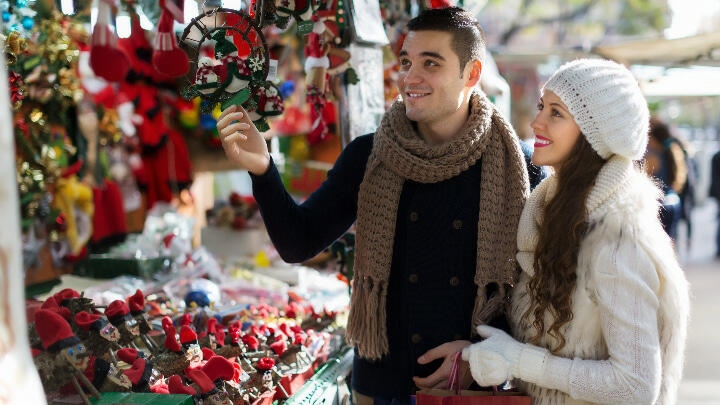 We'd be remiss to discuss a trip to Barcelona in December without expanding on the city's many holiday festivities.
From the final weeks of November, the city of Barcelona evolves into somewhat of a winter wonderland. The streets are adorned with all manner of festive decorations and lights, which are truly a sight to behold in the evening. But where the holiday spirit really shines through is the city's many Christmas markets.
Europe is world famous for its holiday markets. While Germany, Austria and the Czech Republic are some of the most renowned destinations, Barcelona can more than hold a candle to them with its own spirited selection of merry merchants.
Throughout the city, you can explore a multitude of markets selling all manner of festive fare, from mulled wine to roasted chestnuts. Local artists also take the holiday season as an opportunity to sell their crafts, baked goods, artisan wines and spreads, homemade candies and Christmas ornaments, among a wide selection of other things.
You'll find plenty of different markets dotted around the city, but the largest and most famous is Fira de Santa Llúcia. Found on Avinguda de la Catedral, this market dates back over 200 years to 1786. Given its history and popularity, it's wise to give yourself plenty of time to visit should you want to pick up some souvenirs from your trip, as crowds are almost inevitable.
Caga Tió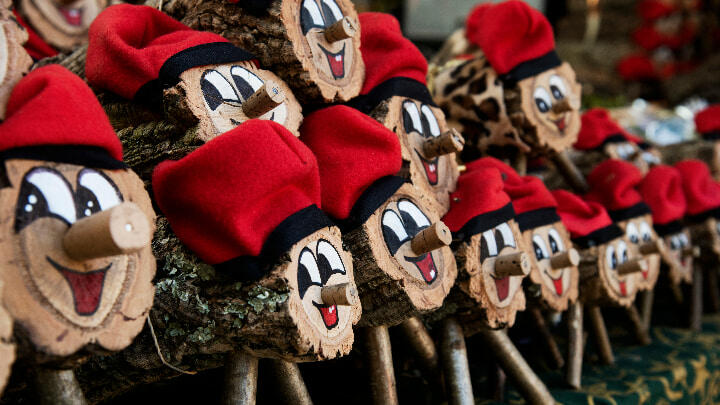 Neither Spain nor Catalonia in particular are shy about their traditions, and this is never more true than at Christmas.
Early in December, the Caga Tió makes an appearance in many Catalan homes. The Caga Tió or Tió de Nadal is a relatively small wooden log with two front legs and a jolly face, often adorned with a traditional Christmas hat.
Children are given the responsibility of taking care of the Tió throughout the season. This typically involves putting a blanket around the little log and feeding it fruit, nuts, bread and candy, much like kids elsewhere might leave out milk and cookies for Santa Claus.
Should you ever be fortunate enough to spend Christmas with a Catalan family, you'll then get to see the true colors of the Tió. Translated literally as the 'poop log', children will beat (yes, beat) the Tió in hopes of having it 'poop out' gifts, which they should then find hidden beneath the blanket.
El Caganer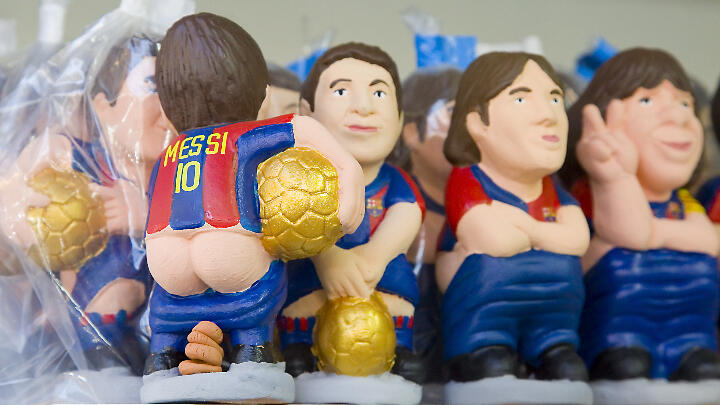 The toilet-humor traditions don't end with the Caga Tió, though. Wandering through the Christmas markets dotted throughout Barcelona in December, you're likely to come across a common figure on display.
Often depicting various celebrities, public figures and fictional characters going number two, El Caganer is a staple of Catalan Christmas. Originally depicted between the 17th and 18th Centuries as a young peasant caught short between the three wise men in the nativity scene, many families now adorn their own scenes with their choice of Caganer.
Contrary to the apparent profane nature of the display, El Caganer is viewed as a sign of good luck to the people of Catalonia. Harking back to ancient pagan ideas, the Caganer's 'deposit' is supposed to represent the fertilization of the soil and high productivity for the year ahead.
You'll find both Caga Tió and El Caganer throughout Barcelona in December, and you can even pick up your own from just about every market stall. Why not bring both home and enjoy your very own Catalan Christmas?
Wrapping Up
Should you choose to visit Barcelona in December, you're sure to be rewarded handsomely. Not only will you be able to see all that the city has to offer without all of the high-season crowds, but you'll also be able to indulge in many of the region's winter festivals.
Explore the city at your leisure without having to plan too far ahead, and finish each day with a merry glass of mulled wine and a relaxing jaunt throughout the festively-lit streets and various Christmas markets stretching throughout.