Legend has it when you take a sip from the Font de Canaletes fountain at the top of La Rambla, you'll fall in love with Barcelona and be bound to return! We're not sure if it really is something in the water or the sensational shopping, delicious tapas treats and awe-inspiring Gaudi buildings that make us want to come back again and again. But there's no doubt that the heart of the city is La Rambla, the busy, buzzy, tree-lined street which connects Barcelona's main square to its vibrant waterfront. Looking for the best things to do on La Rambla? Let us take you for a roam - or ramble - around its highlights.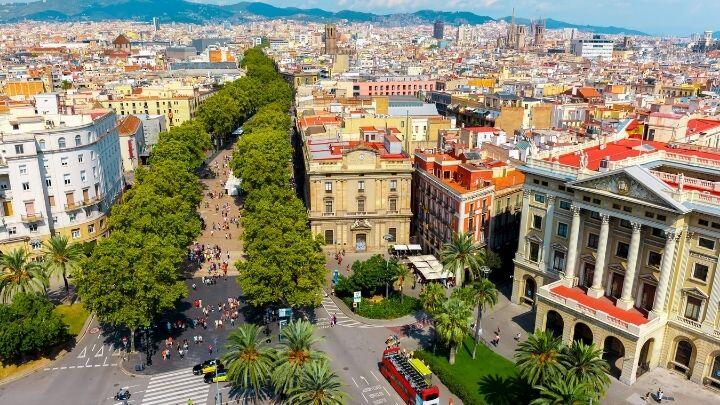 What is La Rambla?
One of the main routes through the city for both locals and visitors, its name comes from the Arabic word ramla – for sand – referring to the sandy river bed of the stream that, until the 15th century, ran from the mountains to the sea on the site of this now throbbing thoroughfare. You'll notice that the paving underfoot is patterned like waves to reflect these watery origins. Now it flows with people day and night - both locals and tourists strolling past souvenir stalls, street traders, human statues, performers, pavement cafes and bustling bars.
Is it La Rambla or Las Ramblas?
Not everyone realises this most famous of boulevards is one of several 'Ramblas' in the city. It is often also known in the plural, as Las Ramblas, because it's made up of a series of shorter streets. At its top end you'll find Placa de Catalunya, Barcelona's main square, where the old city and the 19th century Eixample district meet. To the west is the bohemian El Raval quarter and to the east the Gothic Quarter, with its tempting labyrinth of small squares and streets. La Rambla meanders down to Port Vell where a wooden boardwalk leads to more shops, eating places and the Barcelona Aquarium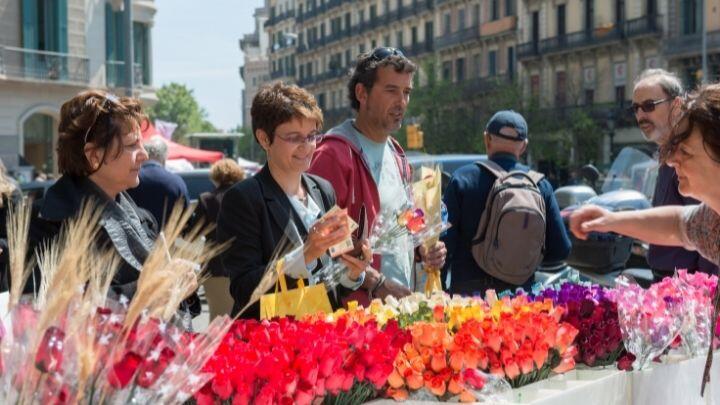 Barcelona Flower Market
Back in the 19th century the part of La Rambla known as La Rambla de las Flores was the only place in the city where flowers were sold. Today it's still a riot of colourful blooms, with some of the stalls over one hundred years old. In April the flower stands are painted red to celebrate the tradition of buying roses on La Rambla for the festival of Sant Jordi.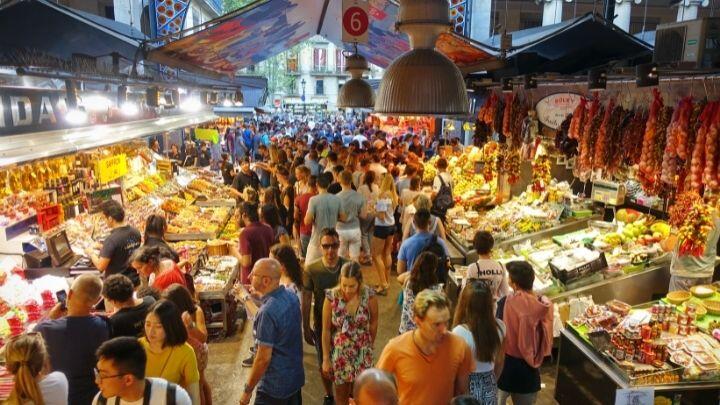 Mercat Boqueria 
Through the wrought-iron gates on La Rambla, don't miss La Boqueria one of Europe's most famous food markets. It's popular with tourists but it's also where shoppers and chefs alike buy their produce, from specialist stalls with amazing displays of fruit and vegetables, cured meats, fish, cheese, olives, spices and more. Pick up some picnic ingredients, choose a brightly coloured fruit smoothie, or snack on a 'cone de jamon'. Or make like the locals who chow down on churros dipped in thick hot chocolate or linger with a glass of cava at one of the tapas bars whilst watching the world go by.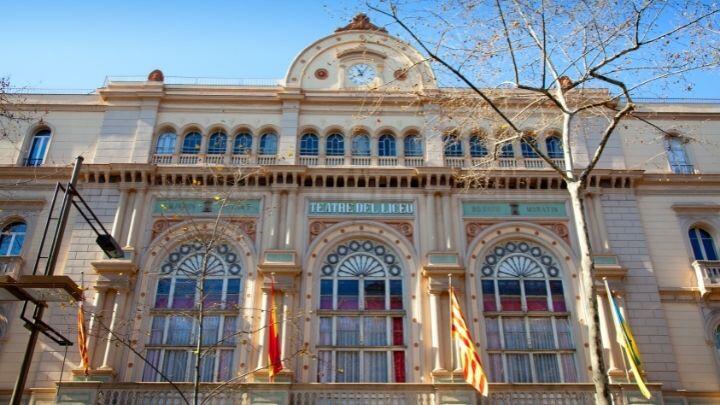 Liceu Opera House
Get your culture fix at this majestic 19th century building where you can take in everything from opera to ballet to pop gigs. Despite being gutted by fire not once but twice, in 1861 and again in 1994, the Gran Teatre del Liceu reopened in 1999 and since then has welcomed some of the most famous classical singers of recent years. Marvel at the magnificent foyer, the dazzling hall of mirrors, not to mention the state-of-the-art auditorium, on one of the daily guided tours.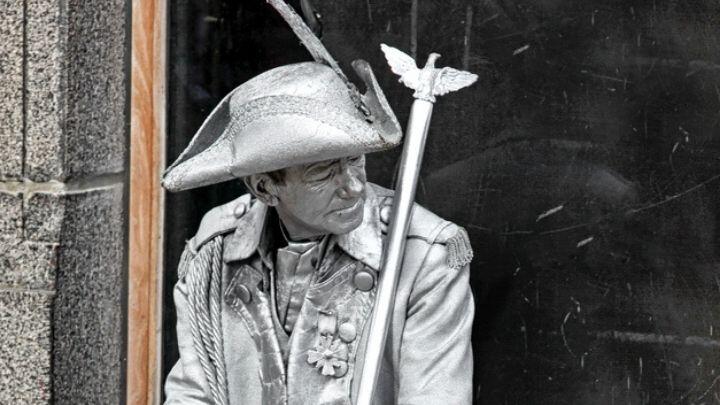 La Rambla street performers
Is that statue looking at you? It probably is. La Rambla is famous for its street performers, in particular living statues who, with the help of elaborate makeup, spend hours frozen in place then occasionally surprise an unsuspecting passer-by. Outside the Teatre Principal you'll also find portrait artists penning caricatures of famous characters – yourself included!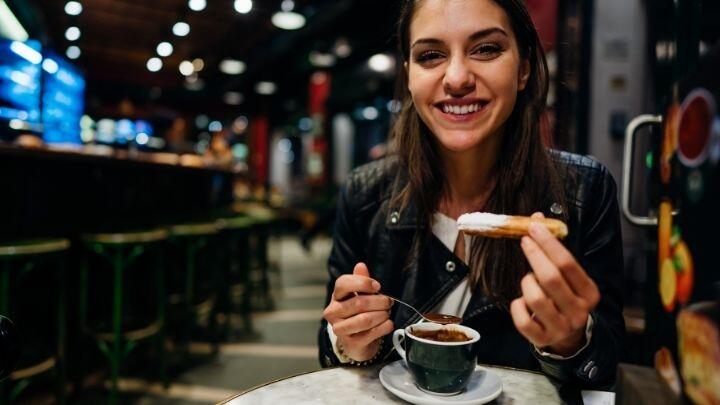 Where to eat on La Rambla?
When it's time to taste some tapas there's no shortage of places to eat on La Rambla. Plump for patatas bravas, salty Padron peppers, traditional Catalan croquettes or get adventurous with typical Barcelona dishes like char-grilled octopus, and bunuelos de bacalao (salt cod).
Take time to people watch from the pretty terraces with a cafe con leche (milky coffee). Coffee has clearly stood the test of time since the popular coffee house and chocolateria Cafe de l'Opera first opened its doors (and pretty stained glass windows) on La Rambla in 1929.

Perhaps you'll duck into Pasteleria Escriba - the most famous patisserie in town - for a sweet treat, or kick back with a cocktail at one of the many bars frequented by tourists and locals alike.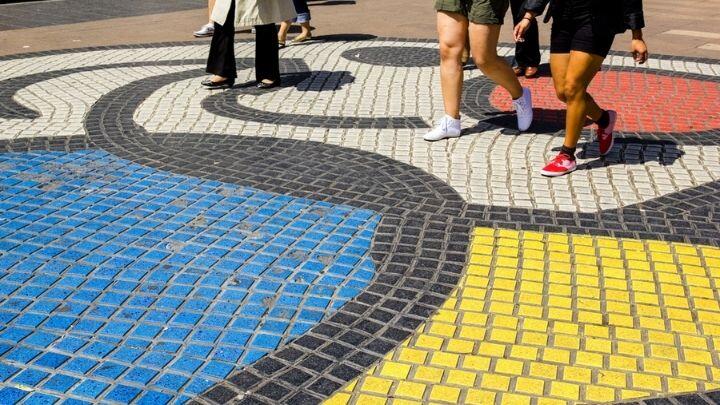 Miró mosaic
Don't miss the Miró! Not everyone realises there's an enormous mosaic by one of Barcelona's most famous artists, Joan Miró, right under their feet, just outside La Boquería. Constructed in 1976, the circular creation, around 8m in diameter, uses the bright primary colours and thick black lines for which Miro is best known. Look carefully for the single tile that carries his signature.
2017 Memorial
Tragedy struck the city in 2017 when 15 people lost their lives and dozens more were injured in a terrorist attack right in the heart of La Rambla. To honour them the City of Barcelona placed a 12 metre long memorial next to the Miro mosaic. Pay your respects as you read the message denouncing violence, in Arabic, English, Spanish and Catalan – 'Peace come upon you, oh city of peace'.
Musee de l'Erotica
Cool or controversial? You decide. This quirky museum based on the theme of eroticism throughout history claims to have been set up for educational purposes.
Home to more than 800 pieces, it's your chance to explore how different cultures have been titillated by raunchy and even religious objects dating back to Roman times. If you're still not sure, it's worth remembering that the museum also serves Cava to its visitors!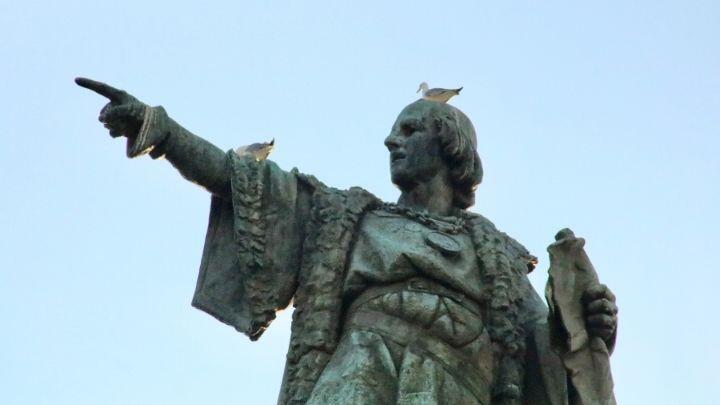 Christopher Columbus Monument
At the bottom of La Rambla, this 197ft tall Corinthian column, topped by a bronze statue, marks the spot where the famous explorer first set foot back into Catalonia after his trip to the New World. Why not take the lift up to his lofty pedestal for a breathtaking view of the city and the sparkling Mediterranean - and decide where you're going to explore next?

An Explorer or All-Inclusive pass means you can mix your pre-booked activities with flexible drop-ins. Choose Go City® and enjoy your adventures!