Cancun is the ultimate sun, sea and sand paradise on Mexico's stunning Riviera Maya. Famed for its dreamy beaches, crystal-blue waters and sun-drenched weather, as well as its nearby ancient Mayan ruins, it has a lot more to offer to travelers than your standard beach break. But the best time to visit Cancun depends on a mix of factors, from your love of sunny weather and your appetite for adventure to whether or not you want to avoid the crowds. Here, we help you navigate these factors by offering tips on what to see and when for each month of the year so you can pick the best month for your optimum visit.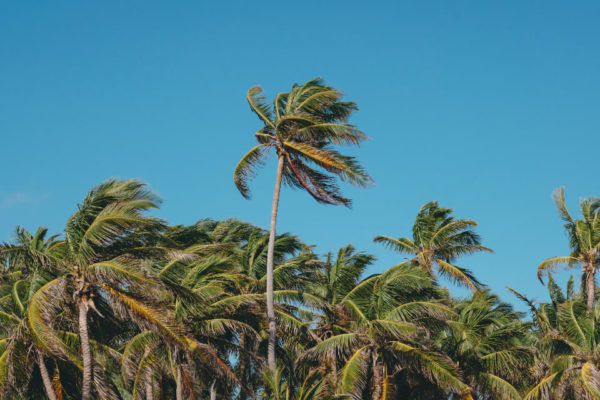 The Best Time to Travel to Cancun
The months of December to April are generally regarded as the best times to go to Cancun. This is the height of Mexico's dry season, so expect balmy average temperatures of 24⁰C along with blissfully cloud-free skies. Sun-worshippers naturally flock to Cancun's shores during this peak season, so don't be surprised if the beaches and tourist attractions are crowded. Mid-March to early April is particularly action-packed as students descend on the city for Spring Break partying.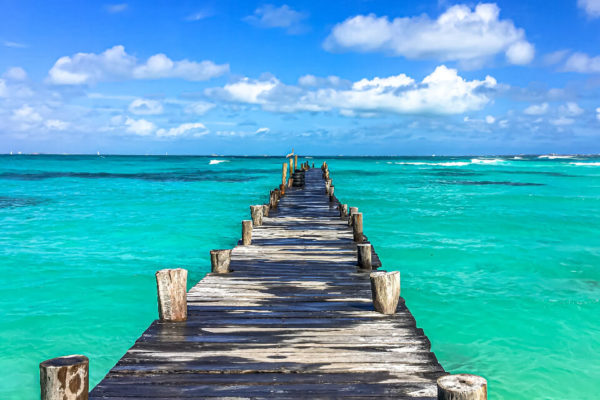 Cancun's rainy season
The wet season in Cancun runs from May to September, but you shouldn't let this put you off. Rain showers tend to occur in short and sharp bursts in the late afternoon, so you'll still have hours of sunshine to bask in on most days. Cancun also has a hurricane season due to the high sea temperatures that build up over the summer in this part of the world, and this tends to run from June to mid-September, with the most active of these months being September and October.
Avoiding the Cancun crowds
May, just as the rainy season starts, and November, when the hurricane season settles down, are two of Cancun's quietest months. It's a perfect time to book a secluded escape on one of Cancun's surrounding castaway beaches, or a solitary trek to the nearby jungle-cloaked ruins of the ancient Maya. If you're lucky enough, you won't see another tourist in sight.
Cancun; A Month-by-Month Guide
Here's our detailed breakdown of what to see in Cancun each month and when:
January: Tulum's ruins and beaches
February: The awe-inspiring Chichén Itzá
March: A visit to the pyramid of Coba
April: Island life on Isla Mujeres and Isla Holbox
May: The remote Mayan city of Palenque
June: Splashing around at fun-filled Xcaret
July: Exploring the region's top cenotes
August: A roadtrip to Uxmal and Hochob
September: Magical Merida
October: City food tours and Frida Kahlo
November: Paddleboarding and paragliding
December: Reefs, turtles and shipwrecks
There are plenty of local transportation options, from the buses and taxis, to the always available feet- you'll always have a way to get around!
January
Cancun's weather is irresistible in January, with low humidity levels and clear, sunny skies. This is a great time to take in some of the region's fascinating attractions while making a beeline for its beaches. Tulum blends both of these perfectly thanks to its seaside location and world-renowned archaeological site. The ancient Mayan ruins of Tulum are a visual masterpiece, balancing delicately over a palm-fringed clifftop that looks out over a surreal sweep of turquoise water. Once you've toured this truly unique attraction, head to the surrounding blissed-out beaches for some sun-drenched relaxation. Get me there: The Go Cancun pass includes an express Tulum tour that picks up travelers from their Cancun hotels.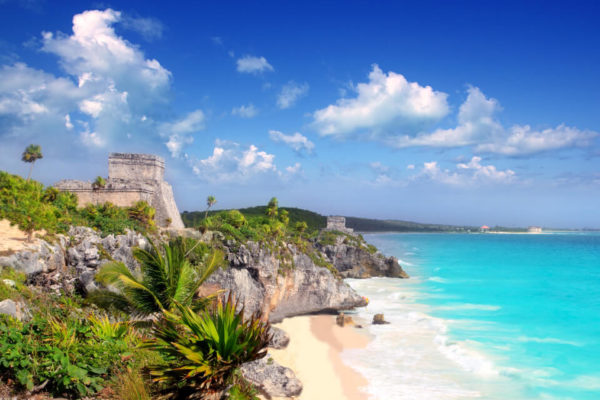 Average Temperature: 23⁰C Average Rainfall: 7 days Average Sunshine Hours: 8 hours  
February
February is another dry and sunny month in Cancun, with warm but bearable temperatures in the low to mid-20s. These mild conditions are ideal for a day of sightseeing, and the Chichén Itzá archaeological complex to the west of Cancun is perhaps the most famous attraction of all to see. Its majestic Mayan pyramid of El Castillo is a world-heritage wonder that will leave you in awe. But don't forget to explore the city's stunning array of temples while looking out for the mythical creatures that hide in intricate friezes across the temple walls. Can you spot the mischievous serpents? Getting in: The Go Cancun pass includes free access to the Chichén Itzá site as part of an organized tour.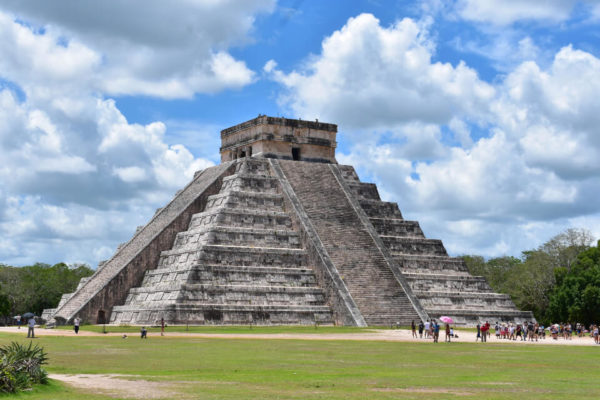 Average Temperature: 23⁰C Average Rainfall: 5 days Average Sunshine Hours: 9 hours  
March
Cloud-free skies, moderate temperatures and low levels of rainfall define March in Cancun. But be prepared for crowds as students from the US head to the city for their Spring Break vacations. Take a breather from the parties by heading out of the city to see the highest Mayan temple in Mexico. The ancient Mayan city of Coba is only two hours away from Cancun and offers panoramic views of the Mexican jungle from the top of its megalithic pyramid. As you reach the city, you'll be overwhelmed by its remote location in the midst of dense vegetation. Climb the pyramid's 120 steps and prepare yourself to experience a truly jaw-dropping view of emerald green forests set against a sun-kissed sky. Take me there: A Coba tour is included with the Go Cancun pass.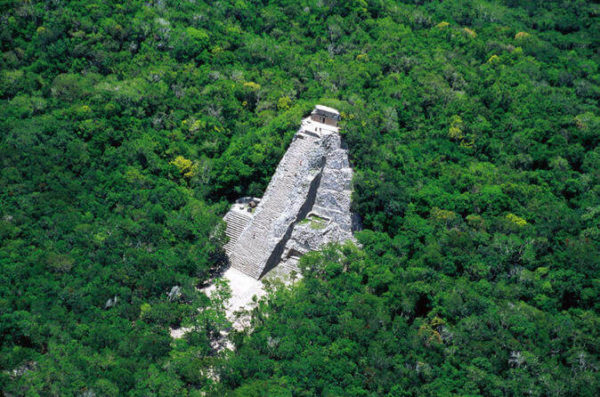 Average Temperature: 25⁰C Average Rainfall: 4 days Average Sunshine Hours: 10 hours  
April
April is the driest time of the year in Cancun with just 3 days of rain and ample amounts of sunshine. If there's any month of the year to head to the beach, then this one is it! But Cancun itself can be packed with travelers at this popular time, so head further afield to grab yourself a more secluded slide of paradise. The far-flung island of Isla Holbox, 60.9km northwest of Cancun, is your answer if you want sleepy powder-white beaches that stretch out for miles, while Isla Mujeres, a quick hop by ferry from Cancun is blessed with sugar soft sands and translucent waters. At the Royal Garrafon Natural Reef Park on the south of the island, you can witness the beauty of these as you snorkel around the kaleidoscopic reefs that rest like jewels against the shoreline. Getting in: The Go Cancun pass includes a trip to the Royal Garrafon Natural Reef Park.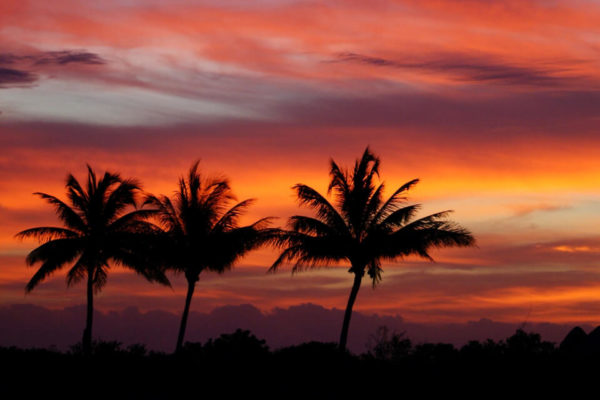 Average Temperature: 26⁰C Average Rainfall: 3 days Average Sunshine Hours: 10 hours  
May
Temperatures climb in May as the region heats up for the summer's tropical storms, so taking a break from the rays of the beach is a smart idea. Easter break tourists have also fizzled out by this point, making it a good time to embark on inland adventures in relative peace. Intrepid travelers should look to mysterious Mayan ruins hidden deep in Mexico's more unexplored corners. The beguiling Mayan city of Palenque is an ideal choice thanks to its fantastically well-preserved collection of pyramids and temples that sit in an atmospheric rainforest-filled valley. See if you can spot the howler monkeys as they swing through the trees or the rainbow-beaked toucans. This is a great place to get lost for a while in the tranquillity of the natural world.
Average Temperature: 27⁰C Average Rainfall: 5 days Average Sunshine Hours: 11 hours  
June
Cancun's summer officially begins in June, as temperatures and rainfall sharply increase. The hurricane season also begins, but isn't at its peak yet, so take advantage of the cheaper hotel rates on offer at this time. One way to have fun in the hot and wet conditions is to head to the Xcaret ecotourism park to the south of Cancun, where you can splash about at the park's impressive range of beaches, bays and natural pools. This gorgeous natural theme park has over 50 different attractions to keep you entertained all day, from spa-like infinity pools and underground rivers to old Mayan temples, hidden wine cellars and even a playful waterpark that's perfect for the kids. You won't even care if it's raining. Entrance: The Go Cancun pass includes free admission to the Xcaret theme park. Average Temperature: 28⁰C Average Rainfall: 8 days Average Sunshine Hours: 10 hours  
July
Rainfall escalates in August and humidity levels can be stifling, so you might as well get yourself wet at the region's cooling cenotes or natural sinkholes. These hauntingly beautiful pools of jade green water lie all over the Cancun region and are formed when soft limestone bedrock collapses into pits to reveal shimmering waters beneath. Dive straight into the crystalline waters and refresh yourself from the sweat of the intense heat. Cenote Maya is one of the most striking thanks to its cave-like setting and the twisting tree roots that dangle from its ceiling. Ik Kil is another picturesque example, draped in gorgeous green foliage. Get me there: The Go Cancun pass includes trips to several famous cenotes including Cenote Maya.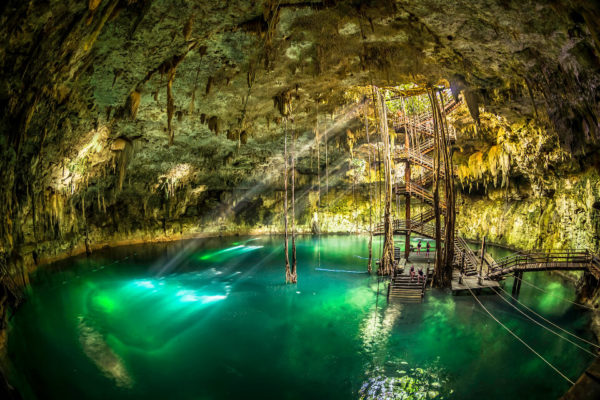 Average Temperature: 28⁰C Average Rainfall: 5 days Average Sunshine Hours: 11 hours  
August
August is one of the hottest months of the year in Cancun, with temperatures hitting an average of 28⁰C. Rainfall also ramps up, making beach days less enticing as the summer storms intensify. Now is a good time to escape from the coast for a while by hiring a car to explore some of the region's more overlooked attractions. An epic one is the Pre-Hispanic town of Uxmal with its selection of striking ancient Mayan ruins. As a UNESCO World Heritage Site, it packs a dramatic visual punch as soon as you lay eyes on it, from its gigantic Pyramid of the Magician to the other-worldly friezes that don its temple walls. Swing by the nearby remote ruins of Hochob while you pass by to enjoy a serene countryside temple gem that you'll likely have all to yourself. Hiring a car: A full day of Avis car hire is included with the Go Cancun pass. Average Temperature: 28⁰C Average Rainfall: 6 days Average Sunshine Hours: 11 hours  
September
September is the height of the hurricane season in Cancun, when rainfall spikes to its highest level. But there's no need to despair. Simply swap your Cancun beach days for a break in the Yucatan's capital of Merida, lying just over 3 hours to the west. Enjoy stylish sightseeing with a colonial twist at this history-drenched Hispanic town complete with a charming town square. Walk down vibrant streets painted in tropical colors and view stunning landmarks filled with vintage charm, like the Mérida Cathedral and the Casa de Montejo, a restored 16th-century mansion that harks back to the days when Spain's colonial masters ruled the city. With ample museums, cozy cafes and plenty of places to indulge in fine Mexican cuisine, it's an ideal refuge of escape from the winds and the rain.
Average Temperature: 28⁰C Average Rainfall: 10 days Average Sunshine Hours: 9 hours  
October
October ushers in the end of Cancun's hot and humid period, but be on your guard for rogue hurricanes and turbulent tropical storms. It makes sense to seek indoor entertainment during this period, so opt for activities like Mexican food tours around the city or visit one of the region's interesting museums. The Frida Kahlo Museum Riviera Maya in nearby Playa del Carmen is a fantastic option, where you can learn all about one of Mexico's most inspirational icons through engaging displays and multi-sensory exhibition rooms. You'll learn all about Kahlo's unique artistic legacy and how it has shaped the nation's consciousness by questioning colonial power and championing Mexico's indigenous identities. The icon lives on. Get me in: Cancun food tours and access to the Frida Kahlo Museum are included with the Go Cancun pass.   Average Temperature: 27⁰C Average Rainfall: 11 days Average Sunshine Hours: 8 hours  
November
Cancun temperatures cool in November and rainfall subsides as the hurricane season ends. This is a great month for a peaceful vacation, as the festive season crowds are yet to hit Cancun's shores, and clear skies become much more commonplace. Use the time wisely for some chilled-out sunbathing at one of the many sublime beaches around Cancun, like Xpu-Ha, with its crescent of golden sand and cerulean blue waters. Active types should opt for more rigorous activities at some of the resorts, such as paragliding or stand-up paddleboarding, both available with the Go Cancun pass. Or perhaps a snorkel with some multi-colored fish? Just find your ideal patch of beach and take your pick. Average Temperature: 25⁰C Average Rainfall: 8 days Average Sunshine Hours: 8 hours
December
The month of December is a hugely popular time for tourists to visit Cancun, as temperatures mellow and cloudless skies take over. Make sure to book your accommodation in advance or you may find it hard to find somewhere to stay. Once you're settled in, the clear Caribbean waters will be calling you, so explore them with a cruise that takes in the best of Cancun's snorkeling spots. The Go Cancun pass includes a great one that takes you to four different reefs, as well as a ghostly sunken shipwreck, where you'll have the chance to spot some truly spectacular marine life, from cheerful sea turtles to psychedelic corals.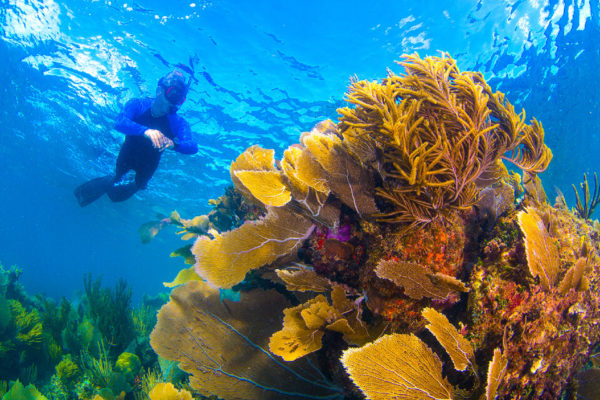 Average Temperature: 24⁰C Average Rainfall: 7 days Average Sunshine Hours: 8 hours
Save on Admission to Top Cancun Attractions
Explore the best things to do in Cancun with the Go Cancun pass. Select from top attractions with our All-Inclusive and Explorer passes, where you'll enjoy access to must-see Mayan sites, exciting sea cruises, fun jungle tours and much more.
Share Your Adventure with Us
Tag @GoCity in your vacation photos and we'll feature you on our page. Follow the Go City Instagram and Facebook channels for exclusive competitions, special offers and events to help you make the most from your travels.