Dubai is known for many things; great weather, awe-inspiring architecture, and a litany of entertainment opportunities you won't find anywhere else. But perhaps its best-known feature is its beaches. With winters that feel like summers in many other parts of the world, beaches are a mainstay for tourists and locals all year round. 
But on the beach, you have to fend for yourself. Who wants to get their own drinks and cook their own food when there's relaxing to be done? Thankfully, you can look to the curated experiences at beach clubs to scratch that itch. All you need to do is sit back, relax, and let someone else take care of the rest. Dubai has a host of beach clubs dotted about its coastline, but which is the best? Let's find out. These are our picks for the best beach clubs in Dubai!
Including:
SAN Beach Club
Eva Beach Club
DRIFT Beach
February 30
Twiggy by La Cantine
and more!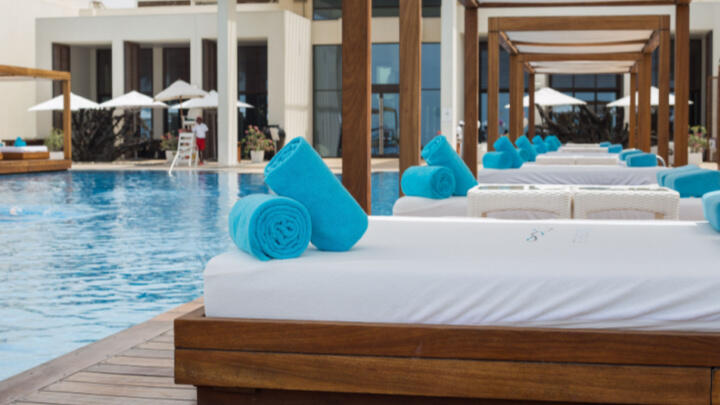 Relaxing is the name of the game on Dubai's beach scene, and not many offer pure relaxation like SAN Beach Club. With fantastic views of the Dubai skyline, you'll find plenty of shaded seating to kick back on in this sandy paradise. If the heat gets too much, or you fancy a dip, the delightful pool is on hand to wash away the day. 
You may well never leave with a menu full of light bites that are perfect for the summer weather, refreshing drinks, and friendly staff on hand whenever you need anything. Well, you'll have to leave at some point. Don't be a weirdo. 
Swap exterior vibes for interior intricacy at Eva Beach Club. From its floor-to-ceiling wood carvings to its decorative features like hanging lights and floral pieces, it exudes class and calm all at once. Even though you're inside, you'll be bathed in light thanks to the giant windows that line the building. 
But enough about look and feel, what about the experience? Well, thankfully, you'll find a menu full of delicious treats like pizza, pasta, salads, and an assortment of seafood bites. And when you're inevitably thirsty, you can order an ice-cold drink to wash it all down. Delightful.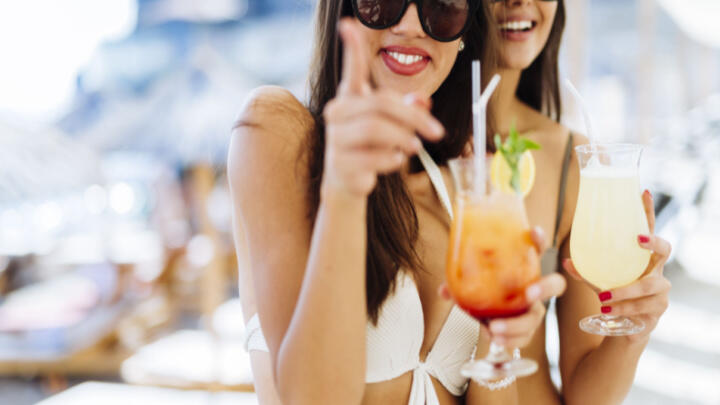 If you're looking for a little more excitement from your beach club, look no further than Surf Club. One of the busier spots on this list, it combines the relaxation of other clubs on this list with a thumping soundtrack that can go long into the night. Of course, if the music takes you there, you're free to bust some fresh moves. Thankfully, you won't be alone in your dancefloor endeavors as the whole place lights up around sunset. 
But after all that grooving and shape throwing, you might need to refuel. Well, you're in luck, because the surf brought in one of the best seafood menus in Dubai just for you! Divine lobster, delicious prawns, and many lighter fish dishes are on offer around the clock. And, if sea critters aren't your jam, they have plenty of other beach bites to tickle your taste buds.
Keeping things pumping is Nikki Beach, one of the younger clubs on this list. Resident DJs and live music are the real draw here, bringing party seekers from far and wide to sample its beach club delights. They even have a resident saxophonist. Nice.
With views of the beautiful Pearl Jumeira coastline, and an enviable menu of delicious beach bites and refreshing drinks, Nikki Beach nearly demands a visit to sample its ambiance. 
DRIFT Beach
How do views of Palm Island Bay and Dubai sound to someone seeking relaxation? Pretty freaking great, right? Well, DRIFT Beach has you covered and then some. 
But it doesn't end at the views; the entire DRIFT Beach experience is designed to drain your stress and rejuvenate your soul. With heaps of sun-soaked beds and cabanas that line the marvelous infinity pool, to its very own private beach, there's a reason it's one of the best beach clubs in Dubai! Couple all that lounging and swimming with a menu of light and delicious snacks, and you've got yourself a primo summer hangout spot. 
A beach club named after a day that doesn't exist, February 30 is a place out of time where the worries of everyday life fade away. Stacked with branded umbrellas and loungers, this Beirut mainstay has everything you'd want in a beach bar - a comprehensive beach bar, lighthearted lounging, and a menu featuring a fusion of Mediterranean and Japanese cuisine.
Uniquely delicious if you're a fan of either area's food offerings.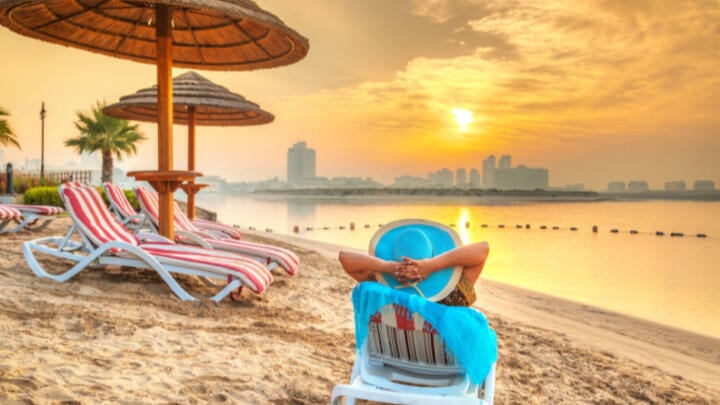 It makes sense that the perfect day-to-night beach club would be located a stone's throw from Dubai's Marina. And so it is, thanks to Ula Beach Club, which overlooks the reflective wonder of the Gulf. 
During the day, it's become a haven for laid-back business meetings and family lunches. When the sun goes down, expect a more adult, party-going crowd enjoying the kitchen delights and music on offer. 
Twiggy by La Cantine needs no introduction. Its all-white decor has been the inspiration for beach clubs around the world. A little slice of Central European style in the heart of Dubai, it's easily one of the best beach clubs in Dubai. But why?
Well, let's start with the 328ft infinity pool, which seemingly spills over into the bright blue sky Dubai is so known for. Then there's the art, which is inspired by the Swinging Sixties the club's namesake embodied. And finally, there's the menu, which offers delicious Mediterranean bites that will hit just right.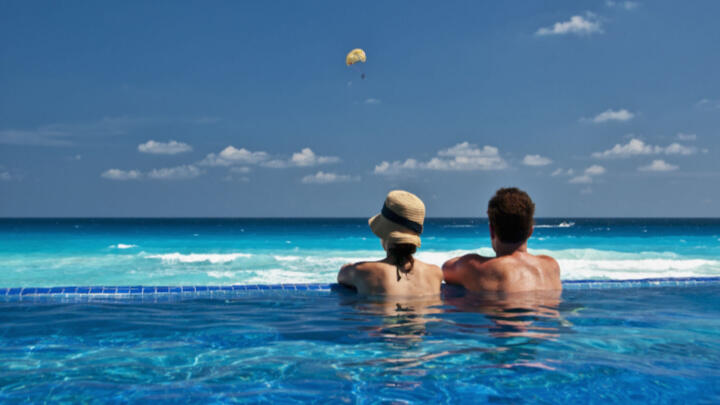 What do you get if you combine Far East sensibilities with Dubai style? You get Koko Bay, and it's awesome. 
Overlooking Palm West Beach and the stunning Gulf, Koko Bay doesn't take itself too seriously. There's no need to feel underdressed here, just enjoy the Asian bites on offer, groove the music, and refresh at the bar. 
And there you have it, the very best beach clubs in Dubai! Once you're done relaxing, you might be looking for some more active things to do in this desert oasis. Well, look no further than Go City. With our All-Inclusive Pass or Explorer Pass, you can see all of Dubai's best bits when and how you want.