A city within a city, Dubai Marina lies to the southwest of the Palm. Built around an entirely artificial three kilometer waterway and eight kilometer promenade, the marina is just a couple of decades old, yet already around 50,000 people reside in its waterside apartments.
But visitors will find plenty of things to do in Marina, Dubai too. The long stretch of sand at Jumeirah Beach Residence is a favorite haunt of beachgoers, Dubai Marina Mall has 140 stores for all day shopping and the marina's waterways are similarly inviting.
Here's our guide to the attractions of Dubai Marina!
Take your pick of the views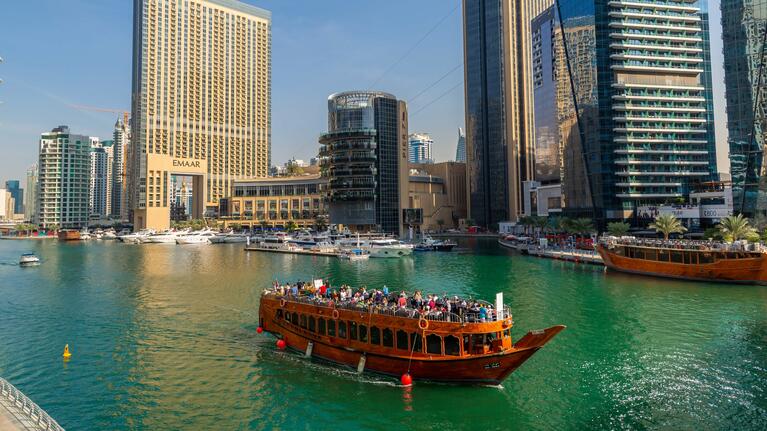 Lined with stunning glass and steel towers to one side and gleaming private yachts bobbing on the gentle swell of this inlet of the Persian Gulf on the other, there's so much to look at it can leave your head in a bit of a spin.
Arrive by metro, tram or taxi and one of the best things to do first is get a feel for the neighborhood's elegance by strolling a stretch of the marina promenade, lining its entire length. You don't need to be an ardent hiker to get a feel for the marina though, since even the shortest walk between cafés will give you a good sense of what the marina is all about.
Should you want to save your shoe leather completely, it's also very easy to explore Dubai Marina from the water. Hop aboard a traditionally-built dhow on a marina cruise and as you take in the cityscape you'll learn all about how the marina was turned from empty desert to what you see today.
To get the adrenaline flowing there are at least two further options to consider. Head to Amwaj Towers, the departure point for the XLine zipline, and you'll get a thrilling ride across the marina to the mall, and a video for prosperity. If even that's not a big enough adrenaline rush, Skydive Dubai has to be the place for you, operating parachute jumps over the Palm.
For views without the need of a parachute, Ain Dubai Ferris Wheel could be the answer, rising to twice the height of the London Eye.
Get on the water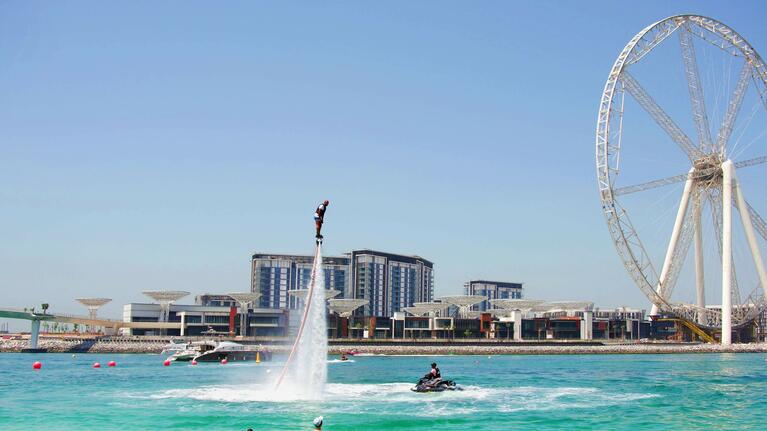 Marina cruises aren't the only way to get on or near the water. The clean sands of the marina's two main beaches – The Beach and JBR Beach – are an alternative to the main channel. Broad expanses of gold running for more than a kilometer, even on the busiest of days it's not usually hard to find a spot to throw down a towel with views of the Burj Al Arab.
Family-friendly, behind the beach there's a selection of places to grab a bite to eat, with many turning into much-loved bars and nightclubs as the sun sets behind Ain Dubai. One of the hottest spots of the moment is Zero Gravity, nestled within the landing ground for SkyDive Dubai. Beach club by day and sophisticated night club come evening, sip a cocktail before dancing till dawn to sets from the best DJs around.
Before that there's ample opportunity to experience life from the viewpoint of a jet ski or try your hand at flyboarding, wakeboarding and kayaking at Water Adventure.
Relax with some retail therapy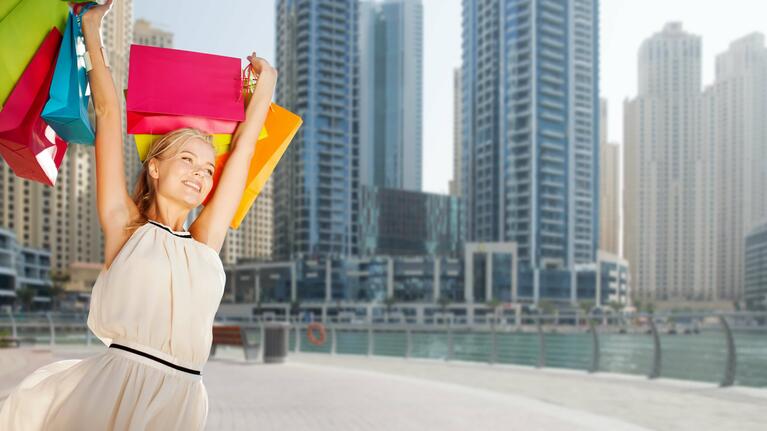 Looking to take advantage of Dubai's reputation as a magnet for shopping? Look no further than Dubai Marina Mall. Occupying four floors and with a total area of 36,000 square meters, choice is not going to be an issue whatever you're searching for.
Its dome is a great place to grab a coffee whilst deciding whether it's high fashion or simply some window shopping that's your main objective. In the cooler months, the exterior also hosts a number of kiosks serving up tasty takeaway treats. Reel Cinemas also has all the latest movie releases across its six screens.
Art lovers, both collectors and gallery goers, aren't short of things to do in Marina, Dubai either. Although there's no state backed collection in the neighborhood, there are more than enough private and independently run art spaces welcoming browsers.
What unites them is a focus on contemporary works from artists yet to make their name worldwide, but within that vast spectrum of delights you'll discover everything from pop art to sculpture inspired by Asia.
Enjoy a round of golf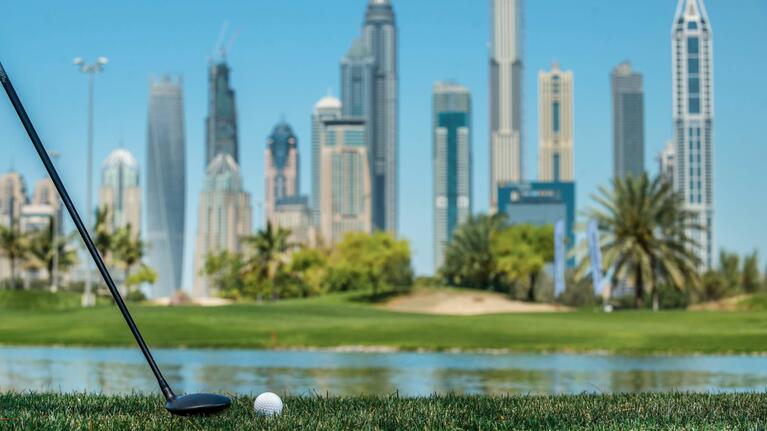 Sports fans are also well catered for by what to see and do at Dubai Marina. In addition to the raft – excuse the pun – of water sports, other reasons Dubai Marina is worth visiting are the golf courses that lie close at hand and club.
On the less serious side of swinging a golf club there's not just minigolf but 3D blacklight minigolf. The marina's indoor course has been decorated with hand-painted three dimensional art from some of the best artists around and promises to be the world's largest blacklight golf adventure. There are three different themed rooms in all, totaling 18 bending, obstacle-ridden holes.
For the real thing you'll have to step outside of the official boundaries of Dubai Marina, but only by 200 meters or so until you reach the Emirates Golf Club. The region's original golf club, it has three different courses blending desert scrub with perfectly manicured greens – and all with views of the skyscrapers which have made Dubai such a must-visit destination.
If that's not enough, there's also the Montgomerie Golf Club at Emirates Hills, designed by none other than eight time holder of the European Tour Order of Merit Colin Montgomerie with the help of the late Gordon Desmond Muirhead, full time course creator.
Discovering what there is to do in Dubai Marina
It forms only a small part of Dubai, yet the marina has plenty to keep visitors entertained. Just a short trip from the Burj Khalifa and other top sights, it now forms an unmissable part of most people's vacations.
Hit the neighborhood with Go City and you'll be able to discover all the things to do in Marina, Dubai for yourself. And you'll make big savings on admission to many major attractions at the same time!