Adventurous Things to do in Amsterdam
Calling all adventurers! Are you a brave soul that faces the extreme with a smile? Do death-defying feats fill you with a lust for life like no other? Well then, you've come to the right place. Amsterdam might not seem like the city to cater to your needs at first, but look beneath the surface, and you'll find plenty of adventurous things to do in Amsterdam. Don't believe us? Shame on you. Here, we'll prove it to you. Here are our picks for the most adventurous things to do in Amsterdam! You are very welcome.
Including:
THIS IS HOLLAND
A'DAM LOOKOUT
Bungee jumping
Cycle far and wide
Kayak on the canal
and more!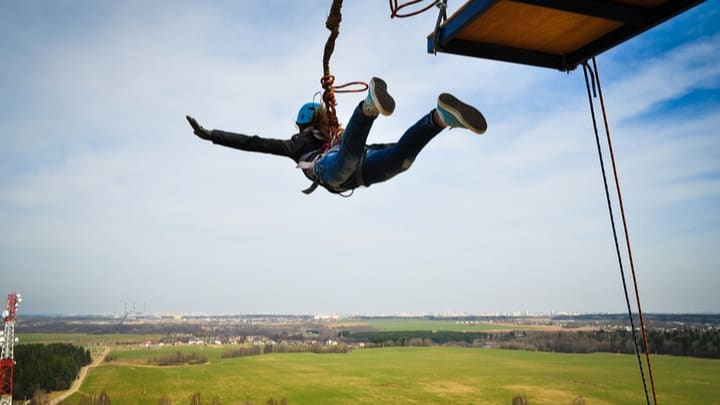 Jump, go ahead and jump
To adventurous types like yourself, heights probably aren't too much of an issue. After all, there are adventures to be had high above the pathetic sea level, right?
Well, how do you feel about jumping off a crane? At Faralda Crane Hotel, you can do just that. This crane/hotel, something that was strange even to write, you don't just have to stay the night in one of the most stylish yet strange hotels in the city. You can also scale the building and bungee jump from the crane itself. Madness.
And this isn't your usual head-first affair. Oh no, this is feet-first bungee, devoid of the usual blood rush to the head of your standard jump. So go on, prove how adventurous you really are, and jump from a crane! Definitely one of the craziest things to do in Amsterdam.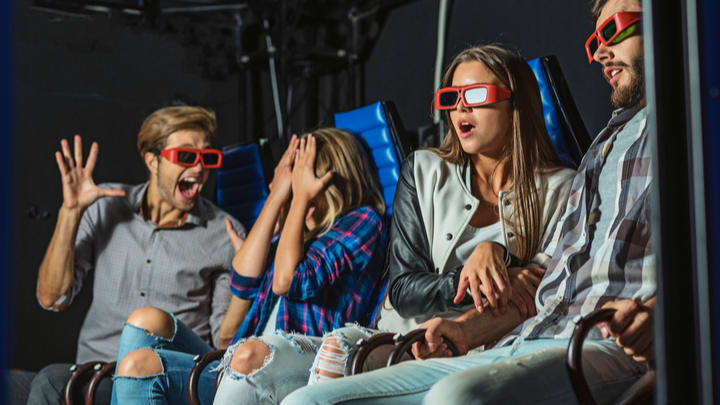 5D Thrills
When reality doesn't quite cut it for your adventurous side, why not try another dimension? At THIS IS HOLLAND, you'll fly through the skies of Amsterdam, feeling the wind in your hair. Sea spray will patter your face as you glide across the city's rivers. All of that, and you won't even leave your seat.
This thrill ride is composed of four shows, each giving you fantastic and unique views of the city. You'll learn about Amsterdam's past and present as you soar through the air. All the while, your seat mimics the show's motions, and you'll feel the wind, rain, and much more as advanced technology throws everything at you. Sublime.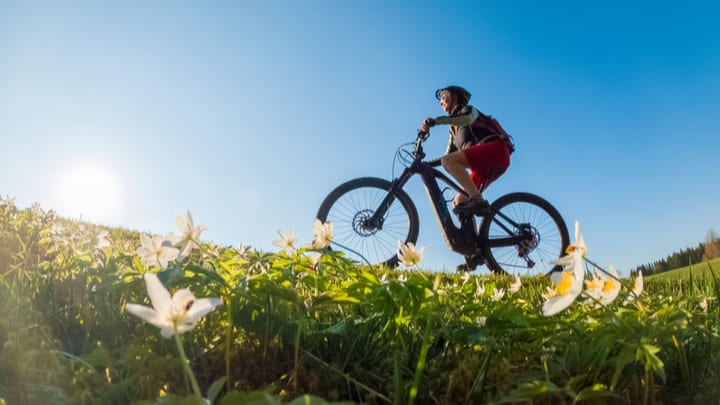 Wheely good
Sometimes, the best adventures are the ones we make ourselves. After all, what we think is adventurous might not quite align with the offerings of a city. So, why not set out on your own and cycle out of town?
The Netherlands is a gloriously pretty country, with rolling hills, flower-filled fields, and more windmills than you can shake a turbine at. And best of all, many of the country's freeways have dedicated cycle lanes safely slotted beside them. So, get on your bike, and go explore! The Flower Strip is around 25 miles south of the city, making it the perfect picturesque getaway for you adventurous creatures.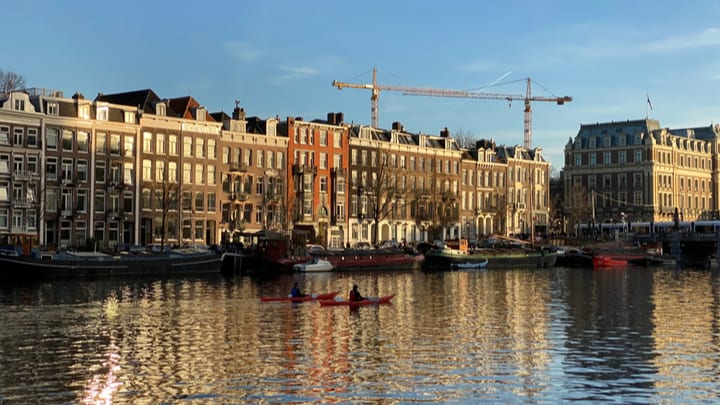 Tread water
Visitors to Amsterdam will soon discover the city's affinity to water. It's literally everywhere, with canals and river estuaries snaking their way through the city. You'll likely spend much of your vacation crossing these by bridge, or walking beside them as you get about. You can even take boat tours of the city. But where's the adventure in that?
You know what you have to do. You have to conquer these waters yourself! So get out there, hire a kayak, and take to the waters like a modern-day, solo pirate. Just with less of the plundering and more of the water mastery. Easily one of the most adventurous things to do in Amsterdam, and one of the best ways to see the city in all its beautiful glory.
Lick a shot
Picture the scene - you're deep in enemy territory. Your opponents have you pinned down, and it's looking dicey. But then, as the fear begins to wash over you like a claustrophobic blanket of terror, you breathe out, shake it off, and bravely stand to face your foe. As you return fire, you're peppered with invisible bullets. Your battered suit lets out an exhausted set of beeps. You've been shot one too many times, and it's getting tired of keeping score. But you are unharmed. And better yet, you're ready to enact revenge on the scallywags. Now that's an adventure.
That scene is just a microcosm of fun at Lasertag Amsterdam. Inside, between 2 and 24 people will, run, gun, and have ultimate fun during 30-minute battles. Do you have what it takes to top the scoreboard? You'll just have to find out for yourself, you adventurous wonder.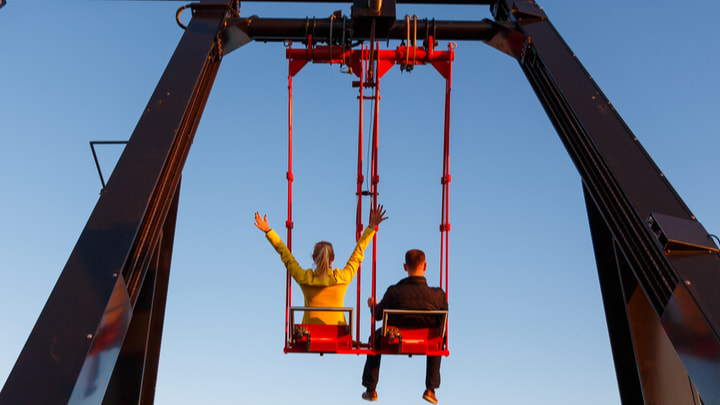 Look out below!
Heights mean nothing to adventurers like you. So why not test your mettle at A'DAM LOOKOUT? This innocuous-looking observation deck might not seem too daring at first. Sure, the view of the city is one-of-a-kind. But it's safe. Perhaps too safe.
Well, look again, because A'DAM LOOKOUT has a terrifying secret. It's called 'Over the Edge', and its only for the most stern of heart. This giant swing careens over the edge of the observation deck 100 meters in the air. That makes it easily one of the most adventurous things to do in Amsterdam! But, if you wuss out, we won't judge you for it. There are still thrills to be had beyond the views. Safer thrills, but thrills nonetheless. Hop into the VR booth, and go on a virtual rollercoaster ride through the city's streets. Awesome.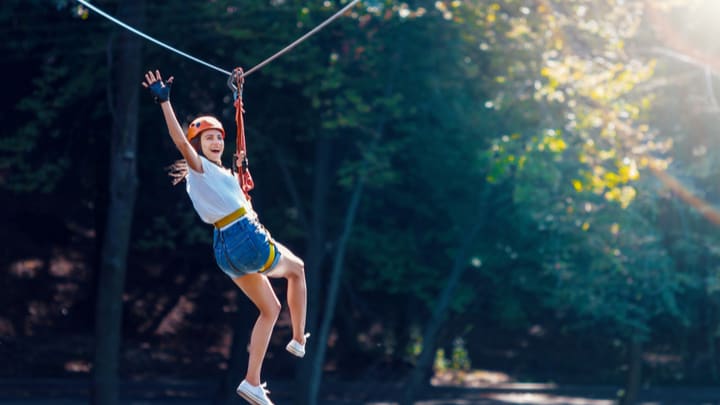 Monkey around
Do you ever look up at trees and wish you could swing through them as our long-lost ancestors did? Yes, evolution is real, and yes, so do we! And now you can, thanks to Fun Forest Amsterdam!
Forego the country's flatland and trade it in for a little tree climbing. Test your mettle on arduous rope courses, fly through the air on the ziplines, and clamber about on all the other tree-climbing paraphernalia. It's a one-way ticket to fun town. Population? You.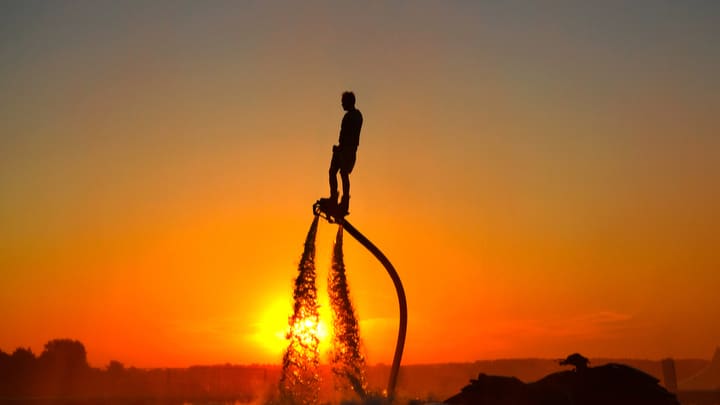 Get wild at the beach
Amsterdam might not be known for its water sports, but what do people know? Some people believe the Earth is flat, so it's not like they can be trusted. Prove them wrong, and partake in some exciting and, dare we say it, adventurous watersports in the city!
At Amsterdam Watersports, you can take part in a myriad of exciting water-based activities, from wakeboarding, surfing, jet surfing, and even flyboarding. No, we didn't make that last one up. If you've ever seen videos of those people using water-powered jet boots to fly into the sky like Tony Stark, it's that. And it's fantastic.
And that's our list of the most adventurous things to do in Amsterdam!