Montserrat Barcelona
Heading to Barcelona for your vacation and wondering what adventures lie outside the city? How does scaling a holy mountain and exploring its history sound? Montserrat's the name, and stunning views, beautiful architecture, and opportunities to explore is its game. So, grab your hiking boots, pack plenty of water, and get ready to climb! Here we'll tell you everything you need to know about Montserrat - how to get there, what you'll find, and why it's one of Barcelona's most beautiful destinations! Enjoy!
Including:
What is Montserrat
Why you should visit Montserrat
How to get to Montserrat from Barcelona
What to do in Montserrat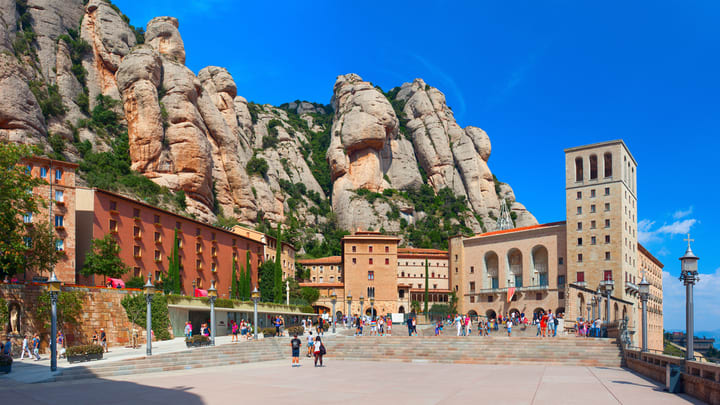 What is Monsterrat?
Montserrat is a mountain range near Barcelona. They both reside in the Catalonia region of Spain, which has a unique language, culture, and customs. Due to the mountain's jagged appearance, the range was coined Montserrat, or 'saw mountain'.
The mountain holds religious significance to the particularly Catholic Catalonia, thanks to the Santa Maria de Montserrat - a Benedictine monastery that sits atop it.
Why visit Montserrat?
Whether you're religious or not, the views you'll see at the peak of Montserrat are unsurpassed. You can see for miles, including the Barcelona skyline and the surrounding lands. It's truly breathtaking, and almost demands to be pictured.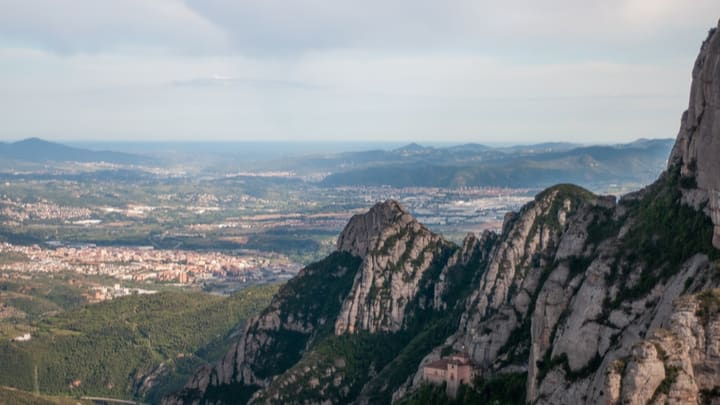 Also, if you're adept at hiking and want to get your sweat on, feel free to challenge yourself to climb it on foot. It's not the easiest way to the top, but it's surely the most rewarding! However, at over 4000ft high, you need to be prepared, both physically and materially, to scale it. A thick set of boots, plenty of water, and a map will do you a world of good!
Getting to Montserrat from Barcelona
Assuming you're staying in the center of Barcelona, there are a few ways to get to Montserrat.
Firstly, you can hire a car and make the hour-long journey at your own pace. Easy enough.
Or, if you fancy a drive but don't fancy getting behind the wheel, why not try an Amigo Tours bus tour from the city? The air-conditioned bus ensures you'll have a pleasant journey, and there will be plenty of photo ops from your seat as you make the climb.
Alternatively, you can make the trip by train. Simply take the R5 line from Placa Espanya to Monistrol de Montserrat for an hour, change onto the Cremallera train (it's green, you can't miss it), and that'll take you to the top.
Or, for the daring hikers among you, take the train to Monistrol de Montserrat and walk the winding trails up to the mountaintop. It's about a half-hour walk, but as it's a climb, it'll likely feel like you've walked a lot longer! Just be sure you've got gas in the tank and the body to handle it; the last thing you want is to get halfway up and realize you can't finish the journey!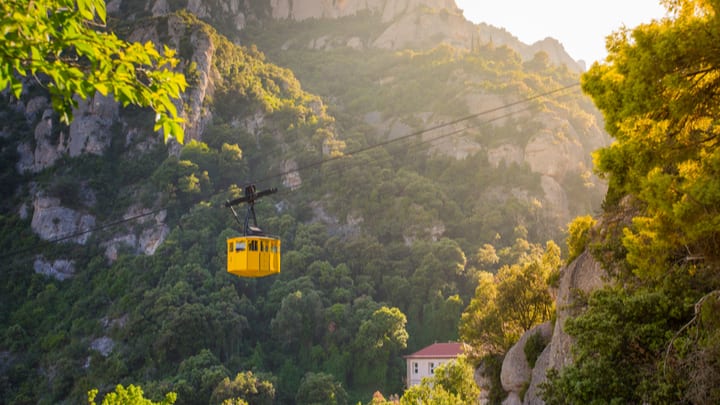 And finally, perhaps the most memorable trip would be by cable car. Like above, you get the train from Placa Espanya, but this time get off one stop early at Aeri de Montserrat. From there, you can hop in the cable car and enjoy some of the greatest views on Earth as you ascend.
Things to do in Montserrat
Once you've made the trip - however you've chosen to do so - you'll find plenty of things to do on Montserrat!
Let's start with the views. My god, the views. Rolling mountains as far as the eye can see, the Catalan metropolis of Barcelona in the distance, and where the stunning blue sky meets the mountaintops. If you're the photo type, you'll be all over this.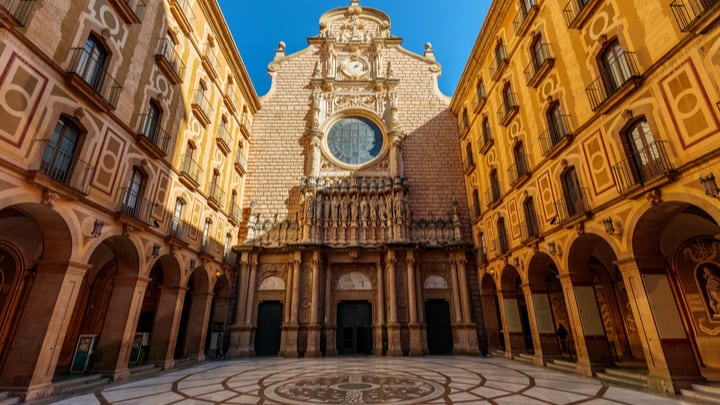 Then, there's Santa Maria de Montserrat, the Benedictine monastery that draws many a pilgrimage from the surrounding area. At well over a thousand years old, it's suitably ancient in its design, yet remarkable it's still standing! You can head inside and look around, though, given its popularity, you may be waiting some time unless you get there early.
You can also visit the Montserrat Museum, which opened at the beginning of the 20th-century. Inside, you'll learn all about the mountain's history, discover artifacts from ancient cultures, and enjoy artwork from the likes of Monet and Degas.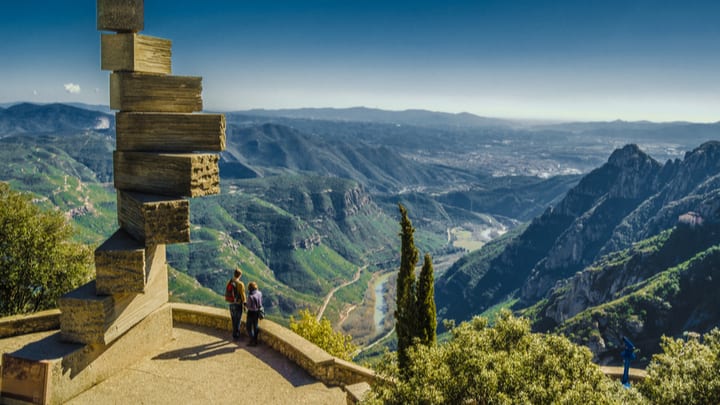 By the museum, you'll find Mirador Restaurant, where you can get a tasty 3-course meal for a reasonable price. And, if you're looking for some stunning sculpture to snap, right next door to the restaurant, you'll find the Stairway to Heaven. This set of 9 concrete blocks ascends towards the heavens like a staircase, hence the name, and represents the climb pilgrims make to reach this holy place, as well as their eventual climb to the heavens. And no, you can't climb on it. At least not anymore, as a fence has been erected to deter would-be spelunkers from falling to their death.
You could visit the Santa Cova Chapel, a beautiful holy place built into the mountain that's about an hour's round trip from the monastery. It's here where the revered Virgin of Montserrat, a thousand-year-old Byzantine statue of the Mary and Jesus, was housed. Miracles of healing have been attributed to her, though you'll not be able to test those on yourself!
From the chapel, you can make your way around the mountain to another of Montserrat's picture-perfect landmarks - Sant Miquel's Cross. This towering monument to Christianity also has great views of the lands below, so ideal for your socials!
If you dare to climb higher, leave the touristy stuff behind and attempt to ascend Sant Jeroni. It's Montserrat's highest peak, so it's no small feat. if that sounds like your idea of fun, head to the Funicular Se Dant Joan, climb the stair to the observation deck, and get hiking!
And that's everything you need to know about Montserrat! Looking for more fun in Barcelona? We've got tons of articles all about the city's best bits, from Beaches to Museums and everything in between. So get reading and make the most of your precious vacation time!