New Years Eve in Barcelona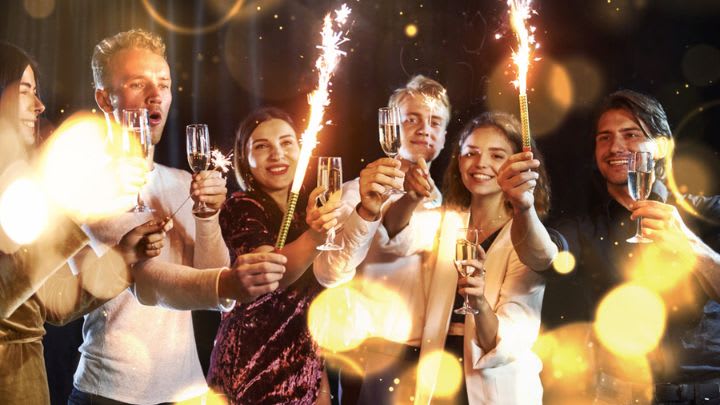 From Christmas markets to traditional 'Three Kings' Day' celebrations on January 5th, the Catalan capital fizzes with festive spirit. But is it jumping on December 31st? You betcha. Wondering what to do on New Year's Eve in Barcelona? Whether you're looking for New Year fireworks or Flamenco dancing, the coolest clubs or typical Catalan cuisine, we've got the low down on the best high spots to ring in the New Year.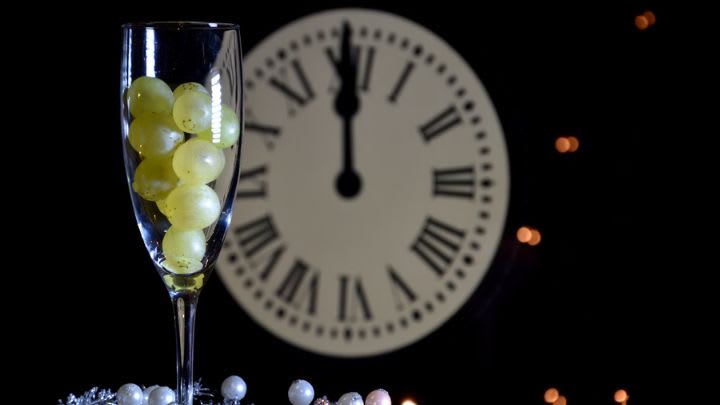 Spanish New Year traditions
You won't see quite so much sunshine at New Year in Barcelona (though typical seasonal highs of 16 degrees are by no means chilly) but winter is a good time to visit Spain as you won't see so many tourists either. La Nochevieja ('the old night' in Spanish) is a time when families and friends gather to enjoy a late meal - the last one of the year - before hitting some parties. So, before you decide where to celebrate, be sure to make like the locals by being aware of a few Spanish traditions...
Las doce uvas de la suerte (The Twelve Grapes of Good Luck).
In Barcelona - and in families and market squares across Spain - it's traditional to eat 12 grapes, one on each of the chimes as the clock strikes midnight, to ensure good luck for the next twelve months.

Cupid's underwear
If your New Year's resolution is to fall in love, the Spanish think that wearing new red underwear is the answer! In some parts of Spain this only works if the underwear is a gift. In other places the tradition is to give your festive undergarments away before the end of the night for the love charm to work!

Gold in your glass
Placing a golden coin or an item of gold jewellery in your glass of Cava is believed to bring not only good fortune but an actual fortune in the coming year!

Lucky lunch
Eating a bowl of black eyed peas or lentils for lunch on New Year's Day is not only a good way to keep warm, but is also believed to bring wealth, with each one representing a coin.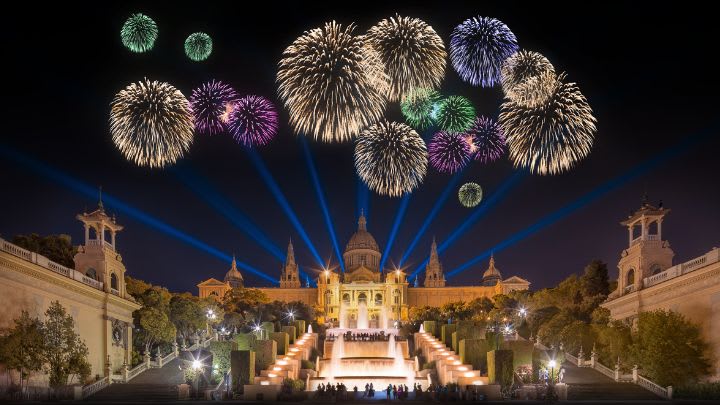 Barcelona New Year fireworks
Placa Espanya
Now you know all the local secrets it's time to celebrate and, as in any city, the midnight sky will be lit with dazzling fireworks. For Barcelona's best fireworks display - and a family friendly music, light and laser show - head to Plaça Espanya. With typically over 80,000 spectators in attendance be sure to get there early for the Magic Fountain display around 9.30pm. Twelve chimes countdown to the midnight fireworks and offer the perfect timing to consume your twelve good-luck grapes and make a wish.
Plaça Catalunya
In the city's buzzing main square you'll find live music, entertainers and more fireworks to see in the New Year. Rather more alarmingly a space is cleared at midnight for a traditional bottle toss, when people throw their wine bottles into the square. It's quite a sight but quite a dangerous one so stand well back for this smashing experience before the local crowds disperse to dance the night away.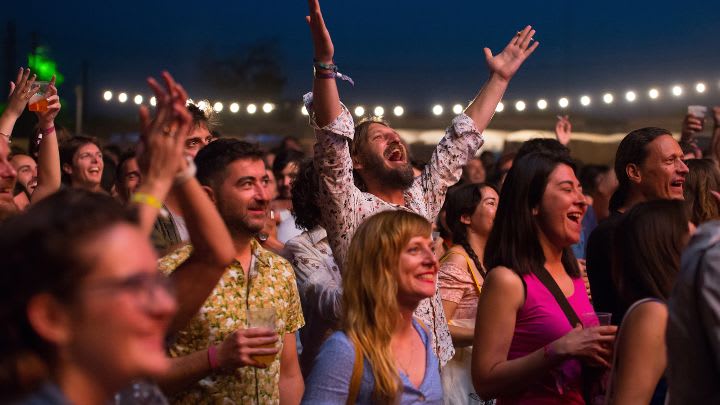 Best clubs and bars in Barcelona for New Year
Talking of dancing, for those looking for a lively start to the New Year, Barcelona knows how to party hard, though be sure to book tickets in advance. Whatever you're into there'll be live music and international DJs covering sets for every scene until the sun comes up on New Year's Day.
Day or night La Rambla is always a happening place to be, with street performers enthralling the crowds and restaurants crowded with tourists out for tapas. Nearby Plaza Real is home to famous clubs like Sidecar and Jamboree which features two separate rooms playing dance, hip hop, funk and much more.
For more authentic local venues head to the Barrio Gótico for stylish cocktail corners or El Born for trendy and less touristy cafes and bars. Clubhaus is a bar-restaurant with an adult playcentre (think karaoke and table tennis) and nightclub across three rooms and two storeys. Boho lovers and skater kids hang out in El Raval where you'll also find legendary clubs like Moog (famous for tech/minimal DJs) and Sala Apolo.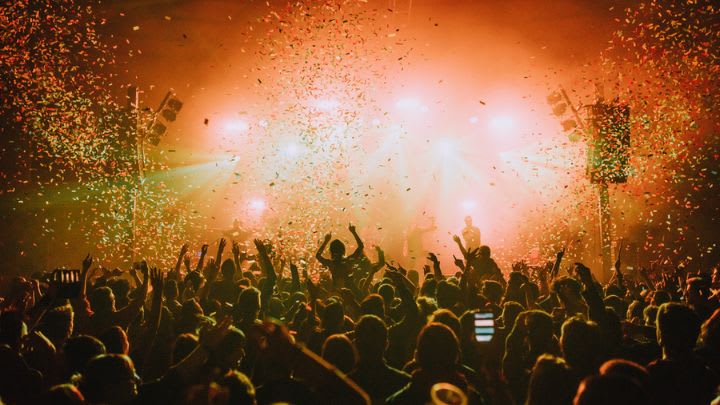 Over in Eixample in the newer end of town, Belushi's bar off Plaça Catalunya attracts an international crowd. Or sip a cocktail at stylish Slow Barcelona, then sashay upstairs to their ultra cool club. Other big name clubs for the Catalan set include Sutton Club, Otto Zutz and - for those into electro-tech, Sala Becool.
Barna's biggest and best known nightclub is Sala Razzmatazz. From the techno temple of The Loft, frequented by famous international DJs - to the cheesiest rock, pop and disco - five frenetic rooms and over 10 DJs, will see you through until dawn. New Year packages typically include party accessories, Tshirts, lucky New Year grapes and a glass of bubbles.
If you're really feeling upmarket, dress to impress and jump in a cab to the Barcelona beach clubs around Port Olimpic. There's nothing cooler than the Ice Bar where the icy decor and glasses look great on the 'gram. This is also where you'll find all-night hot spots that keep rocking until 6am. Famous club chain Pacha boasts big leather couches and VIP rooms accompanied by a beachside breeze. Opium has been billed as the city's best club (and it also has a chocolate fountain!)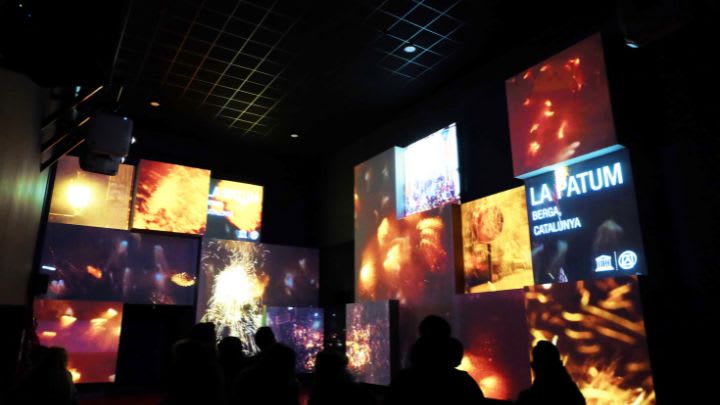 One of the biggest and most affordable New Year parties in Barcelona takes place at this created Spanish village, featuring recreations of traditional buildings, craft shops, workshops and even a museum. It's renowned for summer festivals like Primavera but it's no less throbbing at New Year, with three party pavilions. The central space sees around 5,000 people dancing to retro hits from the 70s, 80s and 90s, with smaller stages for 1,500+ electro music fans. Get down there and get down!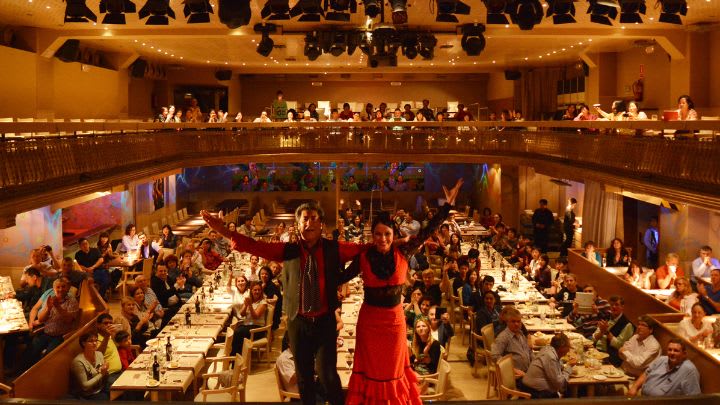 Spanish Flamenco show
If nightclubs are not a bit of you, what better way to celebrate the local culture than with a flavor of Flamenco? Grab your castanets and stamp your feet as the gypsy guitars set the mood and the skirts whirl faster and faster. At Palacio del Flamenco you can welcome the New Year in style with cocktails, a gourmet Catalan dinner and a spectacular performance featuring over 14 dancers, singers and musicians. Be sure to book in advance though or you'll be stamping your feet for all the wrong reasons.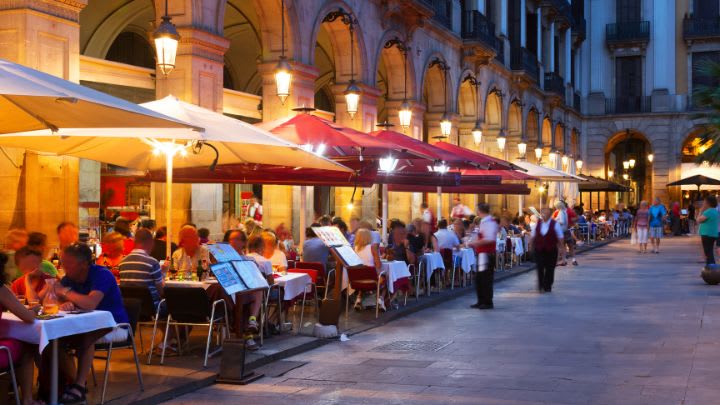 Catch some Catalan cuisine
Or, to escape the crowded city streets, simply relax over dinner. Traditional Catalan food for New Year includes stuffed chicken, roasted lamb and escudella amb carn d'olla, a strong meat broth with sausage, meatballs and snail-shaped pasta shells. Of course no Spanish celebration would be complete without Cava or turrón (a type of nougat).
If you're dining out you definitely need to make a booking and be aware that most restaurants offer only set menus on NYE. Els Quatre Gats and Enigmatium are both well known for Catalan cuisine and special New Year performances. Bodega Joan, one of the oldest family restaurants in Barcelona, offers a budget set menu with traditional dishes and family entertainment.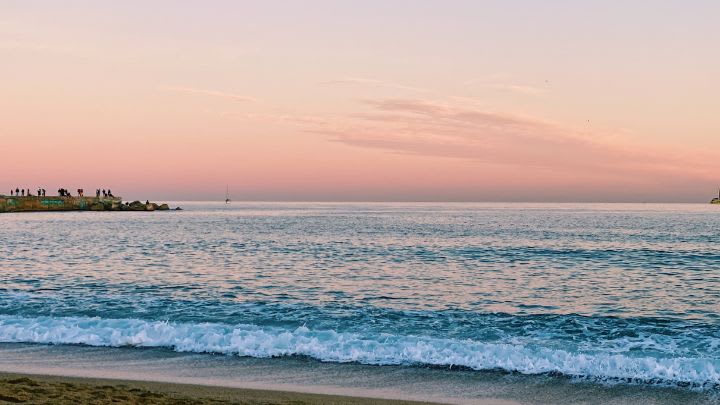 What to do on New Year's Day
The Metro runs all night on New Year's Eve to help people get around the city's celebrations. But remember that January 1st is a Spanish public holiday, so many places will be closed.
After a night of celebrating you might want to head to Barceloneta beach the next day to join in the traditional First Bath of the Year! El Primer Bany de l'Any takes place at 12 noon so, if you're up for the challenge, take a dip with the locals who believe this to be the best way to start the New Year. You can certainly chill in the knowledge that it's the first day of an exciting new year of adventures, with Go City.