Tips and advice
Trip inspiration
Area guide
Anonymous
Barcelona or Madrid?
Barcelona or Madrid?
By Mia Russell
Spain, a land of rich culture, delectable cuisine and captivating landscapes, offers two of its most enchanting cities for you to explore: Madrid and Barcelona. Each possesses a distinct personality and a treasure trove of experiences waiting to be discovered.
But when it comes to choosing your Spanish escape, the main question is: Madrid or Barcelona? Whether you're drawn to Madrid's artistic allure or Barcelona's sun-soaked beaches, both iconic destinations offer unique flavors, sights and experiences.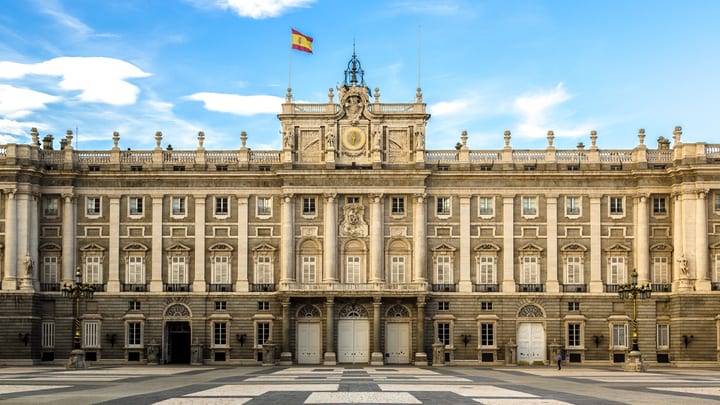 What are the similarities between Barcelona and Madrid?
When exploring the dynamic Spanish cities of Barcelona and Madrid, you'll discover that despite their individual identities, they share several intriguing similarities. Here's a glimpse into these common threads that weave through the rich tapestry of both cities.
Artistic enclaves
One striking similarity is their devotion to the arts. Both Madrid and Barcelona boast world-class cultural institutions that draw art enthusiasts from around the globe. Madrid is celebrated for its prestigious art museums, such as the Prado, the Reina Sofia, and the Thyssen-Bornemisza, housing a treasure trove of masterpieces.
Meanwhile, Barcelona takes pride in its architectural wonders, crafted by the visionary Antoni Gaudí. The awe-inspiring Sagrada Família, Park Güell and Casa Batlló are just a few of the architectural gems that make Barcelona an artistic haven.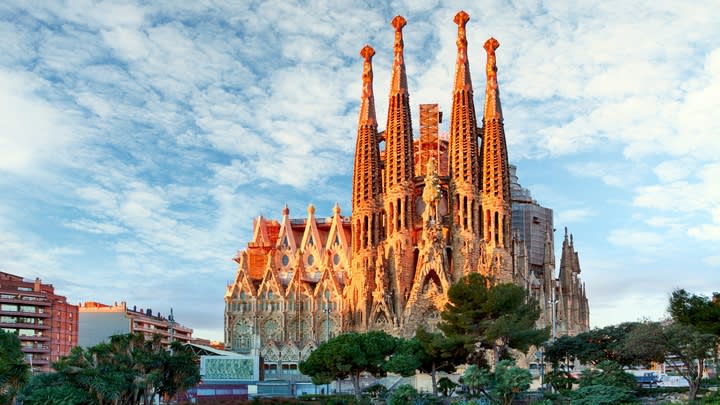 Medieval charms
Both cities also share the enchantment of their well-preserved Medieval centers. In Madrid, you can meander through the historic streets of the Austrias neighborhood lined with centuries-old buildings and beautiful plazas.
Barcelona's Gothic Quarter, on the other hand, boasts a labyrinth of narrow alleys and squares, culminating at the breathtaking Gothic Cathedral. Strolling through these cobblestone streets is like stepping into a living history book, regardless of whether you are in Madrid or Barcelona.
Tapas traditions
Spain's culinary delights are yet another common thread that binds these cities. While the tapas culture is cherished throughout Spain, Madrid, and Barcelona each offer their unique twists on these delectable small plates. Use your pass to enjoy a Tapas Tasting and Gothic Quarter Tour with delicious pintxos at the end of your tour.
Embark on a tapas adventure along the lively Calle de las Huertas in Madrid, where traditional tapas bars line the streets.
Barcelona's tapas scene is a bit more dispersed, with the bustling El Born district as a go-to spot. Whether you're savoring Madrid's patatas bravas or Barcelona's fresh seafood tapas, the flavors of Spain are bound to leave your taste buds delighted.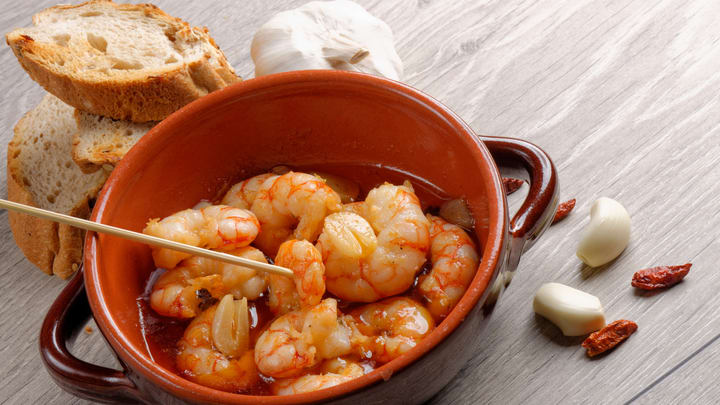 What are the differences between Barcelona and Madrid?
As you explore the vibrant Spanish cities of Barcelona and Madrid, you'll quickly notice that while they share some commonalities, they also boast distinct characteristics that set them apart. Here are some of the notable differences between these two dynamic destinations:
Architectural marvels
Barcelona is renowned for its avant-garde architecture, largely shaped by the visionary Antoni Gaudí. His masterpieces, such as the Sagrada Família and Park Güell, define the cityscape with their whimsical and organic designs.
Madrid showcases a more classical and regal architectural style, epitomized by landmarks like the Royal Palace and the elegant boulevards of the Gran Vía. The architectural contrast between the two cities reflects their distinct historical influences.
Art and culture
While both cities celebrate the arts, they have different emphases. Madrid takes pride in its world-class art museums, including the Prado, which houses an extensive collection of European art.
On the other hand, Barcelona is synonymous with artistic innovation and is home to institutions like the Joan Miró Foundation and the Barcelona Museum of Contemporary Art (MACBA). The creative vibe in Barcelona leans toward modern and avant-garde expressions, whereas Madrid focuses on classical and historical works.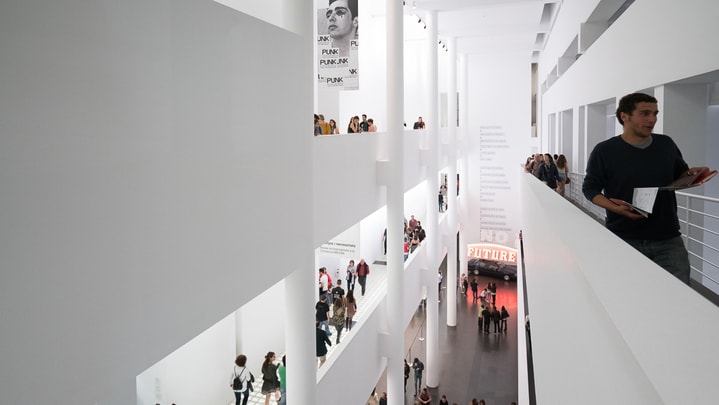 Beaches and coastal vibes
Barcelona's Mediterranean location grants it access to picturesque beaches along the city's coastline. The golden sands of Barceloneta Beach and the seaside promenades offer a unique coastal charm. Madrid, situated inland, doesn't have a beach, but it compensates with its lively urban atmosphere and vibrant street life.
Nightlife and dining
Barcelona's nightlife is renowned for its beachfront clubs and vibrant outdoor bars, especially in neighborhoods like Barri Gòtic and El Raval. Madrid, however, boasts a diverse and eclectic nightlife scene that spans everything from traditional tapas bars to cutting-edge clubs. The city's neighborhoods, like Malasaña and Chueca, are known for their lively nightlife.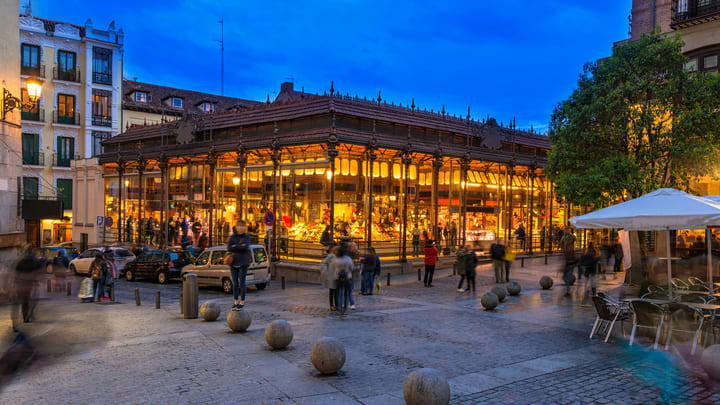 Language and culture
Catalan and Spanish are the official languages in Barcelona, reflecting the region's unique identity. You'll often hear both languages spoken; many signs are in Catalan. Spanish is the primary language in Madrid, and you'll find that the city embodies the heart of Spanish culture.
Regional cuisine
Spanish cuisine is diverse, and each region has its specialties. While both cities offer an array of culinary delights, Barcelona's proximity to the sea influences its seafood-based dishes, such as paella and seafood tapas.
As the capital, Madrid offers a broader representation of regional Spanish cuisine, including hearty dishes like cocido madrileño (a stew) and the famous bocadillo de calamares (calamari sandwich).
These differences between Barcelona and Madrid add to the allure of exploring both cities, allowing you to experience the richness of Spain's diverse cultural landscape. Whether you prefer Barcelona's architectural wonders or Madrid's classical elegance, each city offers a unique and unforgettable Spanish adventure.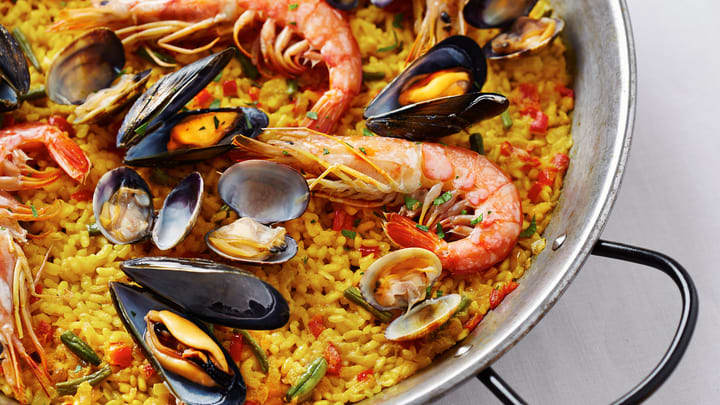 Top things to do in Barcelona
Barcelona, a vibrant jewel on Spain's northeastern coast, offers an array of experiences that will enchant every traveler. From iconic architectural wonders to delightful culinary adventures, here are the top things to do in Barcelona that promise to make your visit unforgettable:
Sagrada Família: begin your Barcelona journey at the awe-inspiring Sagrada Família, Antoni Gaudí's masterpiece. The basilica's surreal architecture, intricate facades, and ethereal interior will leave you spellbound. Use your pass to enjoy skip-the-line access and a guided basilica tour with an experienced, arts-trained guide.
Park Güell: explore the whimsical world of Park Güell, another Gaudí creation. Wander through the colorful mosaics, playful sculptures, and lush gardens while enjoying panoramic views of the city. Use your pass to get skip-the-ticket-line entry to the park and an experienced, arts-trained guide.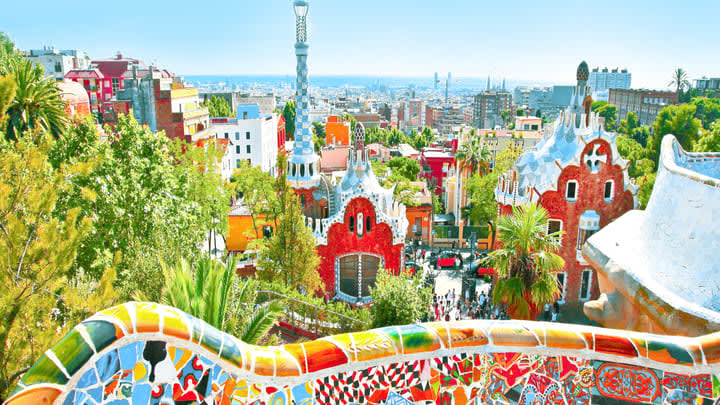 La Ramblas: stroll down La Rambla, Barcelona's famous tree-lined boulevard. This bustling promenade boasts street performers, shops, cafes, and lively markets like La Boqueria. Use your pass to explore several markets on a free walking tour of Barcelona.
Gothic Quarter: immerse yourself in history at the Gothic Quarter (Barri Gòtic), a maze of narrow streets, medieval buildings, and hidden squares. Don't miss the Barcelona Cathedral and the Plaça Reial. Use your pass to enjoy a three-hour walking tour of the Gothic Quarter and the Old City.
Casa Batlló and Casa Milà: explore Gaudí's architectural brilliance further by visiting Casa Batlló and Casa Milà. These modernist marvels showcase Gaudí's innovative designs and attention to detail. Use your pass for free admission to this UNESCO World Heritage Site.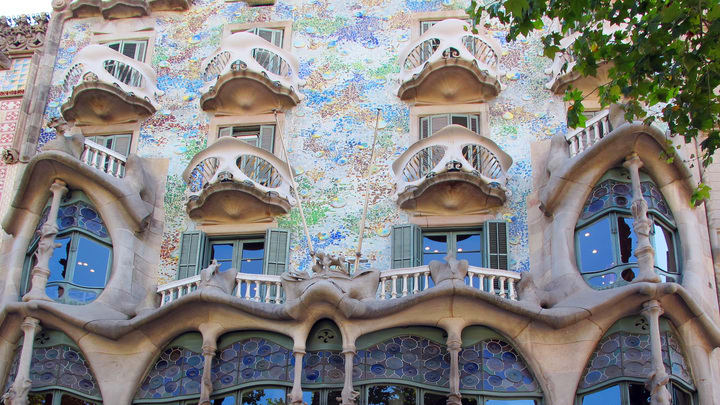 Magic Fountain of Montjuïc: witness the magical light and music show at the Magic Fountain of Montjuïc. This enchanting spectacle takes place against the backdrop of the National Palace. Use your pass to enjoy a free two-hour walking tour of Barcelona's Montjuïc district.
Picasso Museum: discover the early works of the iconic artist Pablo Picasso at the Picasso Museum. The collection includes thousands of pieces that provide insight into his artistic evolution. Use your pass for free admission to the museum and a one-hour walking tour with an expert guide.
Beaches: soak up the Mediterranean sun at Barcelona's beautiful beaches, such as Barceloneta and Bogatell. Relax on the golden sands, dip in the sea, or enjoy beachfront dining.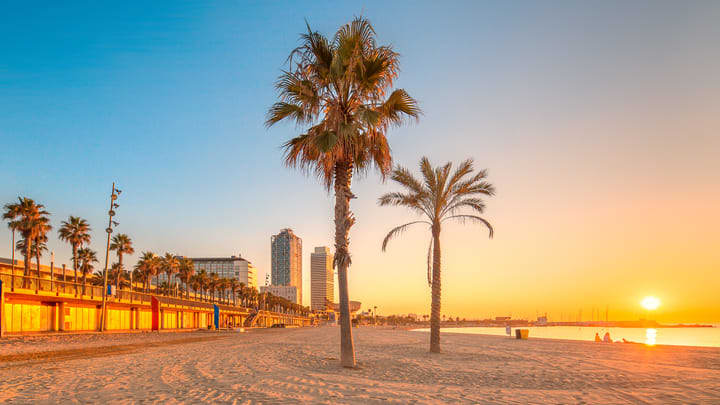 Montserrat: take a day trip to Montserrat, a stunning mountain range with a Benedictine monastery perched on its cliffs. The breathtaking views and spiritual ambiance make it a memorable excursion. Use your pass for a free bus ticket to Montserrat.
Camp Nou: if you're a football fan, don't miss a visit to Camp Nou, home to FC Barcelona. Explore the museum, walk through the stadium, and feel the passion of Catalonia's football culture.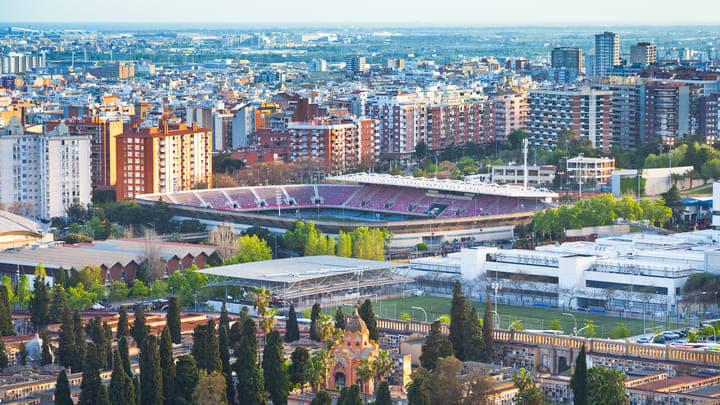 Flamenco shows: experience the soul-stirring art of flamenco with a live performance. Several venues in Barcelona offer passionate and authentic shows.
Tapas and dining: savor the delectable world of Spanish cuisine with tapas. Try traditional dishes like patatas bravas, jamón ibérico, and paella at local tapas bars and restaurants.
Barcelona's charm lies in its ability to seamlessly blend modernity with tradition, offering a taste of Catalonia's rich culture at every corner. Whether wandering the Gothic Quarter's historic streets or marveling at Gaudí's architectural wonders, this city promises an unforgettable adventure.
Top things to do in Madrid
Madrid, the vibrant heart of Spain, beckons you with a rich tapestry of culture, history, and dynamic experiences. From majestic palaces to bustling markets and delectable cuisine, here are the top things to do in Madrid to ensure your visit is nothing short of spectacular:
Royal Palace: begin your Madrid journey at the Royal Palace (Palacio Real), an opulent masterpiece that reflects Spanish royalty's grandeur. Wander through its sumptuous rooms, opulent halls, and the charming Sabatini Gardens. Use your pass to enjoy free entry and a 90-minute tour of the palace.
Puerta del Sol: visit Puerta del Sol, Madrid's bustling central square. Admire the iconic Tio Pepe neon sign, the bear and strawberry tree statue, and soak in the lively atmosphere. Use your pass to enjoy a Madrid Sightseeing Segway Tour and take in all the city's sights.
Prado Museum: immerse yourself in art at the Prado Museum, home to a staggering collection of European masterpieces by artists like Velázquez, Goya, and El Greco. Use your pass for a skip-the-line guided tour of the museum.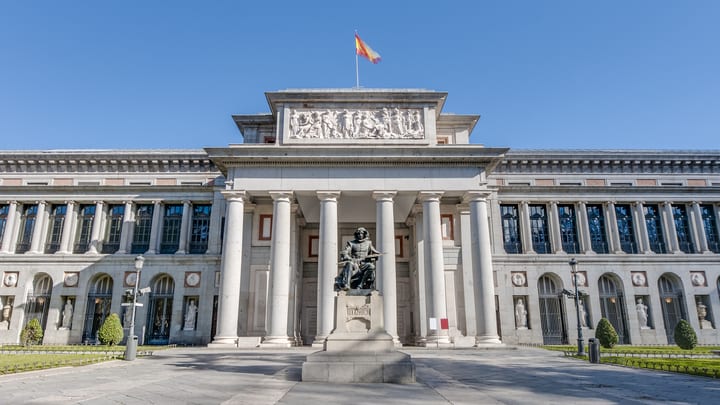 Retiro Park: escape the urban bustle at Retiro Park (Parque del Retiro). Stroll along tree-lined paths, row a boat on the lake, and admire the stunning Crystal Palace. Use your pass to join a guided bike tour of the park.
Plaza Mayor: discover the grandeur of Plaza Mayor, a historic square surrounded by charming cafes and vibrant street life. It's an ideal spot for people-watching.
Thyssen-Bornemisza Museum: explore the Thyssen-Bornemisza Museum, a treasure trove of art spanning from the Middle Ages to the present, showcasing works by artists from around the world. Use your pass for free entry to the museum.
Gran Vía: take a leisurely walk along Gran Vía, Madrid's main shopping and entertainment street. Marvel at the iconic buildings and indulge in retail therapy.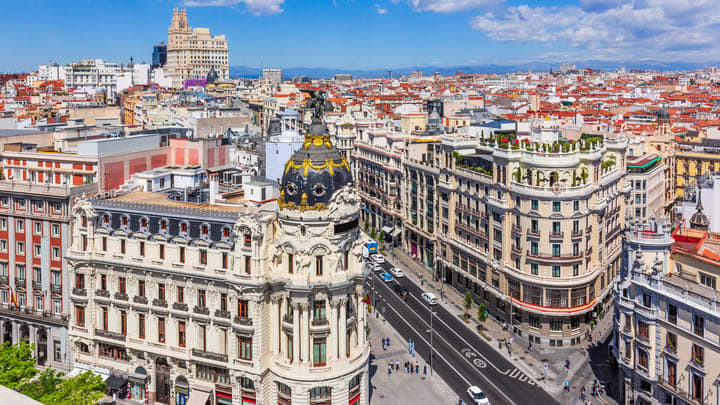 Tapas: savor the culinary delights of Madrid with tapas. Sample classic dishes like patatas bravas, Spanish omelette (tortilla española), and jamón ibérico at local tapas bars.
Mercado de San Miguel: visit the Mercado de San Miguel, a food market housed in an exquisite iron structure. Try a variety of Spanish delicacies and tapas.
Flamenco Show: immerse yourself in the passion and rhythm of Spain with a flamenco show. Madrid boasts numerous venues where you can experience this captivating art form.
Bernabeu Stadium: if you're a football enthusiast, tour the Santiago Bernabeu Stadium, the home of Real Madrid. Explore the stadium's museum and relish its football history. Use your pass to enjoy free admission to the stadium.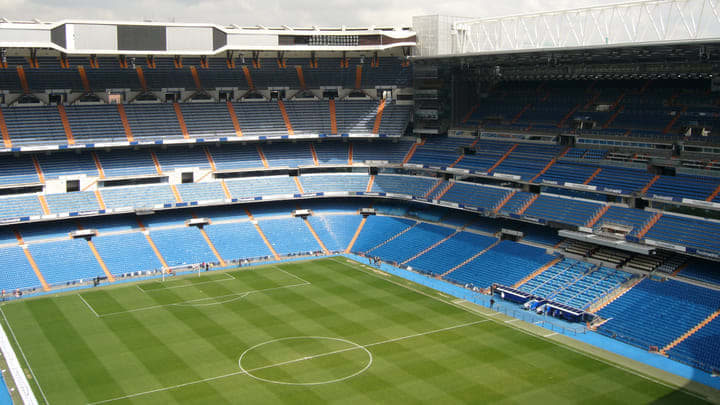 Neighborhoods: wander through diverse neighborhoods like Malasaña, Chueca, and La Latina, each with its unique character, offering quirky shops, trendy bars, and charming plazas.
Madrid invites you to dive headfirst into its spirited culture, indulge in culinary delights, and immerse yourself in art and history. With its vibrant atmosphere and boundless energy, the Spanish capital promises a memorable adventure that will leave you captivated and longing to return.
Final thoughts
In the captivating showdown between Barcelona and Madrid, it's evident that both cities are definitely worth a visit!
With its artistic marvels and coastal charms, Barcelona beckons with the allure of Antoni Gaudí's architectural wonders and the Mediterranean's soothing embrace. Conversely, Madrid takes pride in its regal elegance, world-class art museums and vibrant urban life that pulses through its historic streets.
Whether you find yourself savoring tapas at a bustling market in Barcelona or wandering through the grandeur of Madrid's Royal Palace, each city promises a journey rich in culture, history, and unforgettable experiences. The choice between these Spanish gems ultimately depends on your preferences and the adventure you seek.
Barcelona entices with its avant-garde art, architectural treasures, and beachside relaxation—a Mediterranean dream that speaks to the soul of Catalonia. With its classic charm, impressive museums, and lively neighborhoods, Madrid embodies the essence of Spain's dynamic capital.
In the end, there's no definitive winner in the Barcelona versus. Madrid debate because the true victor is you—the traveler who has the privilege of experiencing the best of both worlds. Whether you are swept away by Barcelona's artistic fervor or captivated by Madrid's regal splendor, your Spanish adventure will make memories you'll carry long after you get back home again.