Best Beaches in Chicago
If you're looking for the best beaches in Chicago, check out our picks of the best sandy spots in the city and make the most of your summer visit!
Including:
Does Chicago have nice beaches?
Are Chicago beaches swimmable?
Is Chicago beach warm?
The best beaches in Chicago
Does Chicago have nice beaches?
It certainly does; otherwise, we wouldn't be able to write this blog! Chicago boasts 26 miles of picturesque lakefront, adorned with a plethora of public parks and gardens. Additionally, there's an 18-mile Lakefront Trail, along with over two dozen free beaches accessible to the public during the summer. Don't worry - we'll talk about them more down below.
Are Chicago beaches swimmable?
Indeed, they are, but you're better off doing it in the on-season, which runs from Memorial Day to Labor Day. For those of you visiting Chicago from outside the U.S., that means the end of May to the beginning of September. Sadly, the waters outside of this period may be too cold to swim in, so plan accordingly.
It's also worth noting that, legally, you can only swim in Chicago's oceans when a lifeguard is present due to the winds and choppy waters. They don't call it the Windy City for nothing!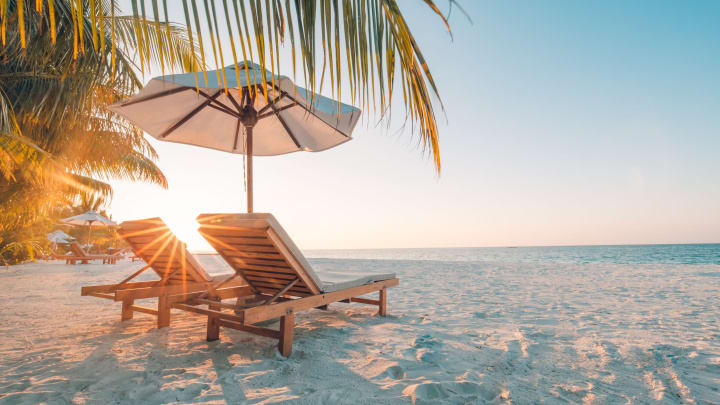 Is Chicago beach warm?
In peak summer, beaches in Chicago frequently hit 80°F, so head there in the off-season, and you'll enjoy the best temperatures on offer.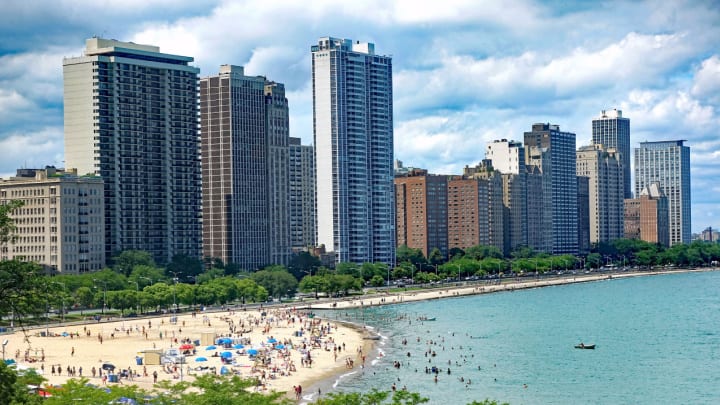 Among the city's most frequented beaches, Oak Street Beach stands out as not only a favorite but also incredibly accessible from downtown. It's also located just a stone's throw away from Chicago's renowned Magnificent Mile, which houses prestigious Michigan Avenue hotels, upscale boutiques, and top-notch restaurants. Perfect if you need a bite to eat or a shopping spree mid-lounge.
This beach offers a wide array of amenities, too, including free Wi-Fi, volleyball courts, bike and chair rentals, restrooms, and even places to buy snacks and drinks.
Stake out your place in the sandy expanse and relish in the splendid vistas of the iconic Drake Hotel and other renowned landmarks.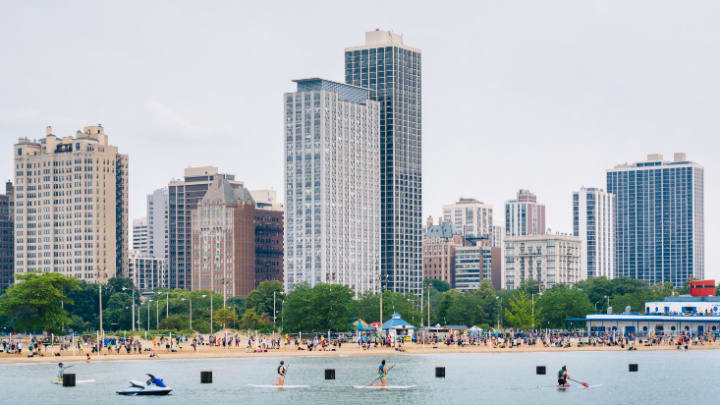 North Avenue Beach, nestled in the Lincoln Park neighborhood, is universally adored by both locals and tourists. Look out for its distinctive two-story beach house, adorned in a nautical white-and-blue motif, and you'll know you're in the right place. Inside, you'll find a bar and grill, as well as restrooms and changing facilities.
This beach itself offers myriad amenities and activities, with Wi-Fi, bike, kayak, paddleboard, and Jetskis rentals, yoga, lounge chair and umbrella rentals, beach volleyball courts, a variety of food and drink offerings, and a selection of retail vendors. That's a lot of fun to be had!
Nearby, you'll find a bounty of trendy restaurants and bars, along with top-tier city attractions, including the renowned Lincoln Park Zoo and the Peggy Notebaert Nature Museum, ensuring a diverse array of entertainment options in the vicinity.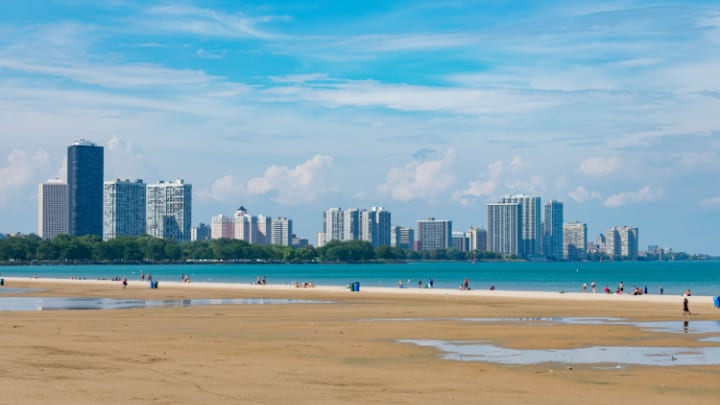 Montrose Beach is Chicago's biggest beach, so if you're worried about towel space, you know where to go. It also has two unique features that set it apart from many of Chicago's other beaches, that being an enclosed dog beach to the north, and Montrose Beach Bird Sanctuary to the south.
But enough about animals, what about us humble humans? Well, it has all the amenities typical of Chicago's generous beaches, including free Wi-Fi, watersports and beach activity rentals, places to eat and drink, and even a dog-friendly dining patio, so your canine companion needn't miss out. If you don't fancy eating in, Montrose Beach also has plenty of grassy knolls where you can spark up a barbecue. And kiteboarders, rejoice! Montrose Beach is the only place in Chicago where you can legally get your kiteboarding on. Why? Who knows.
Named after the late Kathy Osterman, a former city leader and political activist who advocated for beach development and gay rights in the 1980s, Kathy Osterman Beach is - understandably - a prime meet-up spot for Chicago's spirited LGBTQ+ community.
But that doesn't mean it's party central. In fact, Kathy Osterman Beach is one of the calmer, quieter beaches in the city. Bird lovers will also appreciate that the beach's natural dunes draw both migrating and residential shorebirds to its shores.
For people, you have the usual amenities, as well as specified picnic areas for bring-you-own enjoyers, and prime fishing spots for the reelers out there.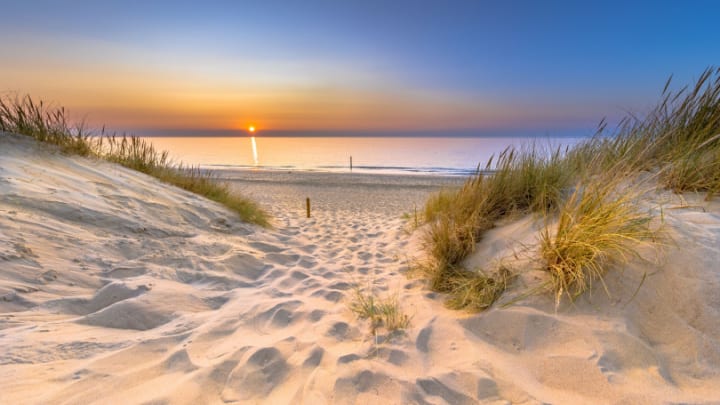 Rainbow Beach is one of the city's oldest sandy spots, named after the 42nd Rainbow Division of the U.S. Army, which valiantly served during World War I. So, that's the history - what about the beach itself?
Well, to the south, you'll find the Rainbow Beach Dunes Natural Area. What is it with Chicago and natural dunes? It must be the wind. Anyway, it's another great spot to see birds and other wildlife frolicking about. Activity-wise, there's a children's playground, community gardens to wander, picnic and barbecue spots, and the never-elusive beach Wi-Fi.
You'll also find some of the most spectacular views of Chicago's skyline from Rainbow Beach, so make sure to take some snaps.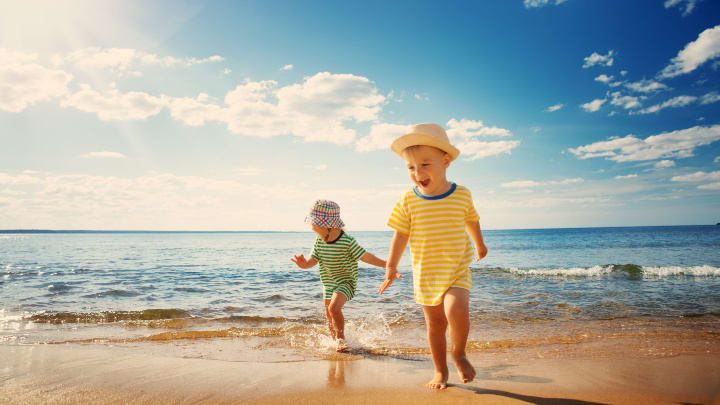 And finally, nestled along Chicago's picturesque lakefront in the charming Edgewater neighborhood, you'll find Foster Beach. A favorite for families, it's the perfect place to plop your little ones on the sand and let them run riot. Shallow waters, tons of space, and even a kid-friendly pool area ensure they'll have the time of their little lives.
For us adults, a plethora of volleyball courts beckon, with would-be ball smackers welcome to join existing games or set up their own. You've also got the usual food and drink affair, with ice-cold drinks and ice creams sure to cool you down on the hotter summer days.
Or if your feelings for sand mirror Anakin Skywalker, nearby Foster Avenue Beach Park offers lush green spaces, inviting picnic areas, and scenic walking paths. And for those with four-legged companions, you'll be pleased to know they're also welcome.
And those were our picks of the best beaches in Chicago! If you're looking for less-sandy activities to enjoy during your stay in the Windy City, check out Go City! With our All-Inclusive Pass and Explorer Pass, you can see all of the city's best bits for one low price!