Area guide
Food and drink
Family friendly
Trip inspiration
Lindsay Eagan
Things to Do in Dubai Marina During Your Trip - Attractions & Activities
Dubai is a stunning city full of juxtapositions and surprises, in a nation firmly rooted in tradition and Middle Eastern history that has not only incorporated but embraced modernity and innovation.
From the classical courtyards and wooden dhow boats of Dubai Creek's historic district to the gilded boulevards and shining Burj Khalifa of Downtown Dubai, to the aqua blue waters of Palm Jumeirah. The Emirate is a pearl in the desert, offering a host of activities and attractions to entice visitors of all ages.
Travel further into the city, to the thriving pulse of Dubai Marina, one of the Emirate's newer residential and entertainment districts and you'll discover even more fun on your vacation. This picturesque neighborhood is the perfect combination of both beach and cosmopolitan vibes, build on man-made canals and situated on the coast of the Arabian Gulf. Here you'll find shiny modern high-rise luxury apartment blocks, five-star beach resorts, dozens of restaurants, local and international boutiques and shops, and a multitude of running and walking paths for your enjoyment.
If you're looking for things to do in Dubai Marina during your trip, check out our list of the best local activities and attractions, including...
Speedboat Sightseeing Tour
Sunset Dinner Cruise at Dubai Marina
The Walk and The Beach at JBR
Zero Gravity Beach Club
Ski Dubai at Mall of the Emirates
and more...
Speedboat Sightseeing Tour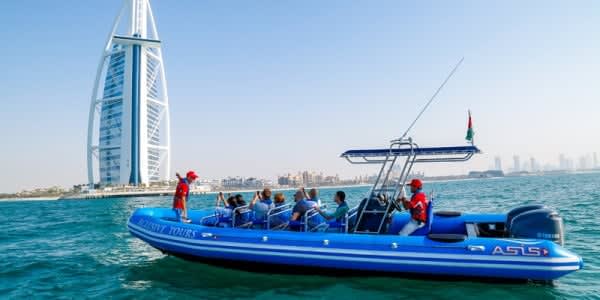 There is no better way to explore the area around Dubai Marina than with a speedboat sightseeing tour by Xclusive Yachts. Your 90-minute action-packed tour will take you on a journey from the Burj Al Arab to the Palm Jumeirah and Atlantis The Palm, to the royal palace, giving you excellent views of the rising tower blocks and the distinct skyline of Dubai Marina.
Along the cruise, admire the grand international yachts moored in Dubai Marina and enjoy expert commentary from your experienced tour guide, who will tell you all about the sites and landmarks you pass by on your cruise. Finally, be sure to snap those gorgeous cruise photographs -- Instagram-worthy without the filters.
Getting In: Speed Boat Sightseeing Tour tickets are included with the Go Dubai pass.
Sunset Dinner Cruise at Dubai Marina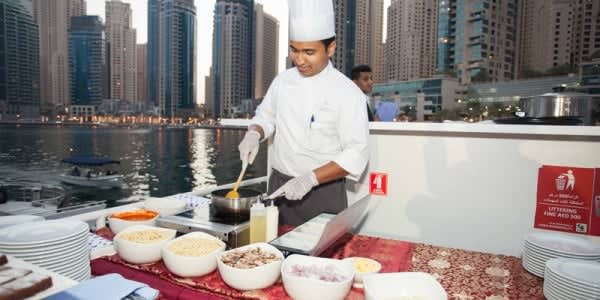 A wonderful way to spend your evening in Dubai Marina is with a sunset dinner cruise with Xclusive Yachts. You'll be treated like royalty on board this two-hour luxury dinner cruise. Enjoy a catered buffet from the Address Hotel (a premier luxury hotel in Dubai Marina) featuring live pasta stations, international choices, and a dessert bar along with unlimited soft drinks, water, coffee, and tea.
Relax in the comfort of the boat's air-conditioned lower deck or open-air upper deck as you take in spectacular nighttime views of the Dubai Marina landscape. This cruise is an excellent romantic excursion, or a fun opportunity to spend time with family in a peaceful setting. Plus, it's a nice chance to enjoy authentic Arabic and Levantine cuisine.
Getting In: Dubai Marina Sunset Dinner Cruise tickets are included with the Go Dubai pass. If you'd rather watch the sunset before dinner on dry land, try out the Sunset Sensation Tour with drinks included on the Go Dubai pass.
The Walk and The Beach at JBR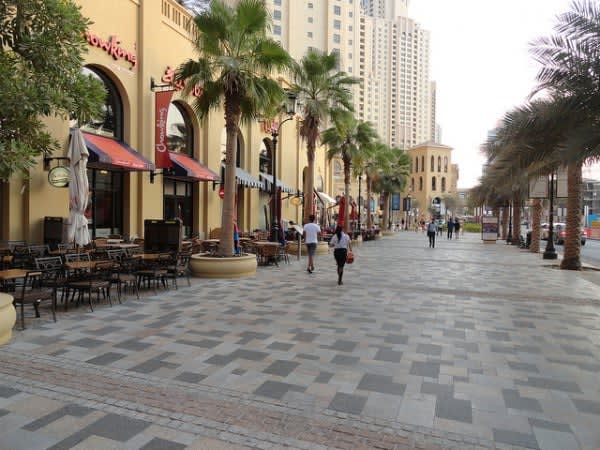 After you've scoped out the sites of the Marina from the sea, give them a closer look from the ground as you stroll down the famous Jumeirah Beach Residence (JBR) Walk. You're certain to find something to delight in any of The Walk's numerous shops or restaurants, from local flavors and shisha terraces to international brands and outlets that line this busy boulevard.
Towards the end of The Walk you'll find The Beach. This newly built entertainment, shopping, and dining complex is situated right on the Arabian Gulf with breathtaking views of the clear turquoise blue waters from its al fresco restaurant terraces. The Beach is a perfect combination of urban development with coastal flair. You can shop to your heart's content or choose from Turkish, Thai, Indian, Italian, British, French, and American cuisines.
If you're looking for something more outdoorsy, head down to the attached public beach to take full advantage of Dubai's sunny days with a lounge under a private umbrella, sail the coast in a banana boat, or take a splash in the giant ocean water playground.
Getting In: Public access to The Walk and The Beach at JBR is free.
Zero Gravity Beach Club
Your visit to Dubai Marina should also include a stop at Zero Gravity Beach Club. This massive beach club and entertainment compound is one of the area's hottest attractions. By day Zero Gravity is a place of enjoyment and relaxation, where you can lounge under a beach umbrella or take a dip in the club's glass-walled infinity pool. You won't go hungry with an on-site restaurant and bars.
As the launch site for skydivers taking the plunge at SkyDive Dubai you can watch parachutists come in over the beach from your more comfortable perch. When day turns to night the club plays host to some of the best live music and top international acts performing in the city.
Getting In: Admission to Zero Gravity Beach Club is separately ticketed and is not included with the Go Dubai pass.
Ski Dubai at Mall of the Emirates (located near Dubai Marina)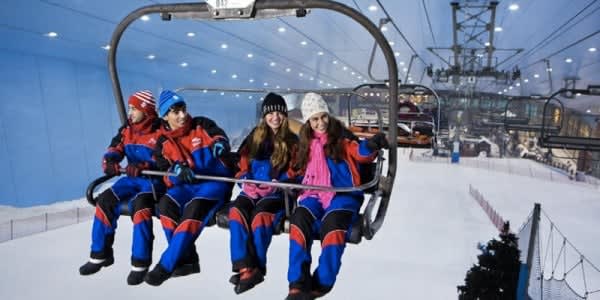 Located a short distance from Dubai Marina, is one of Dubai's original megamalls, Mall of the Emirates. The mall of the Emirates is home to hundreds of shops, from Prada and Topshop to the Emirate's very first Apple store, along with a state-of-the-art 4D mega movie theater multiplex, and the Middle East's first indoor ski resort: Ski Dubai.
Ski Dubai is an awe-inspiring 3,000-square-foot winter wonderland (filled with real snow!) for all ages to enjoy. Whether you're speeding down the twin-track bobsled track or the world's first indoor black diamond run, or rolling down the hills on a giant padded snowball, you'll find something to indulge your inner thrill-seeker.
If you'd rather take it easy, head to the snow cavern -- filled with interactive exhibits and games, this is a nice alternative to skiing and is good for those with mobility concerns. For a great view, take a ride up the chairlift for a sweeping view of the freshly dropped snow. Finally, don't miss out on the daily march of the Ski Dubai penguins, as the resort's most famous inhabitants come out for a strut.
Getting In: Ski Dubai - Snow Classic tickets and Ski Dubai Ski Slope tickets are included with the Go Dubai pass.
Remember to Save on Dubai Marina Attraction Admission
There you go - a few great recommendations for things to do in Dubai Marina during your trip. Admission to a number of these top Dubai attractions and activities are included on the Go Dubai pass. Choose as you go from dozens of top attractions and save on combined admission vs paying at the gate. See all available passes, attractions & prices – Learn more.