Shows and events
Trip inspiration
Quizzes and fun
Katie Sagal
Las Vegas 4th of July Weekend - 10+ Fun Things to Do in July
Spending 4th of July weekend in Las Vegas? Then you're probably looking for a few local attractions and things to do that won't cost you an arm and a leg to enjoy. Don't worry – we've got some events and activities that will help you celebrate Independence Day in style and on budget. Also, it's helpful to know that practically everything will be open on July 4th, too -- from casinos and bars to all kinds of attractions, shops, and museums. So no worrying about holiday hours in this town! Plus, each venue will be competing to host the largest, most popular Fourth of July celebrations, so you'll likely benefit from lots of specials, free festivals, and entertainment. Therefore, if you're looking for Las Vegas 4th of July Weekend ideas (which will be celebrated the weekend after the fourth, as it falls on a Thursday this year), check out some of these local activities and fun things do in Las Vegas in July, including...
Caesar's Palace Fireworks Show
July 4th Celebrations at the LINQ
Pool parties in Las Vegas
Museums
Hoover Dam
Grand Canyon
Lake Las Vegas
Henderson
Summerlin Council Patriotic Parade
What are you waiting for?
Save on Admission to Popular Attractions
The Go Las Vegas pass provides regular admission to a number of these popular attractions. Choose as you go from dozens of Las Vegas attractions and activities and save up to 60% off combined admission vs paying at the gate. See all available passes and Las Vegas attractions – Learn more. Please note, some of these special July and 4th of July weekend events are separately ticketed and not included on the Go Las Vegas pass.
Caesar's Palace Fireworks Show July
A great fireworks option is the breathtaking display by Caesar's Palace. Fireworks will go off from the Roman Tower beginning at 9:15 pm, and will last for 13 minutes! Although you'll have great views from anywhere nearby on the Strip, the best views are probably from the front fountains of the casino itself. Head there early to get a spot! Getting In: The fireworks are free to watch.
July 4th Celebrations at the LINQ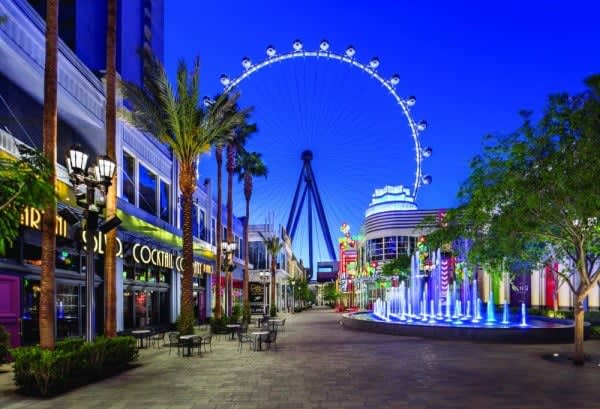 This family-friendly event is the perfect way to spend an afternoon while celebrating this festive holiday weekend. Enjoy live musical performances, face-painting, balloon-animal makers, games, caricature artists, and much more. In the evening, the LINQ Promenade will feature more adult-oriented entertainment with live shows scheduled throughout the evenings. For the perfect view of the city -- and the festivities below -- head to the top of the High Roller Observation Wheel. It will be festively lit in red, white, and blue, of course! Getting In: July 4th celebrations at the LINQ are free to attend. High Roller Observation Wheel tickets are included with the Go Las Vegas pass.
Pool Parties in Las Vegas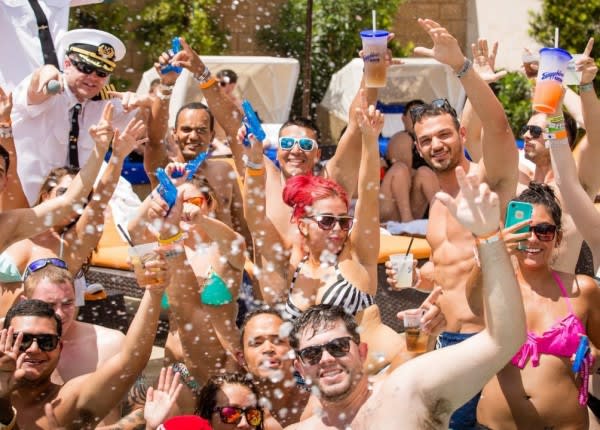 One thing Vegas is known for is its lively selection of pool clubs and parties that happen throughout the summer season. Given the extreme heat and festive atmosphere of the holiday, you can be sure that crowds will flock to the pools to celebrate this 4th of July weekend. If you want to join the revelers, check out a Pool Party Tour, available on the Las Vegas Explorer Pass, which introduces you to a sampling of the city's best pool clubs. Wear your favorite bathing suit! Please note that these tours are for adults aged 21 or older only. Getting In: Pool Party Tour tickets are included with the Go Las Vegas pass.
Museums in Las Vegas
While it may seem a little counter intuitive to spend one of the country's favorite outdoor holidays inside, it's definitely worth a visit to these historical museums this 4th of July weekend. Plus, as July in Vegas is so hot -- it actually makes sense to soak up the AC as well as the sun! Learn about our nation's history in quirky and wonderful ways at the Mob Museum, marvel at the famous works in the Bellagio Art Gallery, and step back in time with a walk through Madame Tussauds Las Vegas. Getting In: Mob Museum tickets and Madame Tussauds Las Vegas tickets are both included with the Go Las Vegas pass. However, The Bellagio Art Gallery is separately ticketed and not included with the pass.
Appreciate America's Landmarks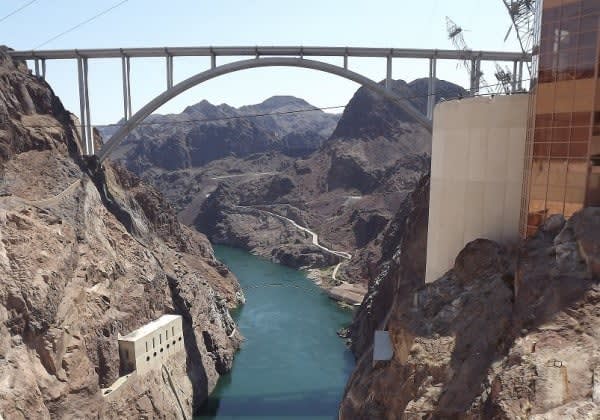 An ideal way to celebrate our nation's birthday is with a visit to some of America's most amazing natural and man-made wonders. Lucky for you, you'll find stellar examples of both right near Las Vegas. Head out to the Hoover Dam, a marvel of twentieth-century engineering, for amazing views of this historic structure and the impressive river. If you're willing to venture further afield and want to see one of the best National Parks in the American Southwest, then a Grand Canyon South Rim tour is for you. The Grand Canyon is a must-see for anyone visiting Vegas, so use your Go Las Vegas pass to save on admission. Join a guided tour to avoid the hassle of parking, and enjoy an all-you-can-eat buffet, too! Getting In: Hoover Dam Tour tickets are included with the Go Las Vegas pass. Grand Canyon South Rim Tour tickets are available as a premium attraction option with the 3-, 4-, and 5-Day Go Las Vegas passes.
Celebrate America at Lake Las Vegas Date TBA
Missed the celebrations on the 4th? No problem! Look no further than the family-friendly Lake Las Vegas 4th of July Celebration. There will be live music, barbecue stations, and a sidewalk sale for your enjoyment. You'll also find a bouncy house (kids only, unfortunately), face painting, and a balloon artist. Top it all off with a fireworks display set off over the lake at 9:00 pm and you've got one incredible day the whole family can enjoy. Keep an eye out for the latest updates on Lake Las Vegas's Independence Day celebrations. Getting In: Celebrate America is free to attend.
Henderson, NV 4th of July
Additionally, another event that offers plenty of family-friendly fun is just a quick drive from Las Vegas -- Henderson, Nevada hosts a full array of July 4th festivities. Held in Heritage Park, this annual event runs from 6:00 pm - 9:00 pm with a fireworks show at 9. So, see the sights and celebrate during the day, then soak up the excitement in the evening! Enjoy live music and other entertainment, tasty concessions, and much more. Arrive early to take advantage of the free parking. Getting In: The Henderson 4th of July Celebration is free to attend.
Summerlin Council Patriotic Parade July 4
Every year, Summerlin City Council puts on the city's biggest 4th of July parade. The parade begins at 9:00 am and runs from Hillpoint and Hills Center, down Hills Center Drive, and concludes at 11:00 am. Arrive early for a good spot along the parade route! Enjoy the floats, marching bands, dance troupes, veterans' groups, and lots of entertainment. Perfect for celebrating this patriotic holiday! Getting In: The Summerlin Patriotic Parade is free to watch.
71st Annual Boulder City Damboree Celebration July 4
A perennially popular local event held in Boulder City, Nevada, this year's theme is "We Luv BC." Enjoy a fun-filled day with activities like a Rotary Pancake Breakfast at Bicentennial Park, a parade down Nevada Highway, a water play zone, flag raising, contests and more! Top off your day with a stunning fireworks show at 9:00 pm. Getting In: The Boulder City Damboree is free to attend.
Remember to Save on Attraction Admission
There you go -- plenty of fun ideas for things to do in Las Vegas to help you plan your 4th of July weekend itinerary. Remember, use your Go Las Vegas pass to access many of these events and activities. You can save up to 55% on combined admission vs paying at the gate! We really hope you consider adding a few of these popular options to your upcoming plans. Enjoy!