Tips and advice
Trip inspiration
stuart.bak
Things to do in Downtown Las Vegas
Seeking a little respite from the non-stop sensory assault that is the Las Vegas Strip? Then Downtown may be for you. The city's historic heart promises much the same in terms of top-flight dining, high-stakes casinos and flashing neon signs, but is a much more laid back affair, with street eats, free live shows and an artsy enclave that feels more NYC than Vegas Strip. There are stacks of things of things to do in Downtown Las Vegas, too, and we've put together a few of our favorites below, including:
Fremont Street Experience
Golden Nugget casino
Mob Museum
Container Park
SlotZilla Zipline
Neon Museum
Las Vegas Arts District
Fremont Street Tour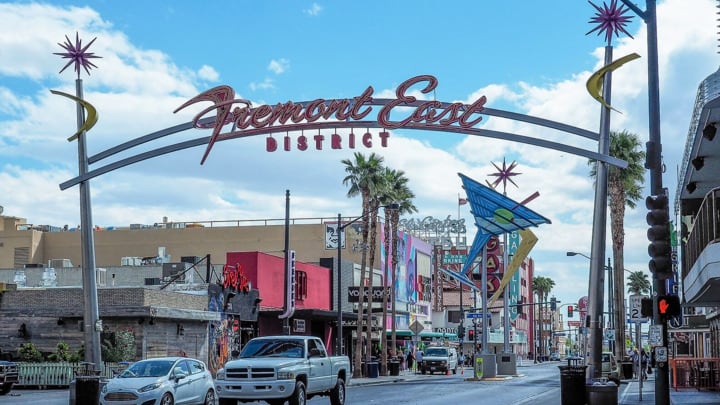 A tour of historic Fremont Street is hands-down the best way to find your bearings on your first visit to Downtown Las Vegas (and a great way to discover things to do on Fremont Street once the tour is over). During the tour you'll follow in the footsteps of the first settlers, see where the Rat Pack used to hang out and learn about Sin City's past links to organized crime. Your guide will also point out old-school Downtown icons like the Golden Nugget casino and Neonopolis wedding chapel, where you can – should you so desire – be married by Elvis and Gene Simmons impersonators. You'll also discover the iconic Main Street Station hotel and casino which promises, among its many treasures, chandeliers from the Coca-Cola building in Texas and the Figaro Opera House in Paris, and a section of the Berlin Wall in the, um, gentlemen's conveniences.
Fremont Street Experience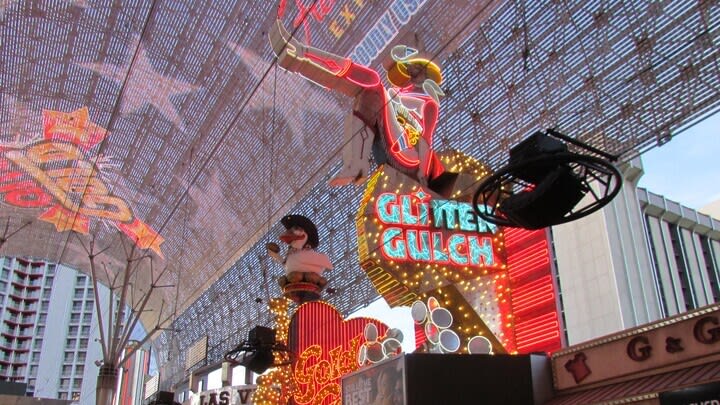 The undisputed highlight of the Fremont Street Experience is its absolutely humongous vaulted canopy. At 1,500 feet in length (that's about four blocks or five football pitches, fact fans) and containing nearly 50 million LED lights, this unashamedly decadent wraparound video screen is the world's largest. Grab a drink at one of the many bars in this (mostly) pedestrianized part of town and settle in for the mesmerizing light shows that burst out of the big screen every hour. There's also free live music across three stages here, starting at 6pm every single evening.
The Golden Nugget
You'll recognize The Golden Nugget from its cameos in dozens of Hollywood flicks down the years, perhaps most notably Bond classic Diamonds are Forever and Elvis fave (yup, you guessed it) Viva Las Vegas. Enter beneath the iconic neon sign and check out the huge Hand of Faith nugget on display in the lobby before trying your luck at the roulette and blackjack tables or just grabbing a cocktail and soaking up the distinctly old-school vibes of this, Las Vegas's oldest large casino.
SlotZilla Zipline
From high stakes to high wires, the SlotZilla Zipline is pure Vegas, with an 11-story launch deck that's designed to look like a giant slot machine, complete with cascading coins and a pair of 35-foot showgirls. Incurable thrill-seekers can fly, Superman-style, along the epic (and appropriately named) Superhero-Zoom, which traverses the length of the Fremont Street Experience. The Zip-Zilla is a somewhat less frightening half-length option that flies a little lower and allows you to travel in an upright seated position, for those not feeling quite so dare-devilish.
The Mob Museum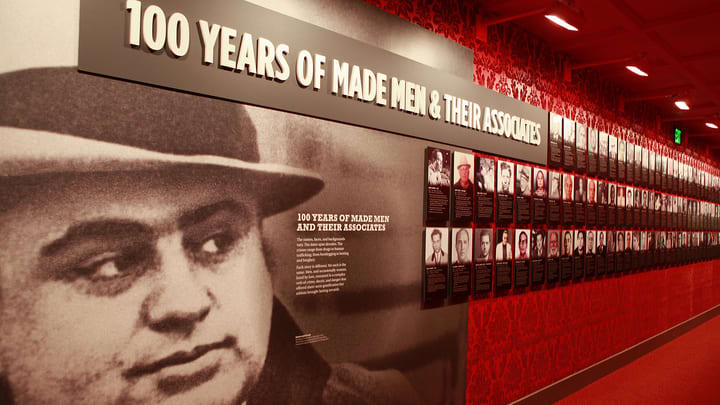 Practise your best Al Capone impersonations on a visit to the quite excellent Mob Museum, with its plethora of interactive exhibits that chart the history of organized crime in the US, with a focus on mob activity in Las Vegas. See if you can hit the target in the firearms training simulator and visit the rogues' gallery charting over a century of made men. There's even an underground speakeasy here serving Prohibition-inspired cocktails to thirsty visitors. Enter via the secret door by the parking lot, but watch out for shady-looking gentlemen in fedoras and pinstripe suits!
Container Park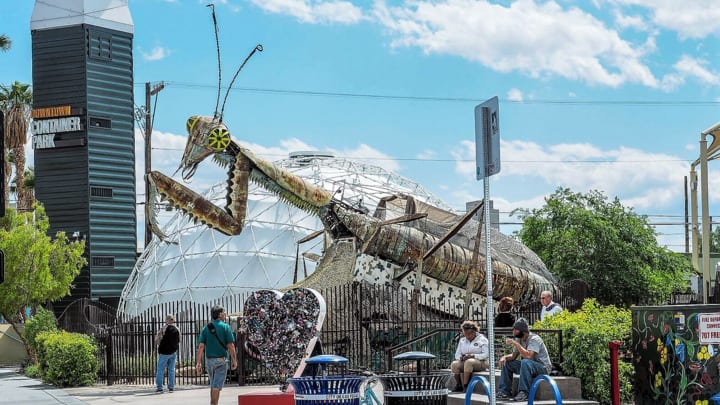 A giant metal mantis with flaming antennae and an ear-shattering sound system marks the somewhat apocalyptic entrance to the Container Park, a Downtown shopping and entertainment mecca built out of old shipping containers. It's a pretty cool hangout, with a little something for people of old ages: there are independent boutiques, bars and live music for the grown-ups, while a huge slide and water-play area in the central courtyard keeps the kids happy.
The Neon Museum
This huge outdoor museum preserves and exhibits that most Las Vegas of art forms: the neon sign. It's a kind of retirement home for neon signs, giving these masterpieces of the Nevada skyline a second lease of life as part of a major tourist attraction. This is where you'll find classic old-school signage including sparkling examples from the Stardust, Sassy Sally's, Lucky Cuss Motel and the Hard Rock Cafe. We recommend visiting the Neon Boneyard at sundown for the most Instagrammable photo opportunities, when the signs are lit up against the fiery desert sky in all their technicolor glory.
SkyPod at the Strat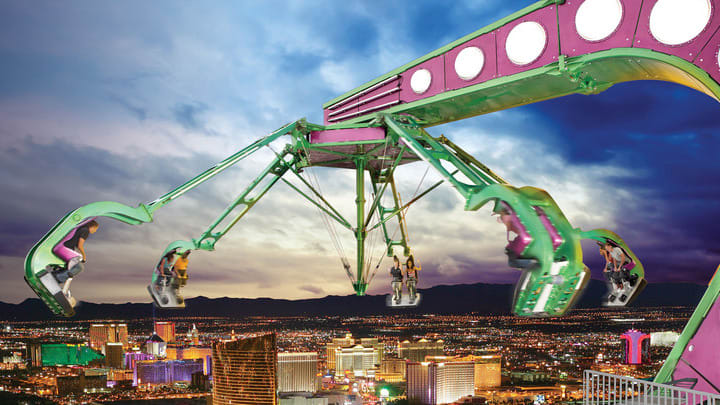 Ok ok, so it's not strictly part of Downtown, but it does command some of the best views of Fremont Street you'll find anywhere in the city, so we say it counts! Another bonus is that this is one attraction you really can't miss: just look for the skyscraping observation tower south of Downtown in the direction of the Strip; it's only the second-tallest of its kind in the entire Western Hemisphere! And, should your nerves be able to withstand the head-spinning super-speed elevator ride up to the 108th floor, there are plenty of attractions up here, nearly 1,000 feet above the Strip, to keep adrenaline-seekers occupied for hours. Board the aptly-named Insanity ride, a giant metal claw that dangles (and spins) its victims passengers over the edge of the building and into thin air. Or get even higher on the Big Shot, the vertical drop ride that goes up (and down) the tower's needle, reaching a gut-churning height of 1,081 feet. Eek, eek and, furthermore, eeeeeeeeeek!
Save on attractions in Las Vegas
Save on admission to Las Vegas attractions with Go City. Check out @GoCity on Instagram and Facebook for the latest top tips and attraction info.